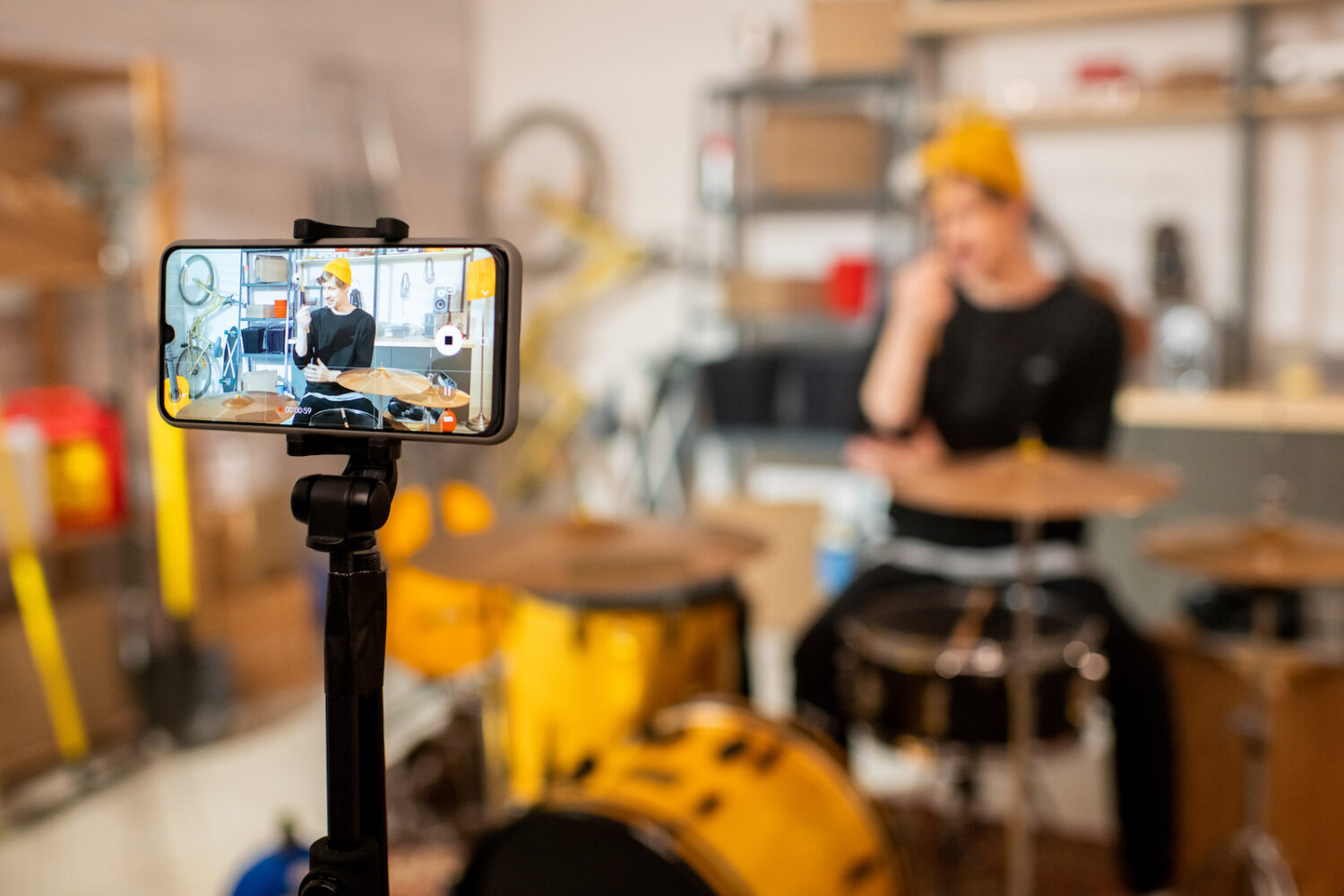 Download Your FREE 22-Day Single Release Plan

GET NOW
30+ Engaging Content Ideas For Musicians On Social Media
Haven't you heard?
Organic reach is back baby.
And I want you as music artists to be able to take full advantage of it!
The key to growing a music fanbase from scratch in 2022 is MICRO-CONTENT! This is great because it means you spend less time creating content and more time making music.
This is one of the music industry trends you really want to be paying attention to, especially as an up-and-coming music artist in the music industry.
---
Why Should Musicians Focus On Micro-Content on Social Media Platforms?
Times have changed.
Instant gratification is at an all-time high, and we can't ignore that when thinking about content ideas for musicians.
If you are 'unknown' and don't have a plethora of existing fans yet, it is better to take to smaller frequent music marketing jabs in your music career over big punches with nothing in between (one of the reasons that I suggest that artists should focus on singles over albums, to begin with).
It's all about consumption habits.
The rise of TikTok is no coincidence and it speaks to wider consumption habits when looking at digital marketing in general, not just for bands and musicians.
Music lovers consume content differently now and have much less patience.
You need to stay relevant and keep delivering bite-sized pieces of content so people start paying attention. Play the consumption game with your content.
If you can go viral with micro-content, that's A LOT of eyes and ears on you and your music.
It is the number 1 way to get your music out to new audiences and build your fanbase right now.
But how do you come up with good content ideas for your band or own music profiles?
 A good place to start is by going through some artists/band pages that inspire you.
Save some of their content. Later on, you can go through it and brainstorm over it, adapting it to your identity and personality.
If you're still stuck, here are loads of content ideas that bands and artists can use on social media right now!
1. What People Think I Do vs. What I Actually Do
This is a great social media trend, especially on TikTok where your audience can gain valuable insight into what it's actually like in your music world.
Here's a good example of this trend in action on TikTok videos. You set it up with an expectation of what people think it's like when you're making, then make a transition and show off the reality!
---
2. Your Writing/Production Process
Often, the journey is more interesting than the destination.
All those hours, blood and sweat, and tears that you pour into your new song or latest release. You need to document this process and split it up for fans to see. Think about your favourite artists. Wouldn't you love to see behind-the-scenes content of how they actually compose their music?
3. Your Biggest Achievement
It's okay to talk about the things you have achieved on your social media channels.
The music industry is tough and if you've achieved something music-related that is truly incredible, you should share it with people! Think about creative ways to share your achievements but remember, short form video is key when putting together micro-content as a musician.
4. Singing In The Car
When thinking about promotional posts for your song remember this.
Your song doesn't die. It just stops being managed.
You need to think outside of the box on different ways you can attach your song clips to something that either an existing audience or a new audience can enjoy. Singing to your own tracks on a car journey is the perfect way to do this easily and creatively! When promoting your music online, be creative about how you can include your song in your content.
5. Re-Write A Verse On A Popular Song That Already Exists
This is super popular for musicians and is one of the more popular Instagram content ideas and TikTok content ideas that musicians use.
Look at popular songs by other artists and re-write a verse. Record it in short form and post it as micro-content on your social media pages so your fans can understand your style in an instant with a frame of reference they are familiar with. It actually works better when you do this to songs outside of your genre!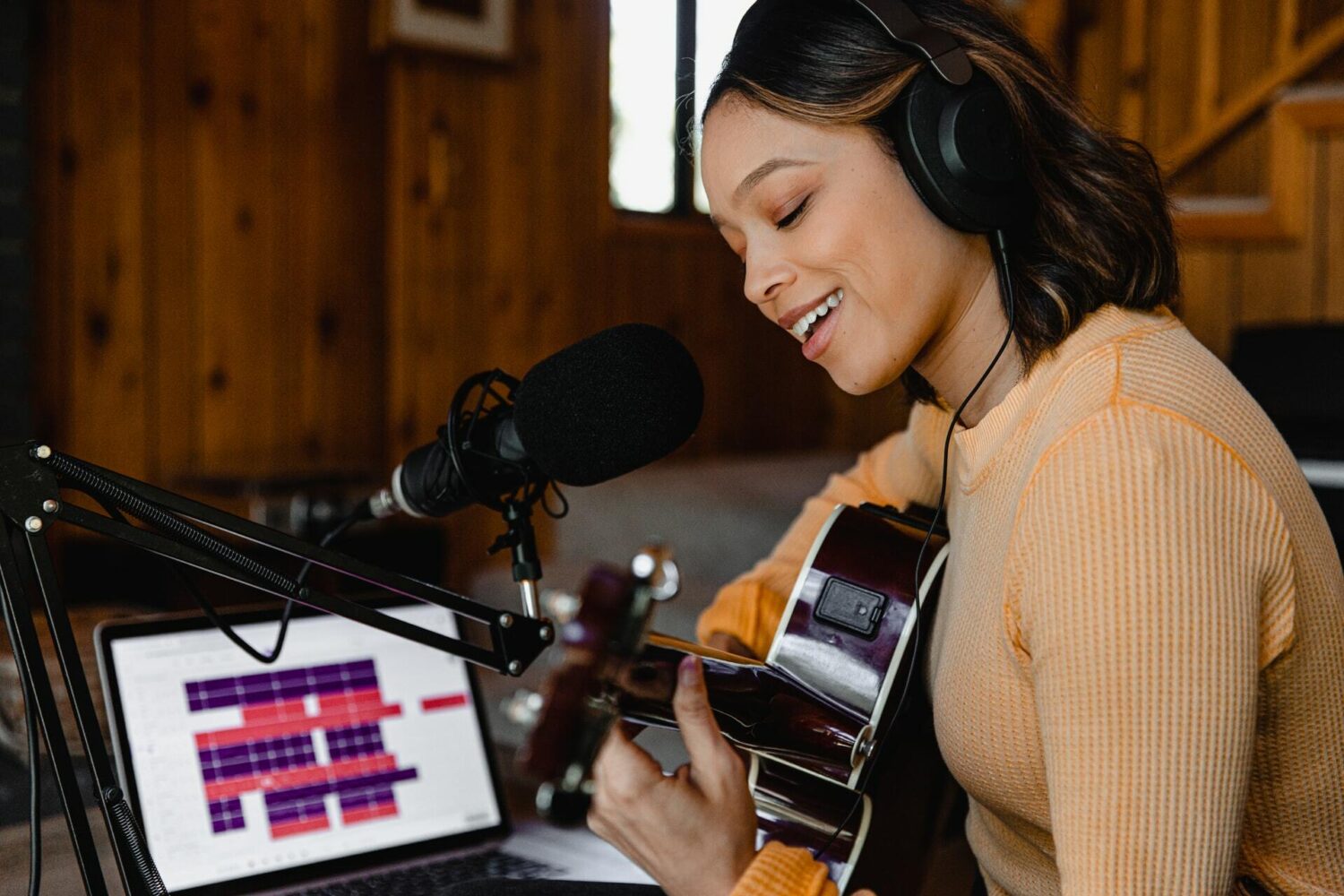 6. How It Started vs How It's Going
This is such a quick and easy win when it comes to content marketing ideas for musicians. You can do this in micro-content video form, or even in an Instagram carousel with a before and after.
Try pairing with this an inspirational or motivational quote to show how far you've come and inspire your audience with supportive posts.
7. Your Story So Far
Talking of how far you've come, don't take it as a given that your followers know your story.
Tell them where you've been, where you are now, and where you are planning on going. This allows them to join in on your journey and feel like part of the ride!
8. Sneak Peek of Your New Song
Whether it's 15 seconds on your Instagram story or a short song post on social media, you can promote your new release ahead of time by sharing a snippet online.
These promotional posts feel like an obvious thing to do, but you'd be surprised how many other independent artists aren't doing this and jump straight to their song release without any build-up. Your release should be part of a bigger plan which you can see here.
---
9. Behind The Lyrics
For many musicians and songwriters, your song lyrics are where you pour your heart and soul into.
Not all musical content has to actually involve hearing the music. For those interested in your songs, you can tell them what the lyrics mean and the general story behind the song's existence.
10. A Day With The Band
Whilst you could vlog this and put up long-form content on YouTube, you can also do this as micro-content.
Pick a day you are going to document with your band, (preferably whilst you're doing something interesting), and film bits on your phone. Edit these bits together into a small video and schedule it in on your social media calendar!
11. What Inspires You
Where do you get your inspiration from as an artist?
It might be other bands and singers that you follow, or it could even be movies, books, and role models you looked up to when growing up. Share your biggest musical influences with your audience so they can learn more about you.
12. The Hardest Moment So Far
Succeeding in the music industry is tough and your fans should know that it's not all roses.
Share your struggles and be open and honest. What have you found hard so far in your musical journey and can you think of an interesting way to share your story?
13. Share A Childhood Picture
Whilst musicians are used to the idea of having to share photos of them in their current state, throwback posts are perfect for shaking things up.
Allow fans to connect with you and share something from your childhood, bonus points if you were a younger musical prodigy and you can find a shot of you rocking out at age 6!
14. Tutorials & How To's
Widen your audience online by teaching something. You could make a tutorial on how to re-string your guitar, how to use a specific music production software, and much more.
This type of tutorial content is really shareable online and can even work for SEO on YouTube and other social media platforms.
15. Showing Off Your Workspace/Studio
Have a cool studio space at home?
Give fans an 'office' tour by showing them where you make your magic and what equipment you use! Pictures are an easy win but again, look to short-form video as it's more engaging overall.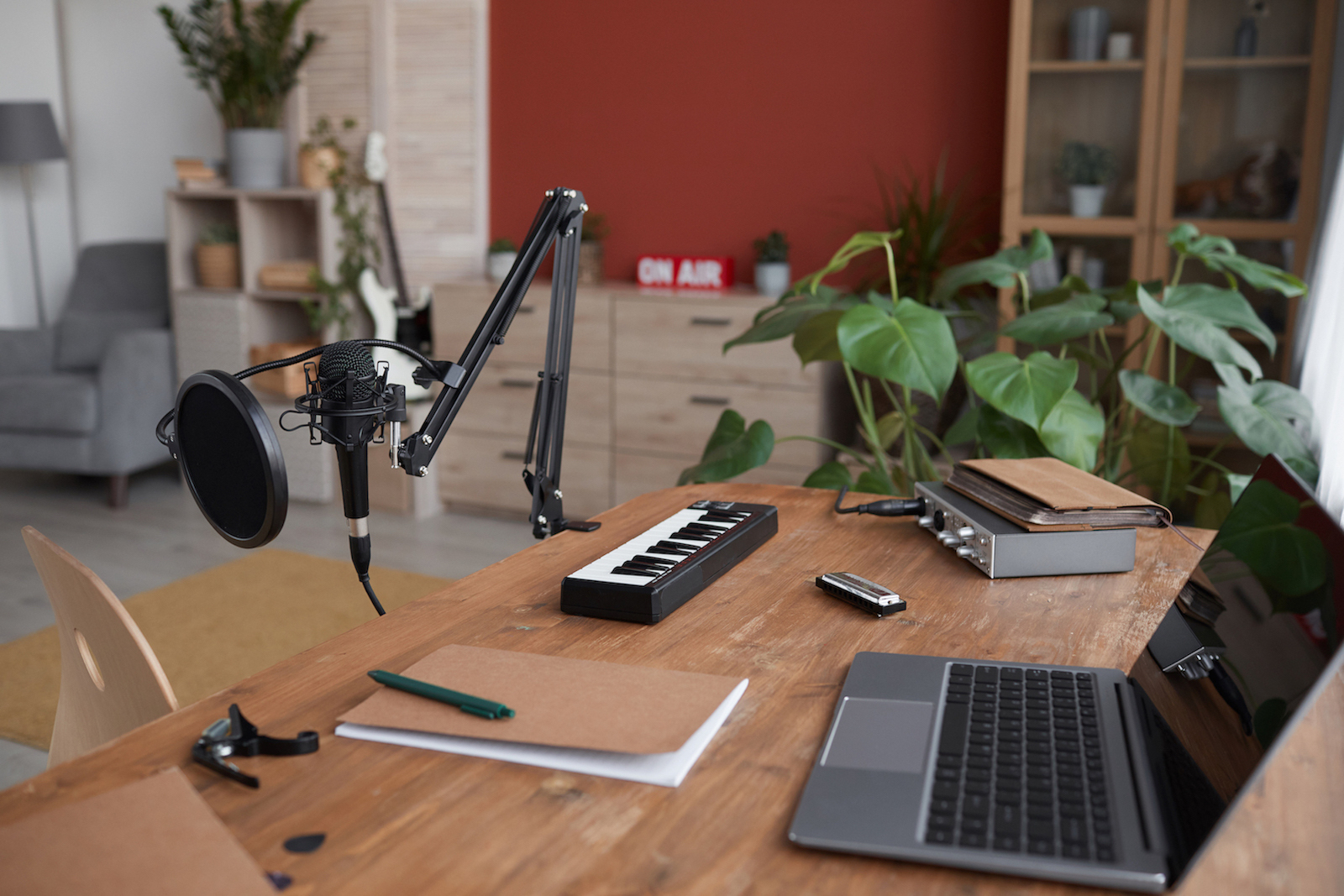 16. Run a Competition
Encourage engagement with a competition on your chosen social media platform.
Competitions still work in 2022 and are an immensely powerful marketing tool, not just in the music industry. The trick to running a great competition is to have something worth giving away! Think about people what like and use the competition to increase your visibility and reach more fans.
17. Ask Fans to Suggest Songs You Might Like
Social media content for musicians and bands doesn't always have to be about you. In fact, if you can make your content more about your audience and less about you, you have a better chance of increasing engagement.
Interactive posts like this is fans user-generated content that you can use. Find a creative way to ask your audience for something new to listen to.
18. Two Truths And A Lie (Make Your Fans Guess)
Create a short Instagram Reel or TikTok with 3 facts about you or your band members.
The catch is, one of these facts is completely made up! Don't say which one is the lie and see if your fans can guess in the comments. A really fun micro-content idea that is sure to bring you some engagement.
19. Remix/Acoustic Version Of A Song
Repurposing existing content is one of the best ways of coming up with quick social media content ideas as a musician.
Why try to create something fresh every single day when you can use things you've already created? Take a song that your fans enjoy and release it again, only in a different format. Moves like this are great for getting more streams on Spotify as well as you release more music.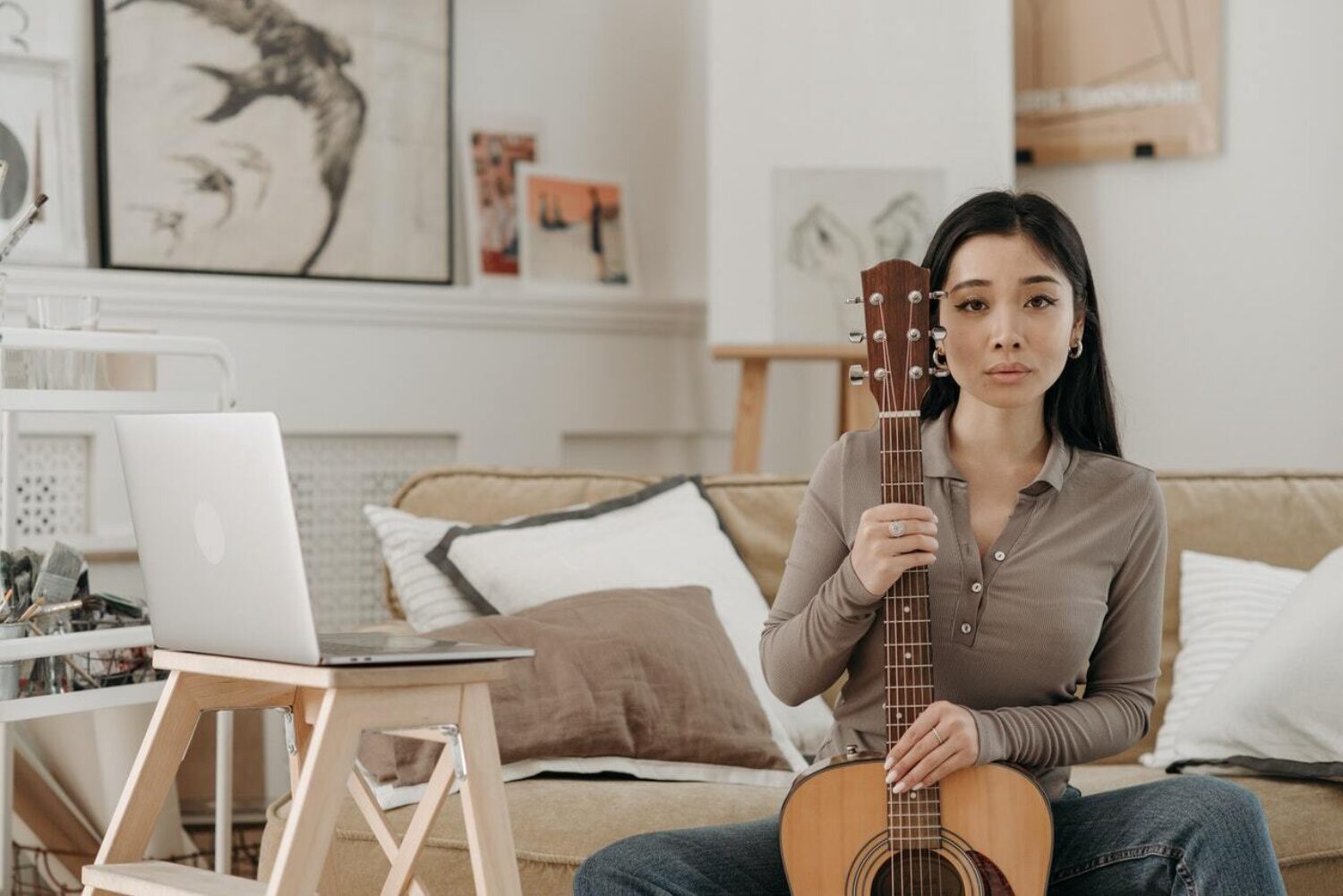 20. Story Behind Your Band Name
Coming up with a band name is a journey.
If you have an interesting story behind why your band name is what it is, you could make a really cool piece of content for social media by sharing your music history and the inspiration behind your name!
Your fans would love to know the origins behind your name, why you chose it, and even some discarded names you almost picked - but didn't!
21. Open Verse Duet Challenge
Collaborations and duets are huge on TikTok.
Allowing other users to duet or stitch with your social media content as a musician can allow your reach to explode. It's a fantastic way to create one small piece of micro-content that has the potential for massive reach online!
22. Behind The Scenes At Band Practice
When I speak to independent musicians about band rehearsal tips, I always suggest that this is a great chance to gather these small bits of content for social media.
Show your fans what it's like when you are in the rehearsal room and give an insight into your day-to-day.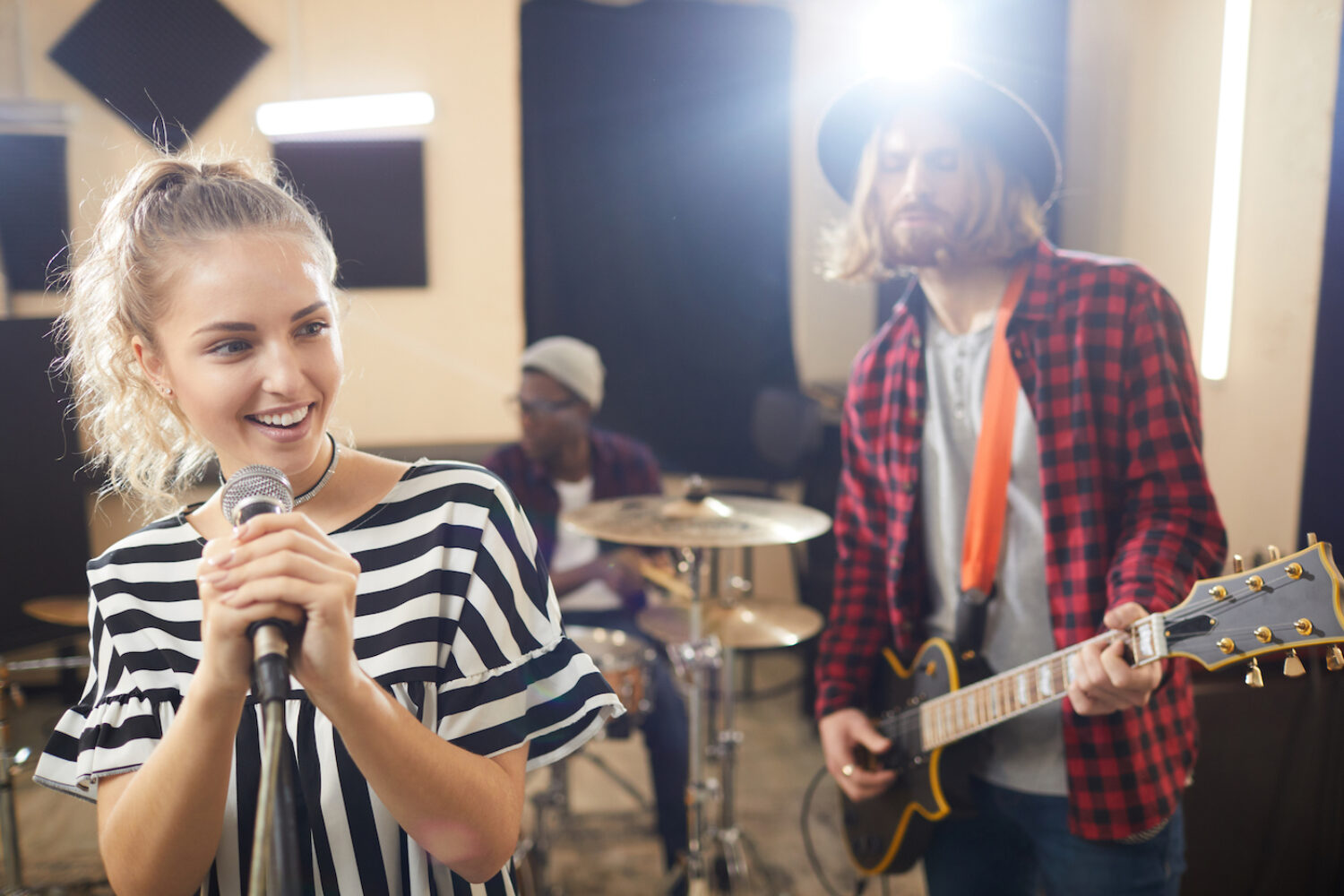 23. Collaborate With Other Artists In The Music Industry
If you are tapped into your local unsigned scene, it could be a good idea to collaborate with other independent musicians.
You could do a short interview, or simply share their content with your fans. Another way of collaborating with these other artists to share a playlist featuring independent bands that you enjoy!
24. Recommended Music On Your Social Media Channels
Remember, it's not always about you.
To make your social media work for your band or artist project, you need to involve your audience and deliver value. You should know what style of music your ideal fan enjoys. Recommend your favourite artists or a song they should check out. You could even make it a regular thing and recommend a new album each week!
25. Make a Spotify Playlist
Spotify playlists have been used for many years as a primary source for content creation for users and artists alike. We've already suggested recommending your favourite music to your fanbase. Why not go a step further and make a custom Spotify playlist that you can share with your fans? Maybe even drop one of your own songs in there for good measure...
A super-advanced tactic to take this further and get your music on Spotify playlists is to ask your followers to make their own playlists, featuring your music somewhere in there.
Spotify also uses playlists generated by these users to learn more about you. It can affect your fans also like, bring you more Spotify followers, and also gives you a chance to feature on algorithmic playlists like Discover Weekly and Release Radar.
26. Create Custom Songs for Fans
Not every song release needs to be the biggest and best thing you've ever written or put out.
Remember, we're here to talk about micro-content. Giving your fans an opportunity to have input into your actual song creation is so powerful. You could ask your fans to provide you with words, ideas, subjects or even a story. Then, compose a short 30-second song, perform it and tag that person in it!
One of the reasons why musicians fail is because they take their fans for granted and don't understand the power of 1-1. Moves like this can turn a passive watcher into a superfan of your art.
27. Perform Covers
Even if you are a completely original band, covers are super useful in your promotion efforts.
The trick here is to choose the right song to cover. It should be something your audience can connect with and that demonstrates what you do best.
Performing covers on YouTube can yield huge results when it comes to YouTube SEO. The right cover at the right time provides potential fans with an entry point into your world.
If you are doing covers on Instagram & TikTok, the correct use of music hashtags can increase your visibility even further.
28. Funny Posts & Memes
Meme-style posts aren't a waste of time.
Memes really do make the world go round. Or at least the virtual world.
This kind of content is super shareable, easily digestible, and provides some breathing room from laboring over high-quality posts every single day. Exactly what micro-content is meant to do!
You can use popular meme templates paired with creative or funny captions for the best results. Make sure you are switched on to popular culture or aware of the current news cycle. For this content to land, it has to be timely and relevant!
29. Live Photos From Shows
Don't forget to take photos of your shows, or even have fans send you photos of your performance.
Remember that if you have an official photographer at your gigs, tag them and the venue in as well for extra kudos! Using fans images from your shows as well is a great way of connecting with your audience.
When writing your band setlist, you really need to think ahead and figure out the best moment to get content for social media. Plan your key messages and even feature a moment in the show where you can get some great pictures and videos for social media.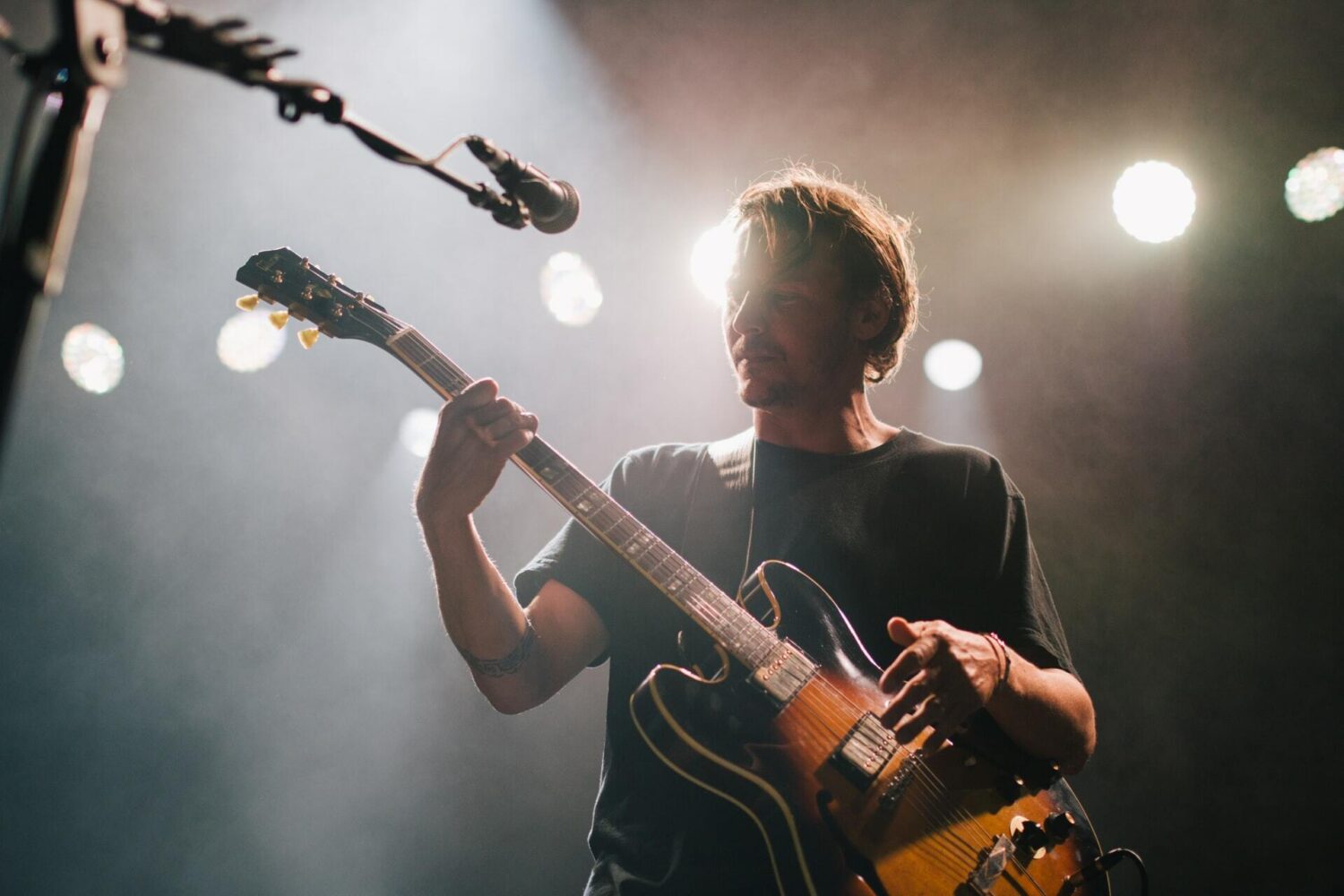 30. Virtual Concerts
A free live stream for your fans is a really simple and quick way to provide live music for those who may never get to see you live.
You may have noticed how much more popular this became during 2020 (for obvious reasons), and it's still sticking. Virtual concerts are such a cool way of talking to your fans whilst providing some awesome entertainment with a few performances.
31. Live Stream Q&A With Fans
You don't have to perform your music on live streams. Keep things chill and answer fan questions live on stream, or simply just hang out.
Musicians have this fantastic opportunity to interact live with audiences, and they should do it more often. This is where fans can gain a real connection towards you and your music.
Start with a casual Instagram Live or TikTok Live and answer questions from a previously posted musician post.
And look, if you despise the idea of doing a live stream, it's all cool. You can get fans to ask you questions on your Instagram stories and then reply to them in a follow-up story!