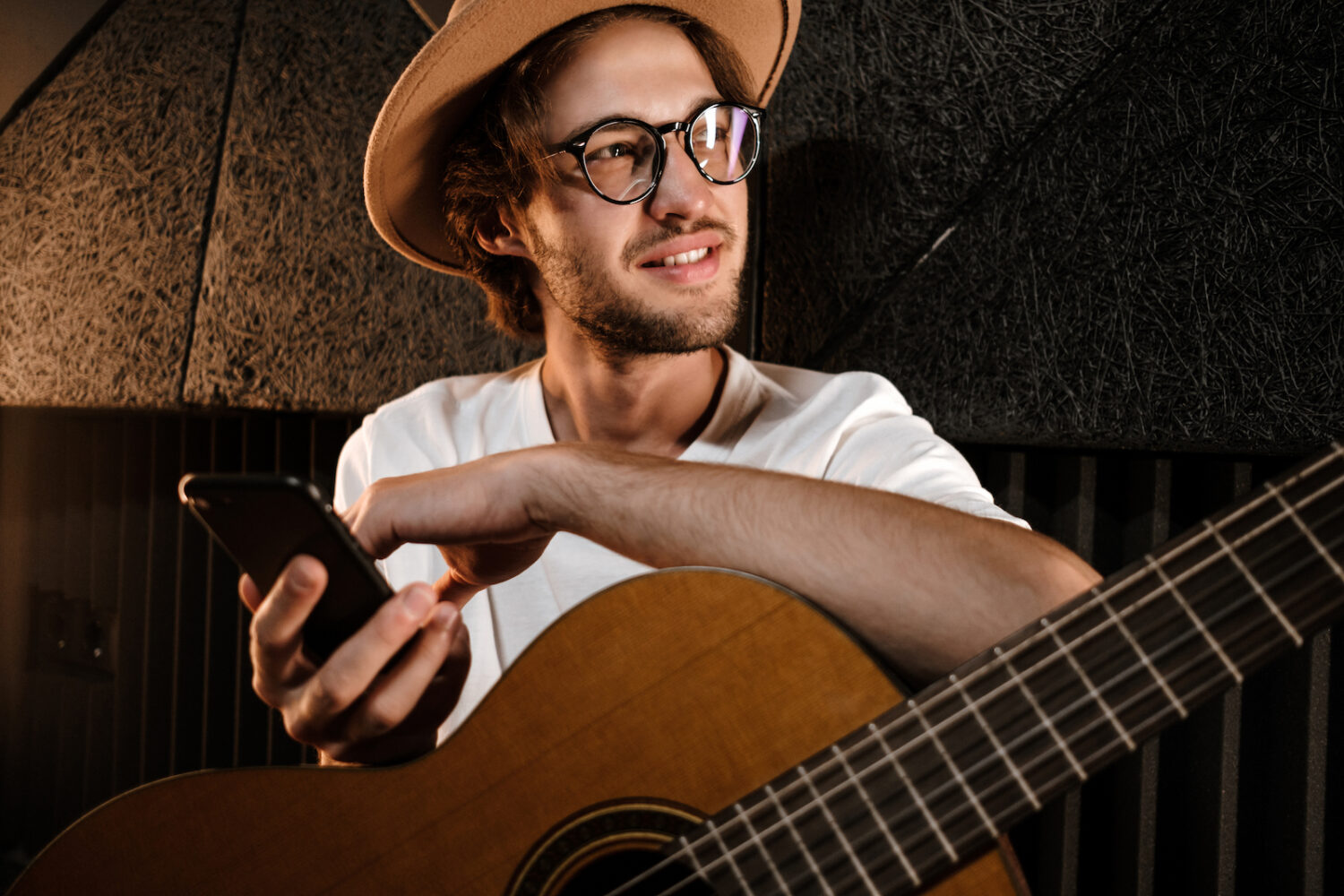 Download Your FREE 22-Day Single Release Plan

GET NOW
Best Hashtags for Music Artists, Singers & Musicians (2022)
Looking for popular hashtags for your music Instagram account, TikTok, or other social media?
A successful hashtag strategy starts with using hashtags for music that are relevant to your niche. Find potential fans, followers and increase engagement with these Instagram hashtags for musicians.
We've split this guide up into easy-to-use sections for what style of artist you are or what instrument you may play. Click to go straight to your music hashtags now.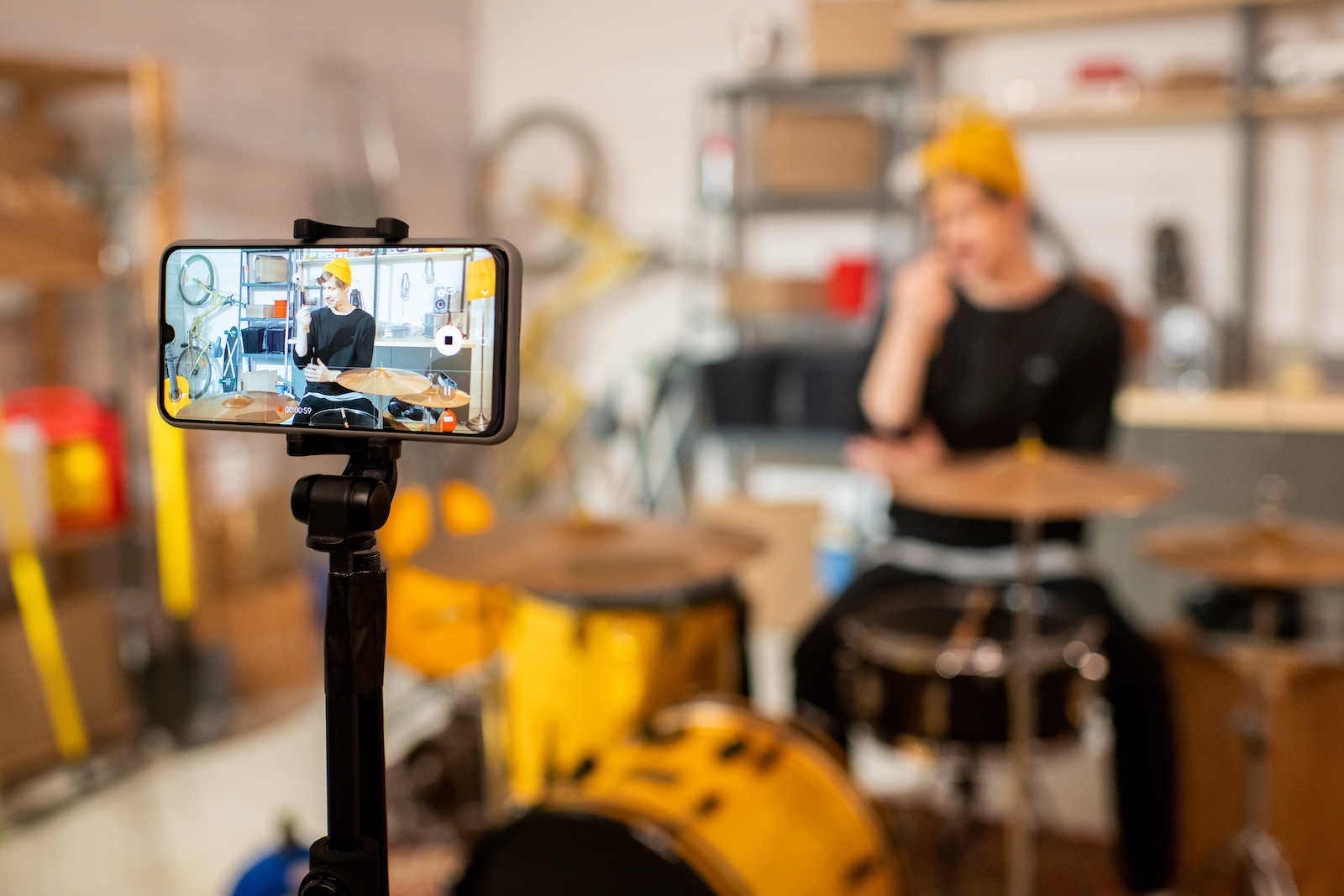 How To Use Popular Hashtags For Your Music
One of the popular music marketing strategies to get more music fans is to use social media platforms like Instagram and TikTok effectively.
It goes without saying that you should be aiming to come up with good social media content ideas for your music anyway, but hashtags can make your content more visible.
You'll no doubt be aware that using the right hashtags or a specific hashtag on your posts can bring you new fans, more followers and allow your posts to reach a larger audience.
Musicians are always trying to increase their Spotify streams or get more listeners, but a lot of this begins with creating a dedicated following outside of those streaming services. Hashtags on social networks like Instagram can be used to increase the visibility of your posts, increase the number of visitors to your account, increase the audience for your music, and gain more listeners.
Here are a few tips for making sure your music hashtag strategy works.
Make sure your profile looks amazing
The whole point is to bring people in who have never heard of you before. When they visit your profile, your aesthetic should appeal to them, your bio should be interesting and they should be enticed to follow you on social media.
Don't use too many hashtags on your post
Just because Instagram allows 30 hashtags as a maximum, it doesn't mean you have to use them all. Experiment with 10-15 to begin with so you can avoid being seen as spam.
Have a business profile for more insights
In order to track success, we need data. Having a business profile on Instagram or TikTok allows you to see how responsible your hashtags are for your post visibility, allowing you to swap out ones that aren't working for different hashtags.
Use a mix of the most popular hashtags and small hashtags
Experiment with hashtags that have a high number of posts, as well as those with a small number of posts. Even less than 1000. This allows you a chance at ranking for both. Often, the more popular music hashtags are harder to rank for.
---
Music Hashtags for Artists
We've collated the best music hashtags for every niche, genre, and style of musician online. If you are looking for music-related hashtags for your music social media posts, you are in the right place.
We've split up these musician hashtags into different categories to make things easier for you.
General Music Hashtags and Musician Instagram Hashtags
These are hashtags related to music in general. The ones included here can be used in any music genre and are more general hashtags for promoting music or for musicians to use.
#music #songs #artist #musician #musicians #musicismylife #musicianlife #musiclove #musicartist #upcomingartist #unsigned #livemusic #nowplaying #musicvideo #song #newmusic #musiclife #musiclover #musicindustry #musicmaker

Pop Music Hashtags
For aspiring pop musicians, start off with these top hashtags and then get specialized according to more niche genres and artists.
#popmusic #pop #musicpop #partymusic #poppopular #popsongs #popsinger #popmusician #popmusicstar #popmusicvideo #popmusicians #popmusiclife #popmusicgroup #popmusicartist #popmusicsong
Country Music Hashtags
Country music represents one of the most popular music genres on Instagram and social media. Use these country music hashtags in your posts.
#countrymusic #country #countrysinger #nashville #countrygirl #countryboy #cowboy #americana #outlawcountry #classiccountry #tennessee #blues #texas #countryartist #countrymusicsinger #realcountrymusic #countrylife #johnnycash #americanamusic #countryradio #bluegrass #countrysong #countryconcert #countrymusician #instacountrymusic #countrysong #countryrock #altcountry #countrymusiclover #countrymusicrocks #countrymusicnation #countrymusicians
Electronic Music and EDM Hashtags
EDM has become a big influence in music and there are plenty of electronic music hashtags to use. These hashtags will allow you to share your new music with fans, other musicians as well as finding other electronic music.
#edm #edmnation #electrohouse, #electronicmusic #edmphotos #rave #dj #dancemusic #deephouse #edmmusic #edmlifestyle #techno #edmfamily #house #edmlife #edmlovers #edmvibes #edmworld #edmlove #edmproducer #edmdance #edmaddict #edmculture #edmsavedmylife #edmdj #edmdrops #edmforlife #edmproducers #edmtrap #electronicdancemusic #electromusic #trapmusic #futurehouse #bassmusic #trancemusic #technominimal #nightbass #techhouse #electronicbeats #edmdrops
Hip Hop Hashtags
Many emerging Hip Hop artists share their music on online services such as SoundCloud, Spotify, and Apple Music. Use these hip hop hashtags to promote your music or find more people.
#hiphop #hiphopculture #hiphopbeats #hiphoplife #hiphoplive #hiphopmusic #undergroundhiphop #boombap #hiphopdance #oldschool #hiphopartist #hiphopdaily #hiphophead #hiphopheads #hiphopislife #hiphopjunkie #hiphoplyrics #hiphopnation #hiphopparty #hiphopproducer #hiphopunderground #lofihiphop #newhiphop #boombapmusic #westcoasthiphop #hiphoplegend #hiphopstyle #hiphopaddict #hiphopcommunity #hiphopvideo #hiphopbeat #hiphopfreestyle #hiphopdontstop #hiphophooray #hiphopartists
Rap Hashtags
Rapper's songs can be promoted online or on streaming services like Spotify, Tidal, and a variety of other services. These rap hashtags can help music lovers find and follow rap music they like, grow fans, and expand audiences. Use these rapper music hashtags to promote your music.
#rapmusic #raplife #rapper #rappergod #nomumblerap #rap #rapinstrumentals #unsignedrapper #upcomingrapper #rappers #rapradar #realrap #rhymes #rnb #rnbbeats #rnbhiphop #rnbmusic #rnbsinger #soundcloudrapper #rapartist #rapzilla #rapbeats #rapperlife #rapfreestyle #rapsong #rapsongs #rapmusicvideo #rapbattle #freestyle
Rock Hashtags
These are some useful social media hashtags for finding new fans in the rock artist genre. Relevant hashtags for rock bands on Instagram.
#rock #hardrock #rocknroll #rockandroll #rockband #rockartist #rockon #band #bandmembers #grungemusic #hardrockband #rockmusic #rockshow #indierock #progrock #rockstar #rockstyle #rockbands #rockmusician #rockmusicians #rockmusiclover #rockmusicvideo #rockmusicmatters #rockmusicneverdied #rockmusicforever #rockmusicforlive #rockmusicislife
Alternative & Indie Music Hashtags
Not straight rock or pop music? Try these trending alternative and indie hashtags to get your posts in front of certain fans.
#alternativemusic #music #alternative #alternativerock #indierock #independentartist #indieartist #alternativestyle #alternativepop #indieband #artrock #altmusic #indiepop #alternative #altrock #alternativeaesthetic #alternative #indiemusic #indiestyle #indiemusician #alternativemusician #indienation #altnation
Heavy Metal Hashtags
Here are some of the best hashtags to use in the metal, hardcore, and heavy music scene.
#heavymetal #deathmetal #metal #metalhead #powermetal #thrashmetal #hardrock #metalmusic #blackmetal #metalheads #heavymetalmusic #metalcore #powermetal #metalband #heavymetalband #headbanger #doommetal #speedmetal #hardcoremusic #grindcoreband #extrememetal #blastbeats
Pop Punk/Emo Hashtags
Pop-punk and emo-style musicians have plenty of relevant hashtags they can use to promote their songs on Instagram and other social media platforms.
#poppunk #postpunk #punk #punkrock #emo #poprock #skatepunk #poppunksnotdead #poppunkband #punkrockmusic #scenemusic #scene #emomusic #punkmusic #poppunkmusic #poppunkforever #poppunkkids #genericpoppunk #poppunkkids #poppunkpizzaparty #emostyle #emoscene #emobands #poppunklife #emolife
Folk Music Hashtags
Find your folky audience on Instagram and social media with these trending folk music industry hashtags.
#folk #folkrock #indiefolk #folkmusic #folkmusician #folklore #folksinger #folkdance #festival #folksong #folksongwriter #traditionalmusic #folksongs #folkband #folkmusicians #folkartist #folkartists #folkpop #folkstyle #folky #folkyvibes
Reggae Hashtags
Search hashtags to use for reggae-style music online. Use these in your posts to reach new users interested in reggae bands, world singers, and artists.
#reggae #reggaemusic #rootsreggaemusic #reggaestyle #reggaelove #reggaeville #bobmarley #jamaica #dancehallmusic #dancehall #reggaesinger #reggaeband #reggaemusician #afrobeats #rootsreggae #onelove #reggaeton #rasta #rocksteady #reggaeroots #jamaicanmusic #reggaevibes #reggaetondance #reggaeartist #reggaetonmusic #reggaelovers #reggaelove #reggaedancehall #reggaerock #reggaelife #reggaemusicforever #reggaenation #reggaeriseup
DJ Hashtags
Here are the best hashtags for DJs to use alongside their videos and posts on Instagram and other social media accounts. Try using these on your post ideas to see if you can boost your reach.
#dj #djs #dance #djset #club #technodj #djlive #disco #party #remix #djing #djproducer #instadj #djmix #clubdj #djmusic #partydj #eventsdj #internationaldj #djingismylife #djsets #housemusicdj #techno #djlife #realdjs #djworld #djbooth #deejay #housemusic #pioneerdj #deejays #djlifestyle
Guitarist Hashtags
There is a huge community of guitarists on Instagram and other platforms. For the best results, use a hashtag here combined with your genre. For example, if you are a metal guitarist, use a mix of guitar hashtags as well as music genre hashtags on your post.
#guitar #guitarist #guitarplayer #guitars #guitarsolo #guitarporn #fender #gibson #electricguitar #acousticguitar #guitarsdaily #guitarporn #guitarsofinstagram #instaguitar #guitarists #guitarworld #stratocaster #guitarcommunity #bluesguitarist #bluesguitar #soundofguitars #riffwars #lickwars #guitarcover #guitarlife #guitars #guitarlove #guitareffects #guitarplayers #guitarlicks #guitarshred #guitargod #guitarplaying
Songwriter & New Music Hashtags
Putting out your own original songs as a musician? Here are some tags for songwriters and producers.
#songwriter #songwriting #singer #newmusic #producer #singersongwriter #musicproducer #unsignedartist #musicproduction #composer #recordingartist #newsong #originalmusic #newsinger #musicmaker #lyricist #singersongwriters #songwriters #originalsong #newmusicalert #upcomingartist #newsingle #newalbum #songwritersofinstagram #songwriterlife #songwriters #songwritingprocess #producerlifestyle #newsongscoming
Pianist & Piano Hashtags
Posting piano covers or performing original piano songs on video? Try using these tags with your posts.
#pianists #pianist #piano #pianoplayer #pianomusic #pianocover #pianosolo #instapiano #pianoforte #pianista #classicalpiano #pianolove #pianogram #grandpiano #pianopractice #pianolover #pianotime #keyboardist #pianoman #pianopiano #classicalpianist #pianoplaying #pianovideo #pianistsofinstagram #pianovibes #pianohour #pianotime #pianoislife #pianovocal #pianotalents #pianoplay
Drummer Hashtags
These drum hashtags are great for drum musician covers, pictures of drumming, and live performance videos.
#drums #drumming #drummer #drummerworld #cymbals #drumvideo #instadrum #instadrummers #percussionist #drumlife #drummersofinstagram #drummerlife #drumset #drumstagram #drumsticks #drumcover #groove #drumkit #drumsolo #drumsdaily #rockdrummer #zildjian #drumfam #snare #snaredrum #drumbeats #drumsetup #playingdrums #drumporn #drumfill #drumsdrumsdrums #drumgroove #drumchops #drumaddict
Bassist Hashtags
For all the fellow bass guitarists out there, here are some of the best hashtags specific to your instrument!
#bassist #bassguitar #bass #bassplayer #bassguitars #bassists #bassporn #bassplayersunited #bassgram #instabass #fender #basslove #basscover #jazzbass #groove #bassistsofinstagram #bassline #electricbass #weplaybass #basstheworld #basslife #bassman #bassguitarist #slapbass #funk #fenderjazzbass #bassgear #bassplayeruniverse #basssolo #bassistsdoitbetter
Saxophone Hashtags
Sax players rise up! Here are some tags saxophonists and sax musicians can use on social media platforms.
#saxophone #saxophonists #saxophonist #sax #saxplayer #saxophoneplayer #altosax #tenorsax #saxofone #saxofonista #saxo #altosaxophone #saxophones #tenorsaxophone #saxophoneworld #jazzsax #saxophonelife #saxophonesolo #sopranosax #saxalto #saxophonecover #saxsolo #saxmusic #djsax
Singer Hashtags
If you're posting singing videos on your TikTok or Instagram, here are some useful tags to use.
#singer #singing #vocalist #vocals #singers #voice #vocalist #vocalrange #instasinging #sing #singingvideo #singerlife #singingtalent #vocalsfordays #dailysingoff #topvocalist #goodvoice #thegoodvoice #omgvoices #vocalcover #hotvocals #beautifulvoices #damnvocal #lovelyvocals #hotvocals #bestvocals #instasinger #singingislife #giftedvoices #bestvocal #topvoice
Cover Song Hashtags
It's worth pairing these with your instrument or genre you are covering, as well as some relevant hashtags for the artist or song you are covering.
#oneminutecover #newcover #coversong #60secondcover #vocalcover #15secondcover #cover #instacover #coversongs #songcover #shortcover #coversinger #covervideo #acousticcover #songcovers #instacovers #1minutecover #covermusic #musiccover #guitarcover #drumcover #coverartist #coverband #coversinger