DK

Music Business Academy
Overview
How To Build From Zero To 1 MILLION Streams FAST 🚀
6 Easy Steps To 1 Million Streams ⬇️

Build Your Brand Right

Define Your Audience and Fanbase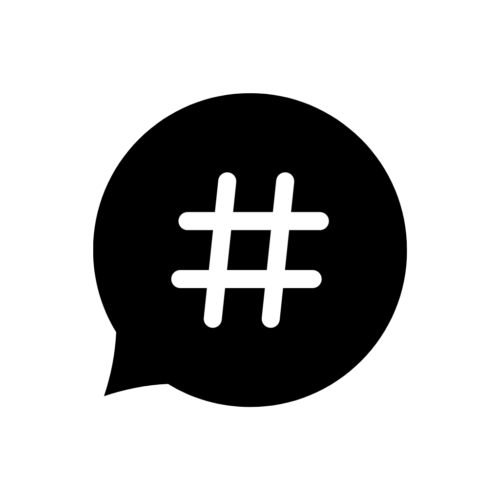 Build Your Socials Effectively

Release Music Consistently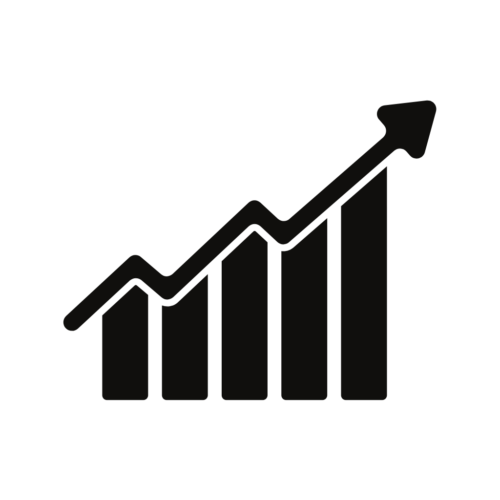 Scaling The Numbers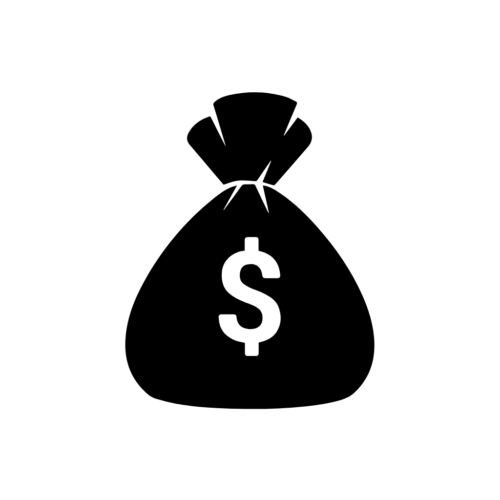 Developing Your ROI and Monetisation

Build Your Brand Right

Define Your Audience and Fanbase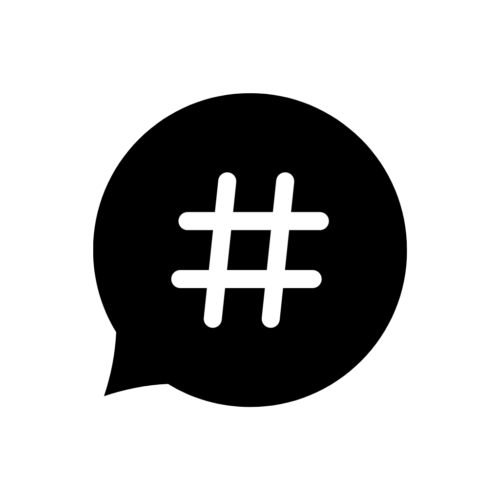 Build Your Socials Effectively

Release Music Consistently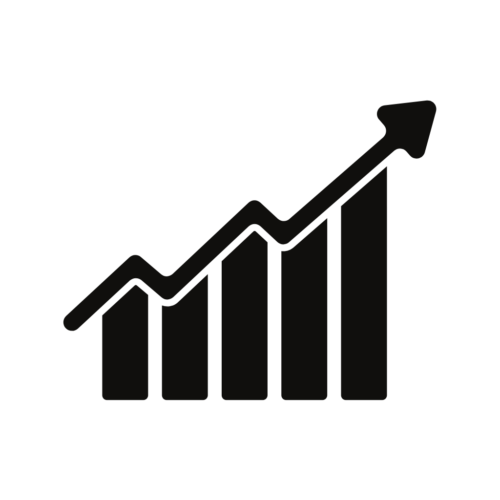 Scaling The Numbers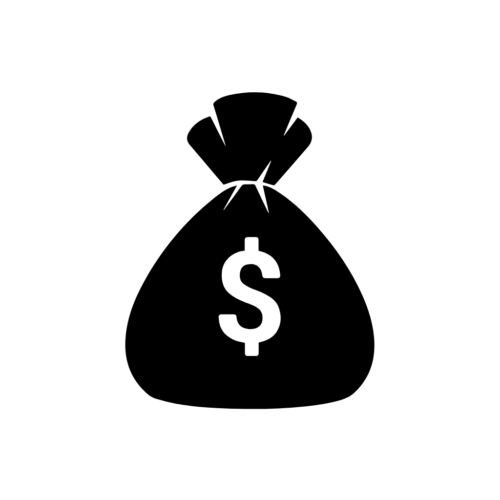 Developing Your ROI and Monetisation
Welcome to degree level education for your music
✅ BRAND NEW: The Roadmap To 1 Million Streams 2.0
Designed to get you results QUICKLY with NO FLUFF. If you're starting from zero, this is the course that will take you from zero to 1 million streams utilising YOUR MUSIC. Build a genuine fanbase (no bots allowed here), a successful career AND scale beyond.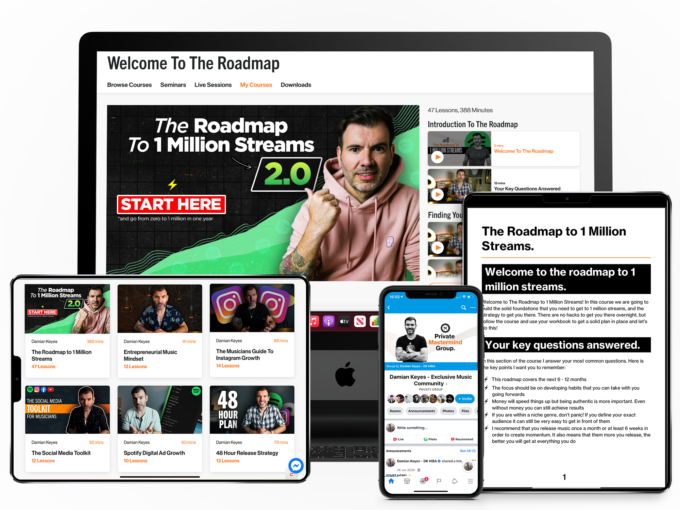 ✅ MENTORSHIP With Me
Next live session starts in
Avoid wrong decisions, get important answers faster and have me on speed dial. Get mentored personally on WhatsApp, weekly livesessions and in my private community to guide you through your success. Whilst you can build your music career alone, mentors get you to your goal FASTER with LESS COSTLY mistakes.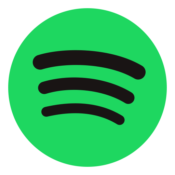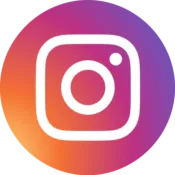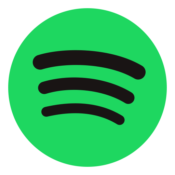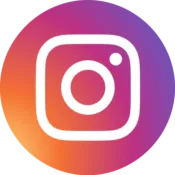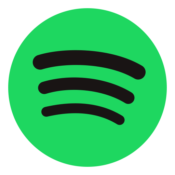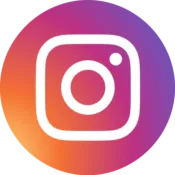 Damian Keyes

Just listened to it, I'd recommend looking at genres like Alt Rock, but I'd also look at mood and place based playlists (not many people think of these straight away), like summer and driving. I've got a couple of contacts so let me hook you up.

Karan Master

What playlists should my new song be going on?

Damian Keyes

I can see that you're posting and that some posts are landing more than others. I think this is because of the narrative elements, so I'd focus on making sure you're using narrative WITH your music and try not to rely on trends (I know we all hate trends!), as trends don't tend to help your music long term.

Tim Milligan

Can you review my socials and let me know where I should be focusing?

Damian Keyes

Ahhh bro this is AMAZING! Massive congratulations, let's smash 2 million next month.

James Smith

I can't believe I'm actually gonna hit 1 million streams this month. I can't thank you enough Damo!
✅ Get PLAYLISTED
Sonar is our Exclusive Portal into Spotify playlisting. Taking data directly from Spotify, you can quickly find ideal playlists for your music alongside the playlist curator's contact details.
Instantly get playlisted on my personal playlists which I share with industry experts
Get playlisted on over 7,000 playlists
Also use my playlist submission template
🆕 Get The Success Guarantee
If you don't see any new results within the first 24 hours, I will personally mentor you or give you your money back. Can't say fairer than that!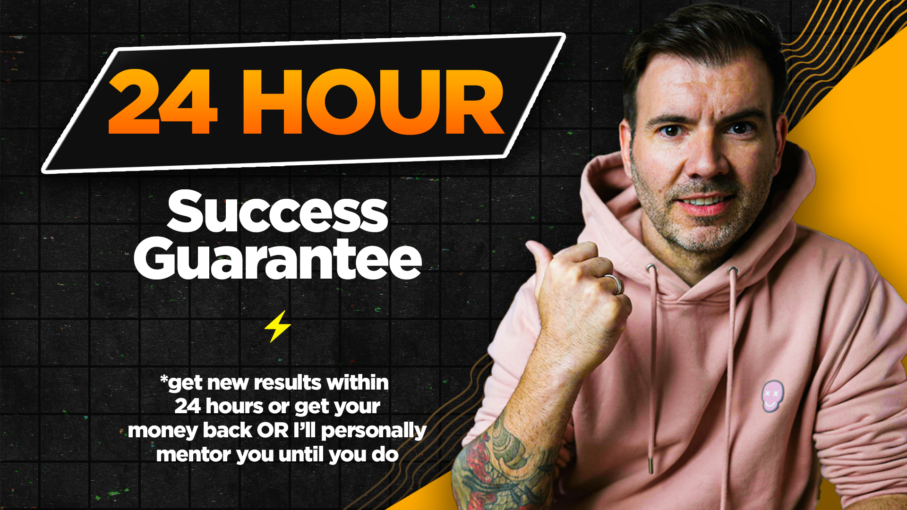 ✅ NOVEMBER LIMITED OFFER
As a limited time offer, I have set up an offer to give you everything you need to get started from zero. As an artist, it can be overwhelming when you release music. It's easy to miss aspects that could be the difference between 1000 streams and 100K or even 1M streams. It includes:
The Music Entrepreneur's Release Checklist
The Radio Database
The Press Database
The A&R Database
The Playlist Database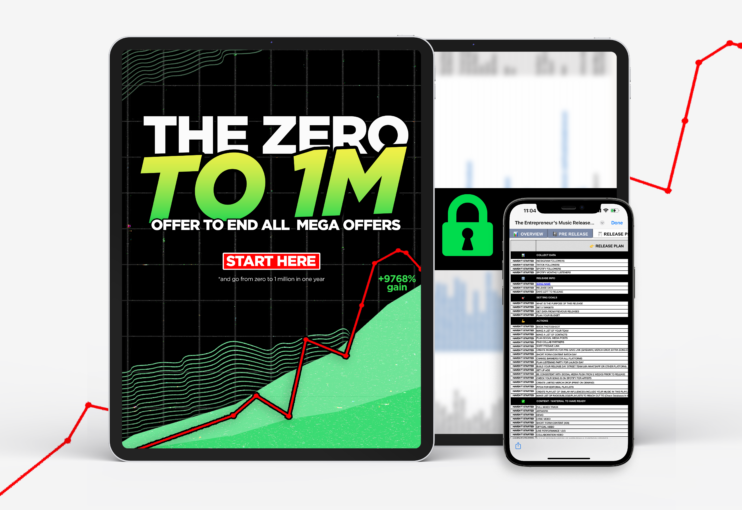 Your membership includes:
The Roadmap To 1 Million Streams

The flagship 8+ hour course taking you to over 1 million streams.

Industry Defining Course Library

40+ hours of courses from music industry leaders.

Get Playlisted With Sonar

Get immediate access to our premium playlist finder and curator tool.

Weekly Livesessions with Damian

Get your questions answered directly from Damian in weekly livesessions.

The Exclusive Community

DKMBA has the best music community online, fact. Our community is via a private Facebook group and built in forums.

Damian's Personal WhatsApp

Message Damian anytime on WhatsApp to work together on your music (Pro only).

Get on the DKMBA Discover Playlists

Damian put together his own Spotify playlists for the industry and you can get featured instantly.

Direct Feedback Quickly

Damian and his team aim to reply within 24 hours, meaning that you'll always be able to get fast feedback on your music and strategy.

Access your Music Career Toolkit

Grab over 50 essential tools, documents and resources for your career quickly and easily.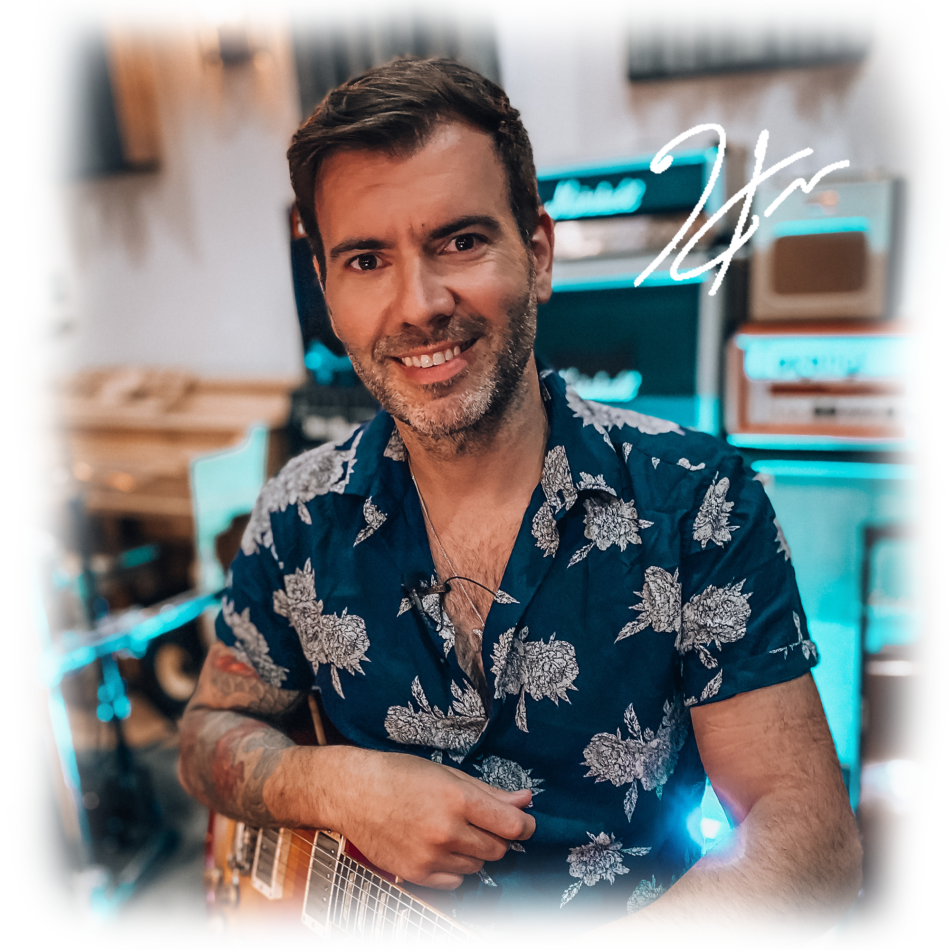 ABOUT DAMIAN
I Do It Differently
I'm not the same as everyone else. This isn't just a course, we are a mentorship programme making sure that you achieve your goals.

I have worked in the music industry my whole life, starting from being signed to Universal Music at 18 to building music universities across Europe valued at $300M (BIMM), to then performing over 2000 gigs worldwide, including playing as a session musician for Alanis Morrisette and Billy Cobham. I have built a YouTube community of over 200 thousand musicians and has helped countless musicians launch their careers in the new music industry.
I'm here to be on your team.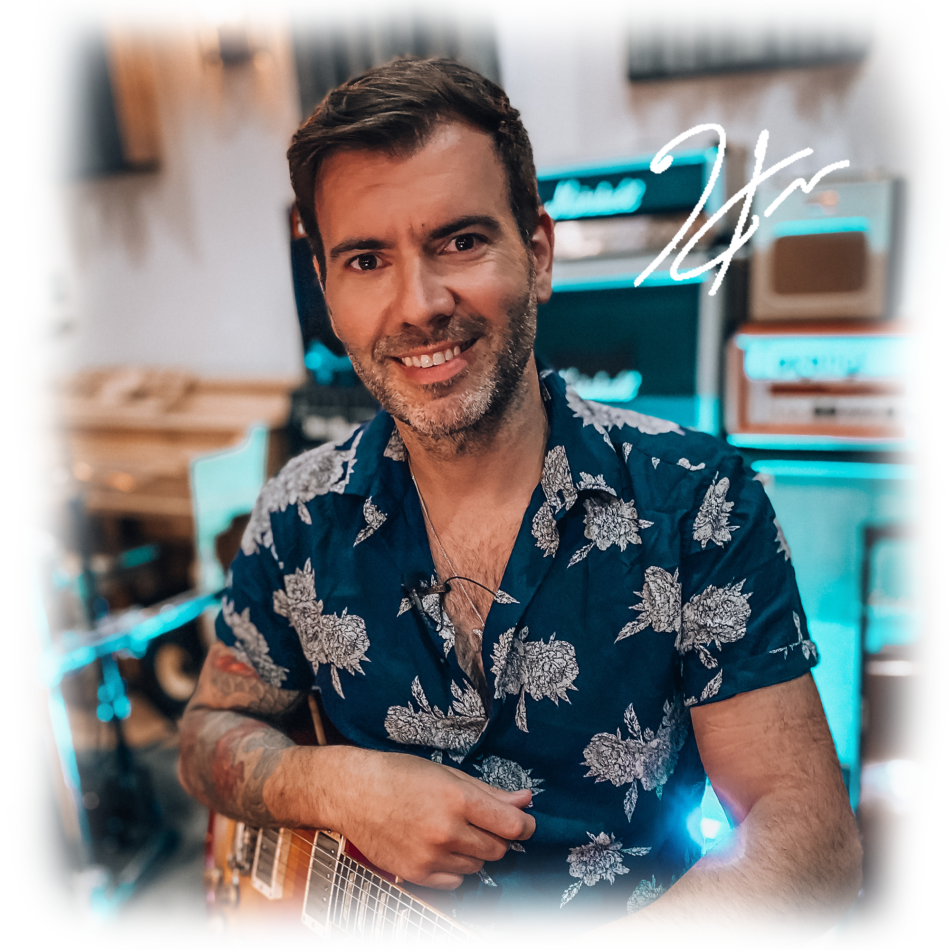 15M+

15M+ Million Views on YouTube

200K+

Subscribers on YouTube

500M+

500M+ combined streams from DK-MBA students

15K+

15K+ DK-MBA Students Worldwide
THE EDUCATION
An Introduction To The Courses
TEACHERS
Meet The Teachers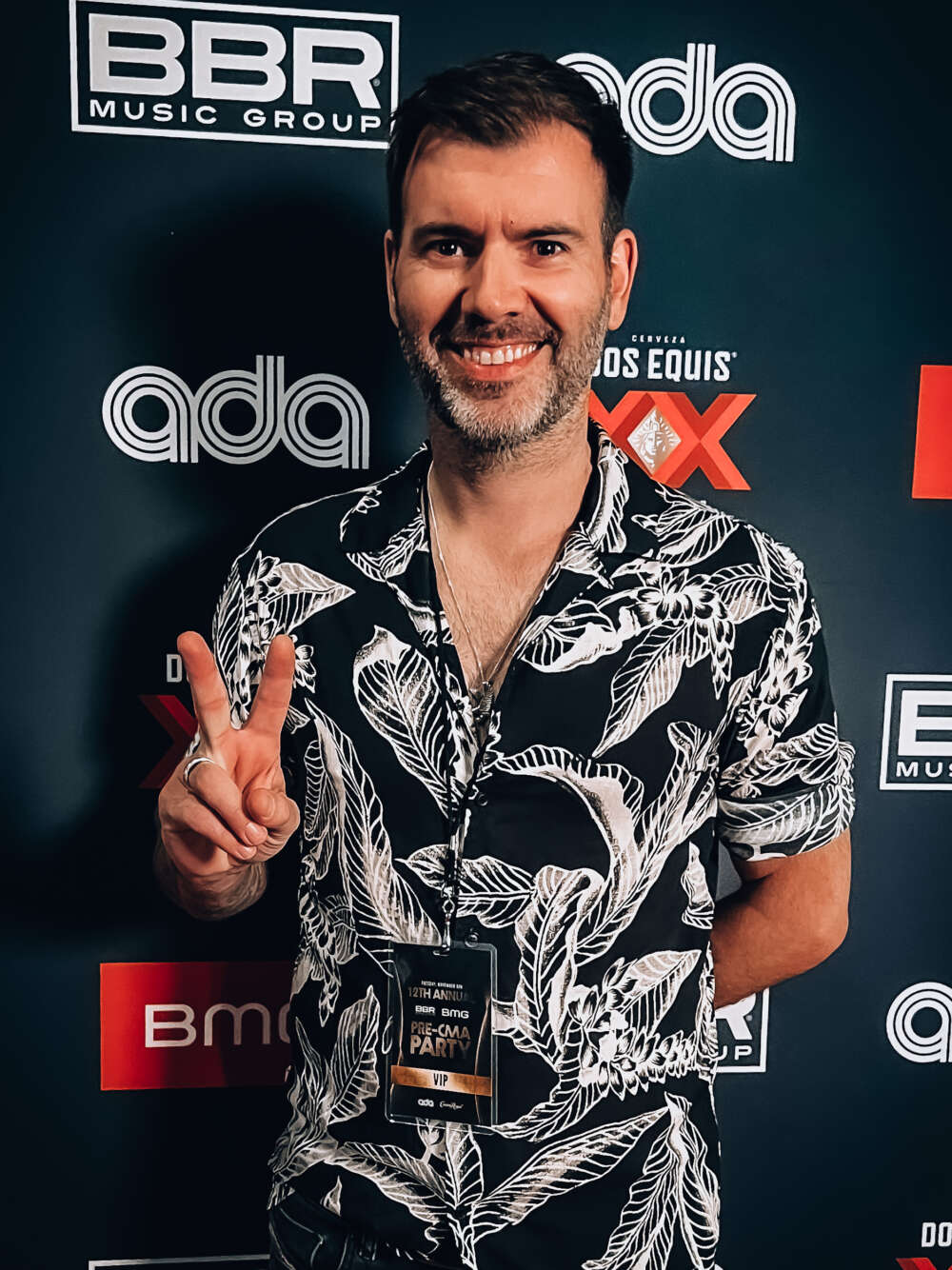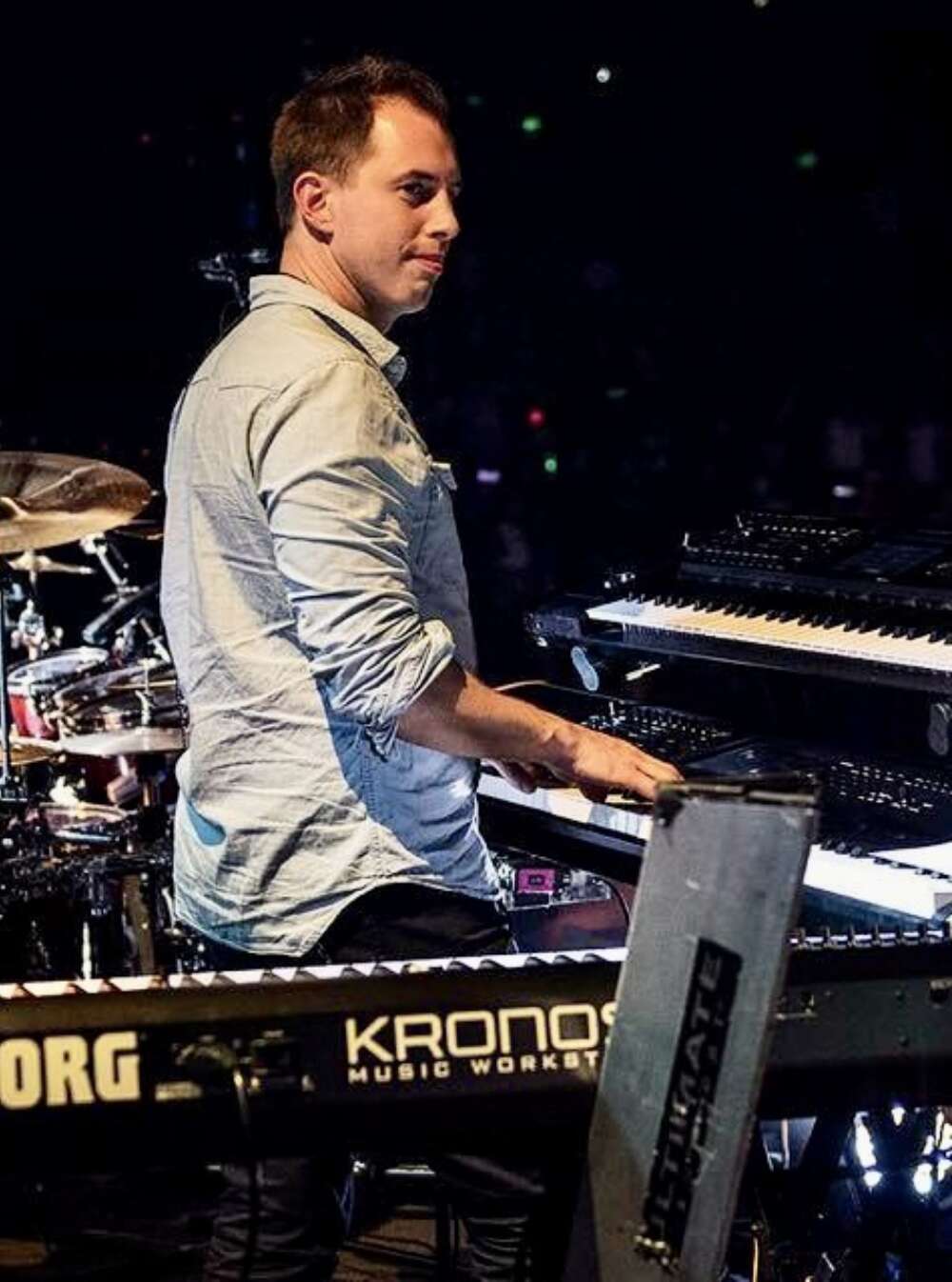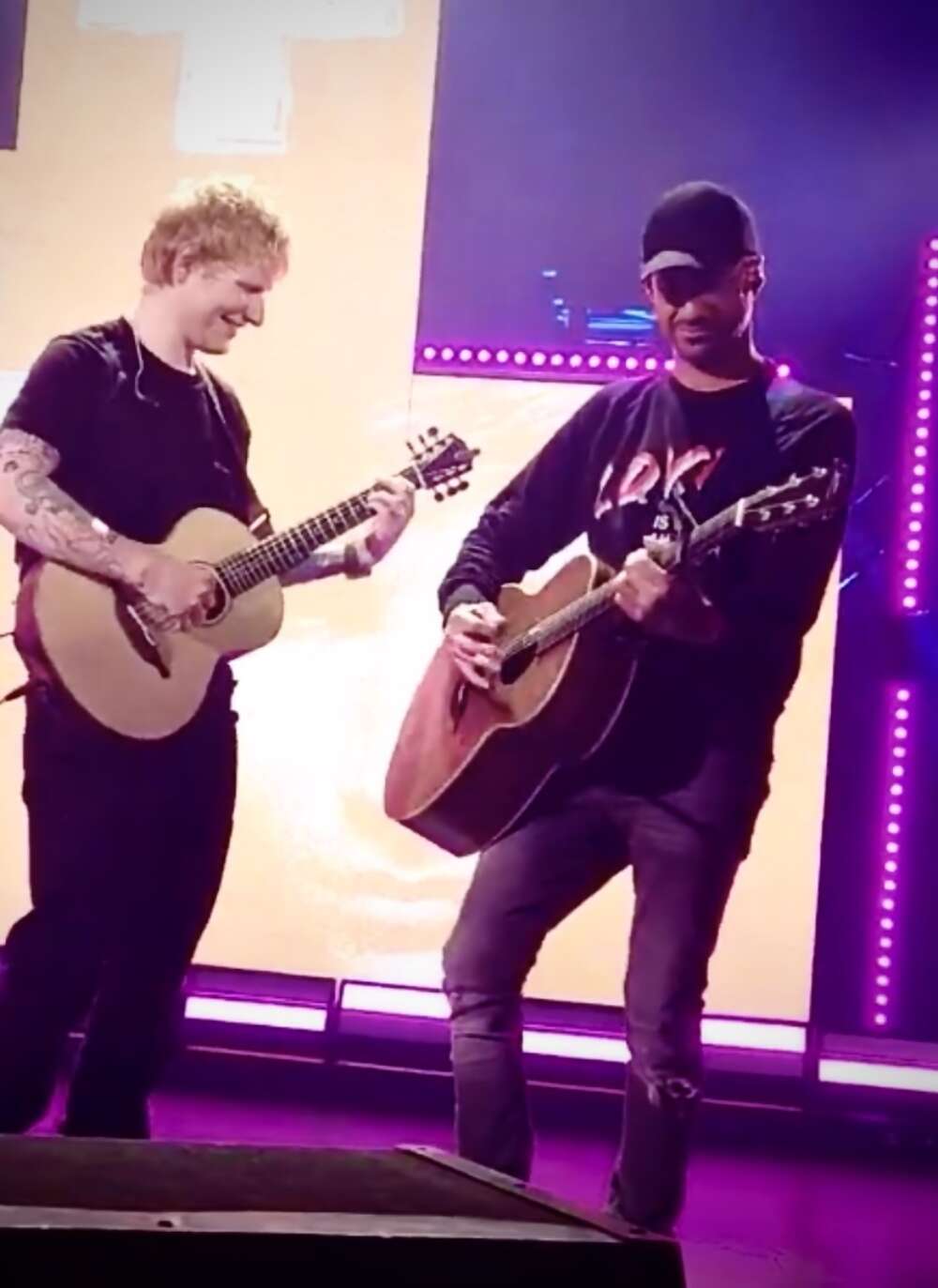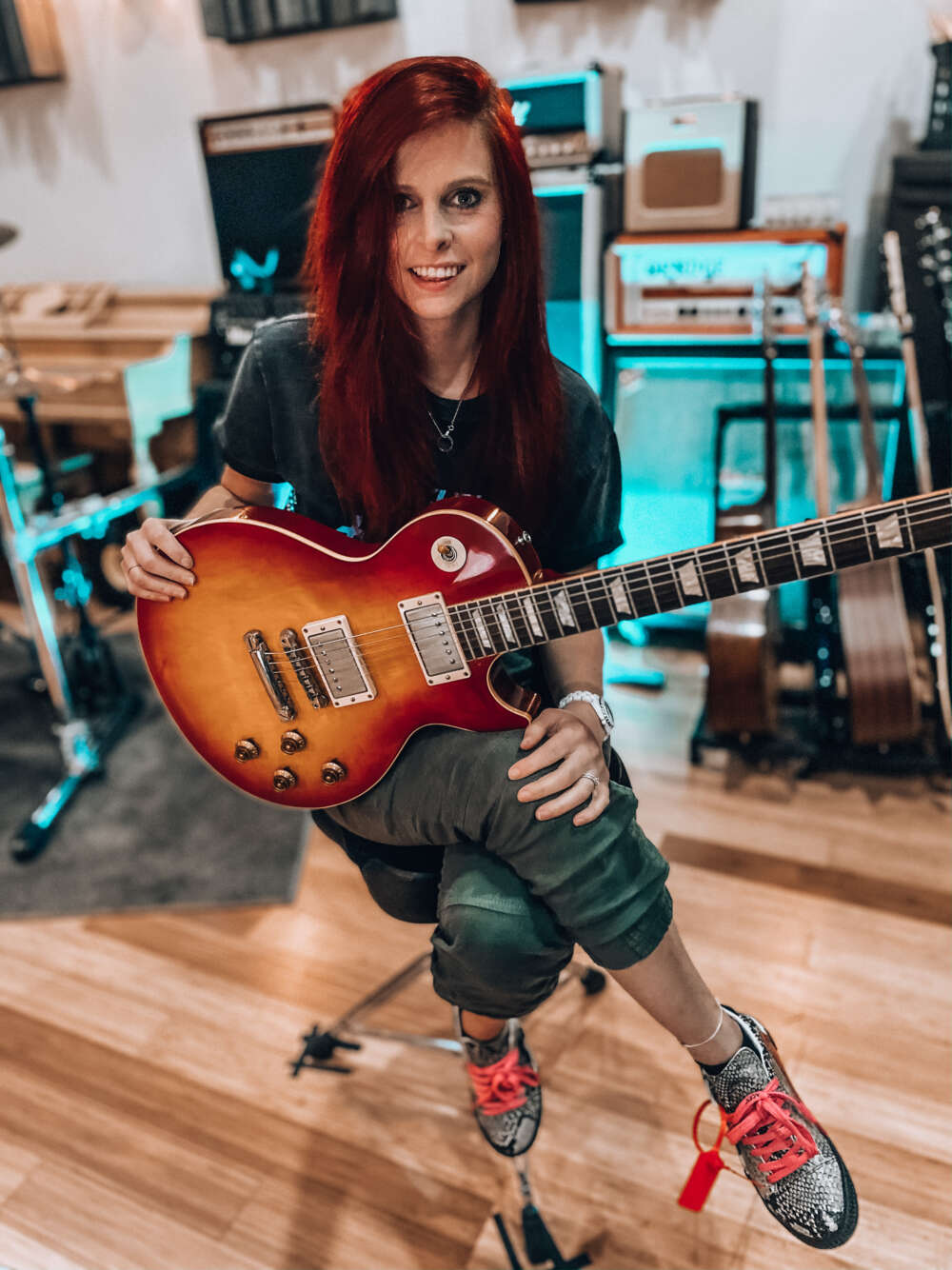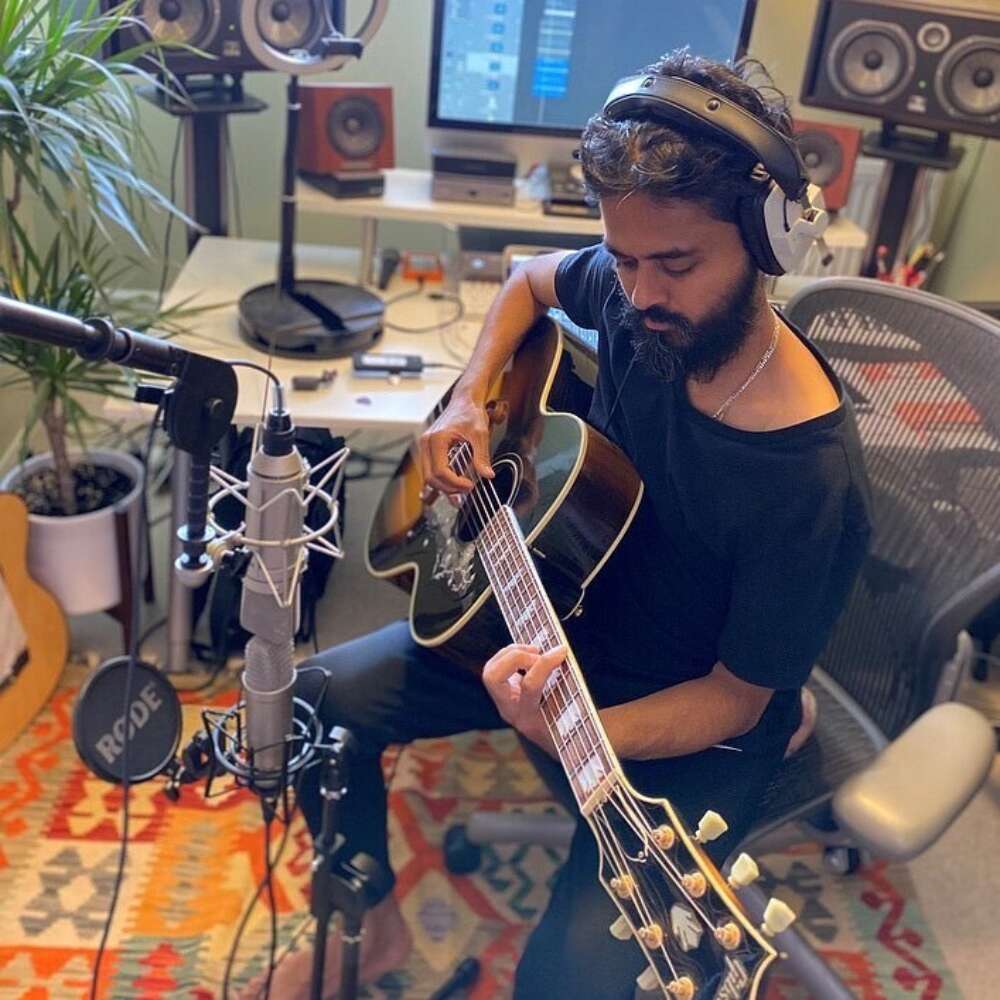 TESTIMONIALS
Don't JUST Hear It From Me...
Last updated 27th September 2023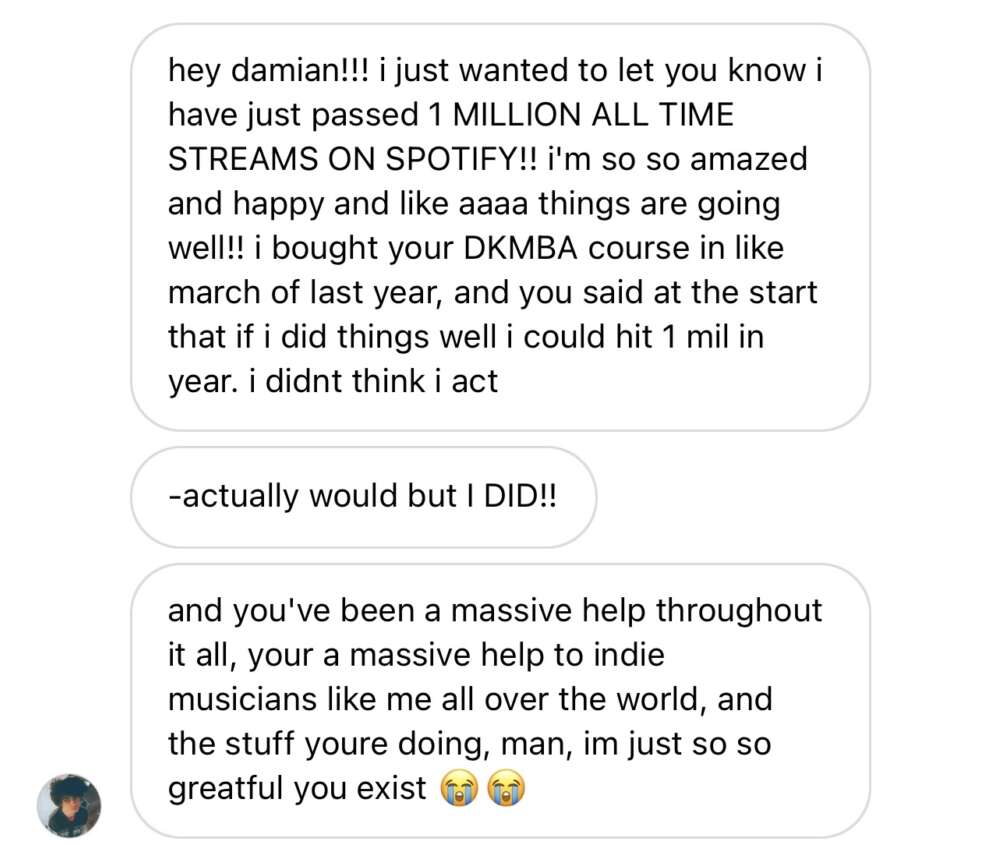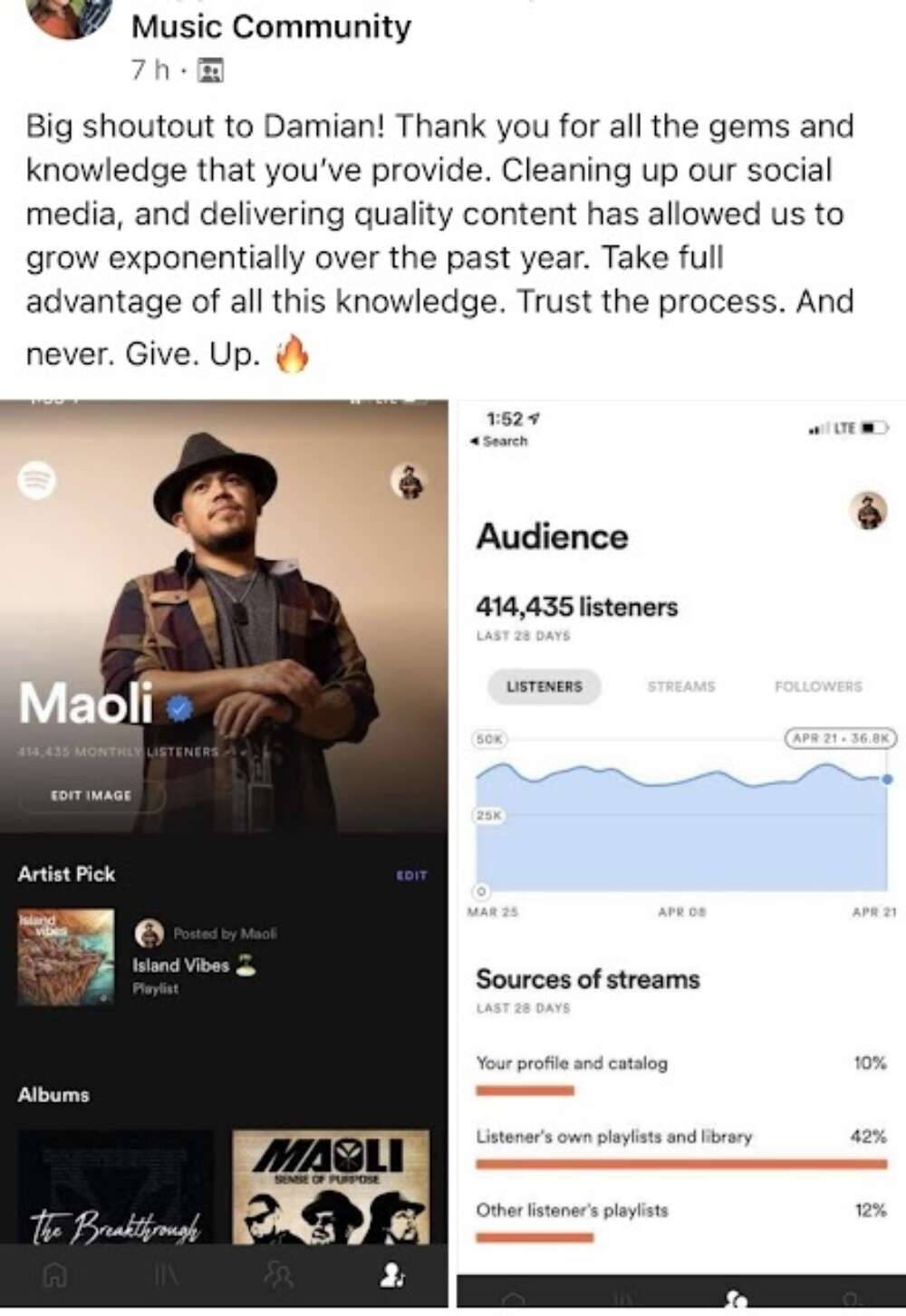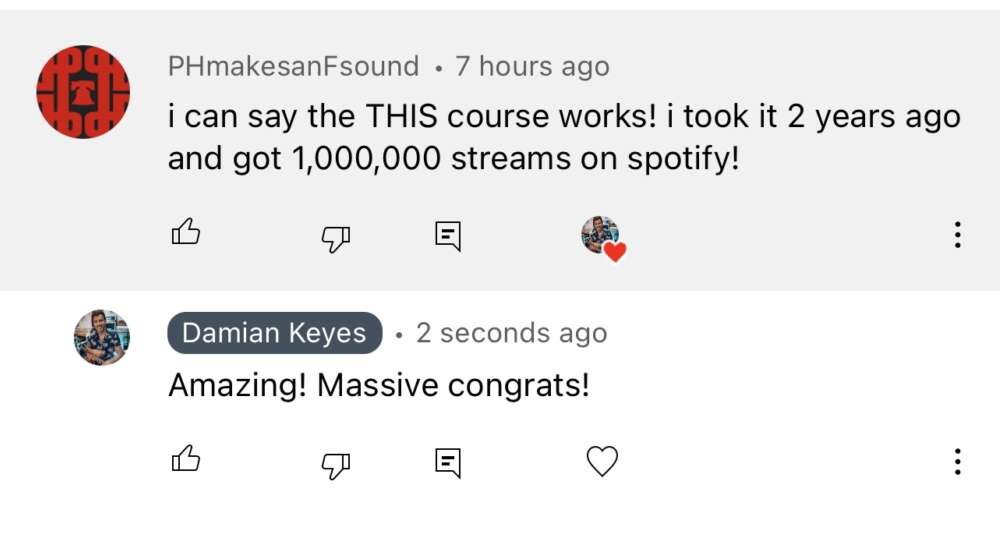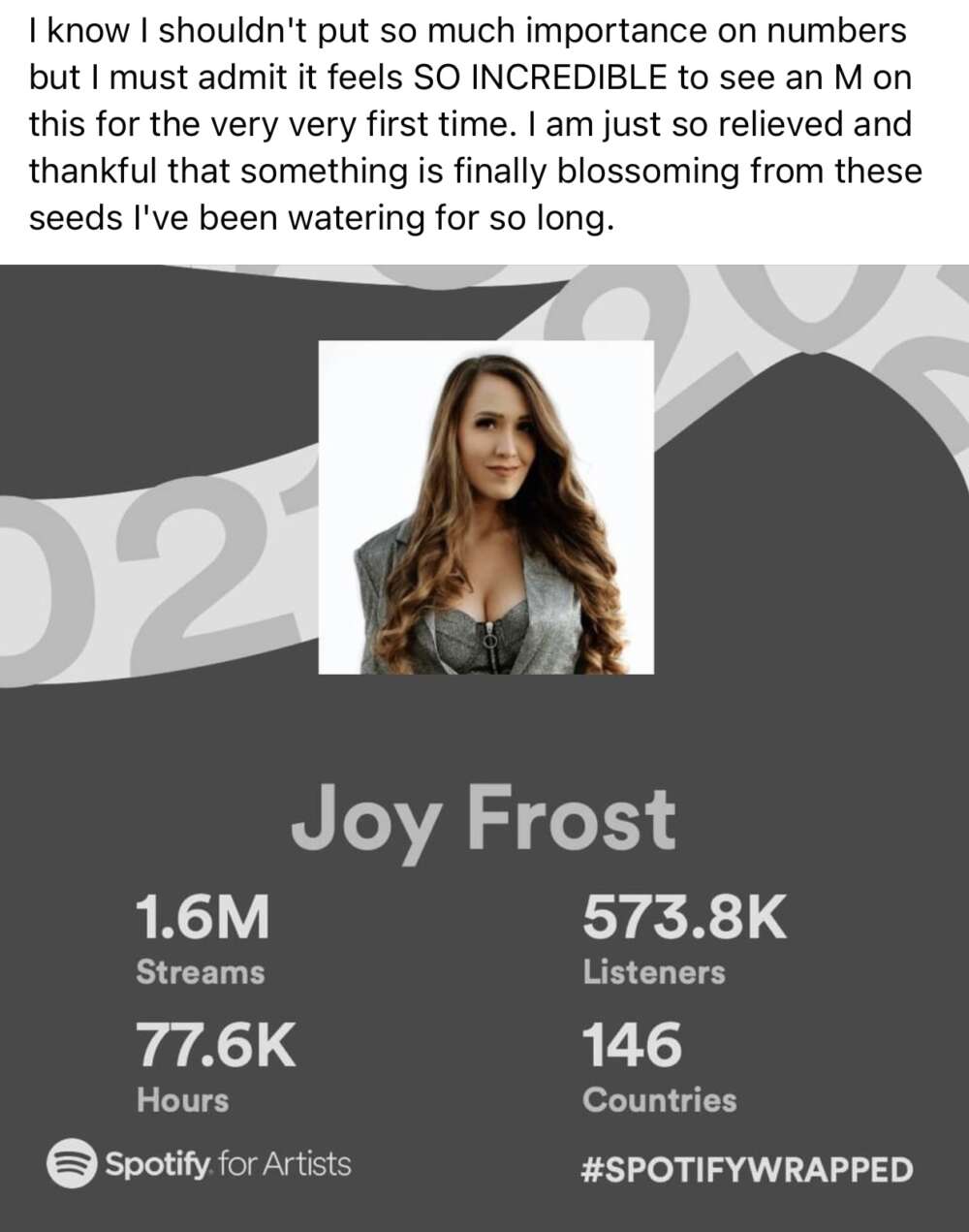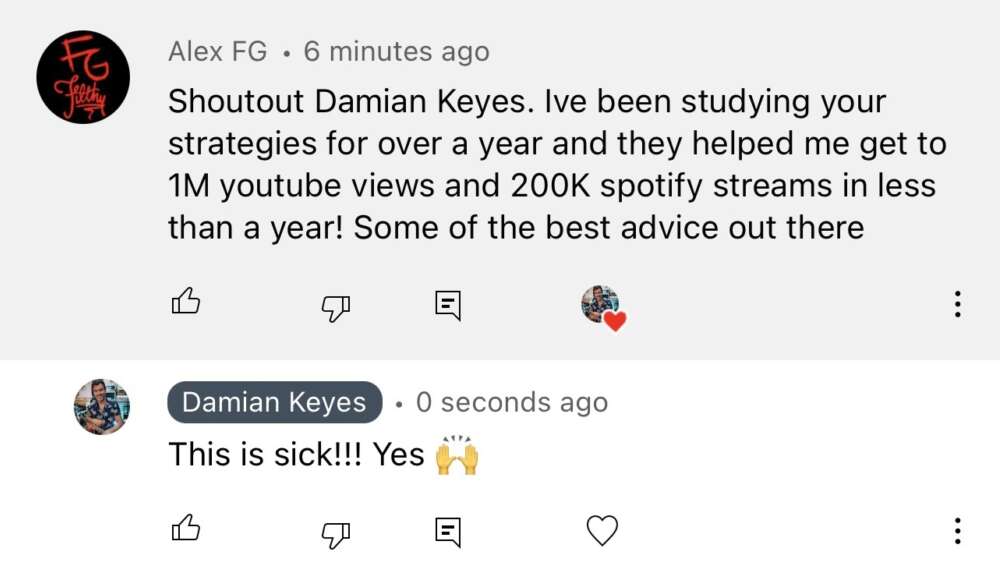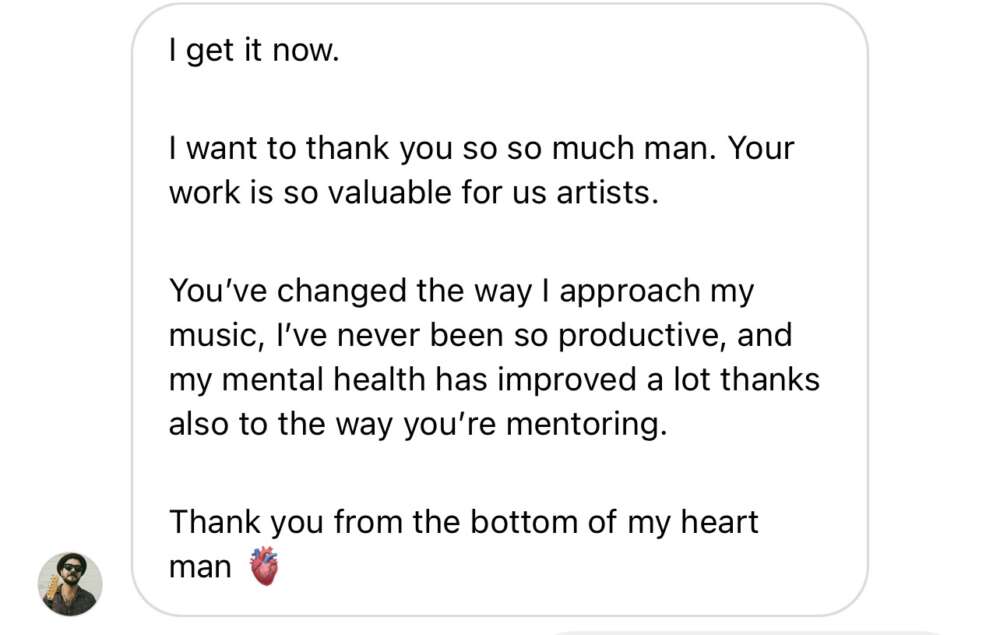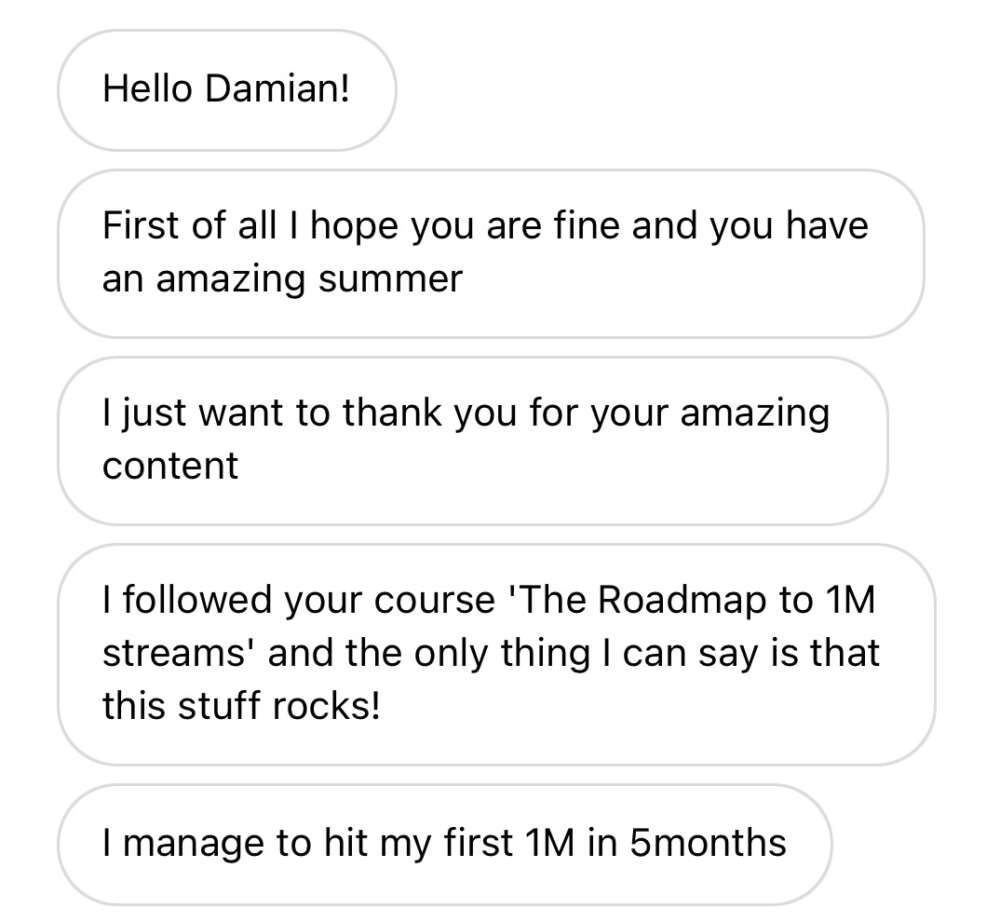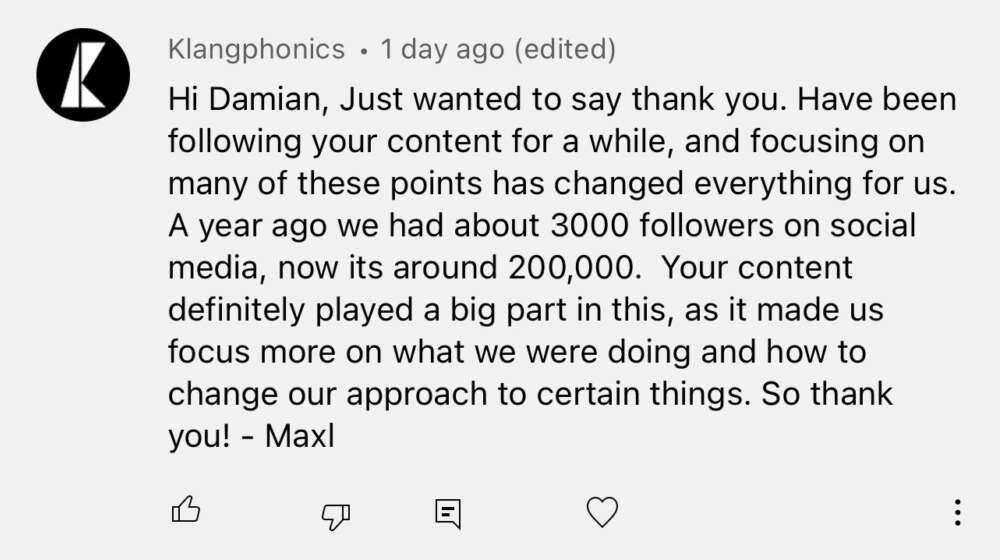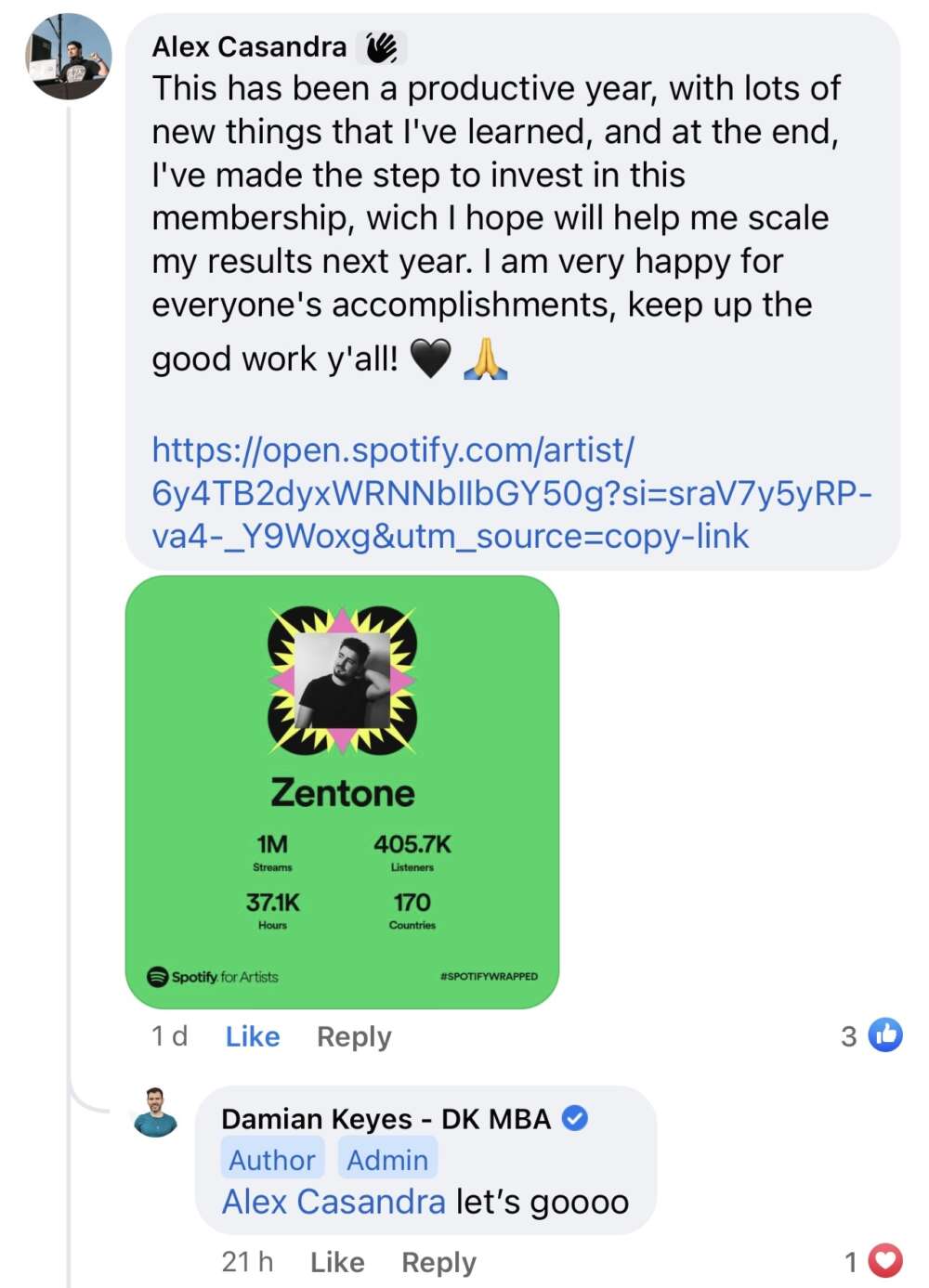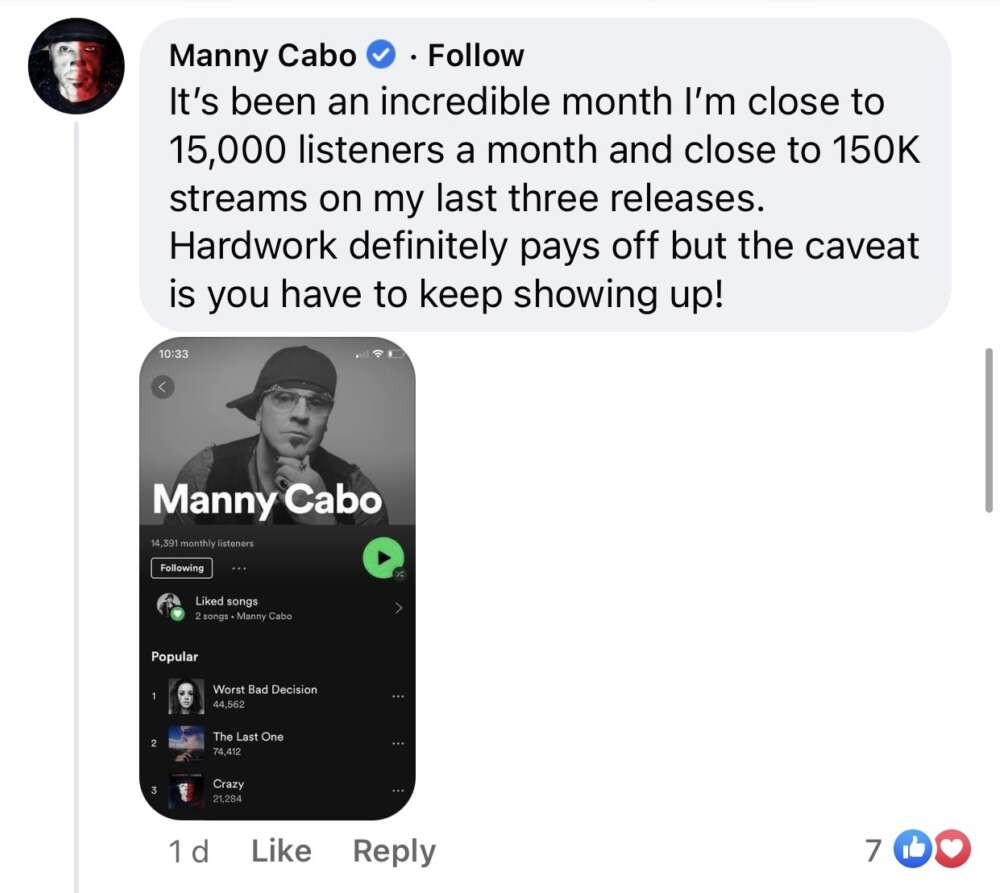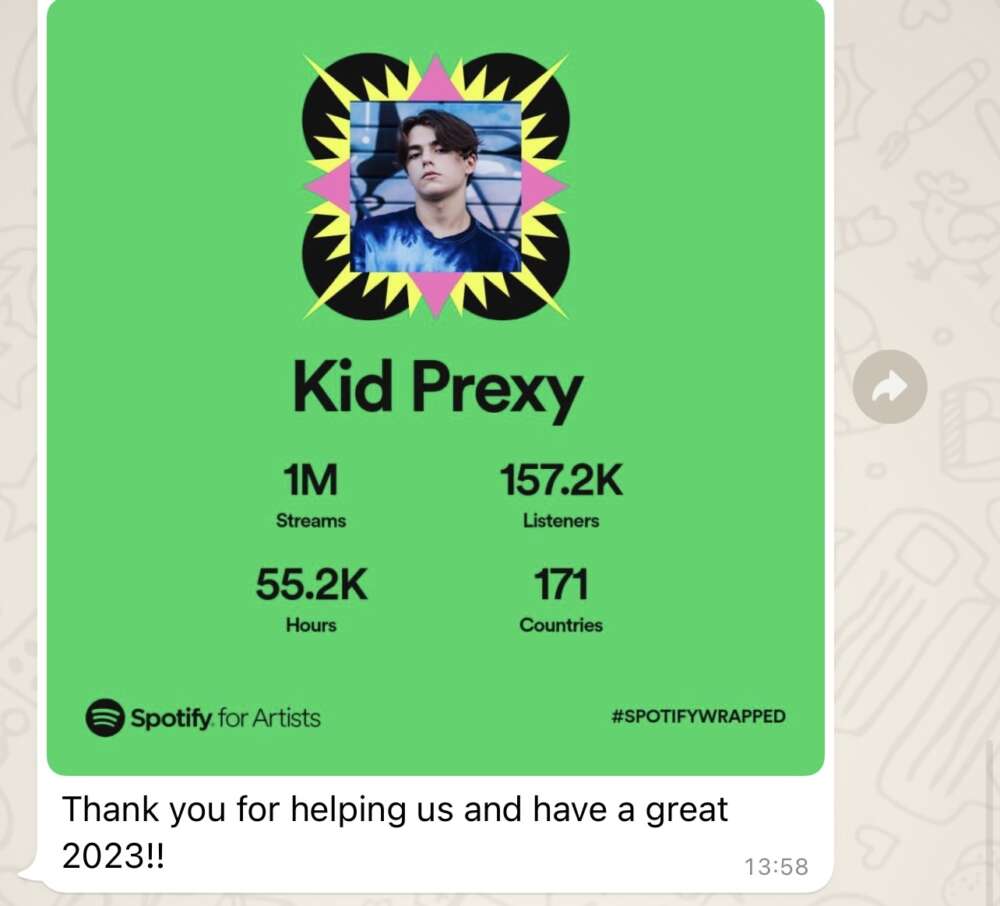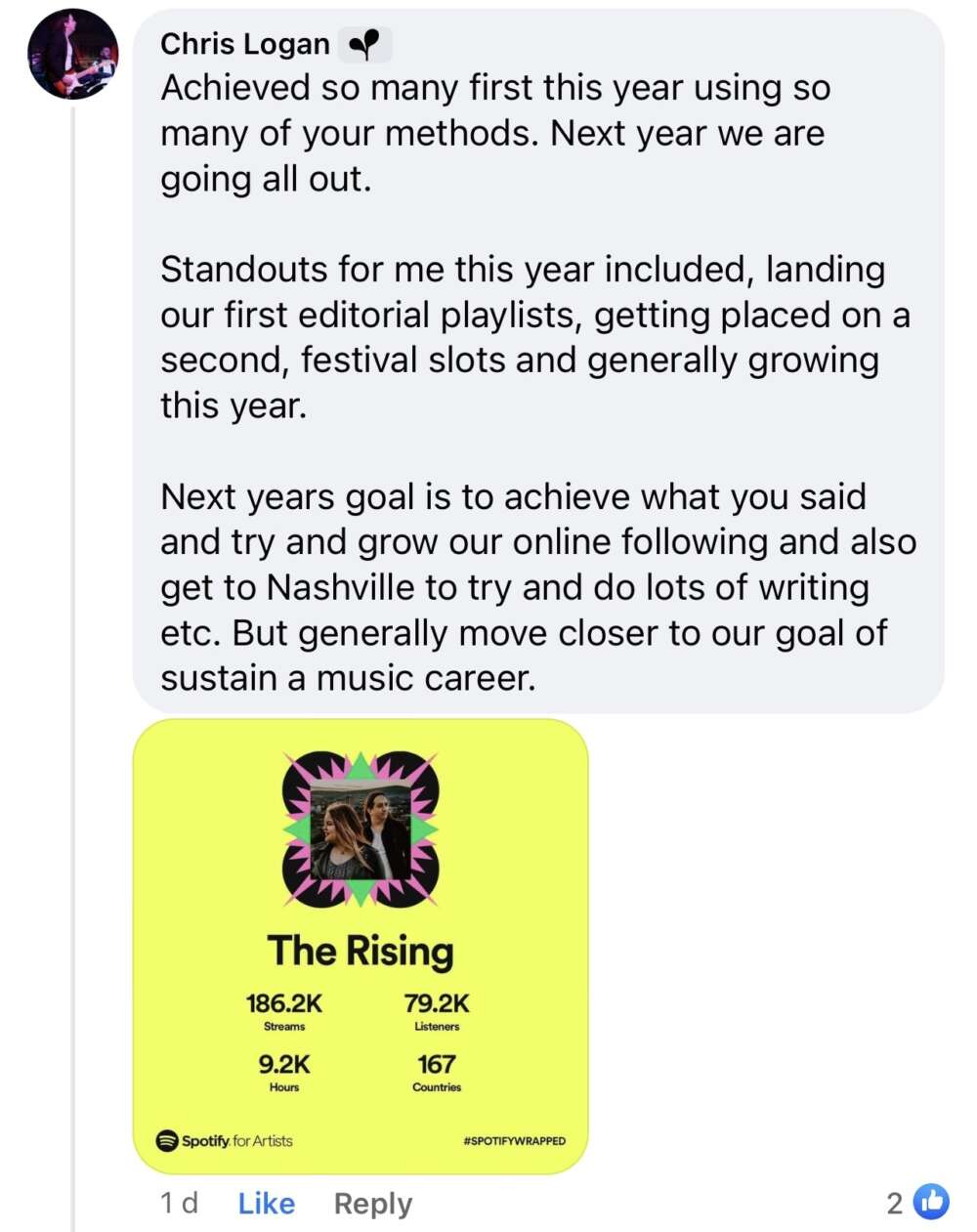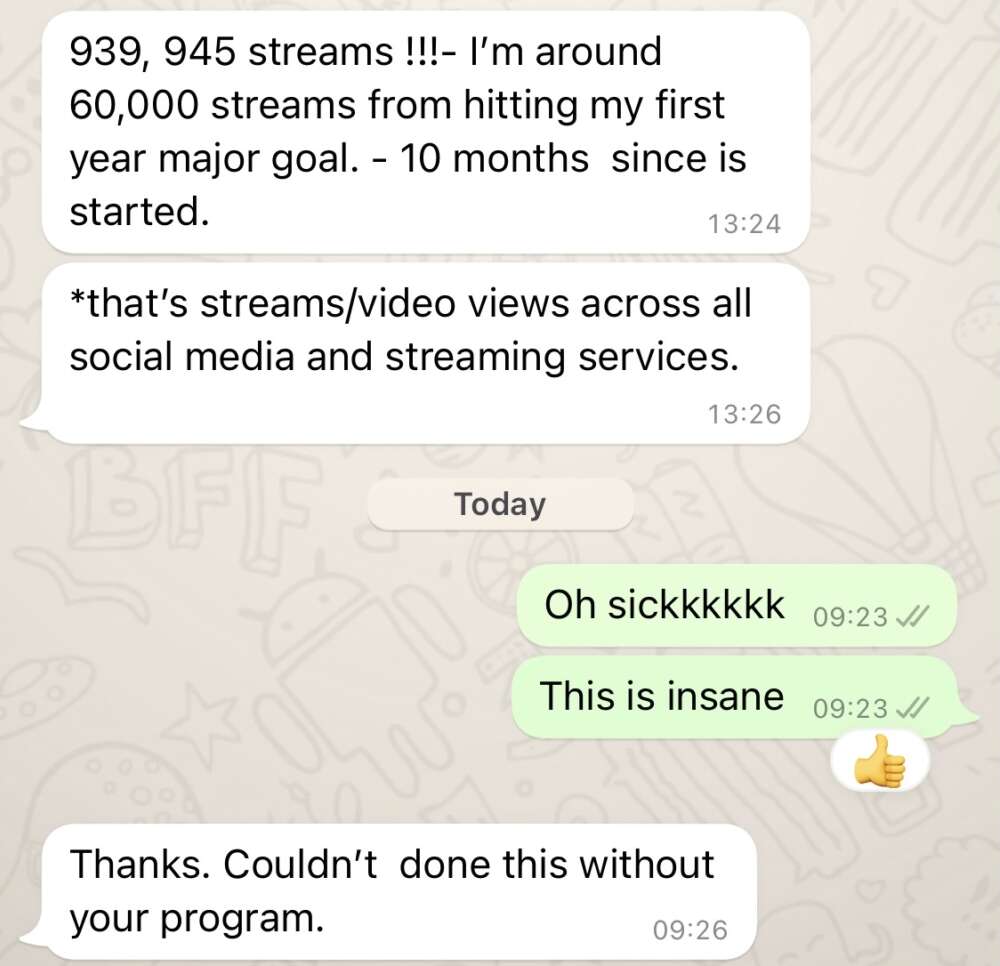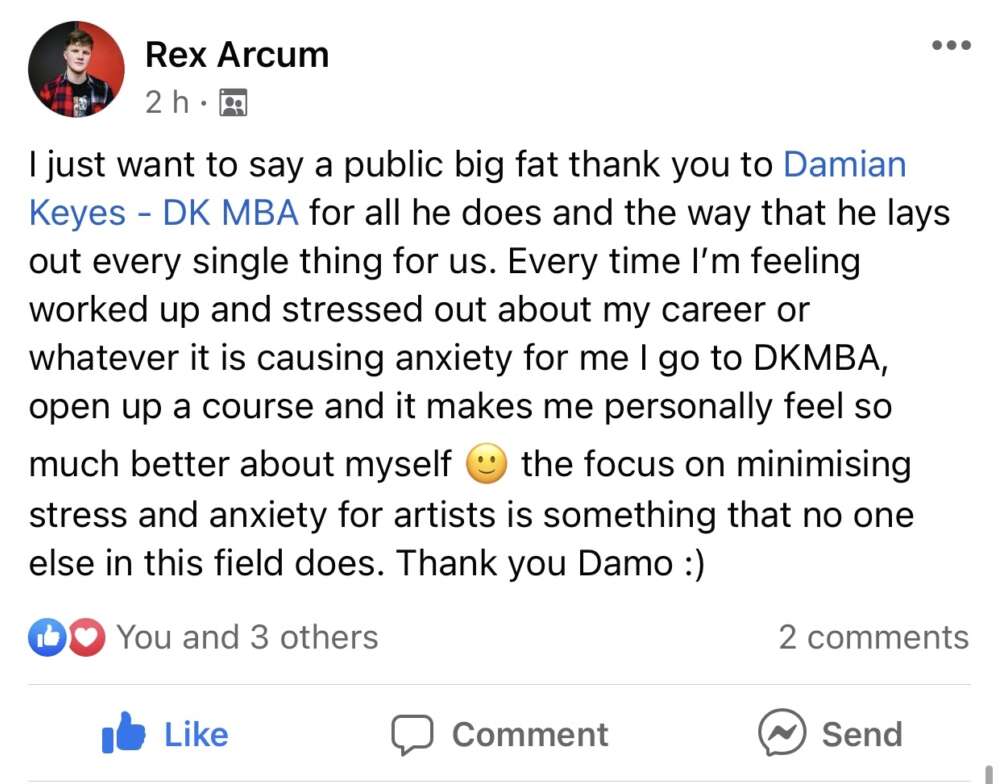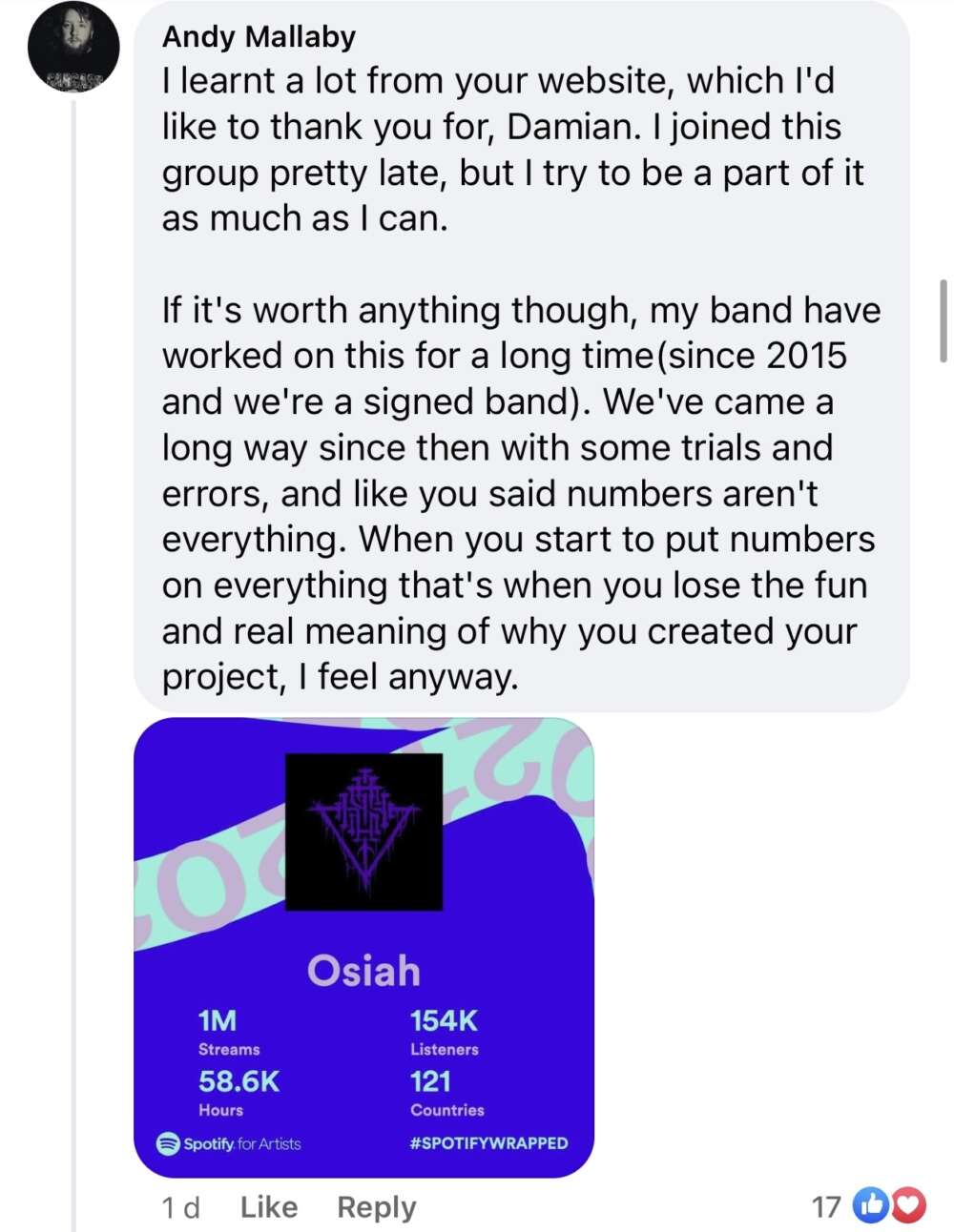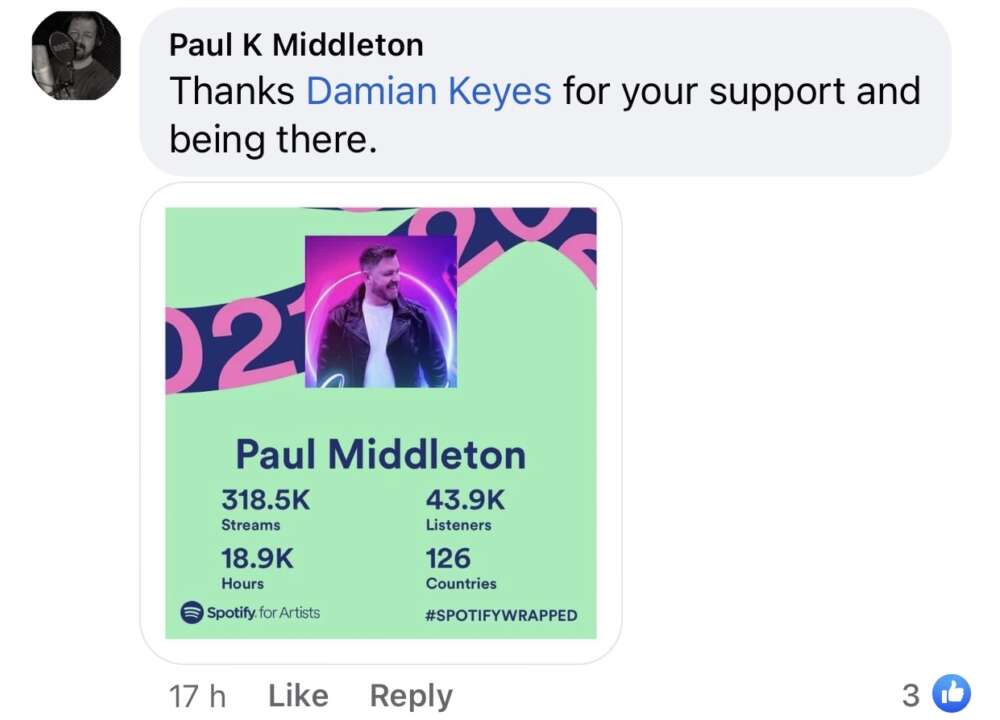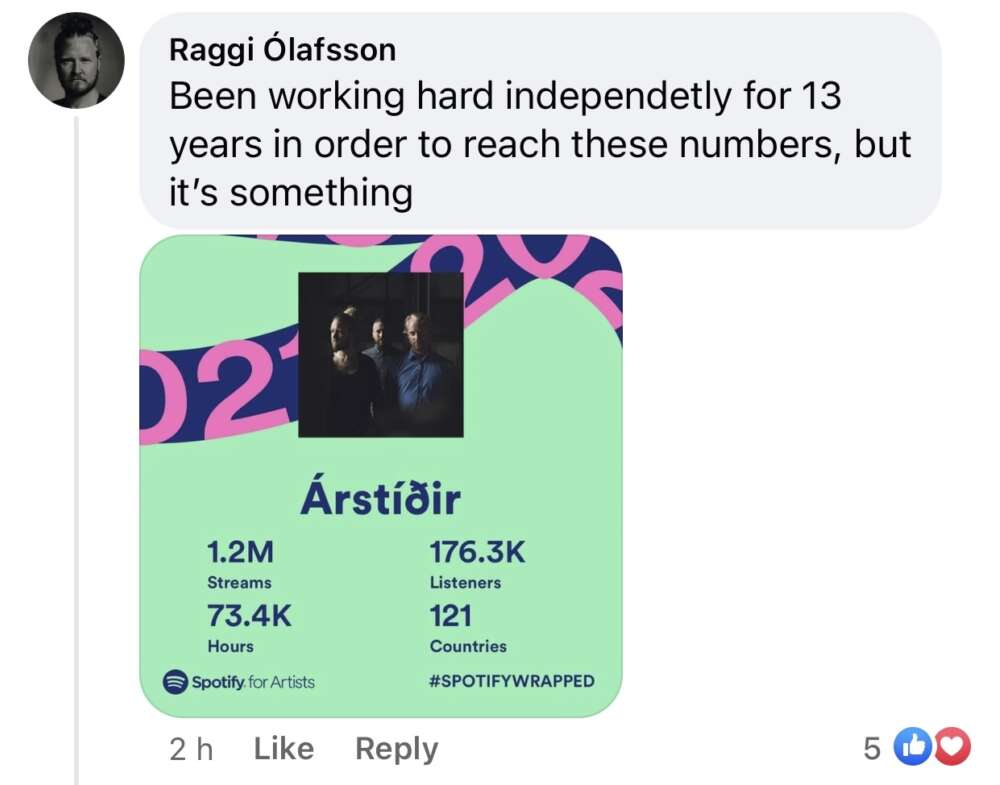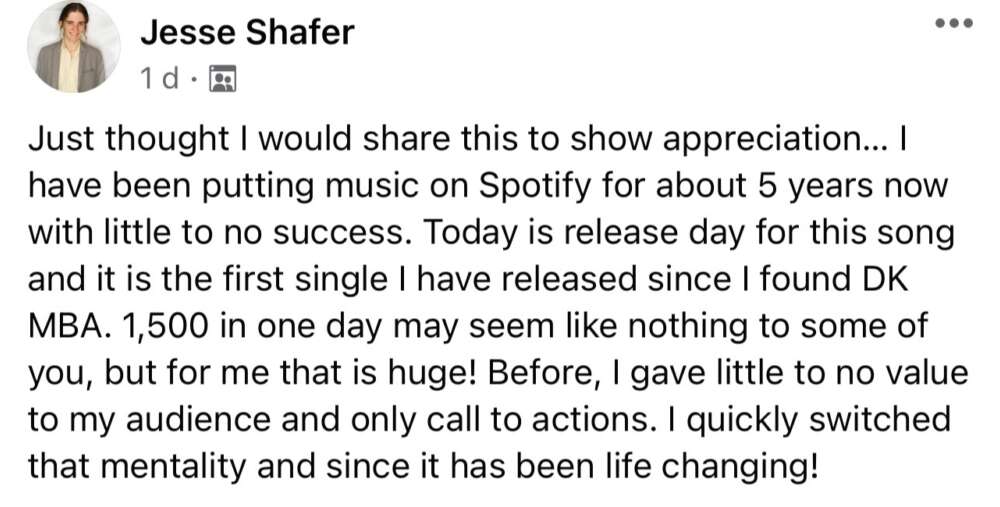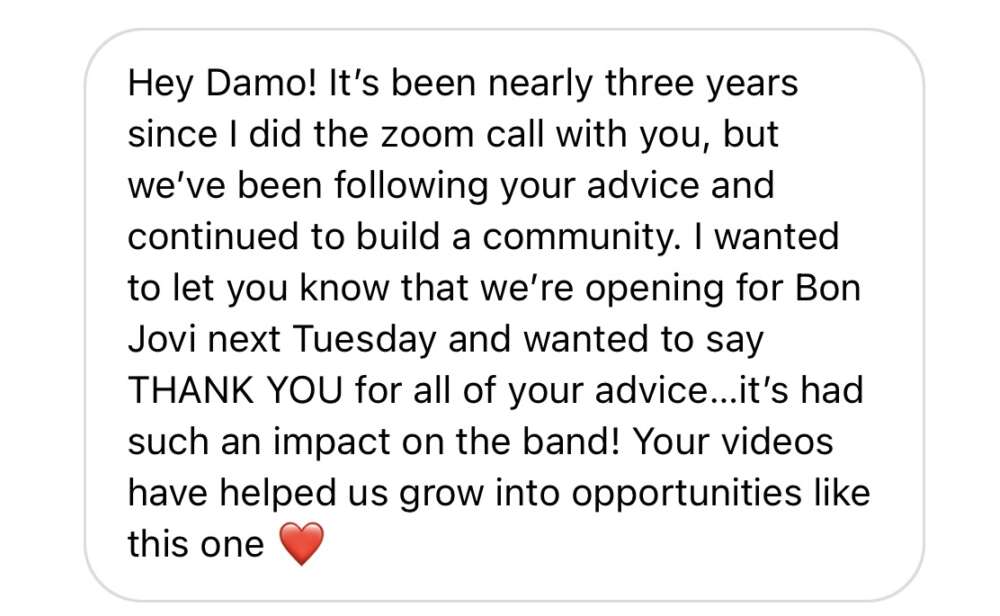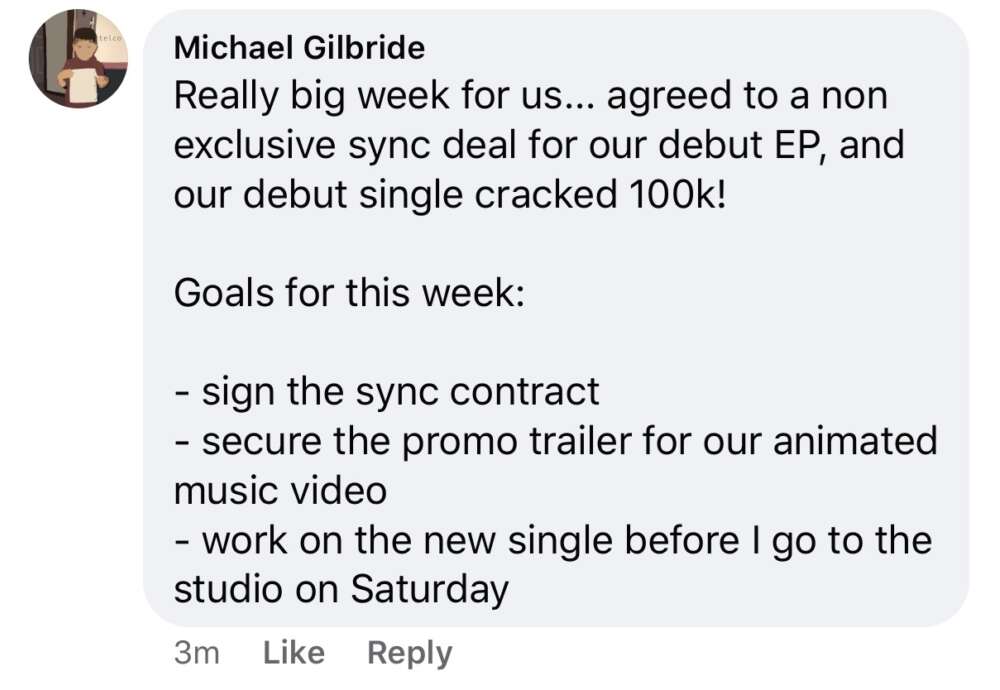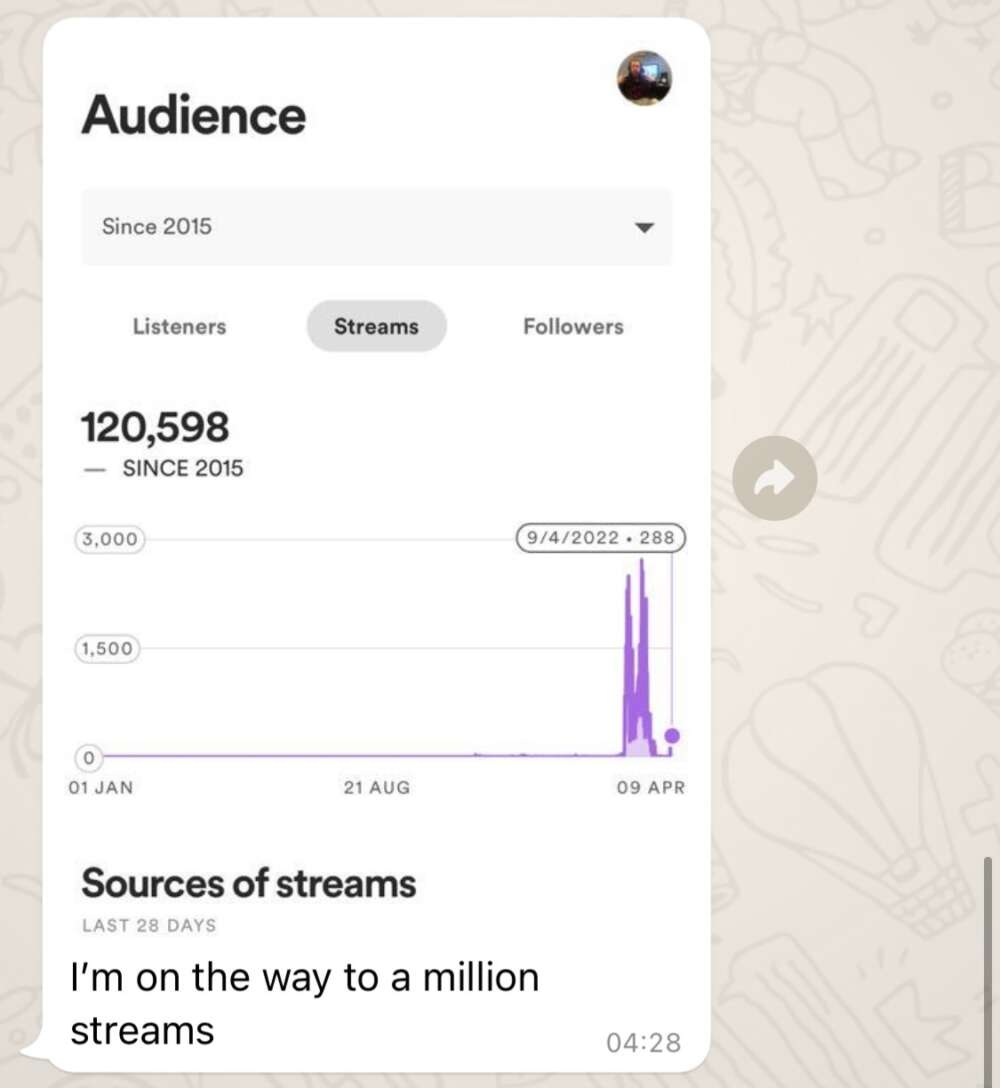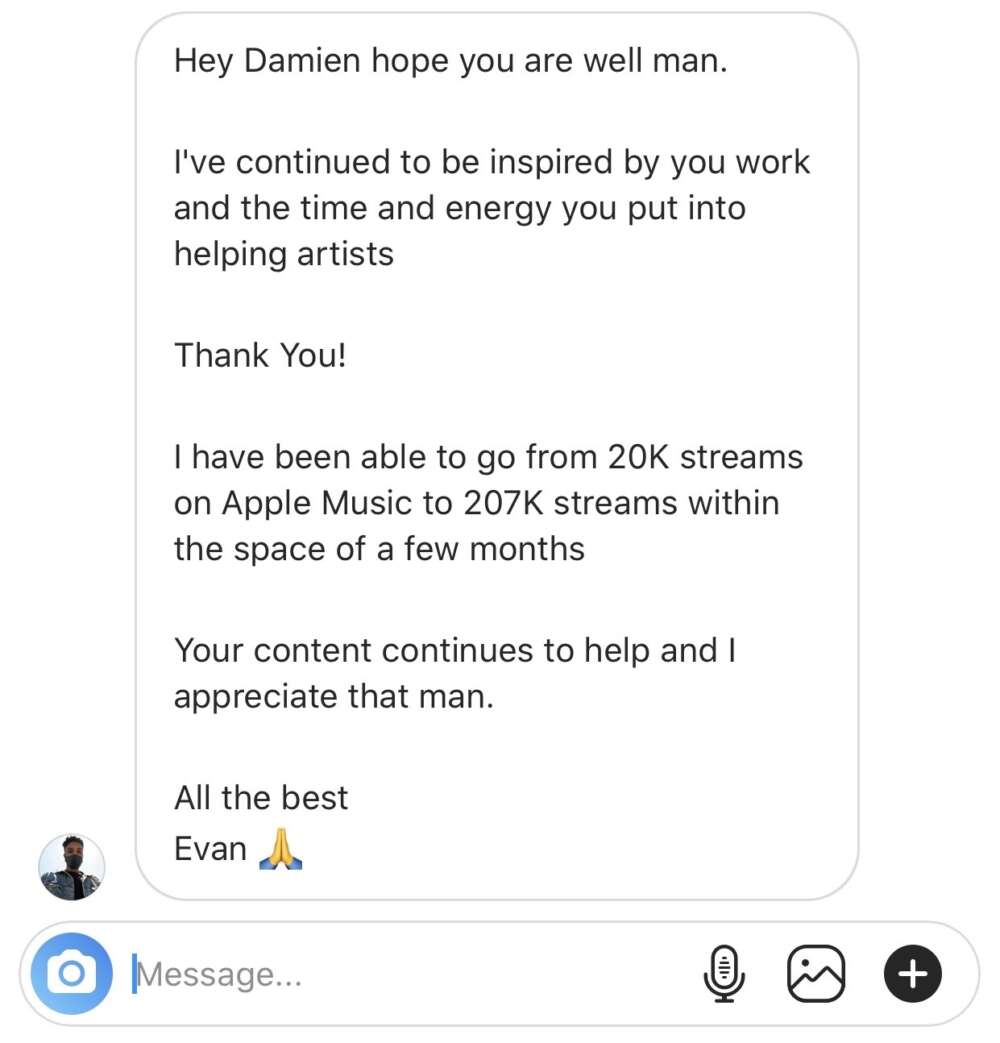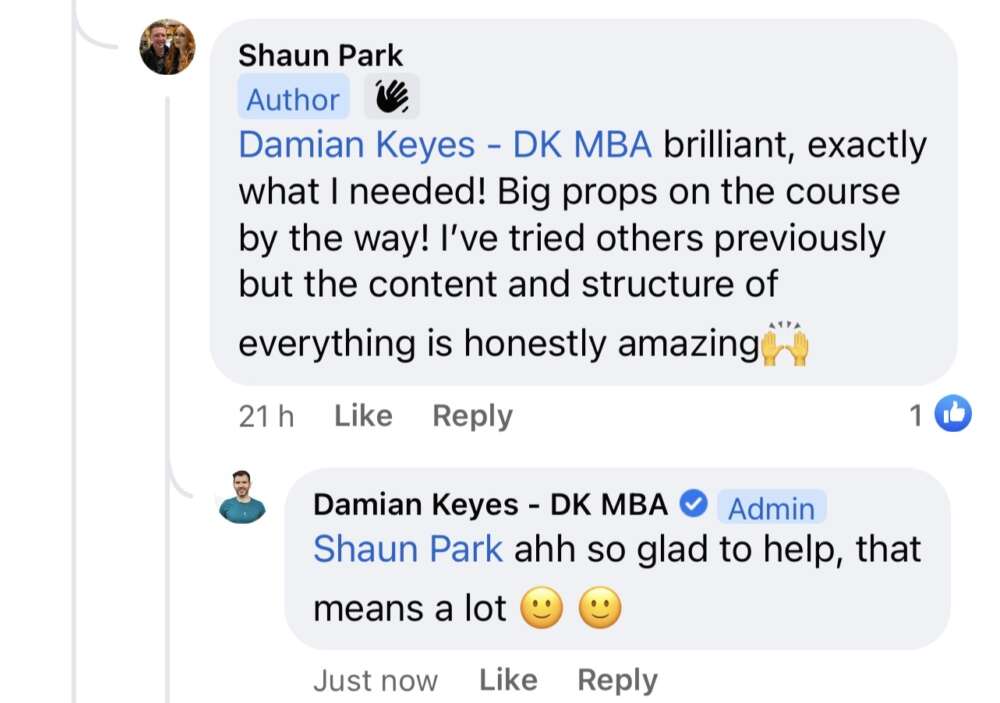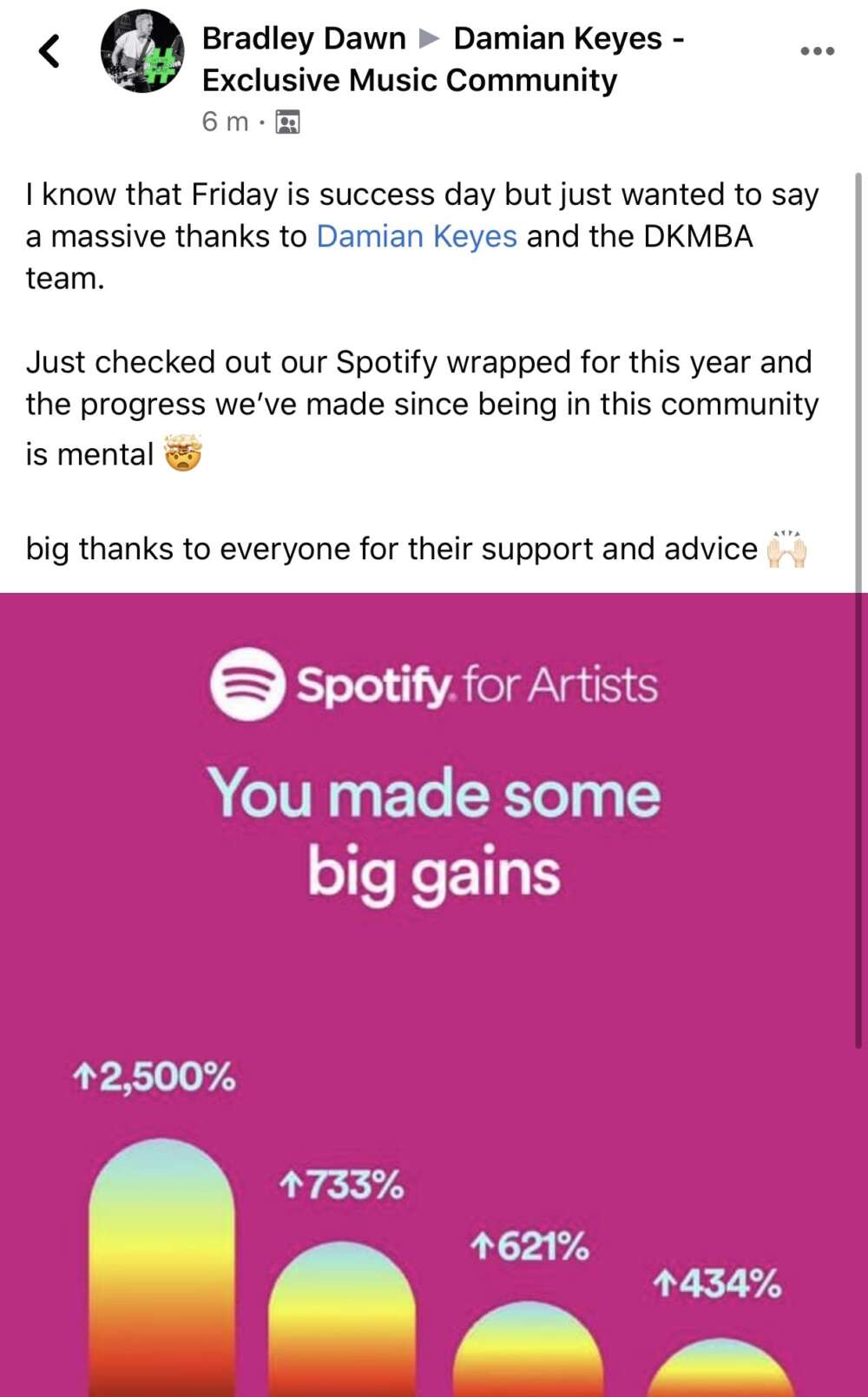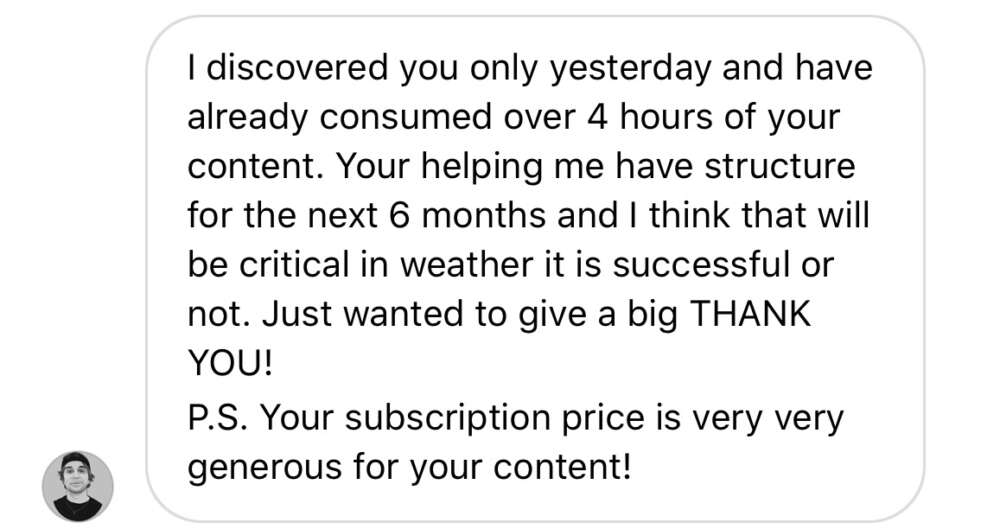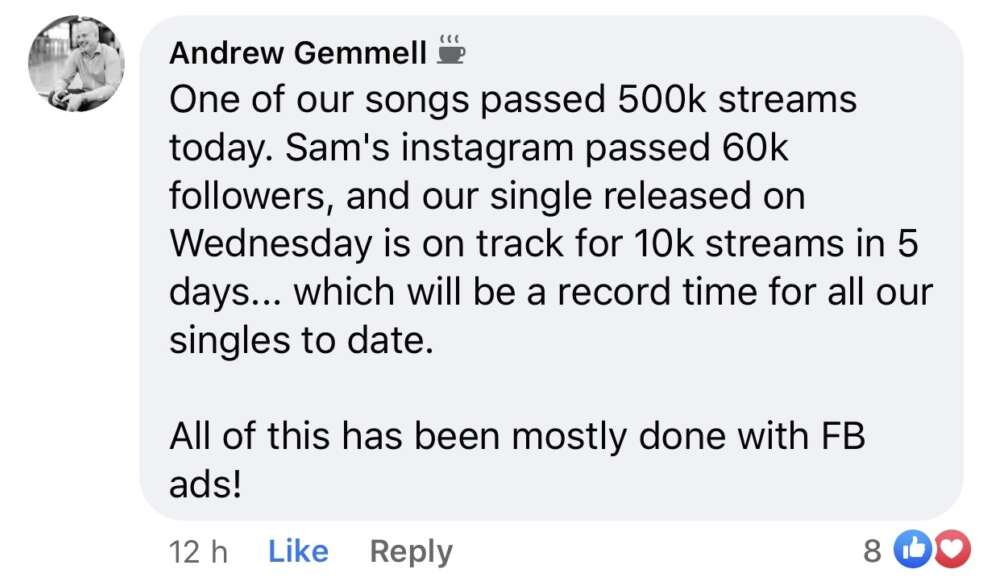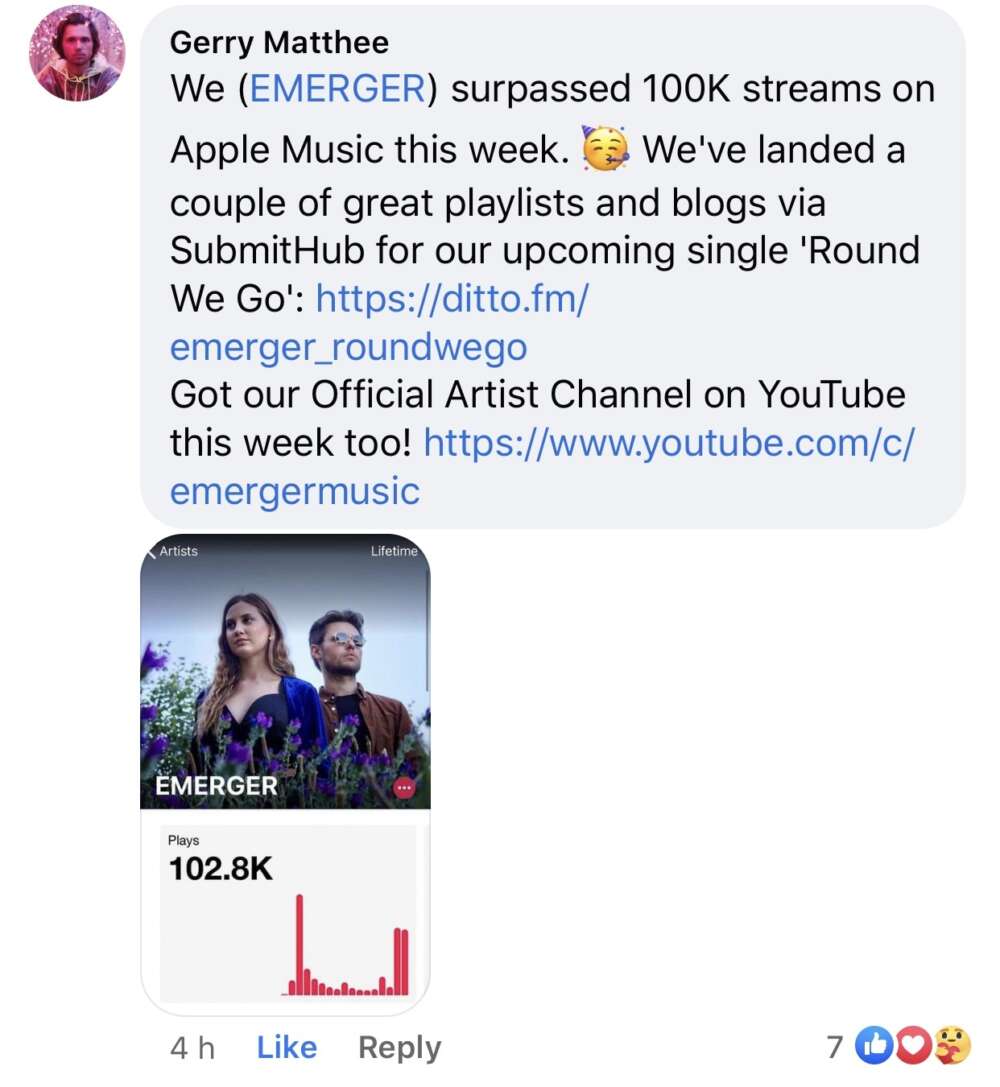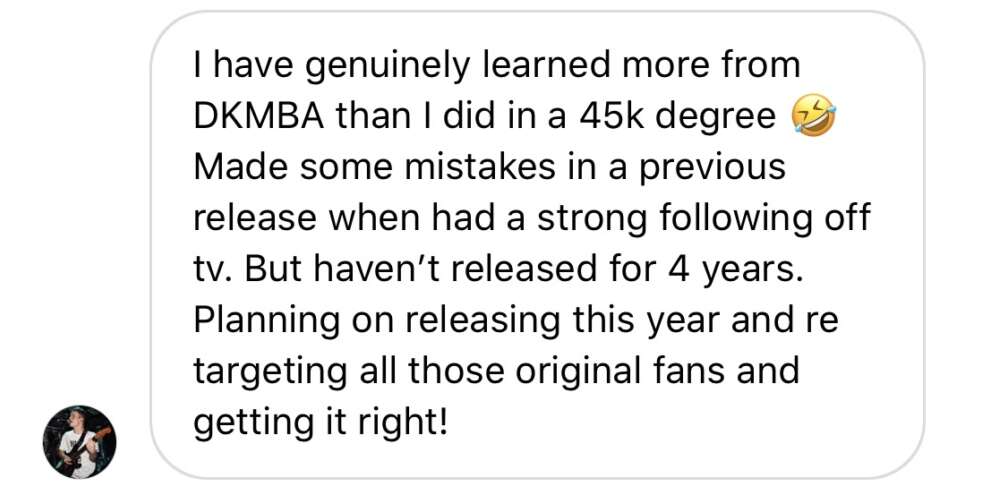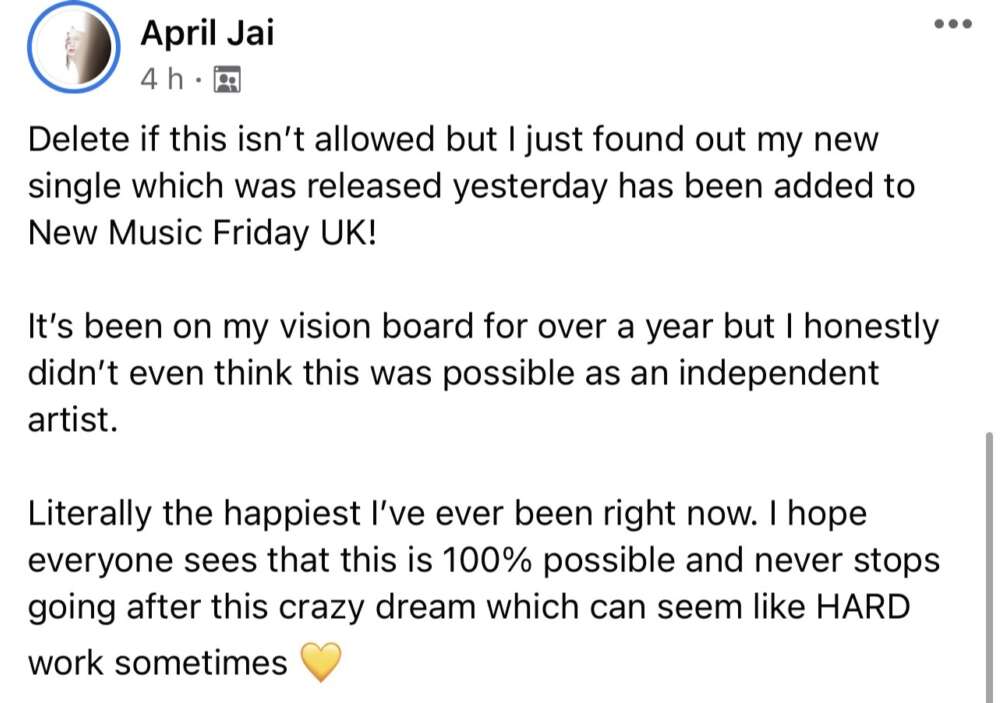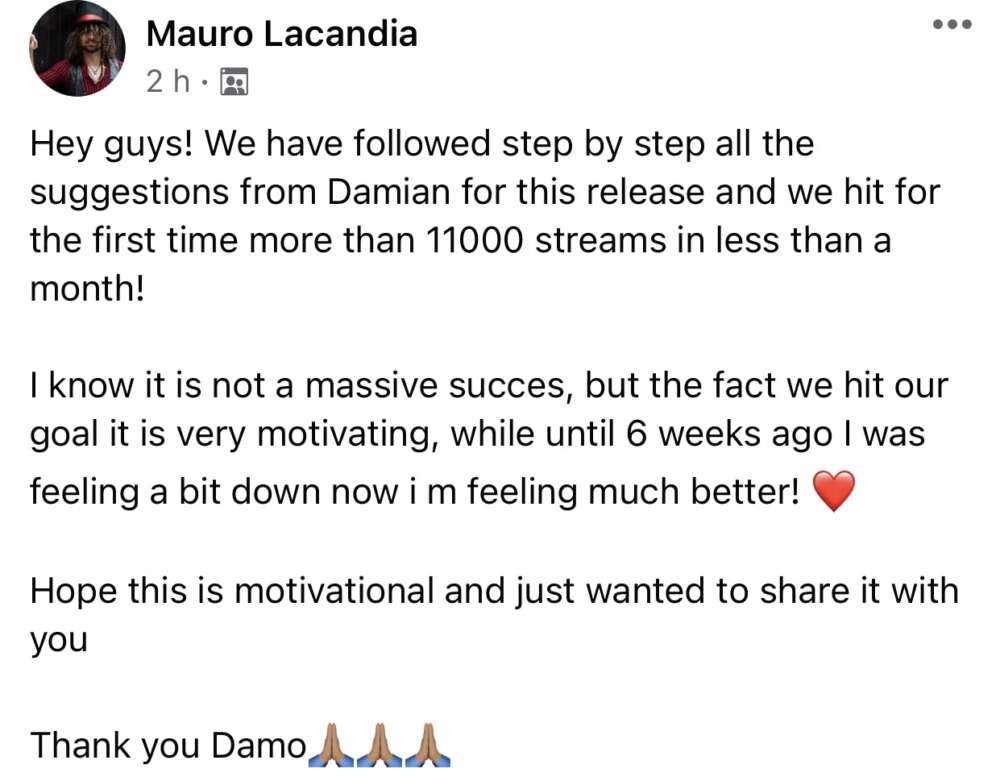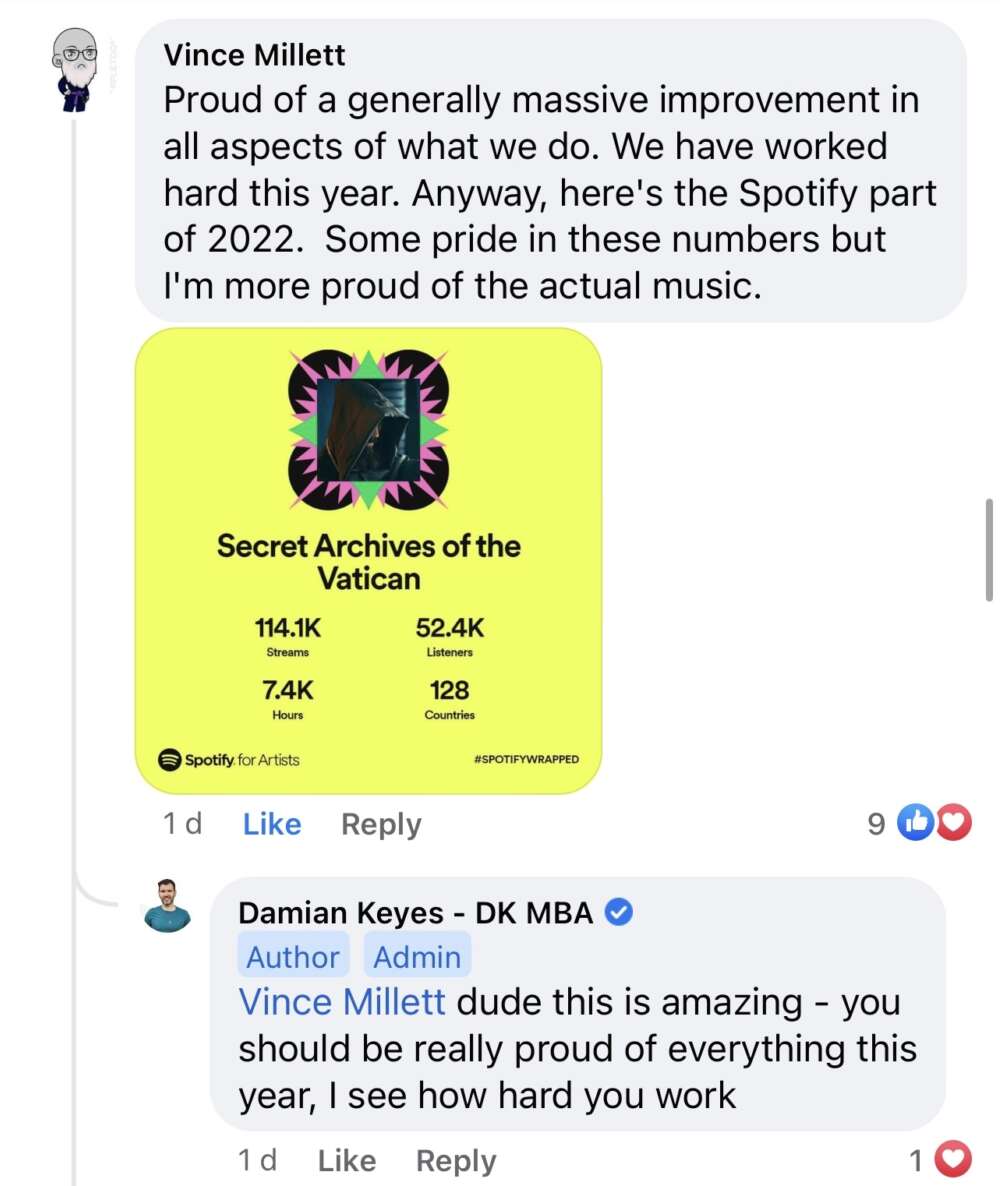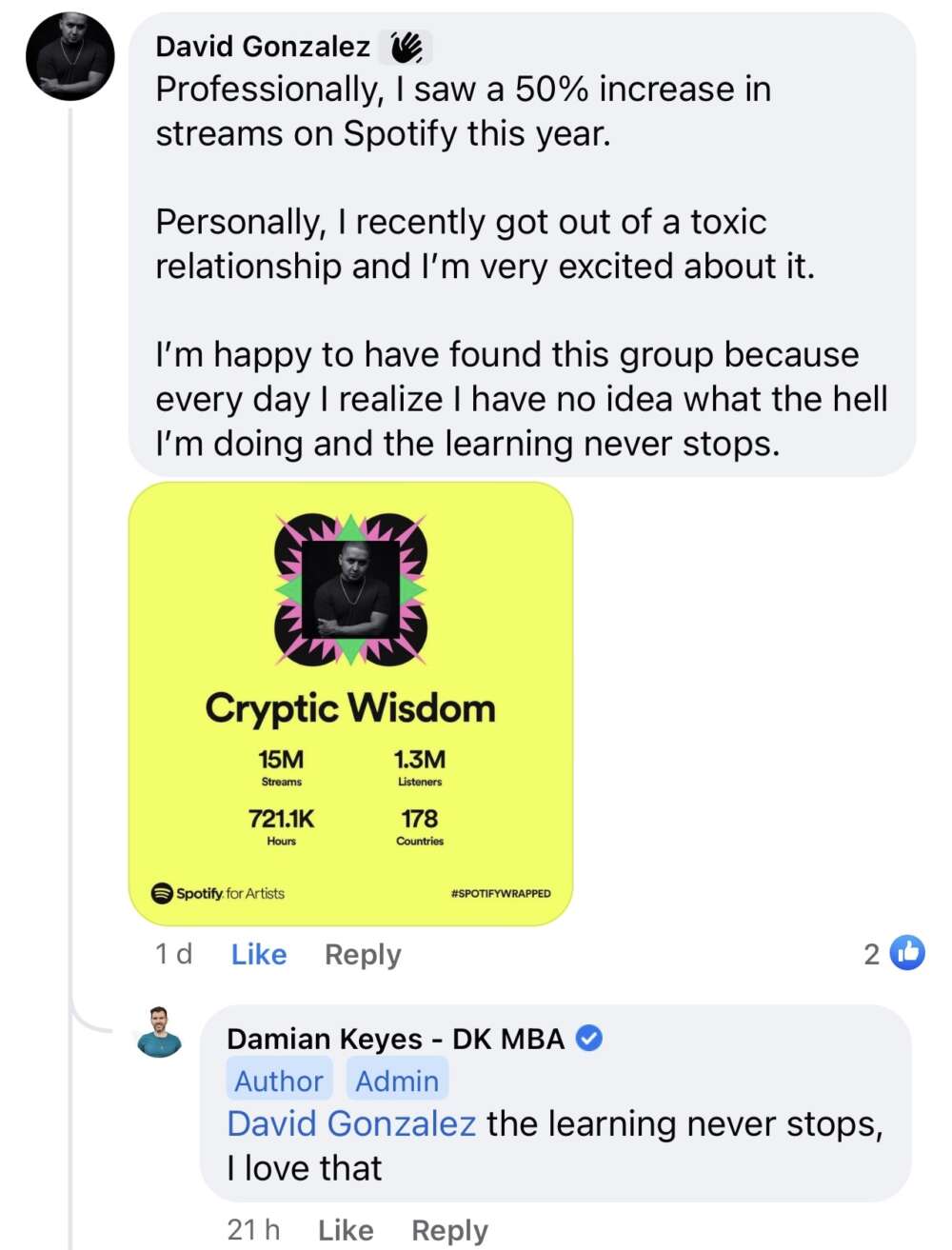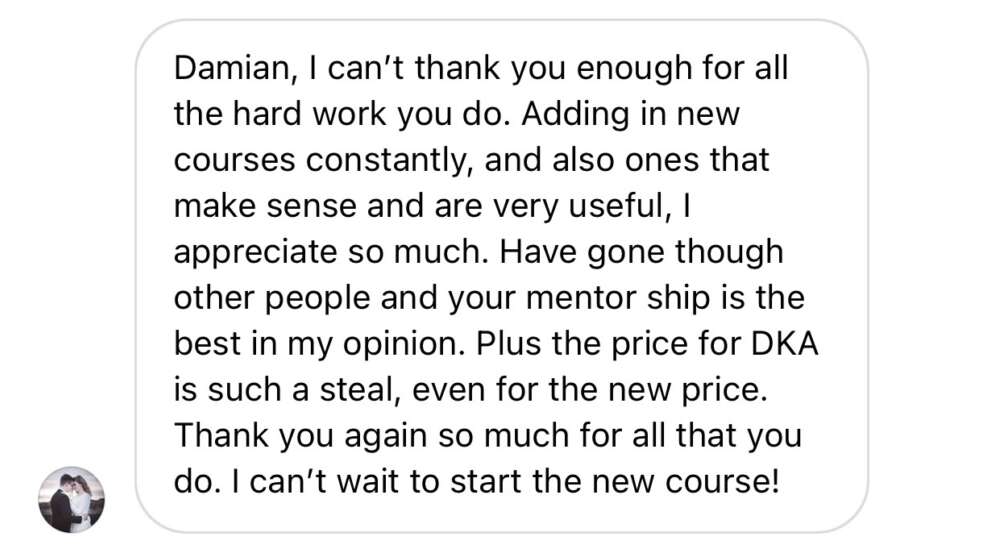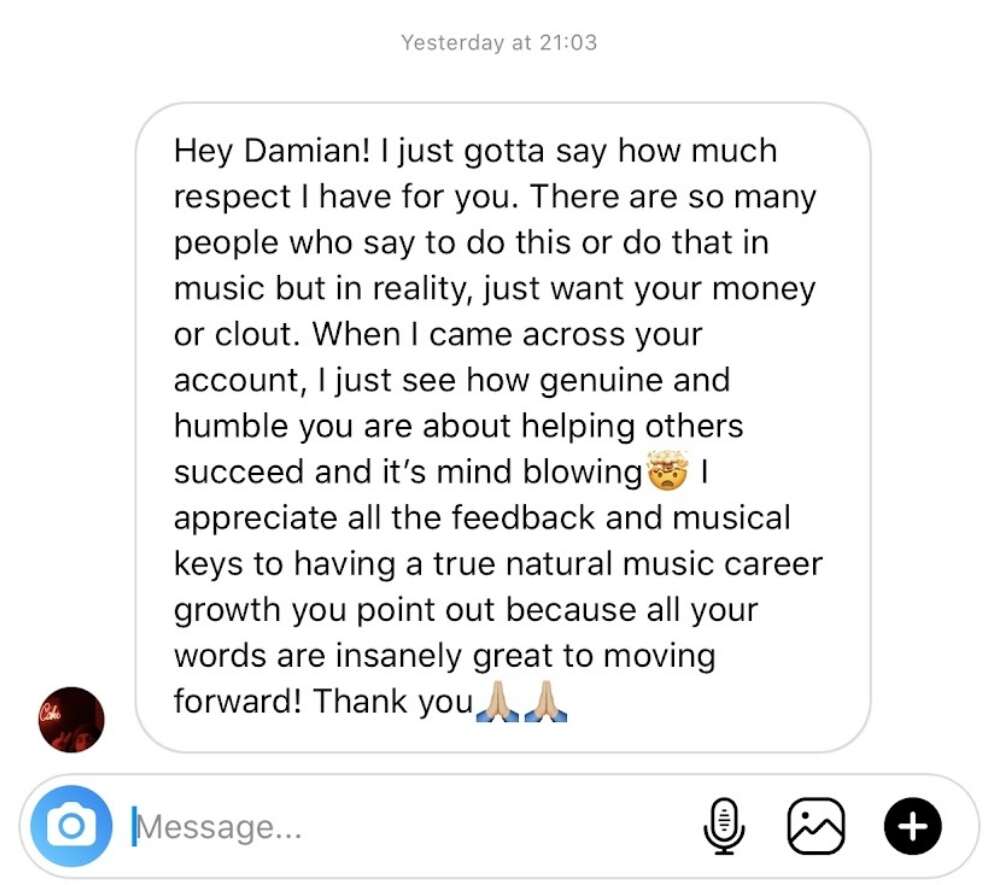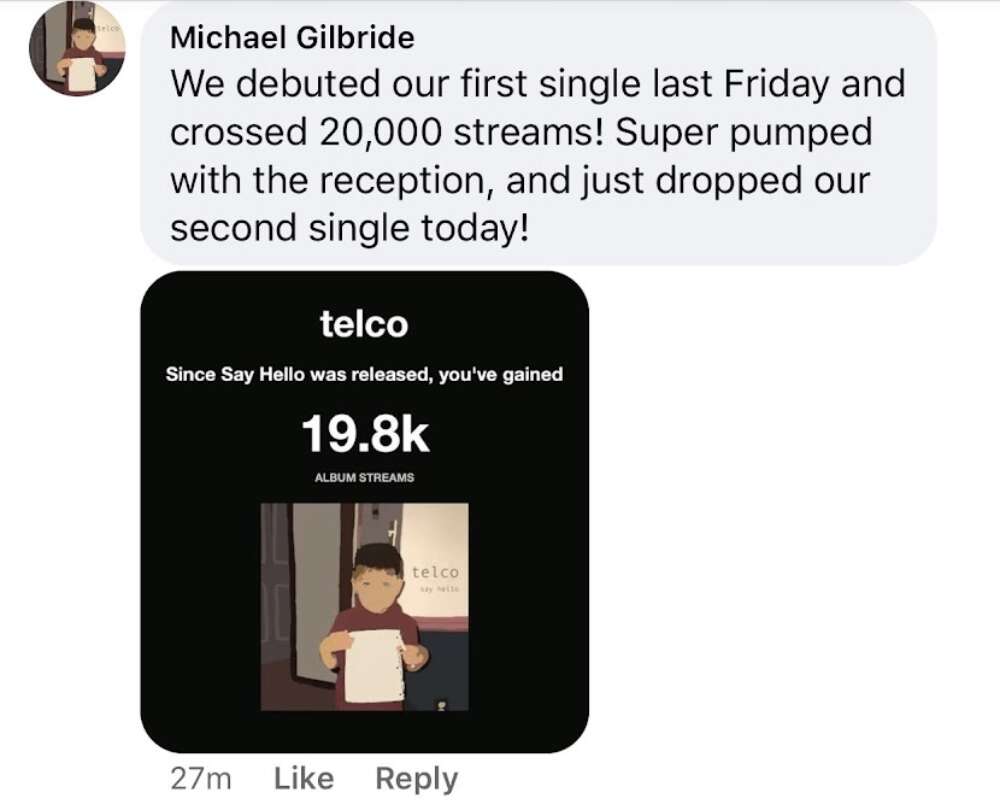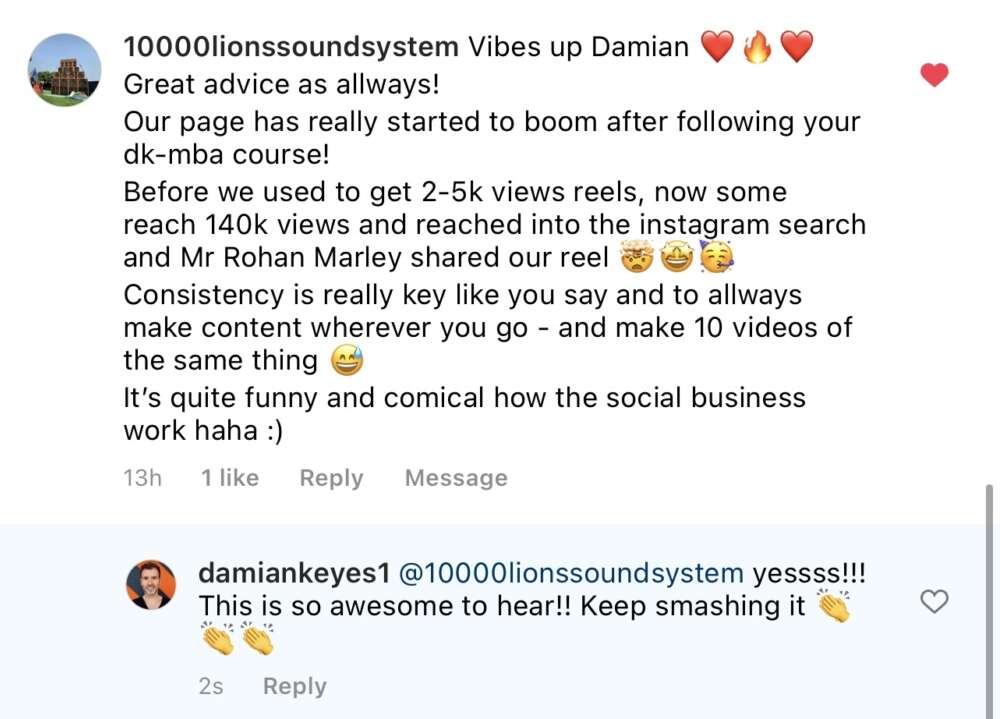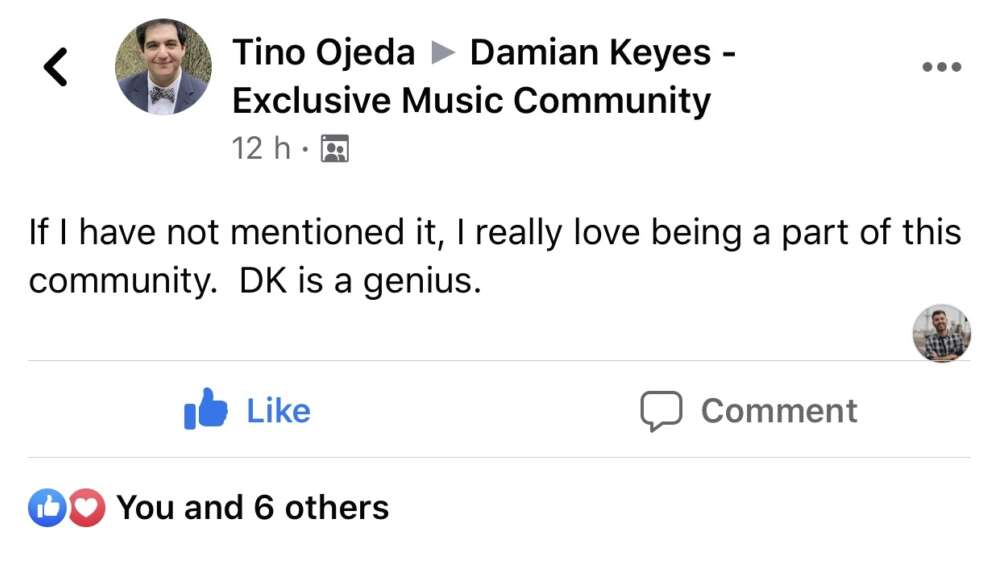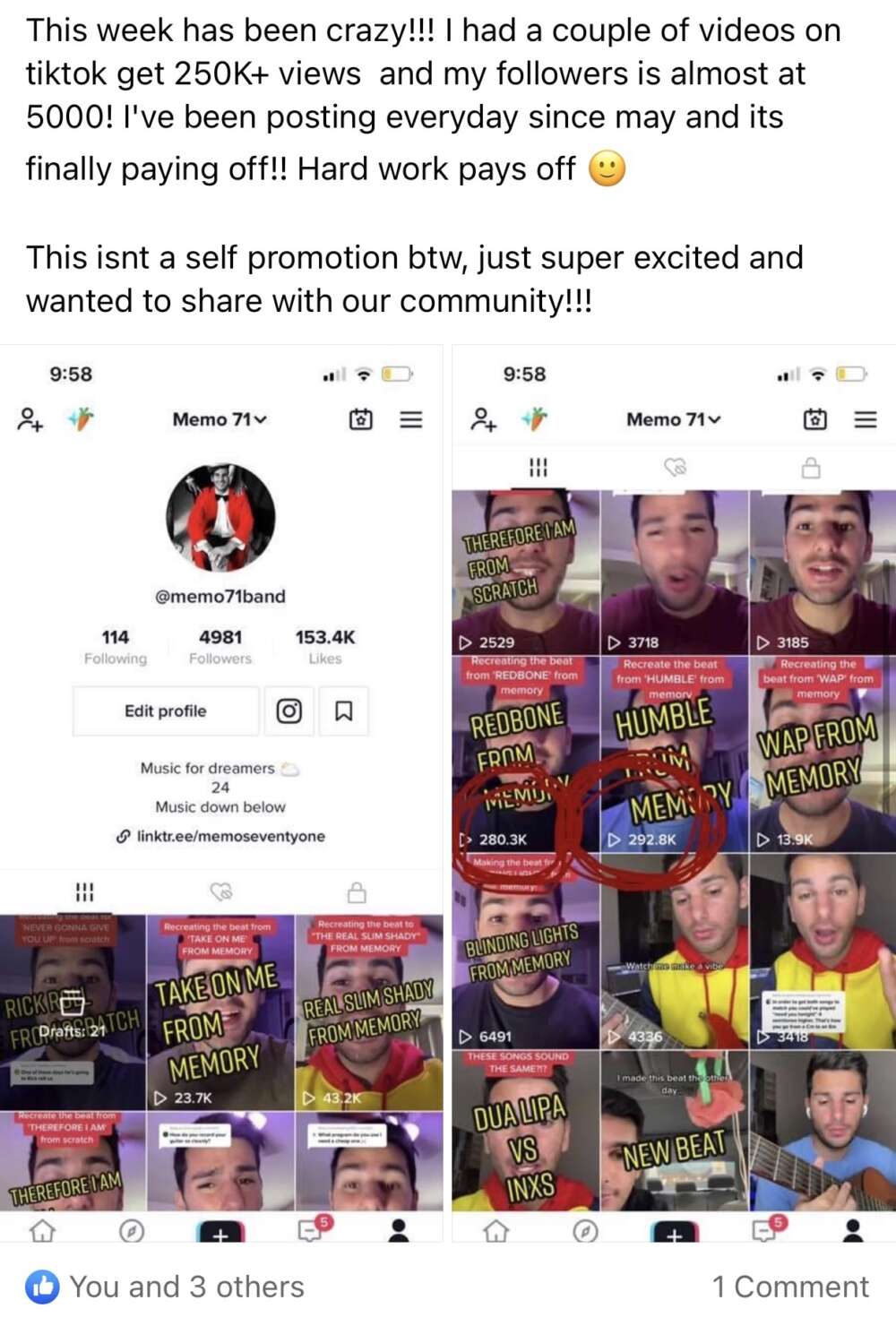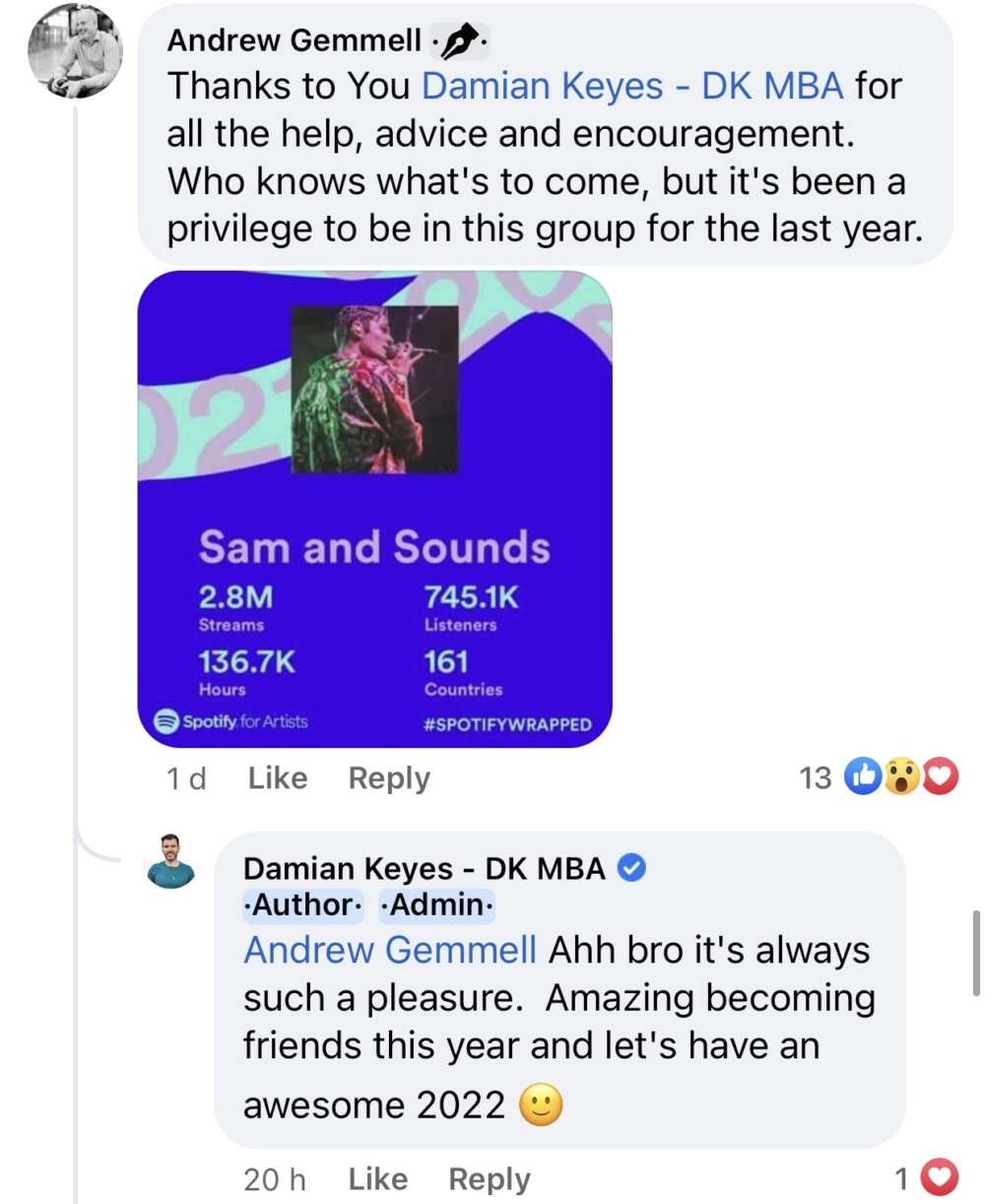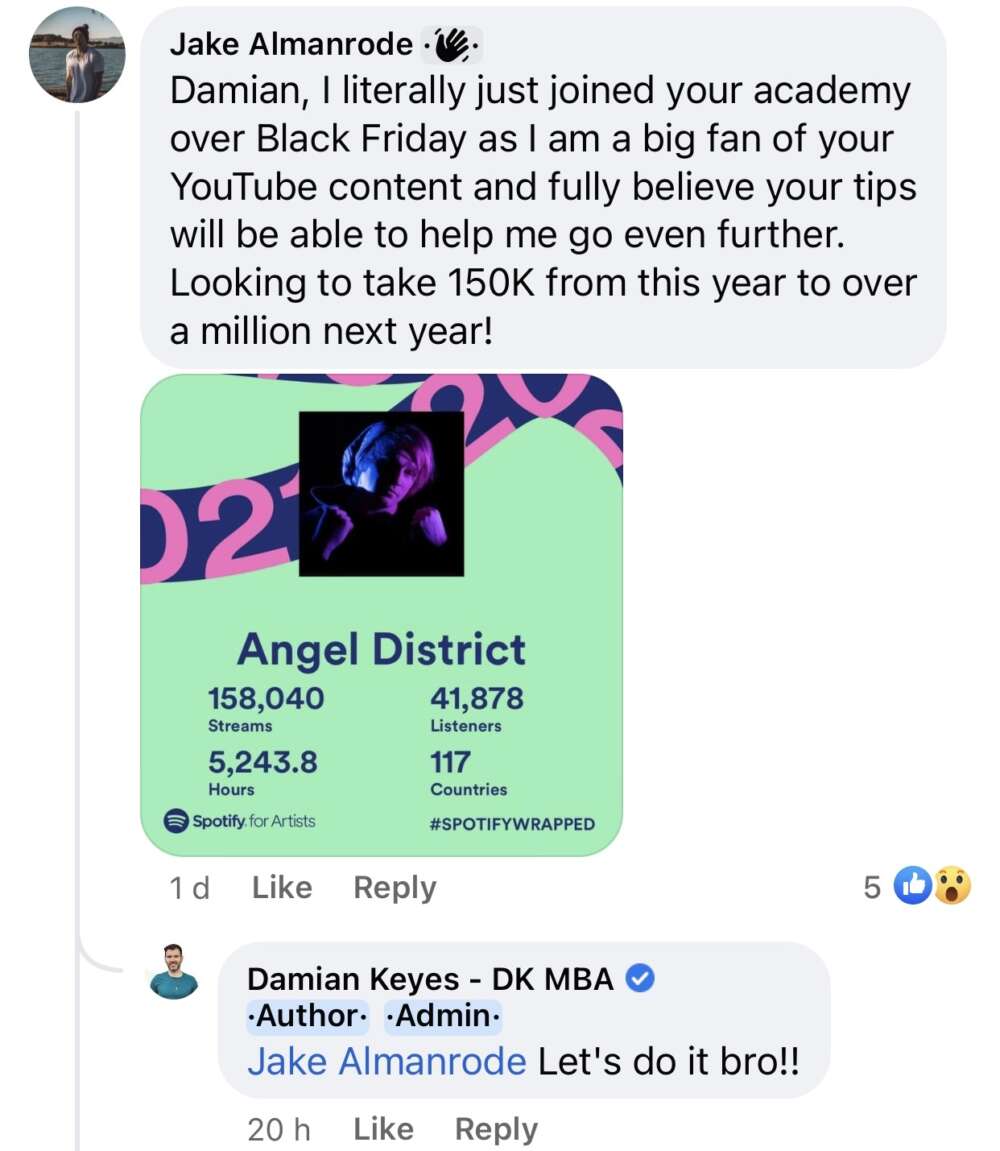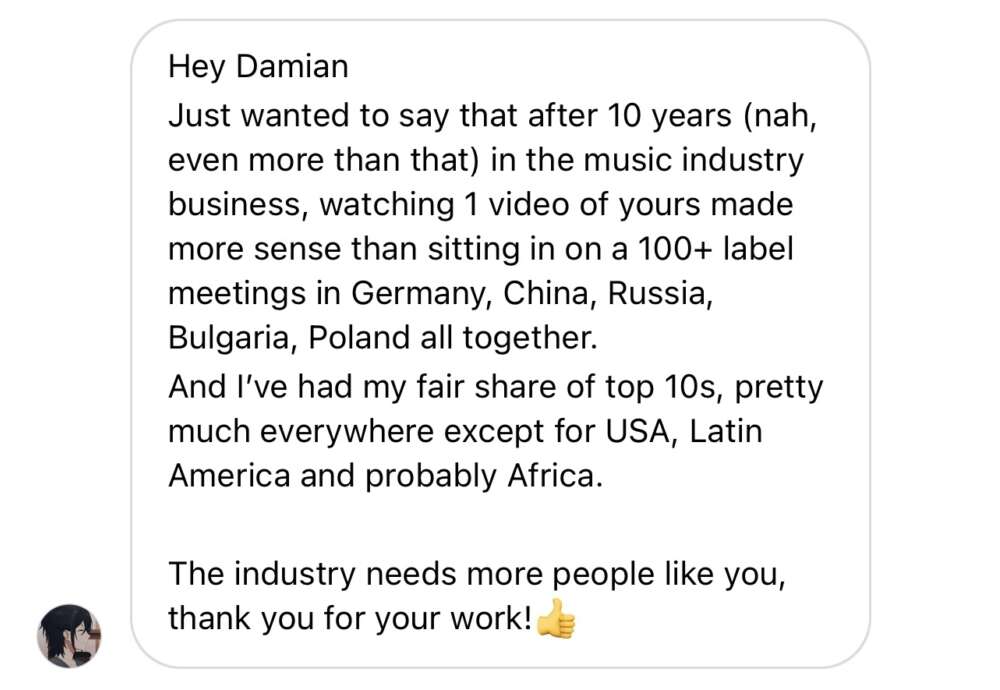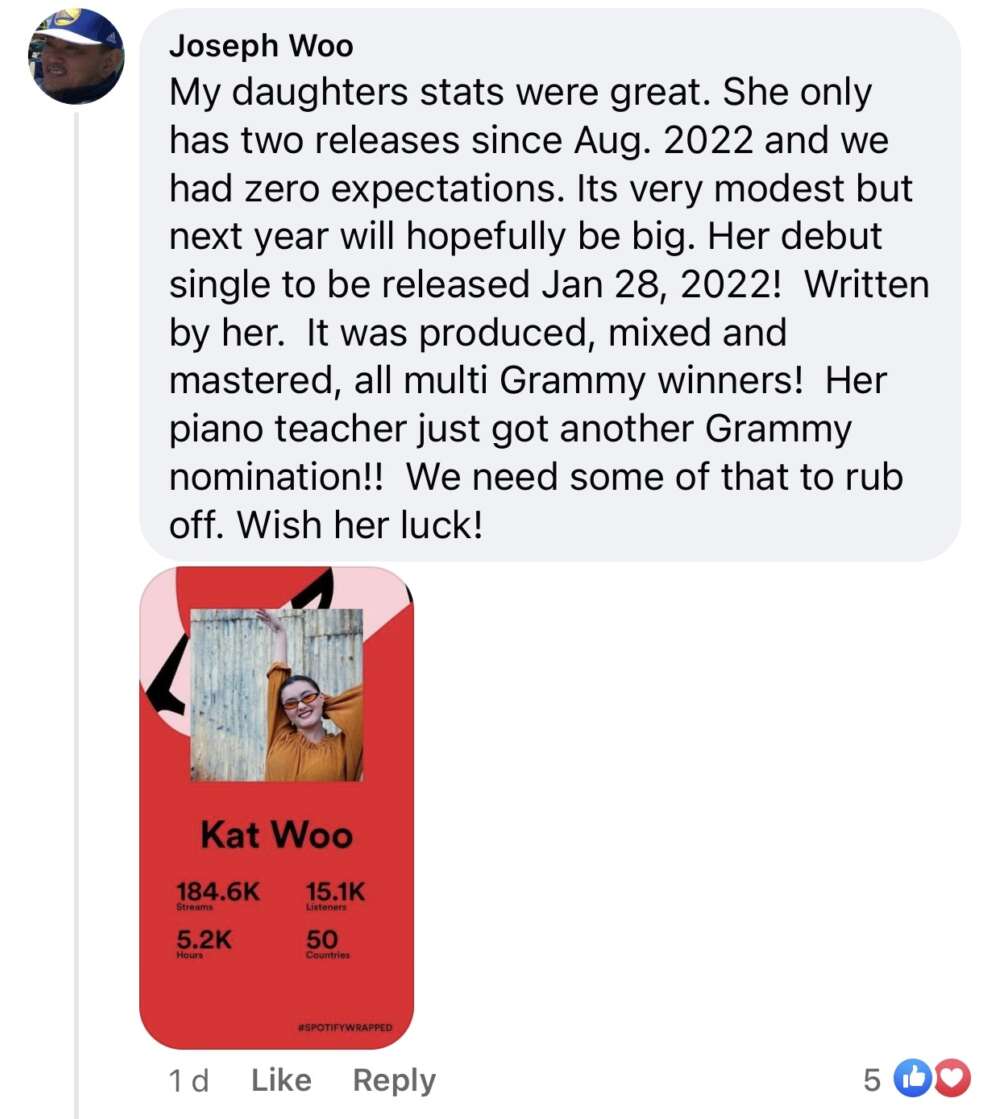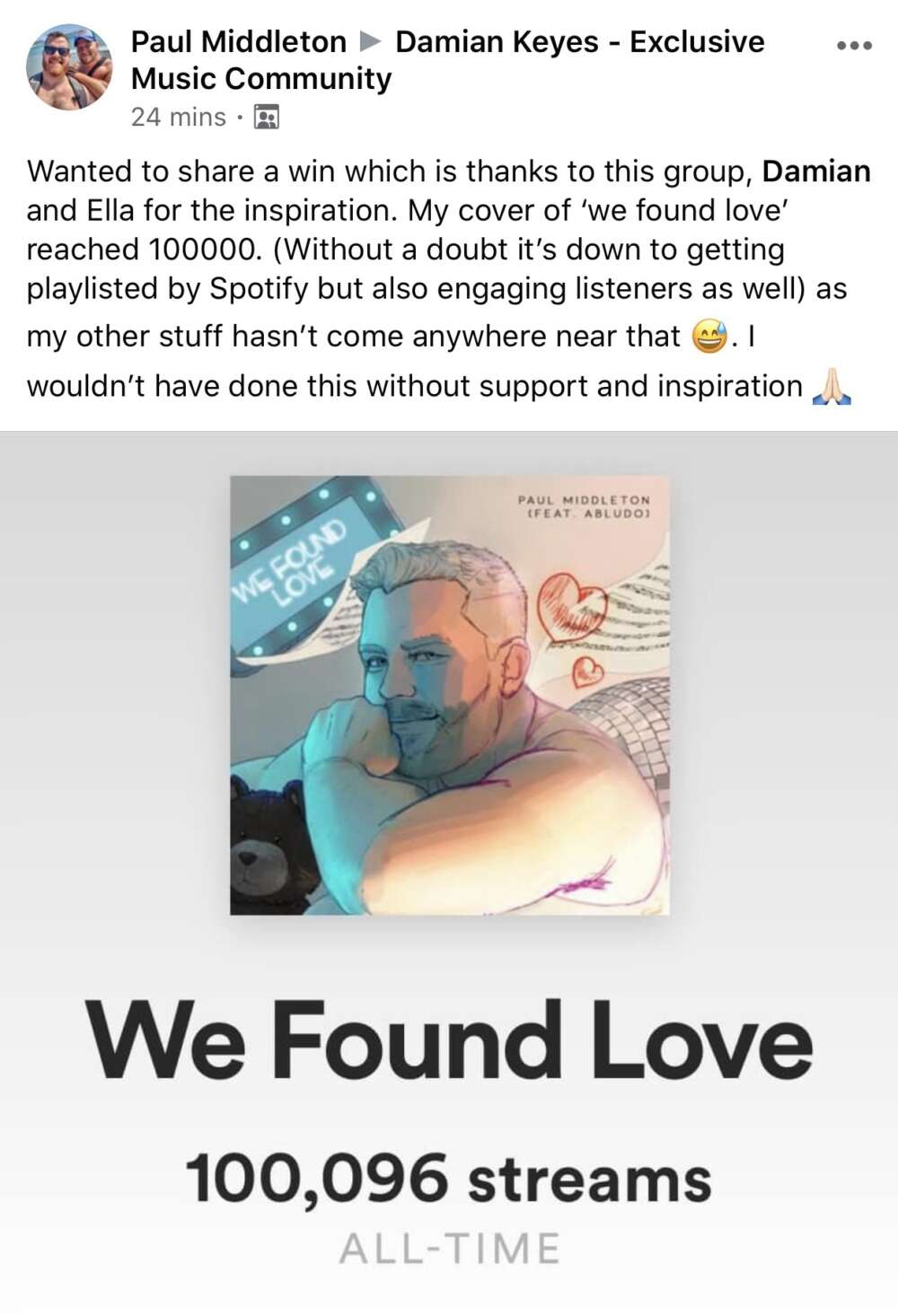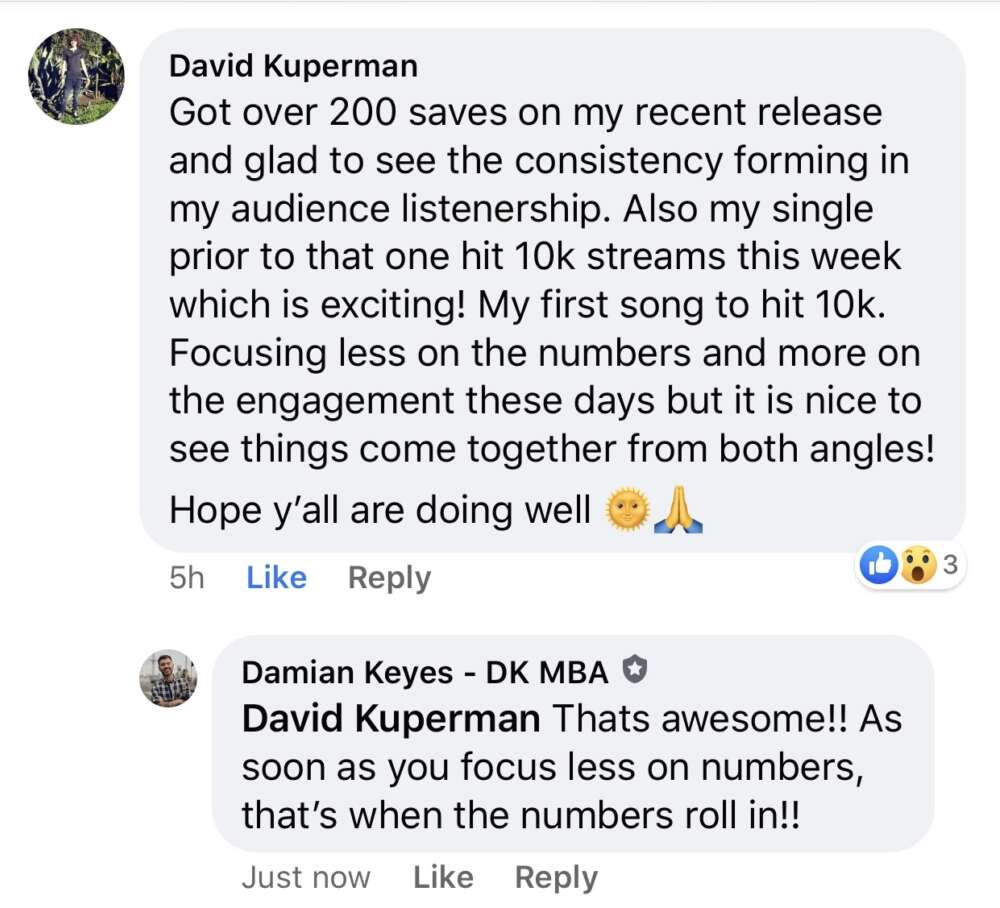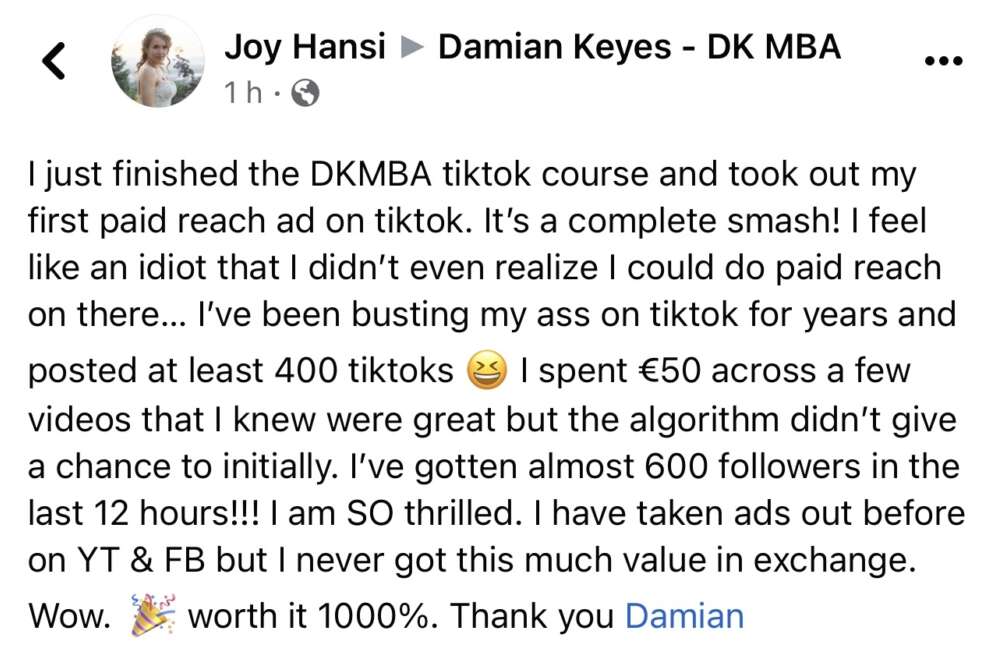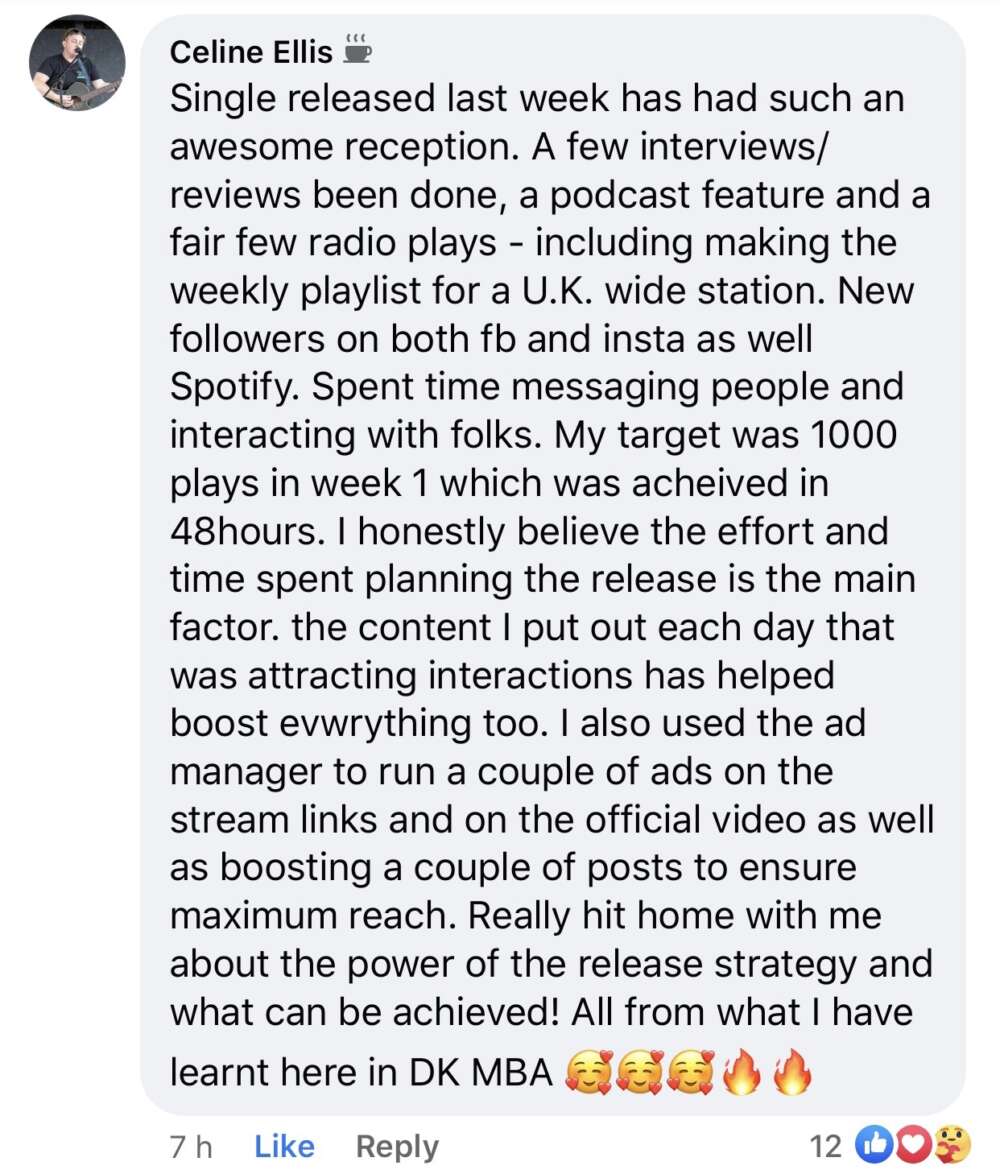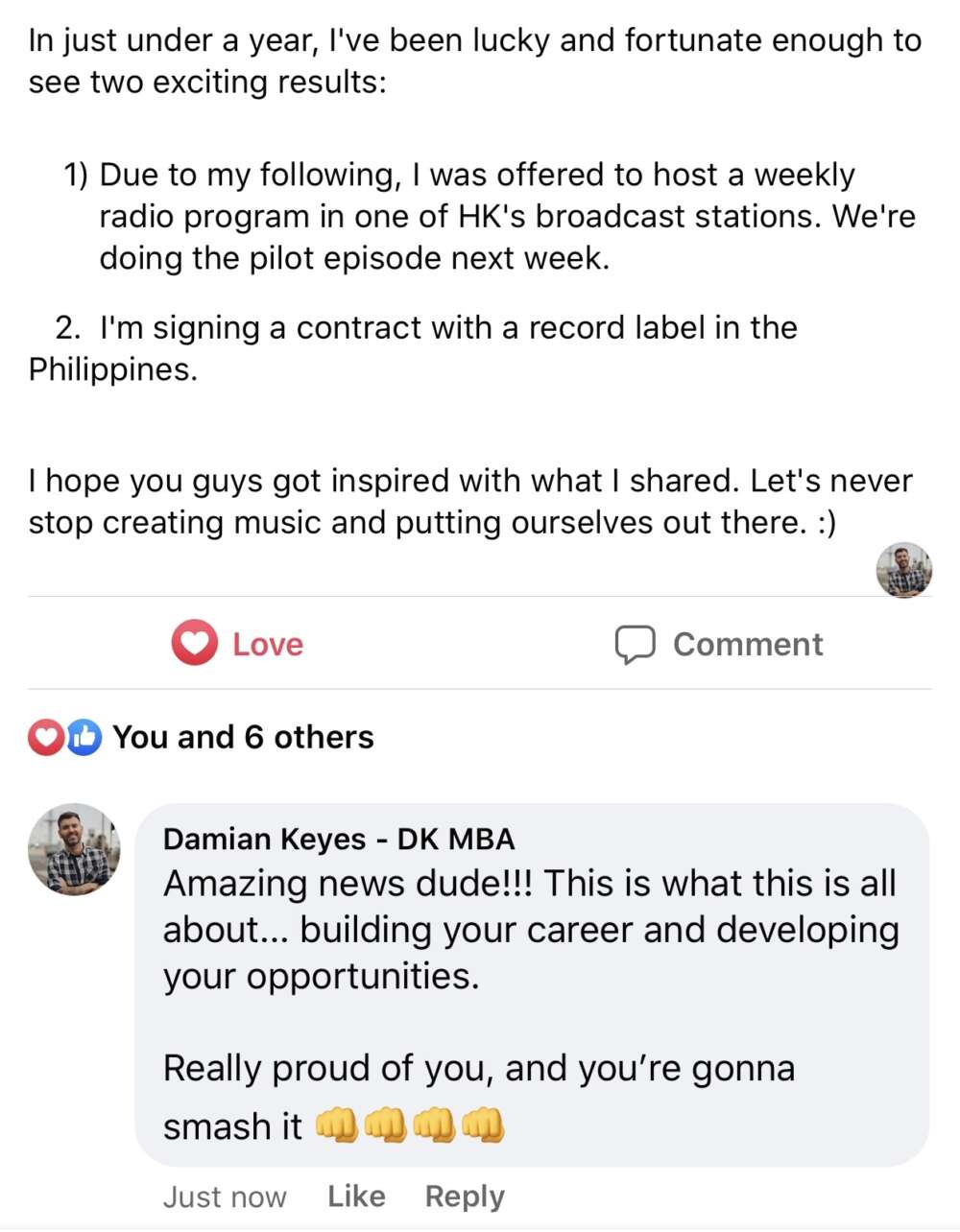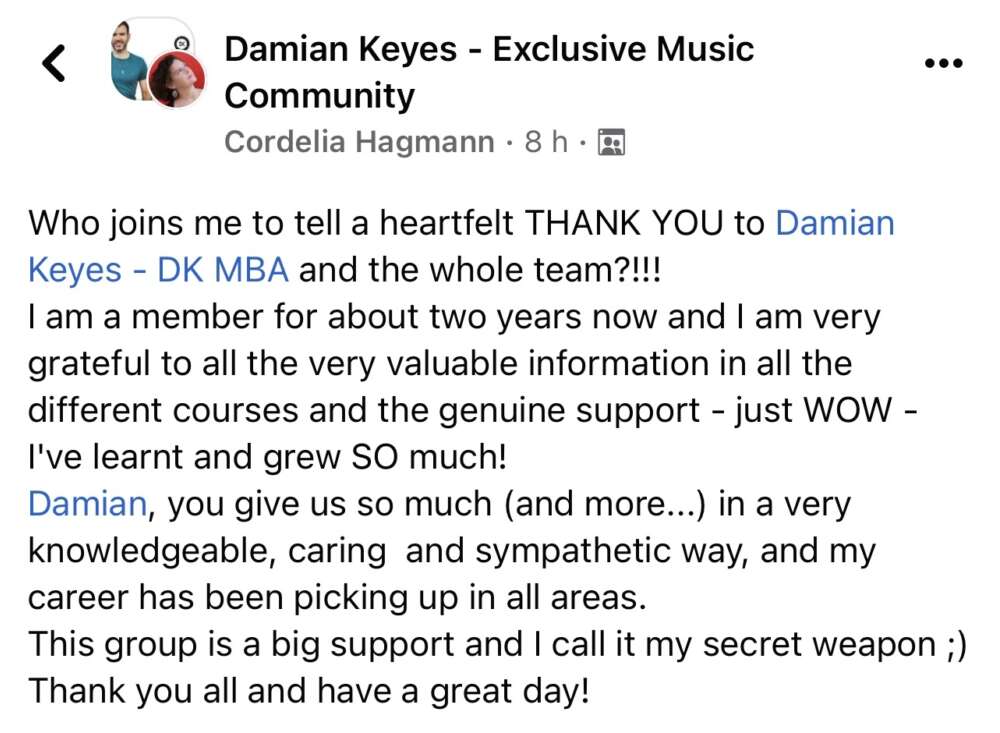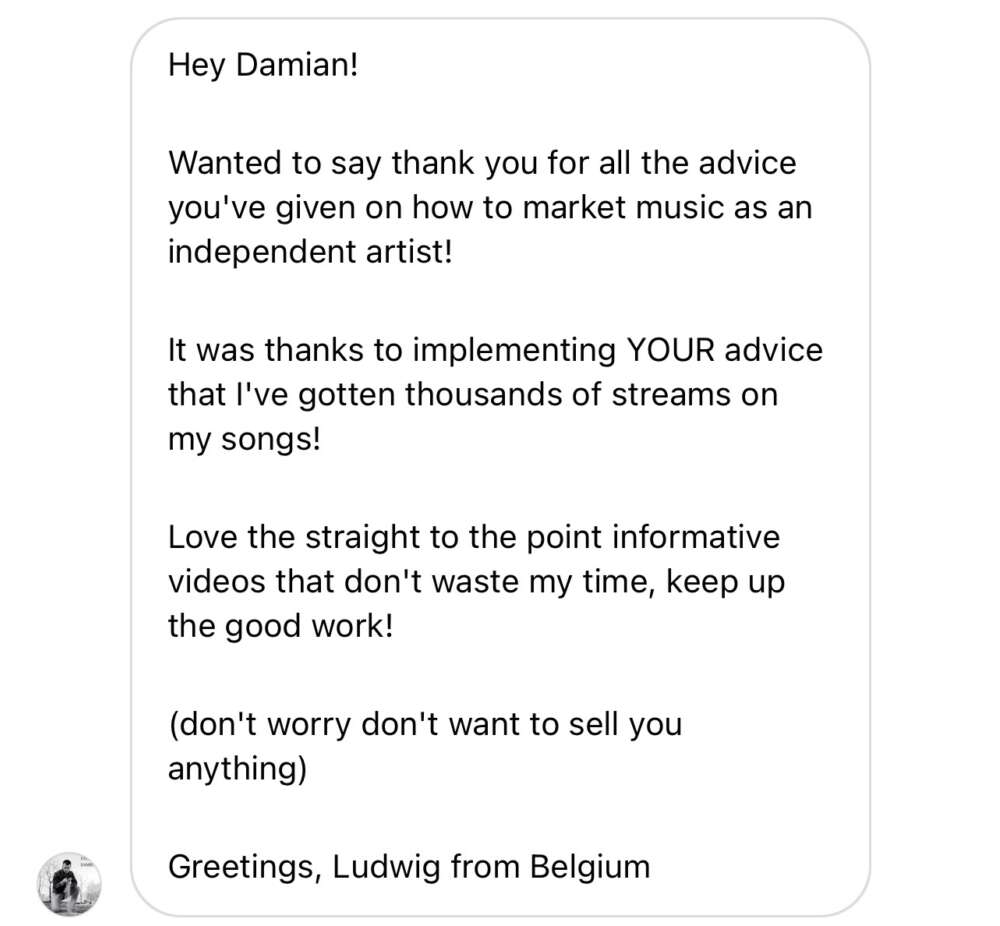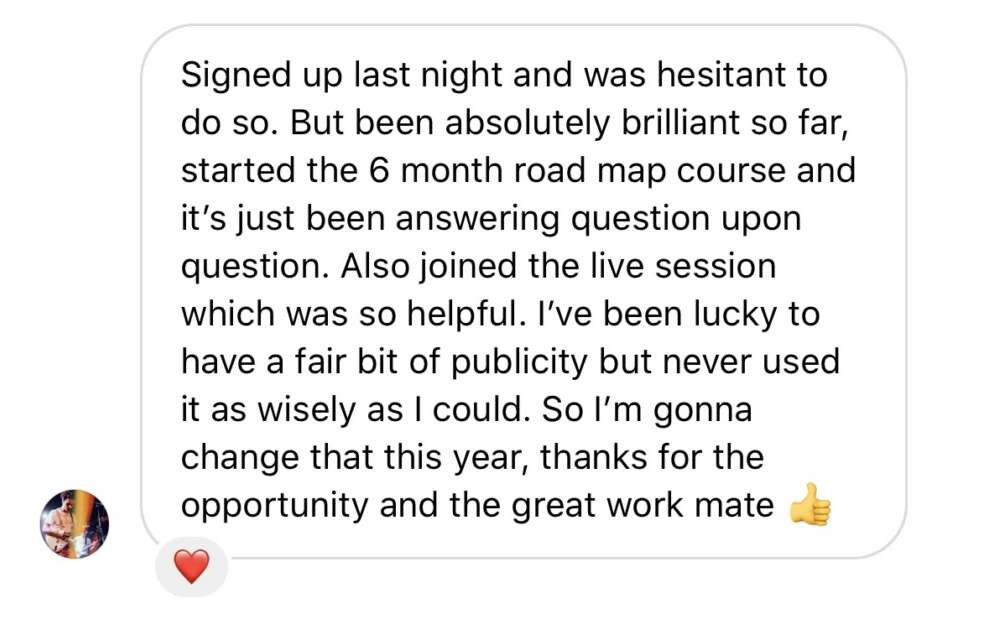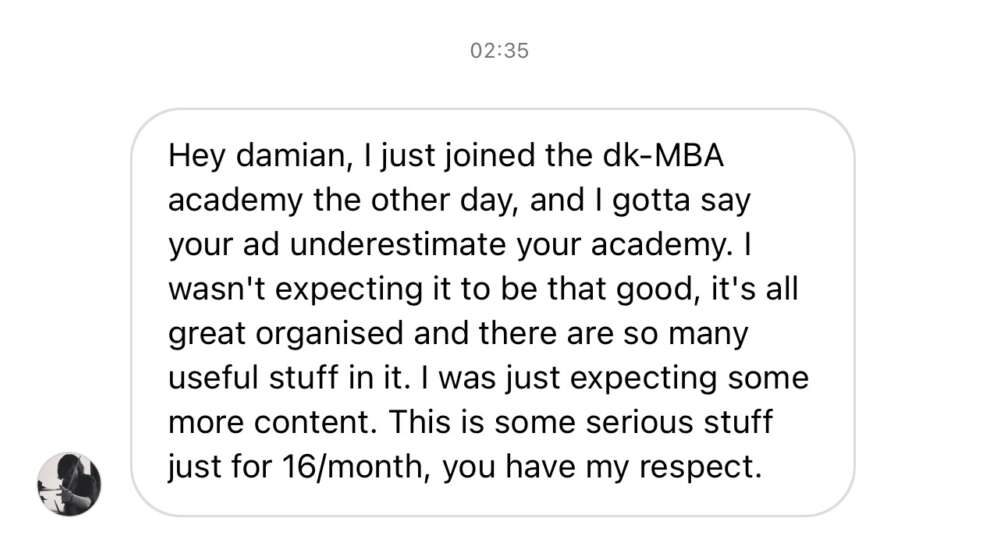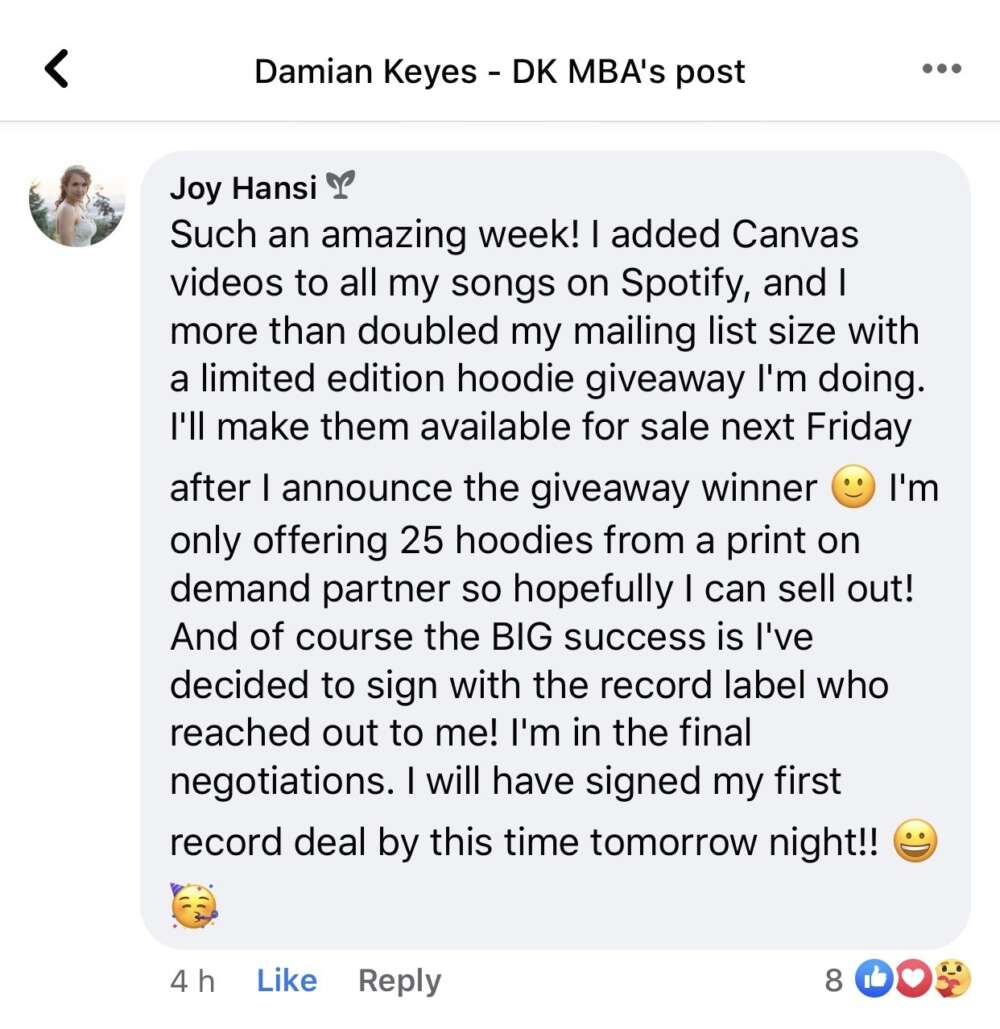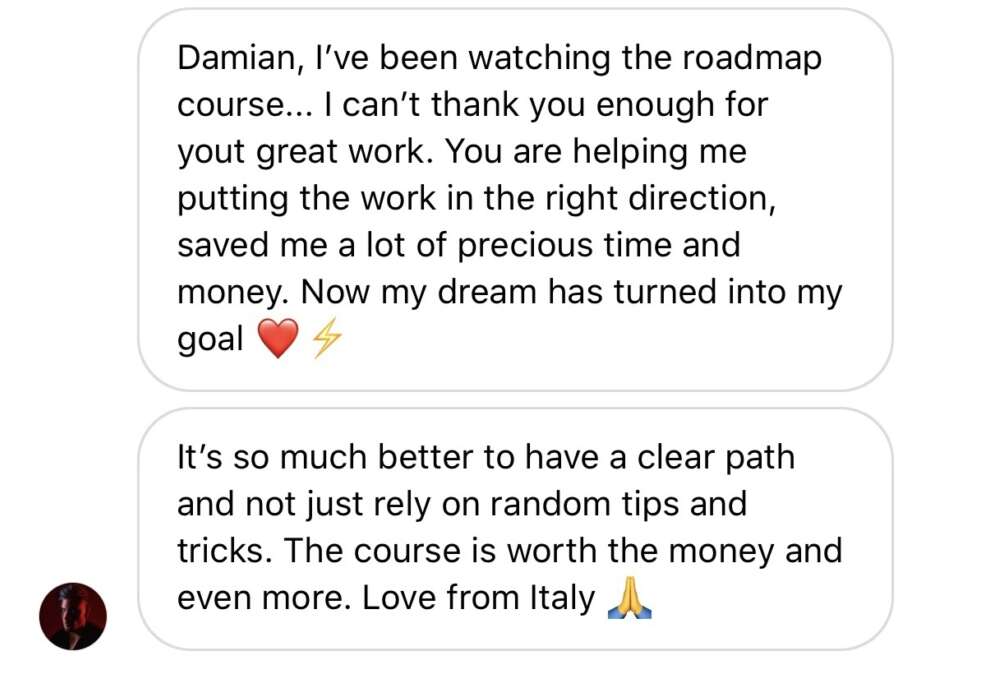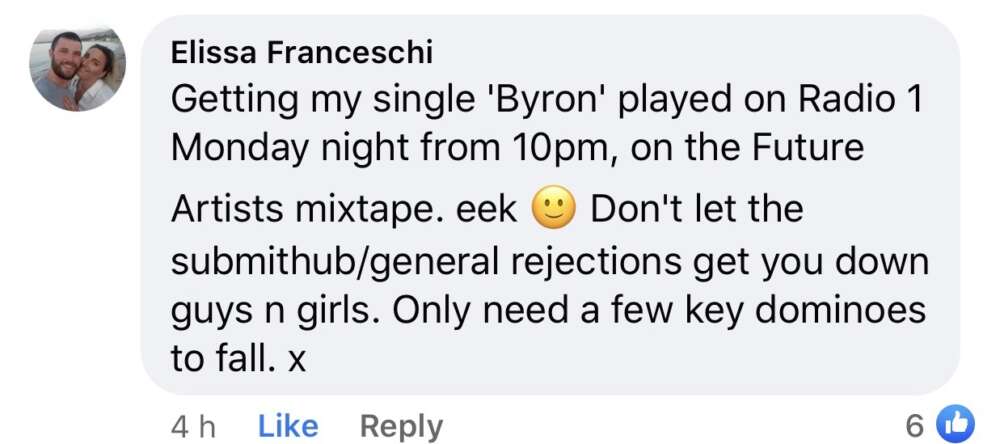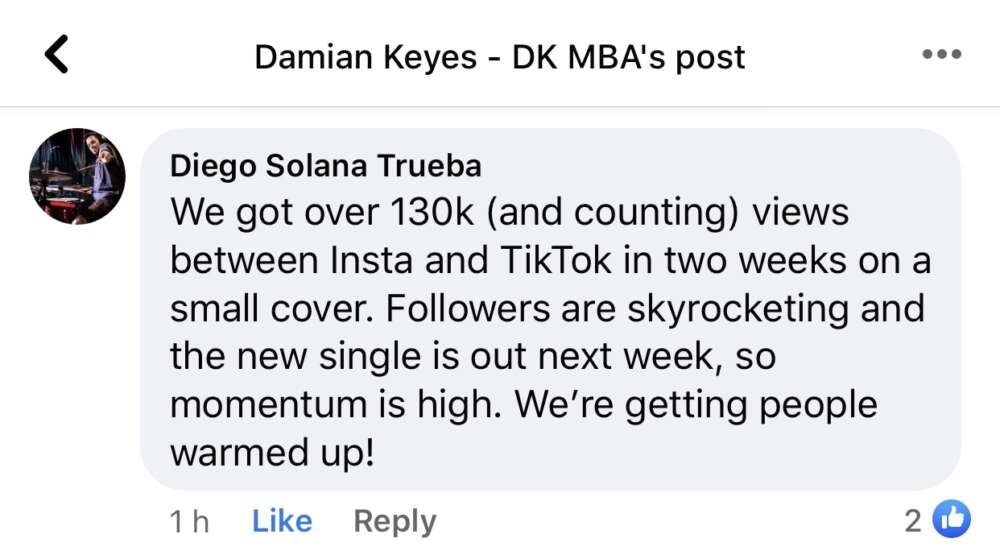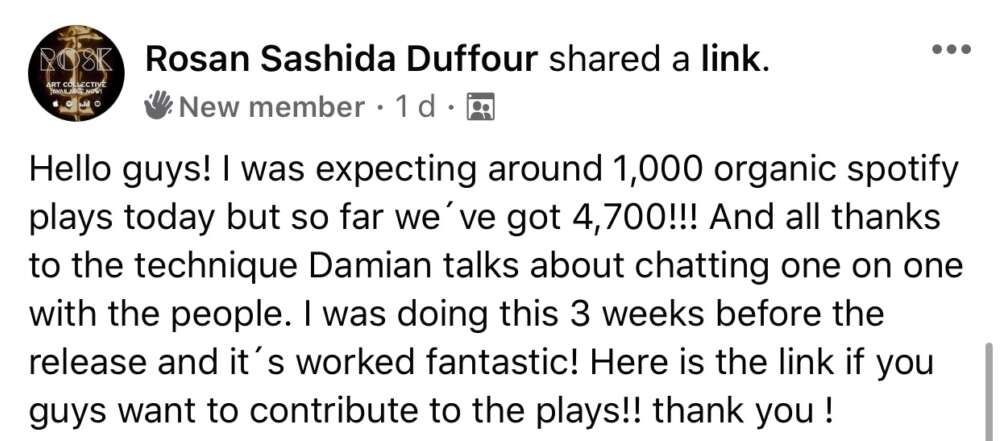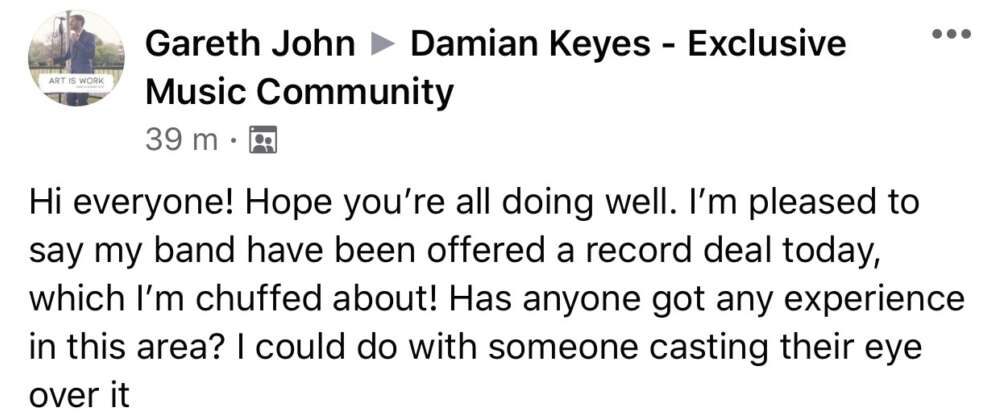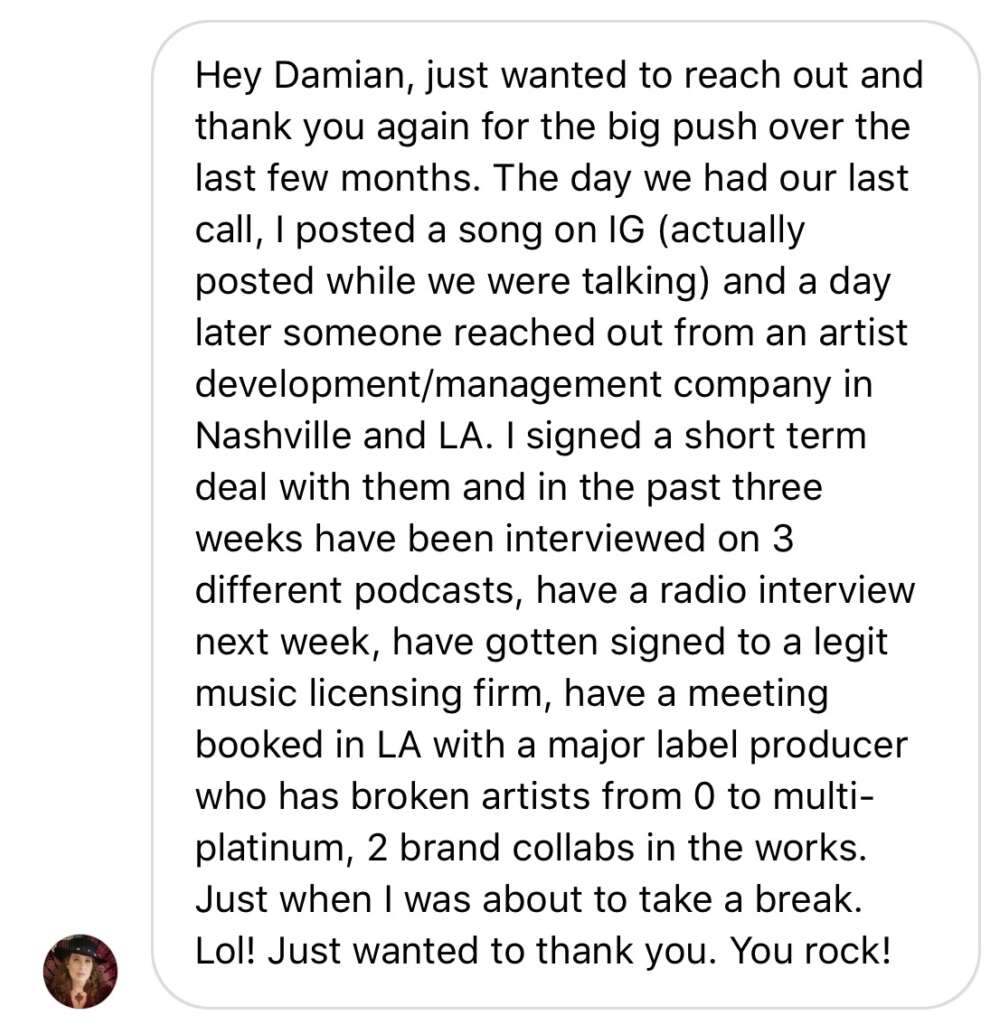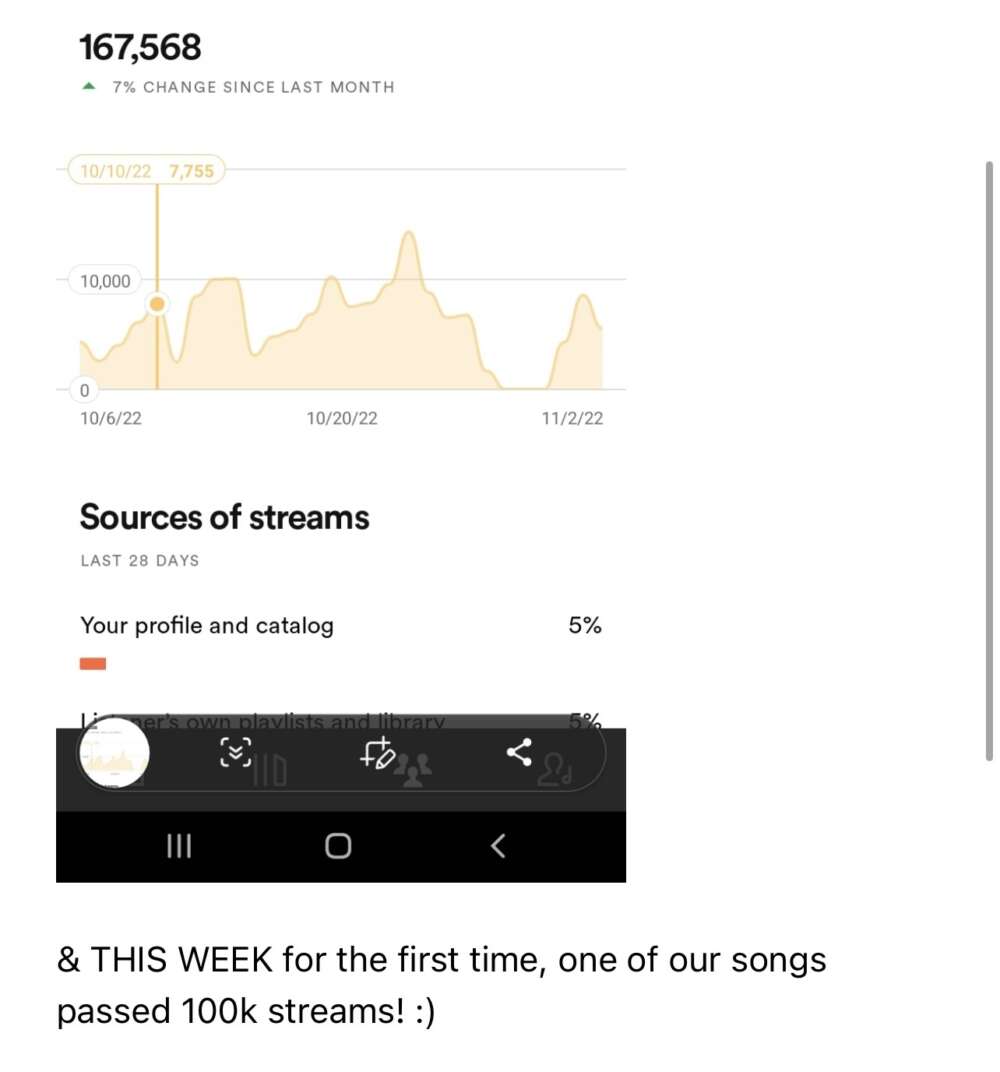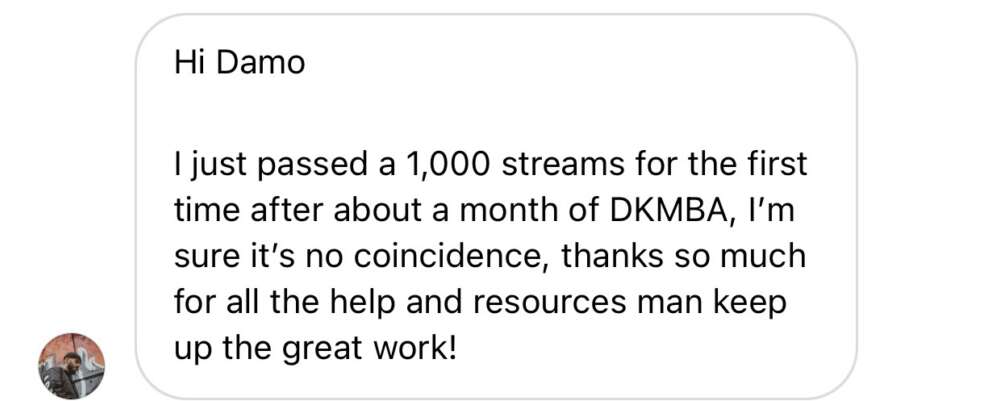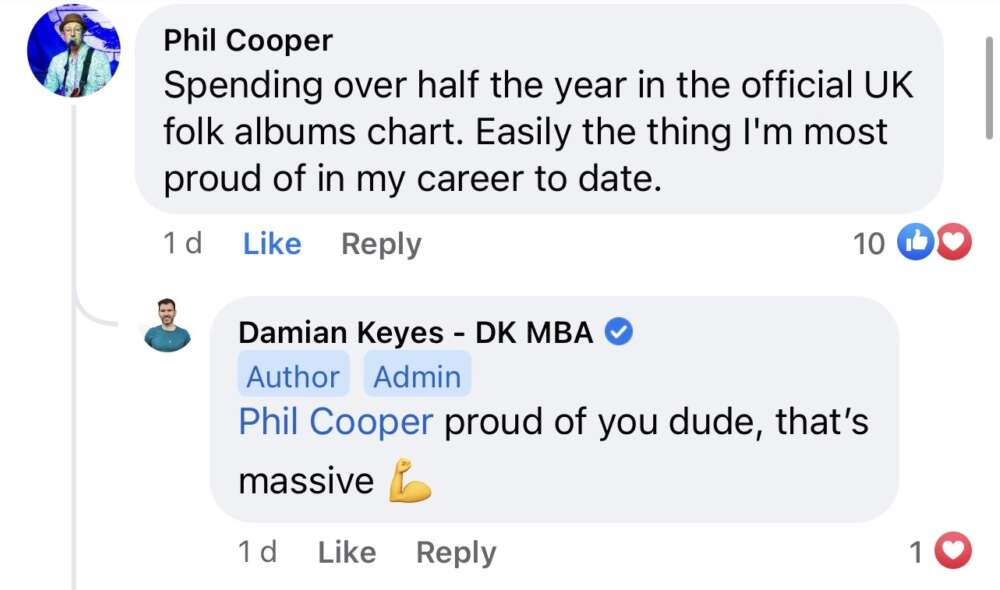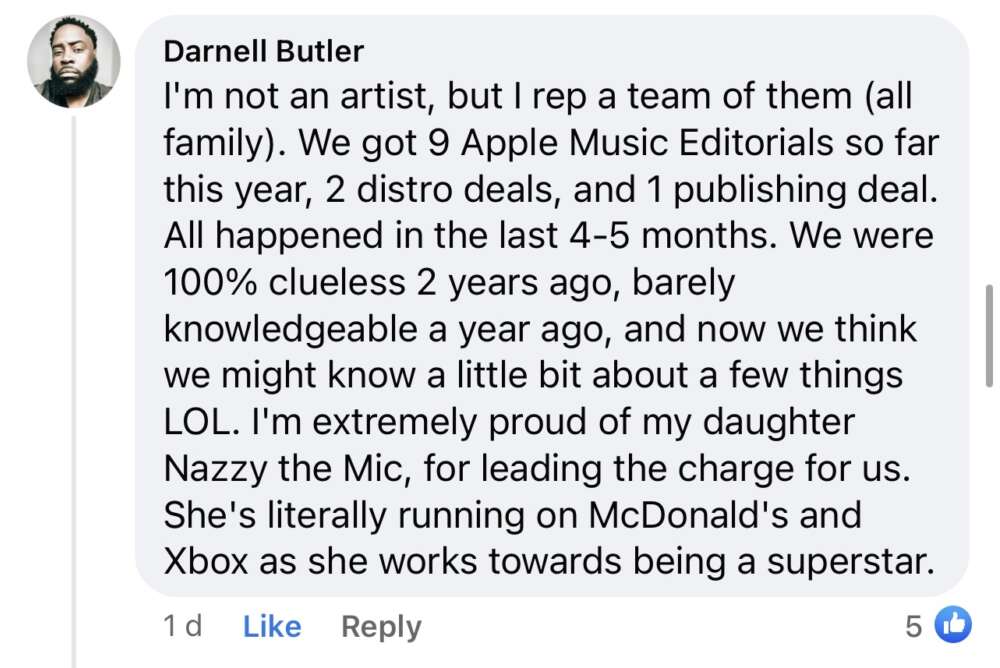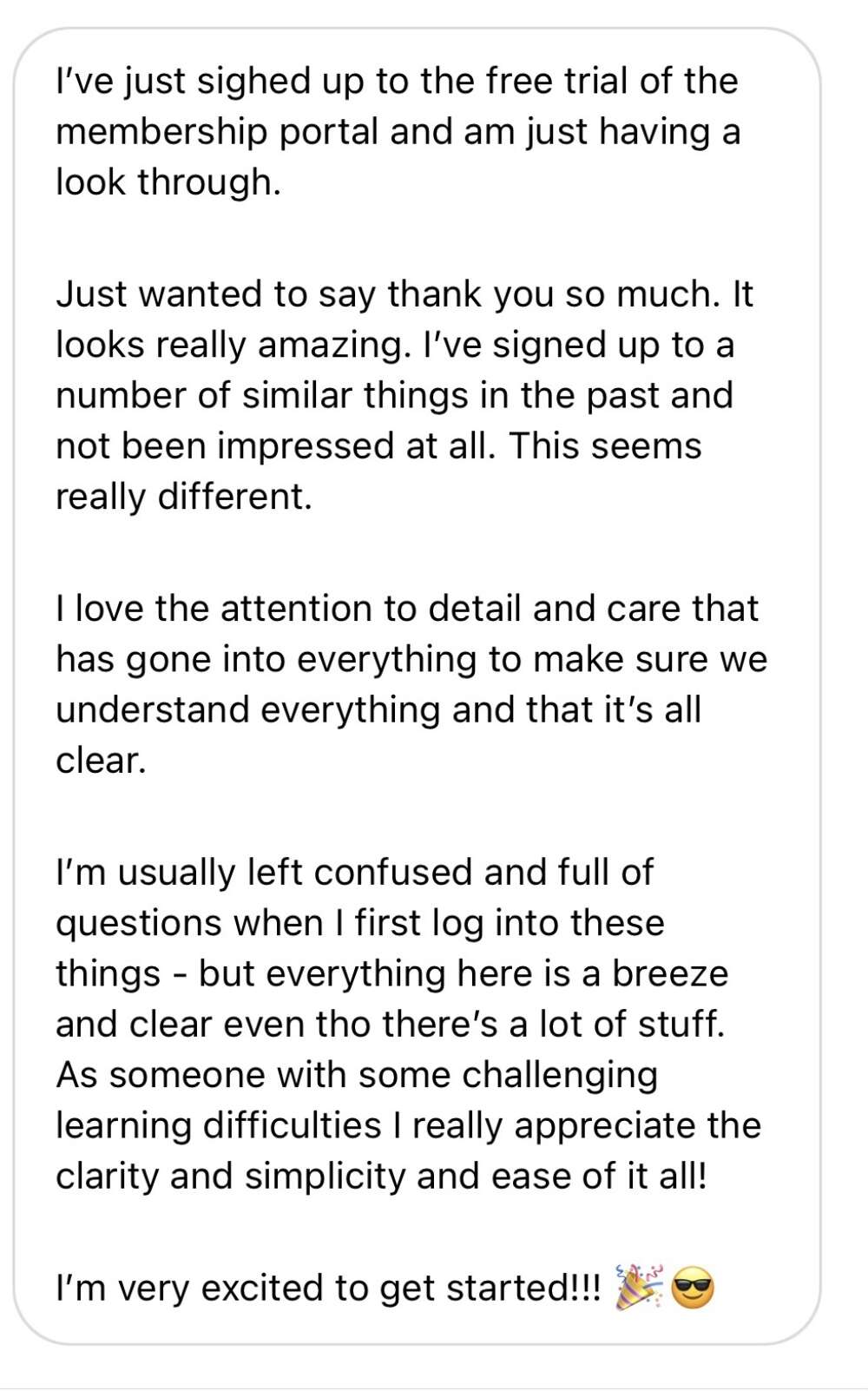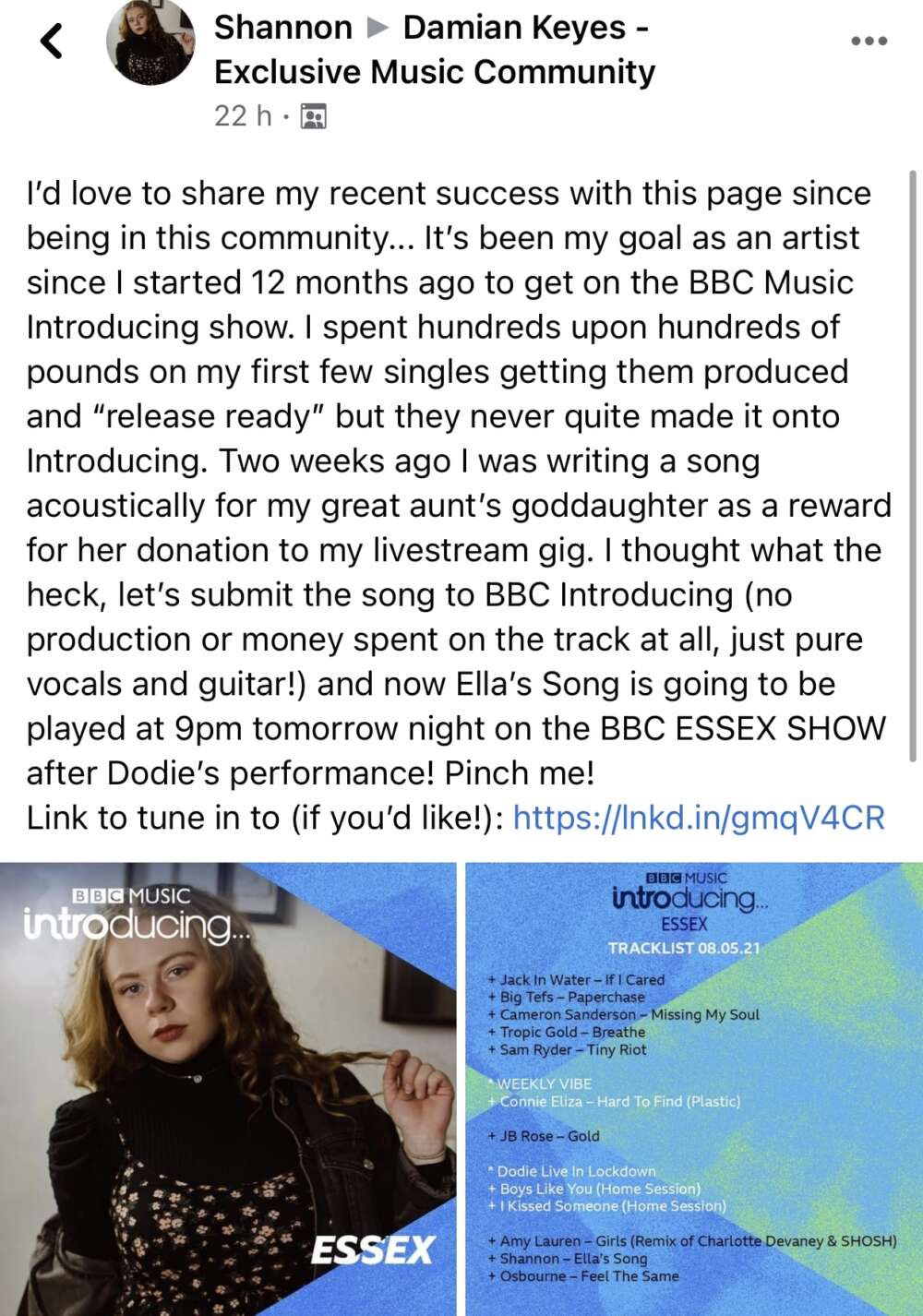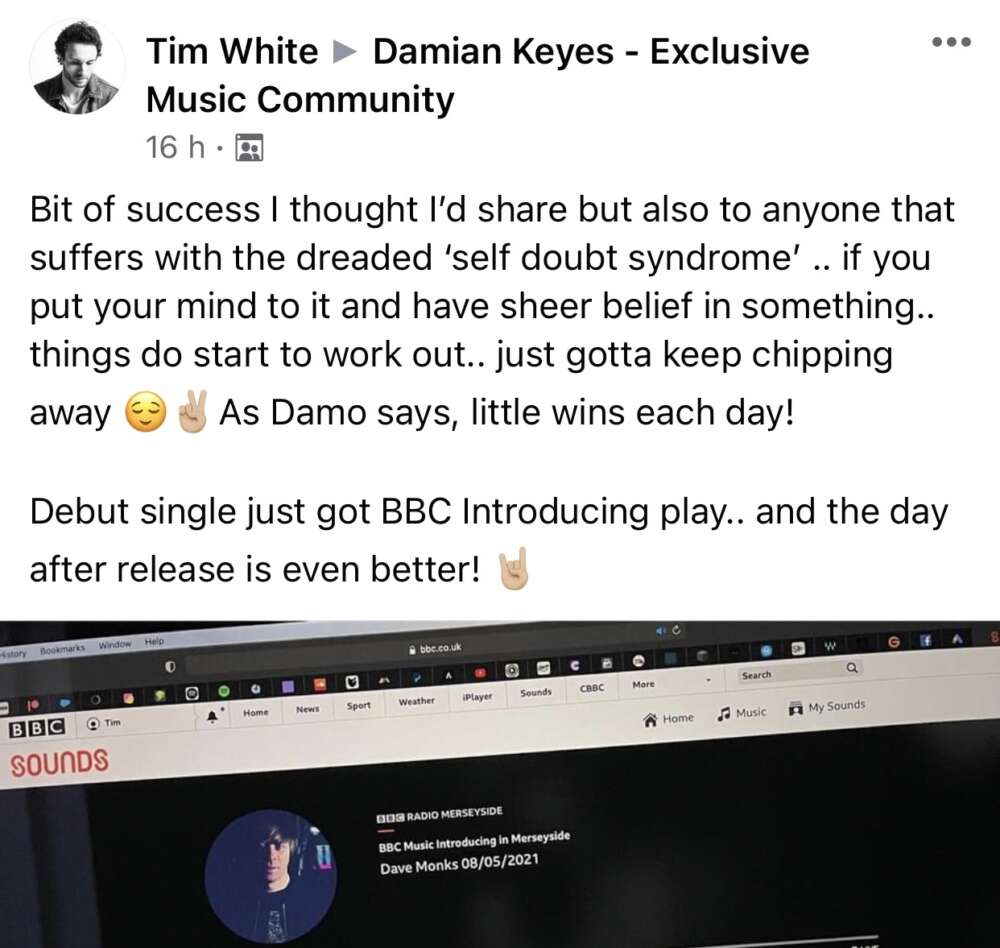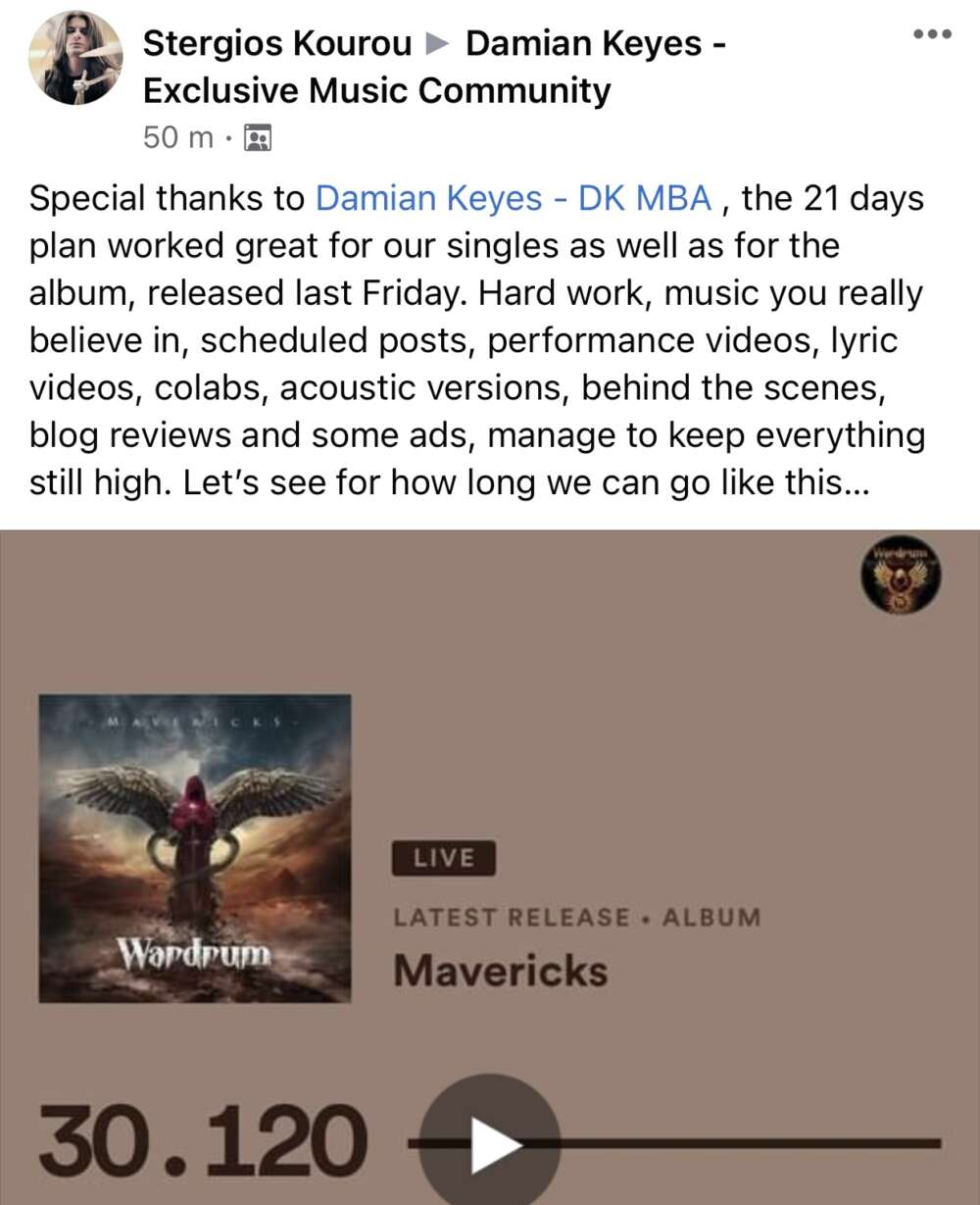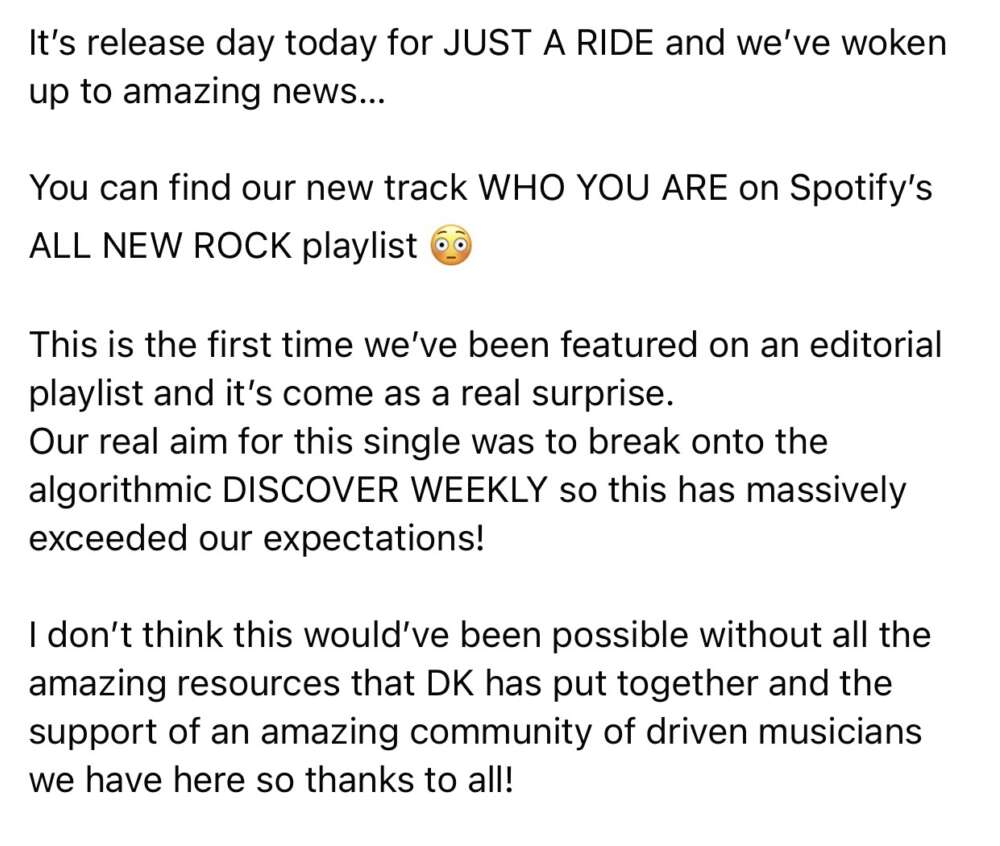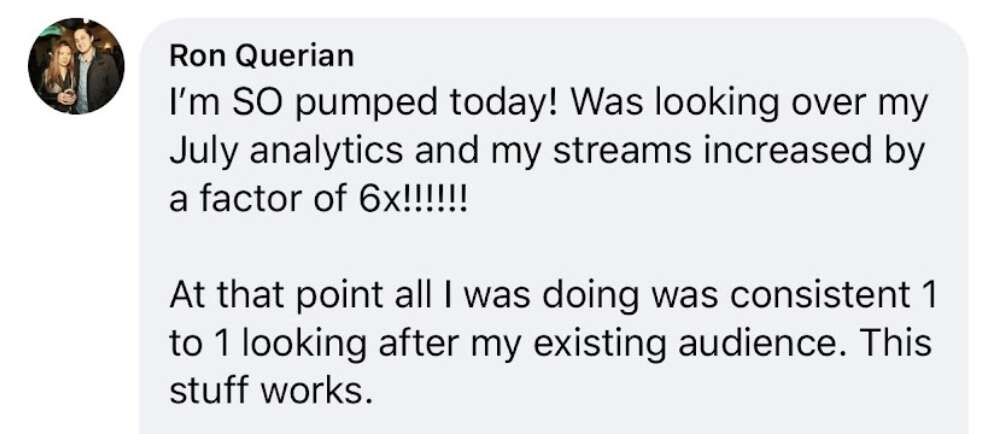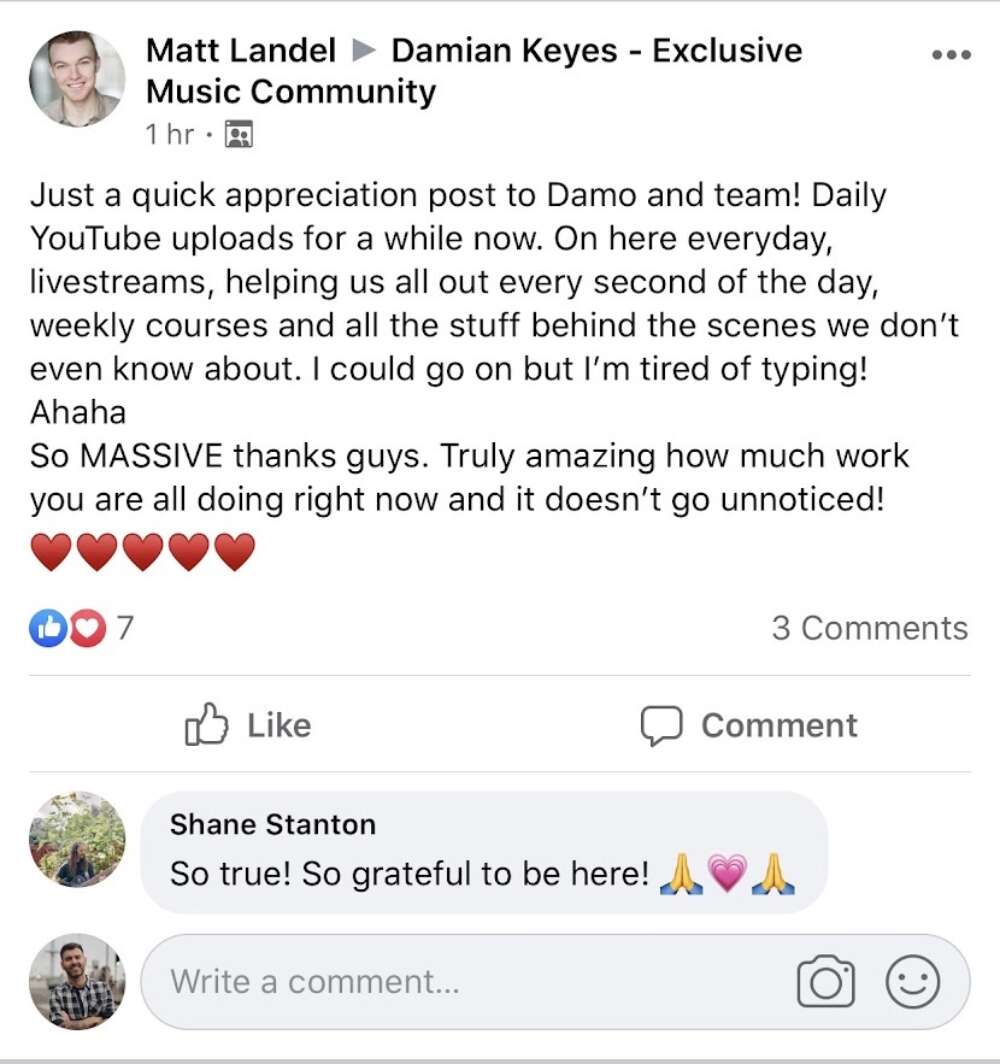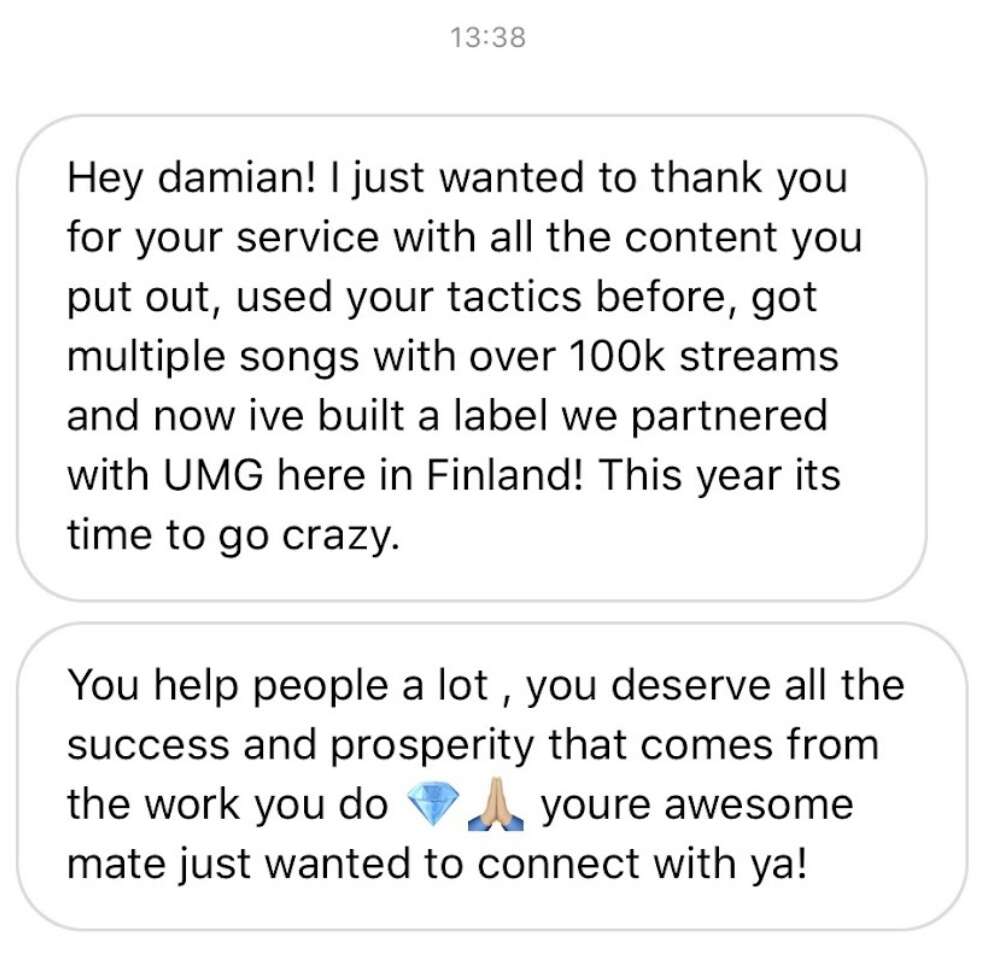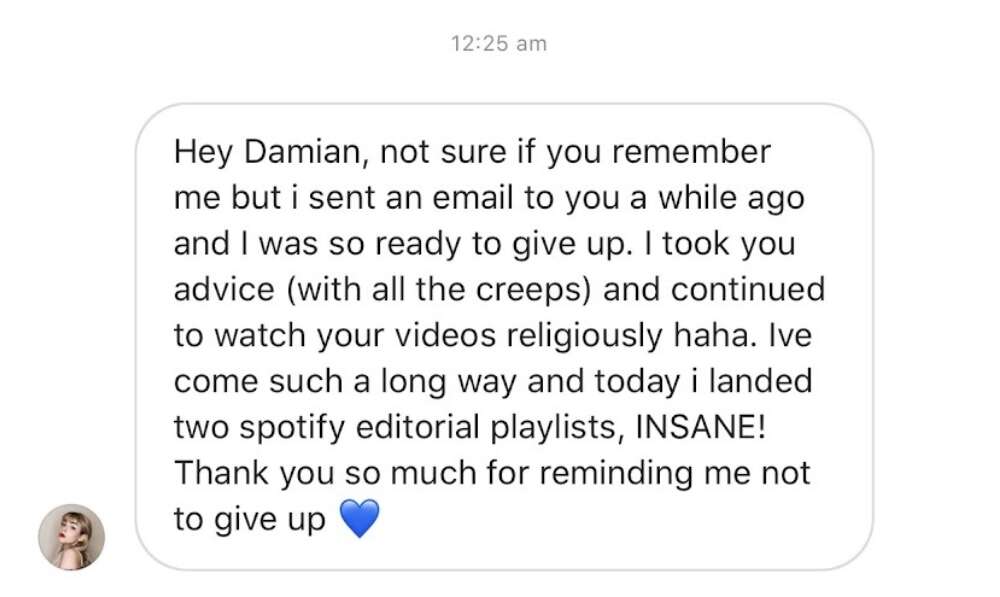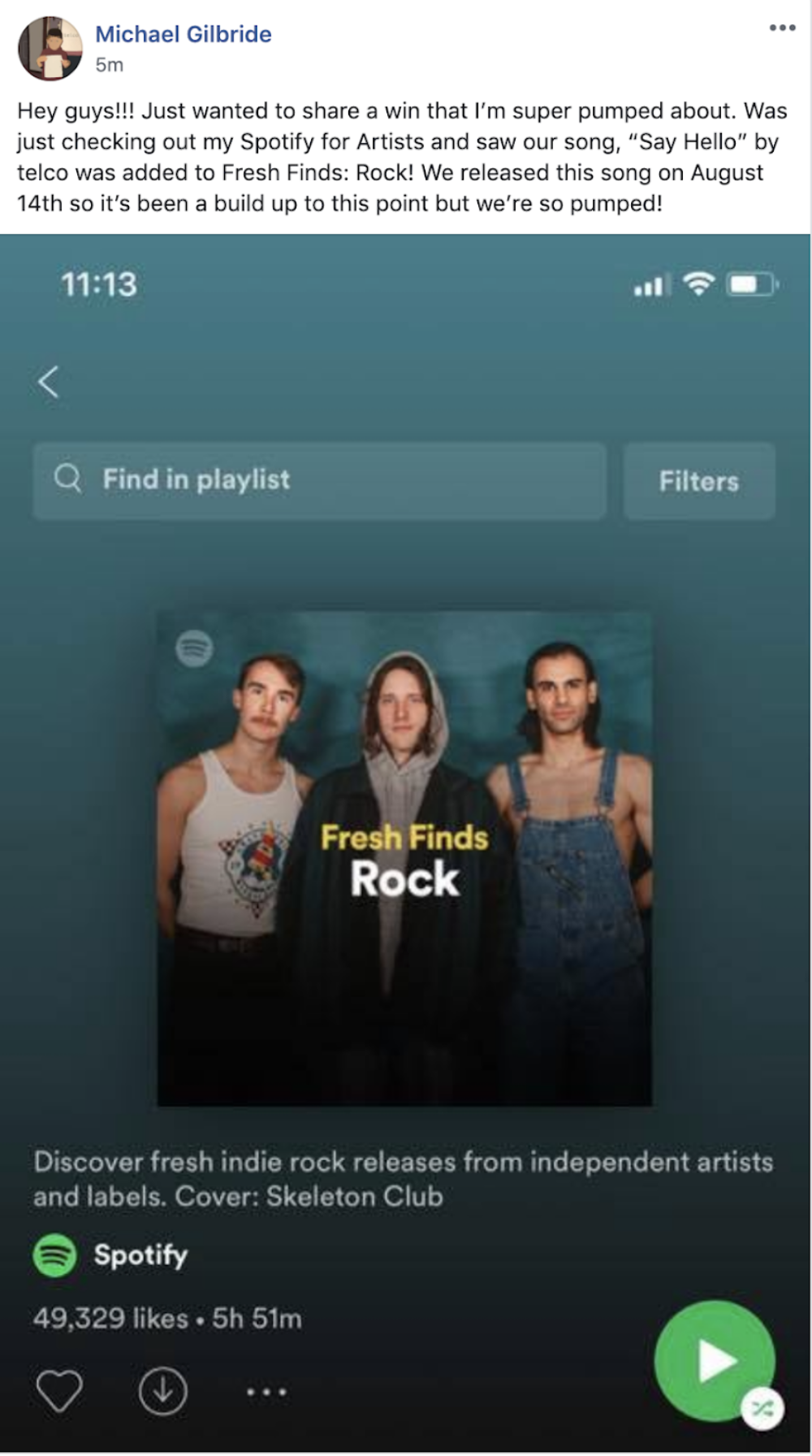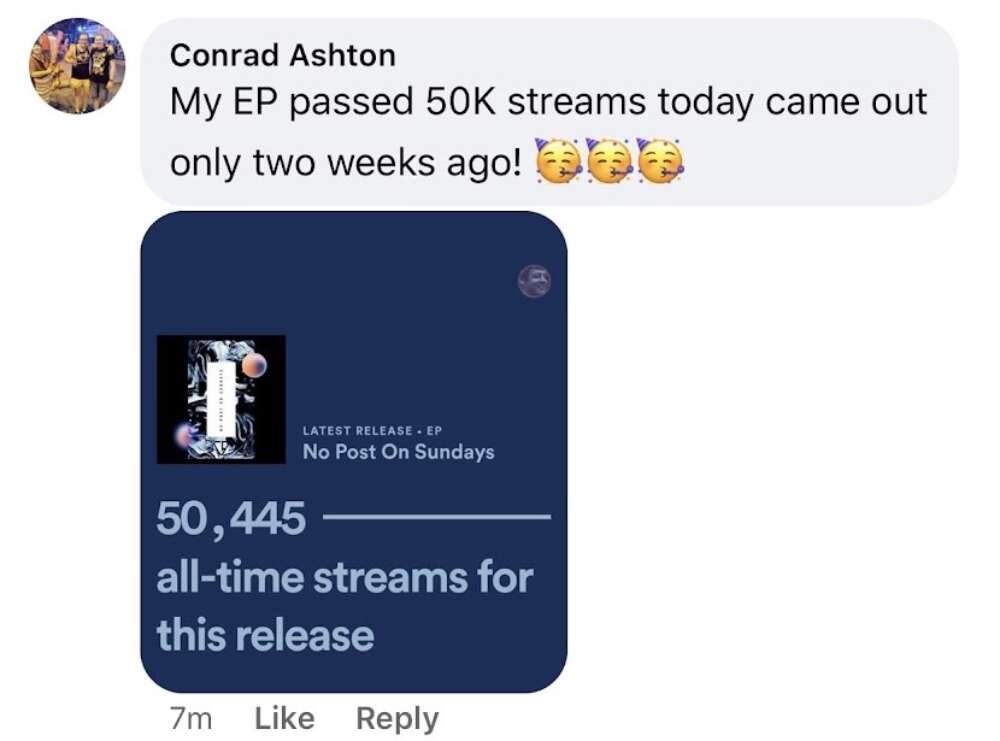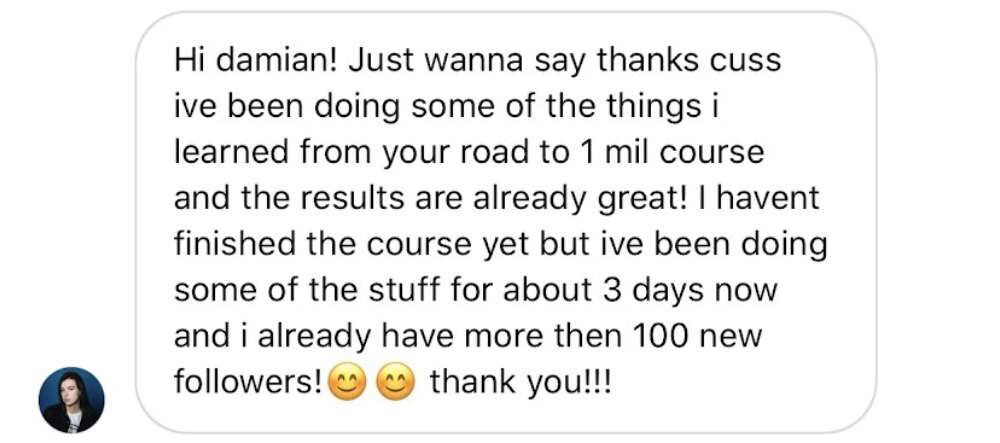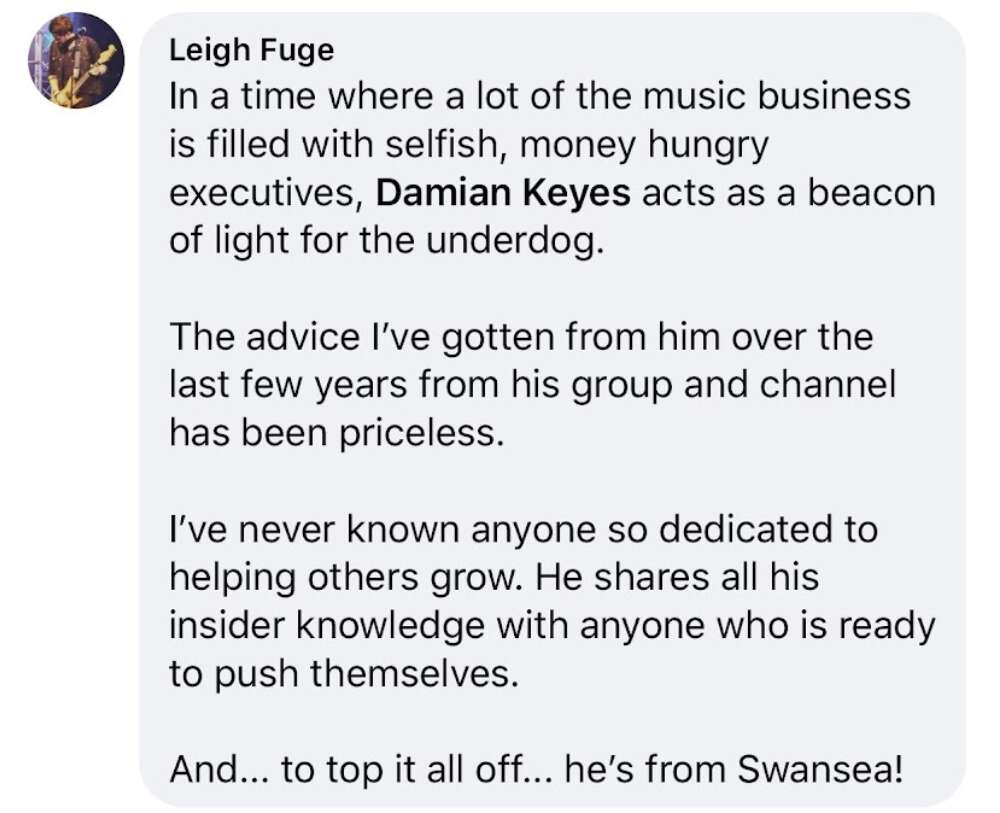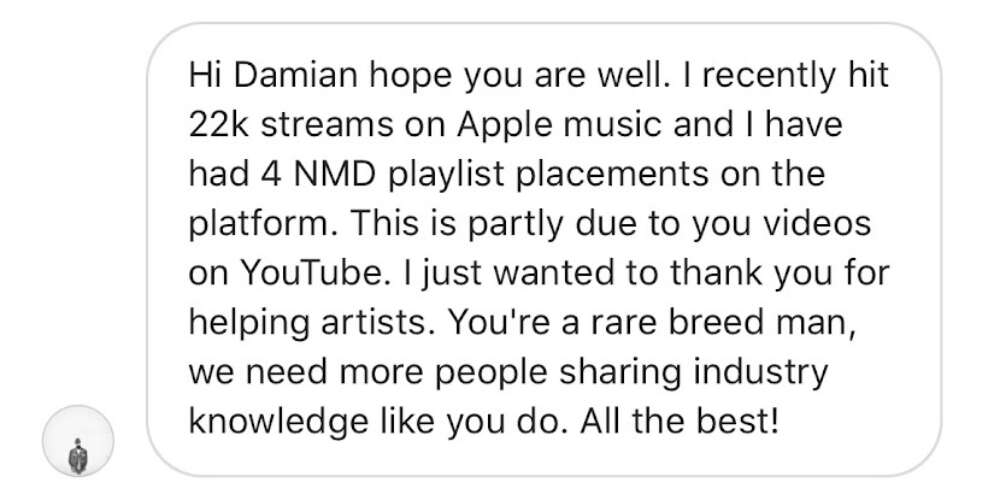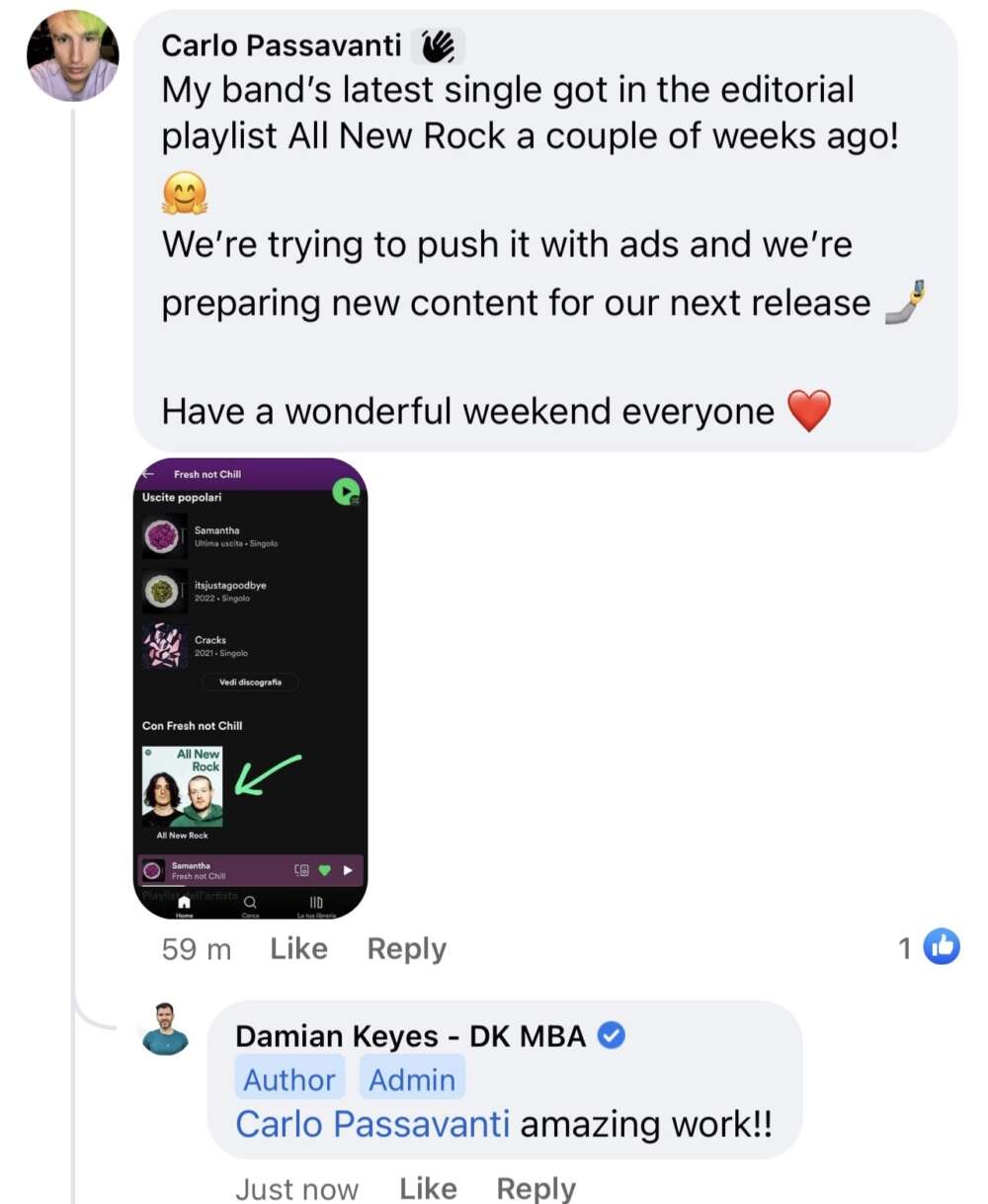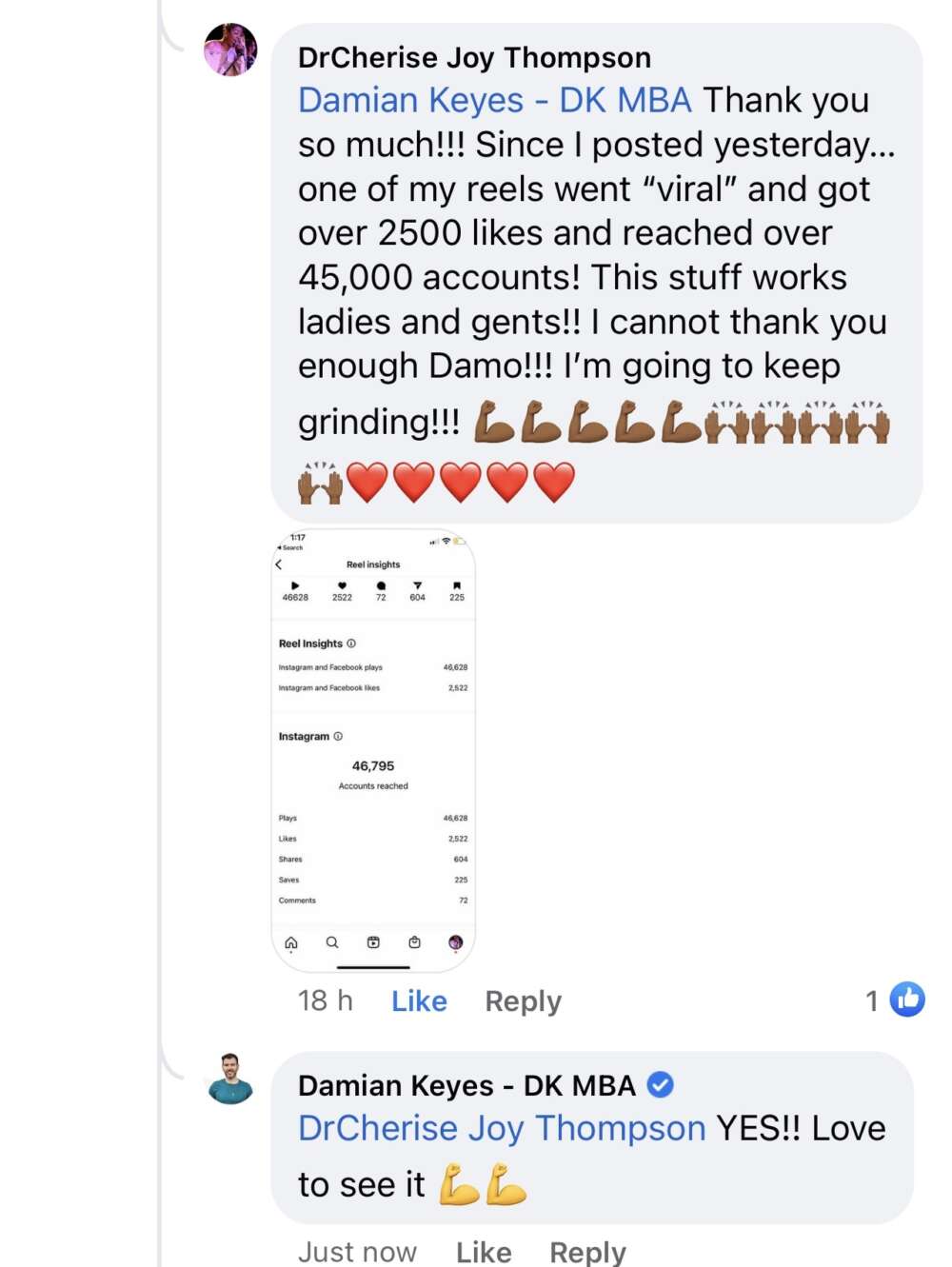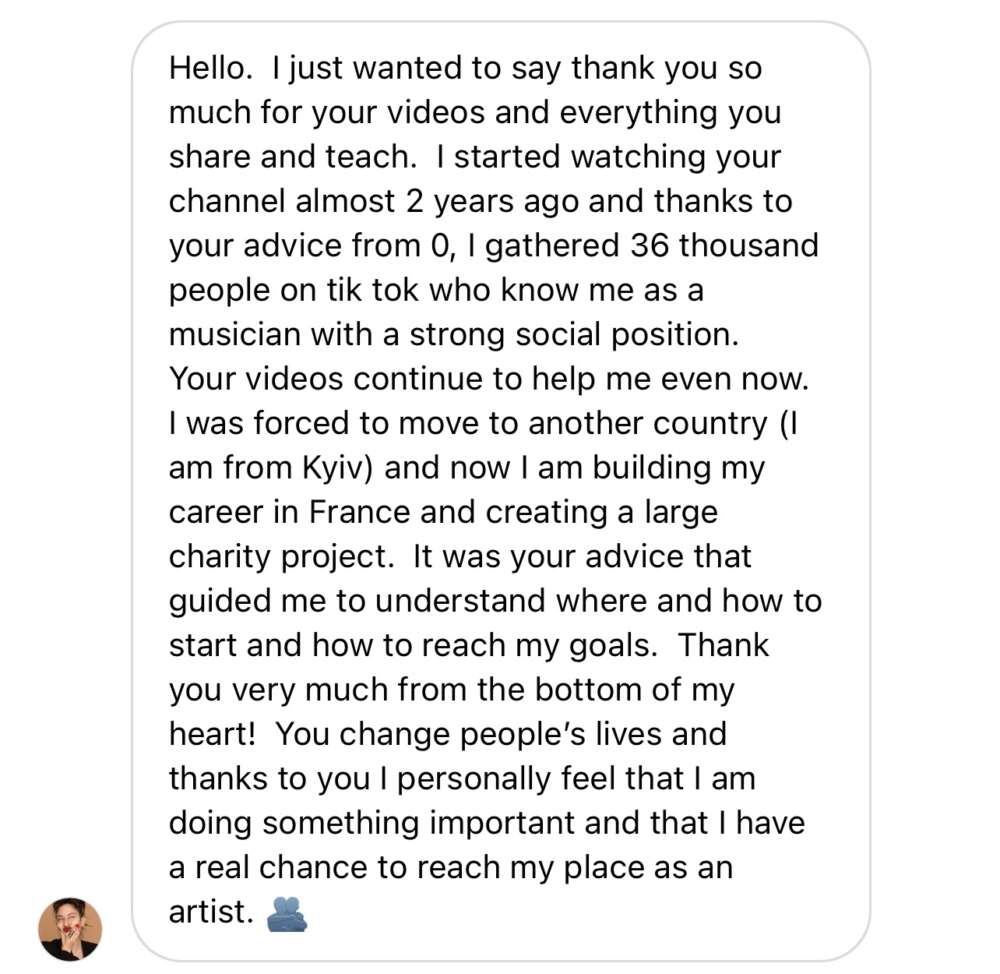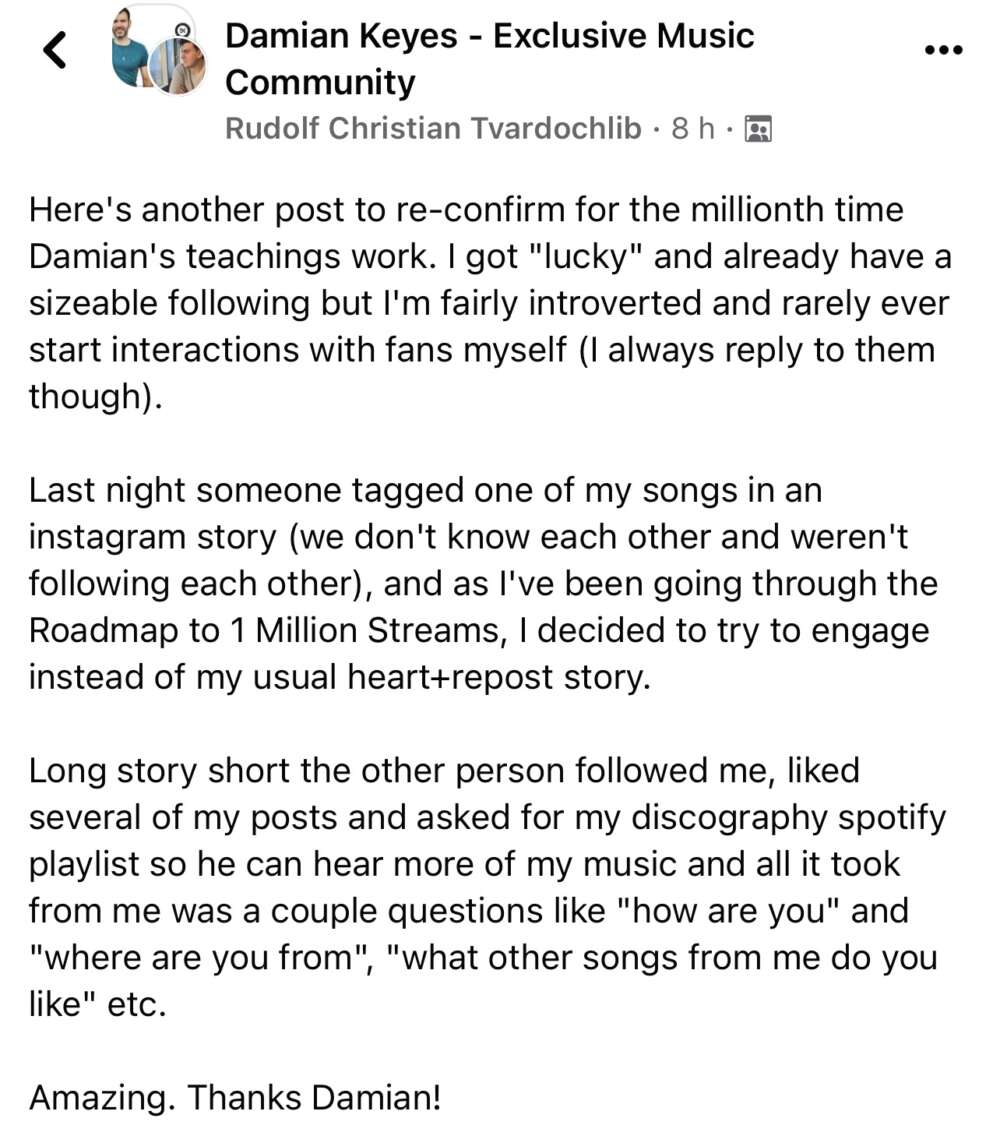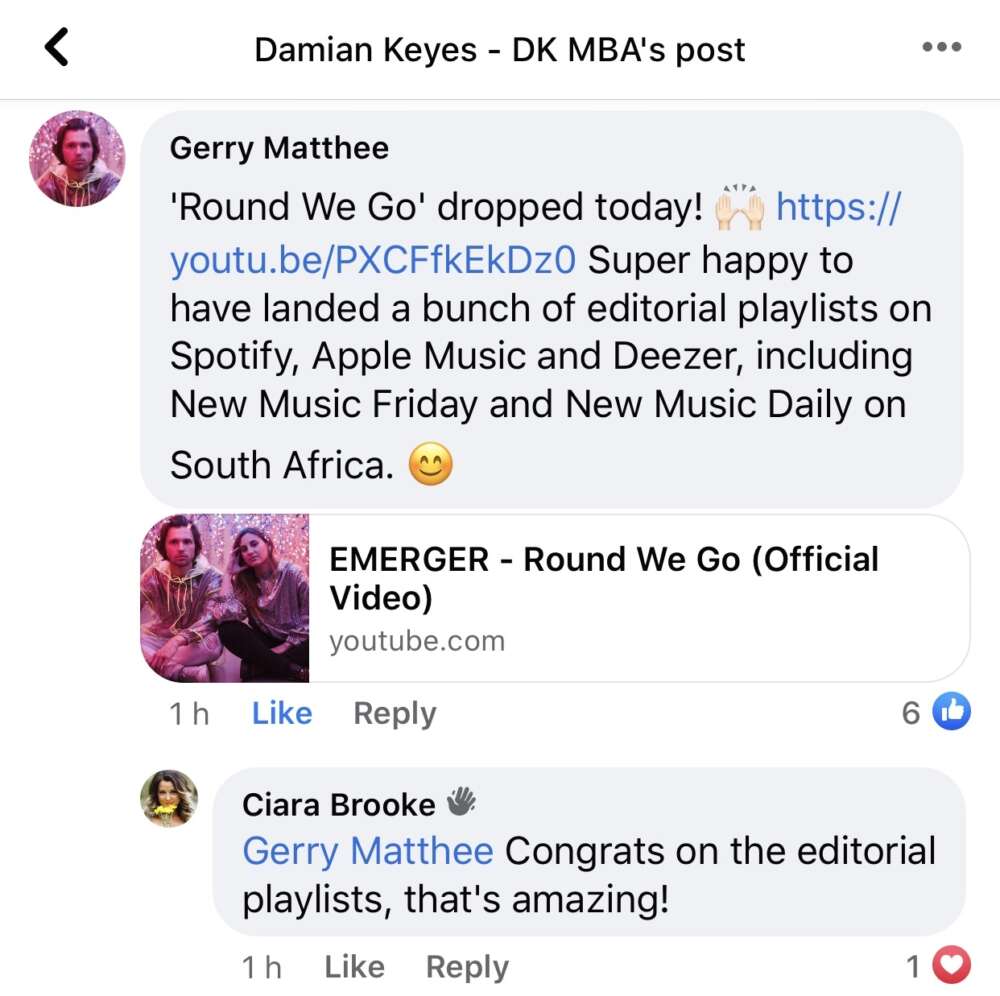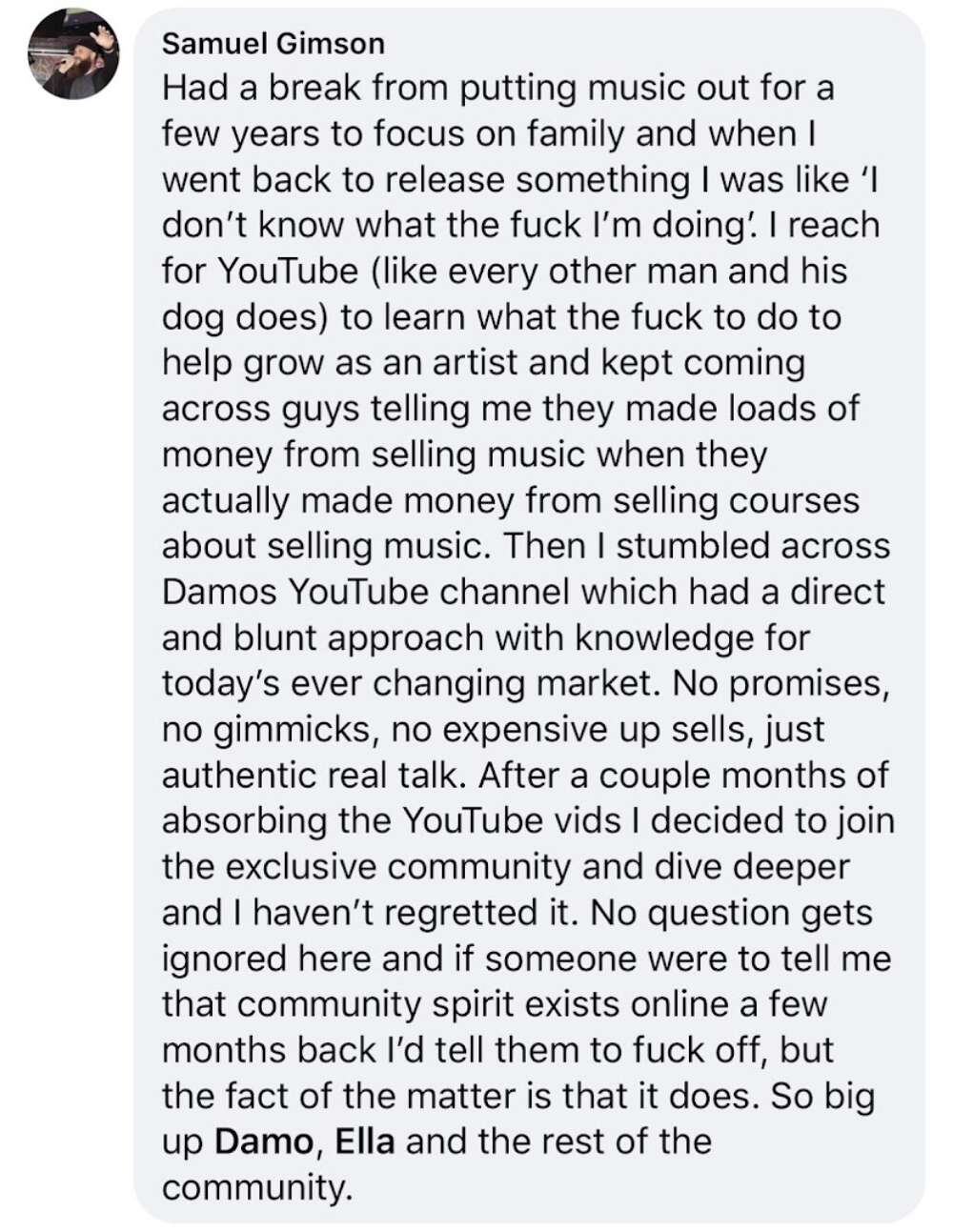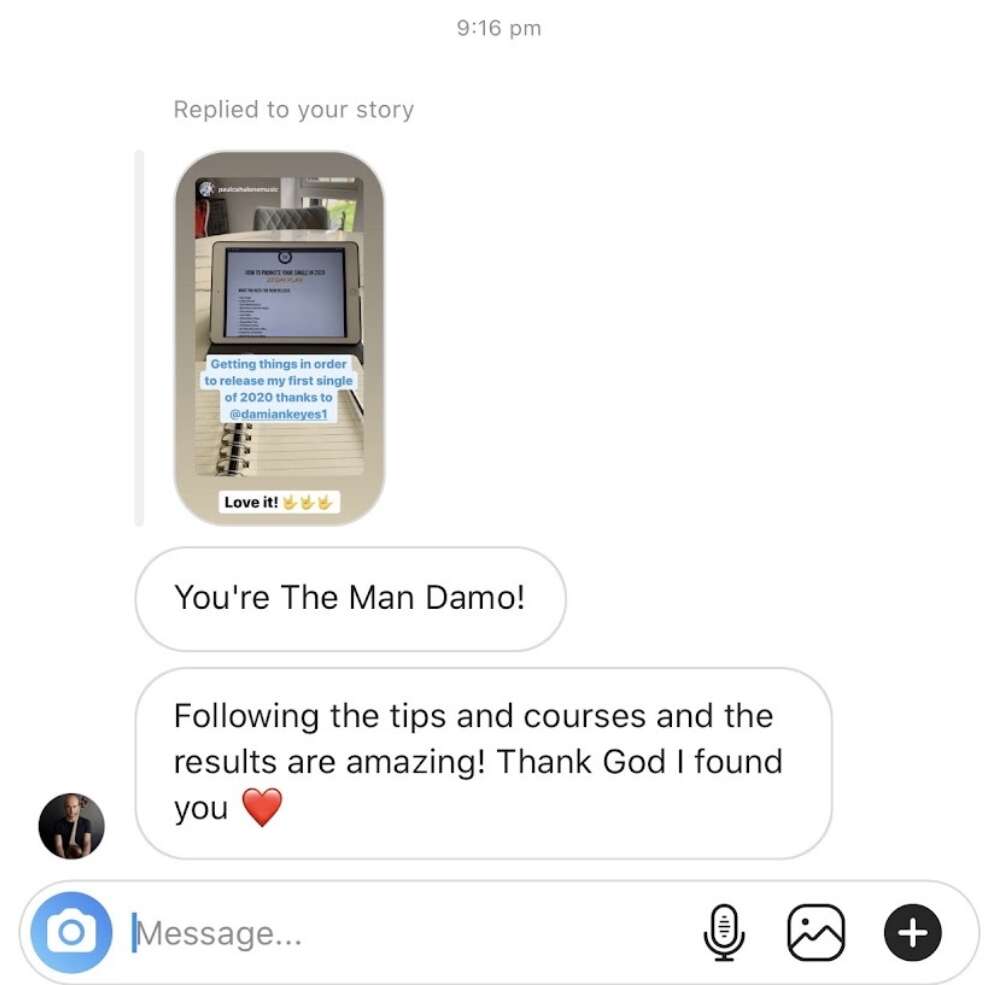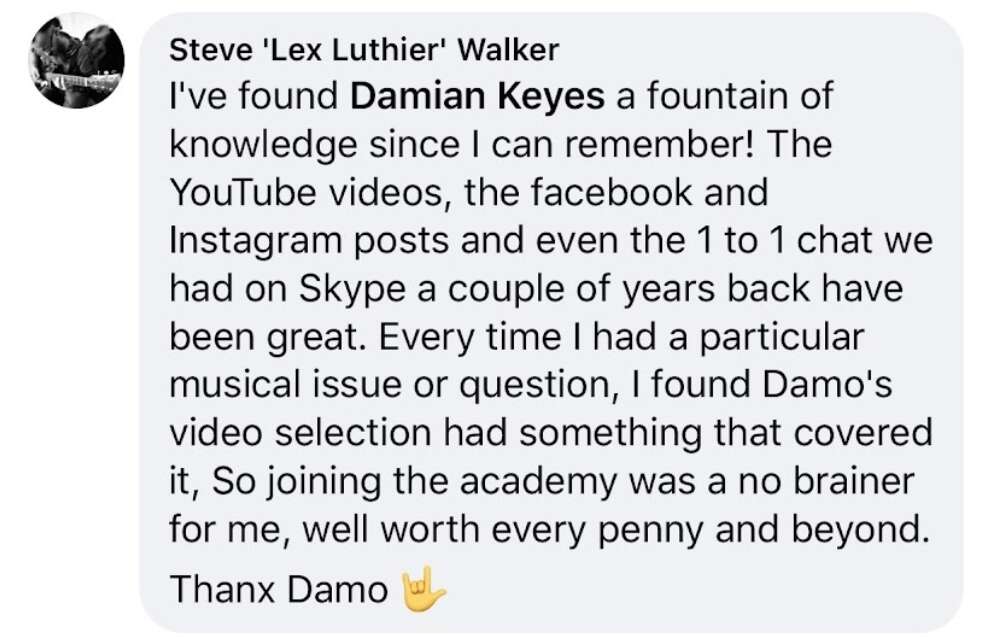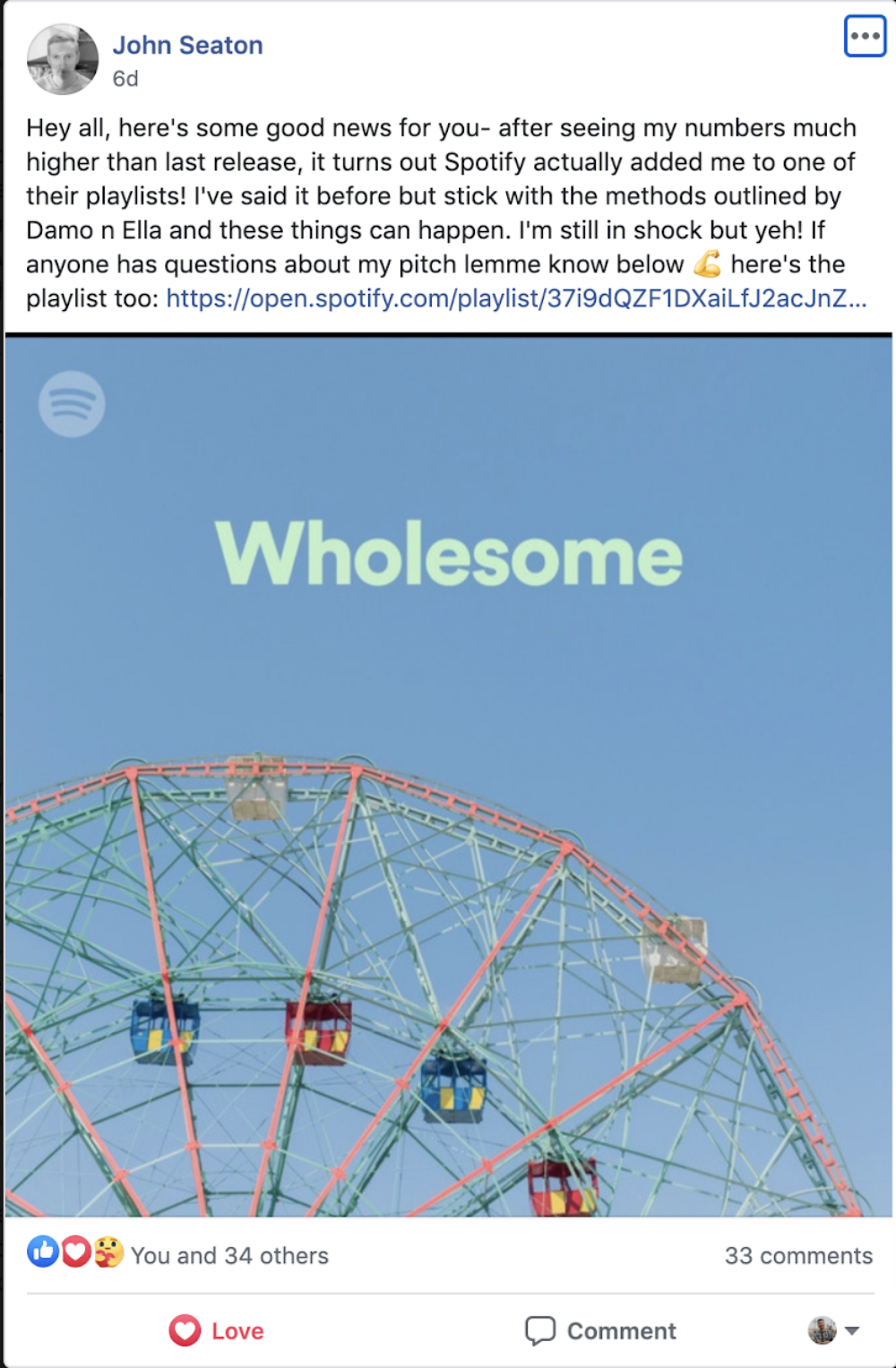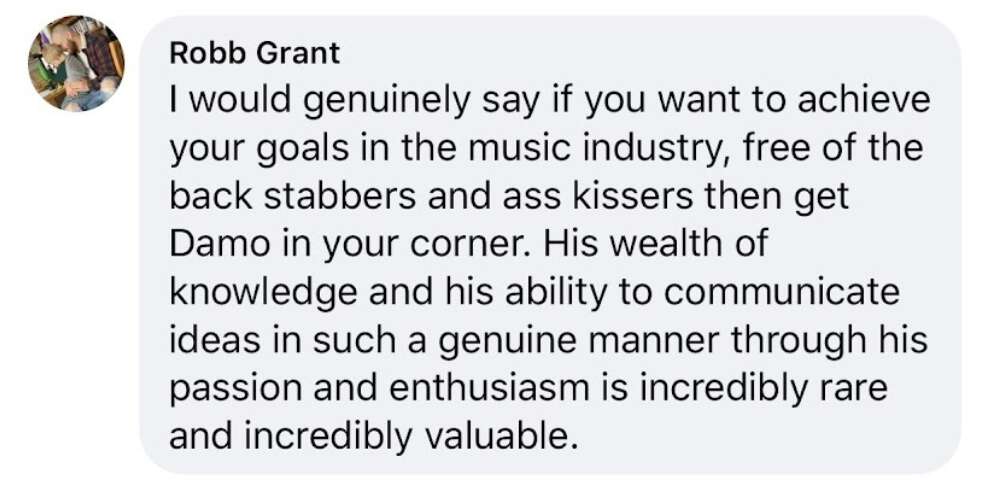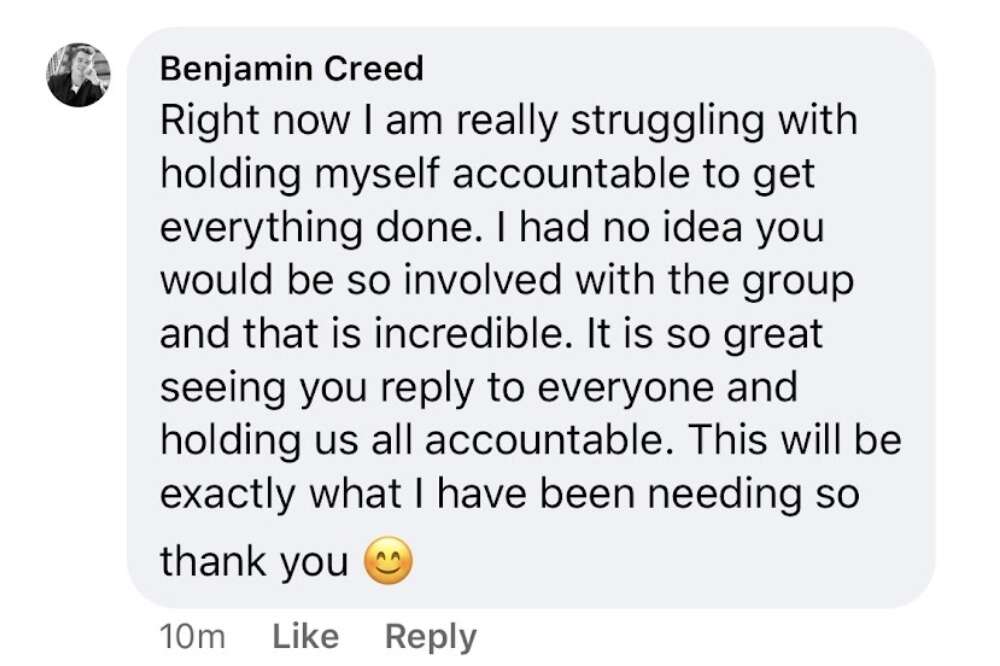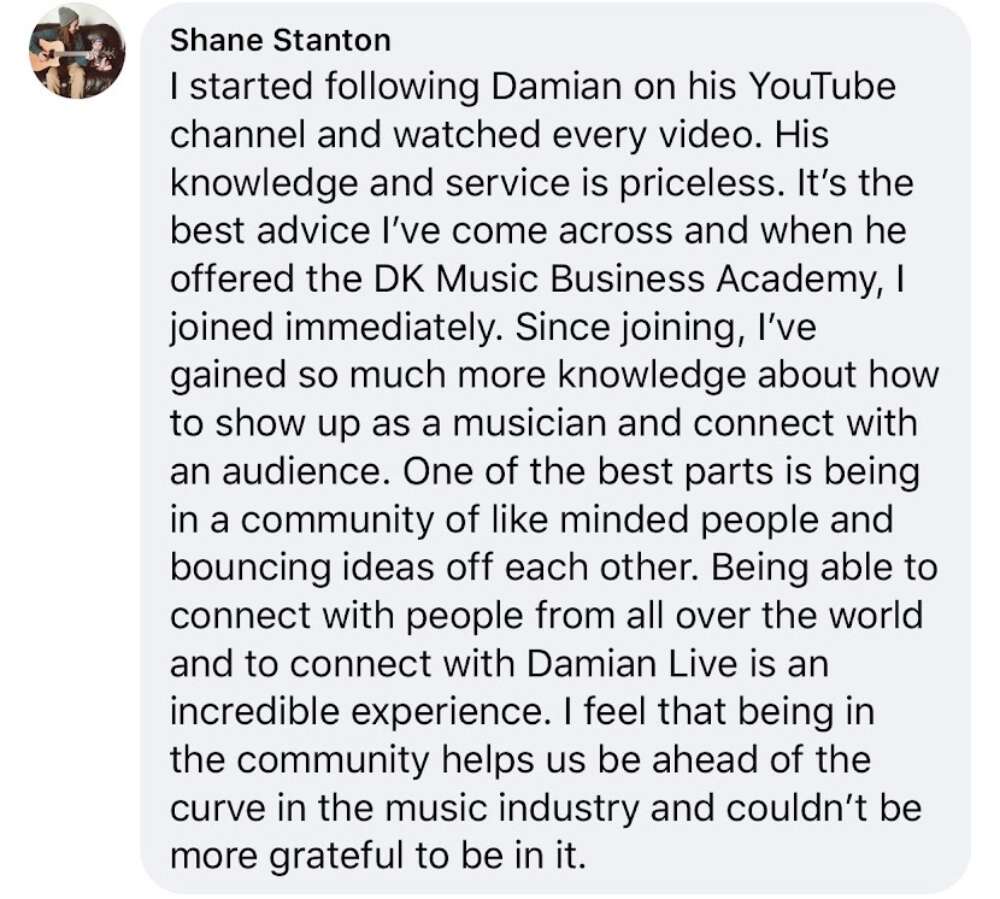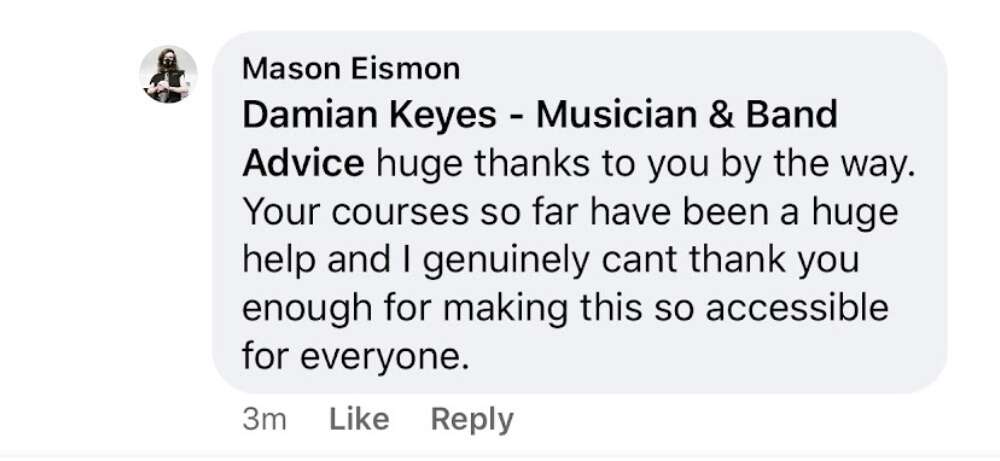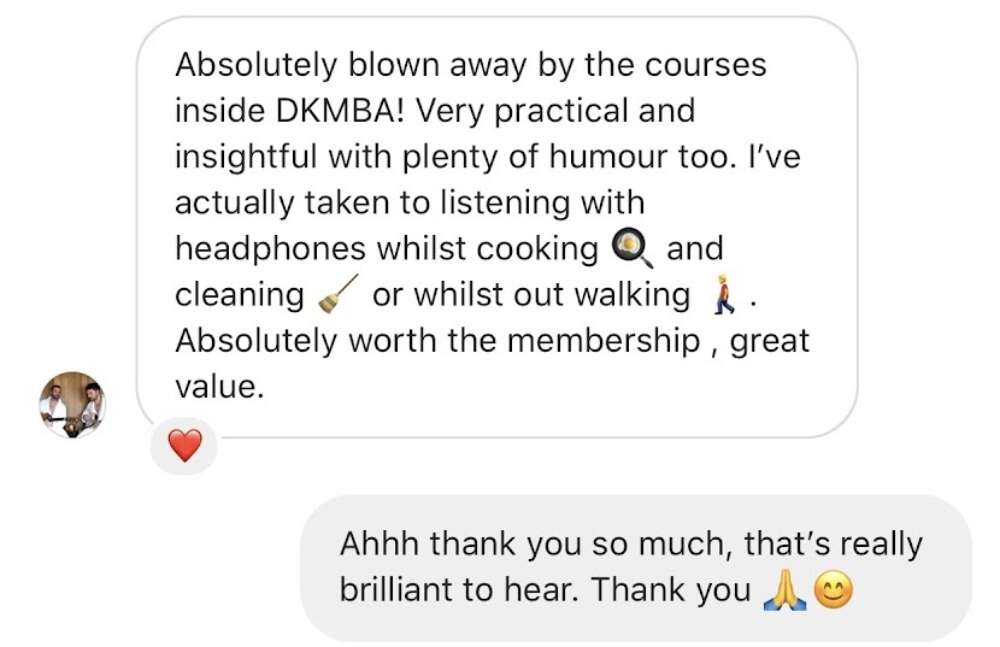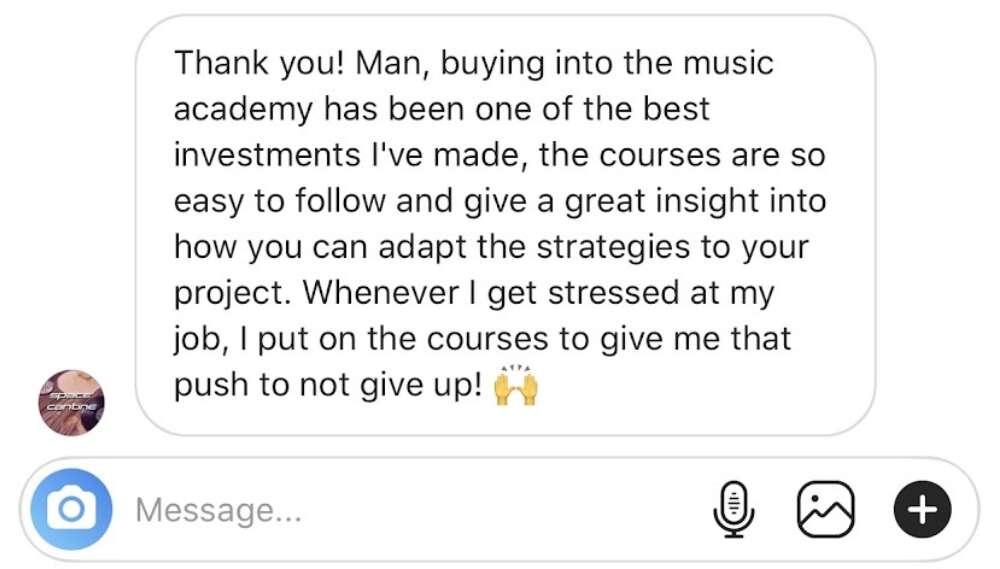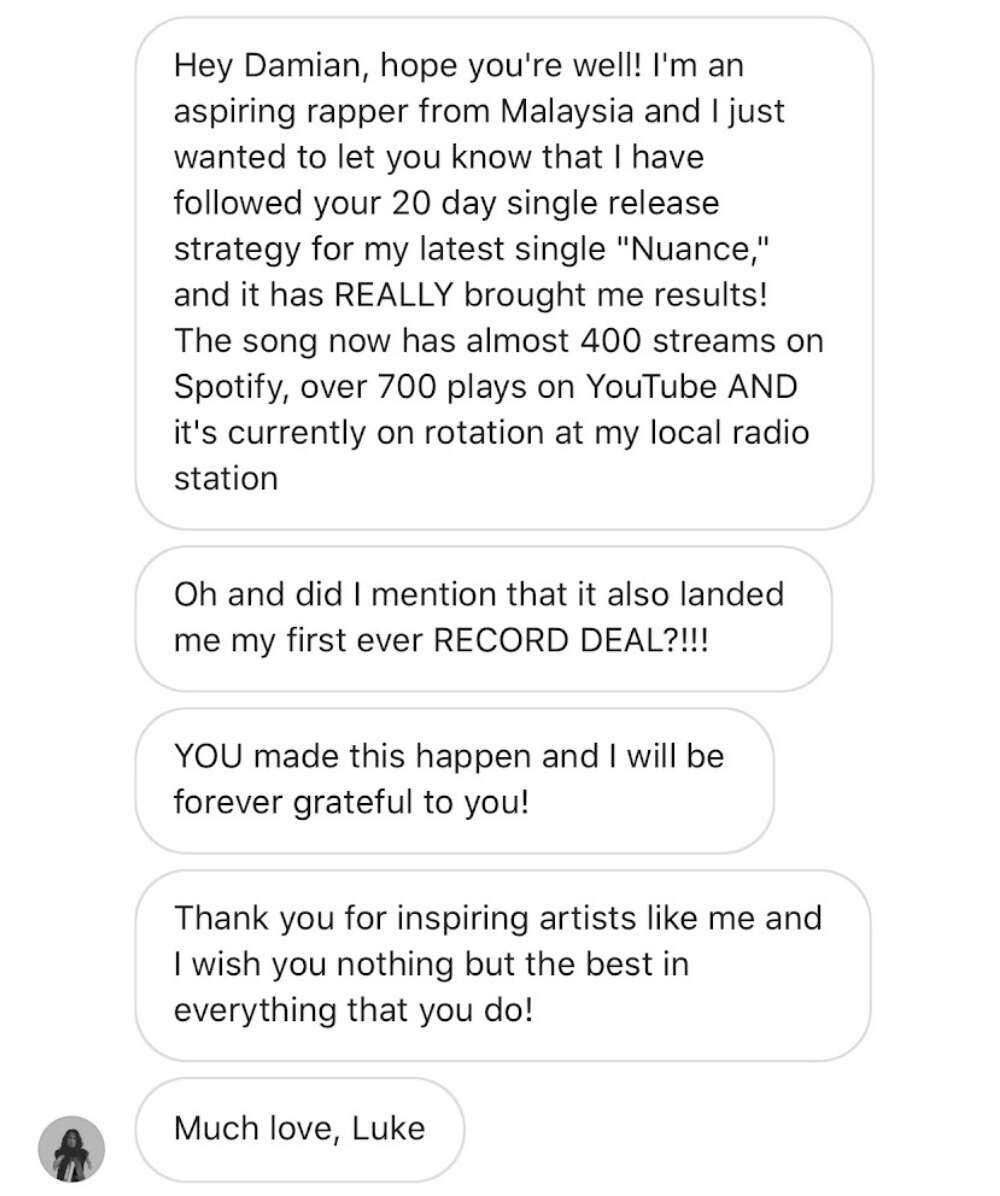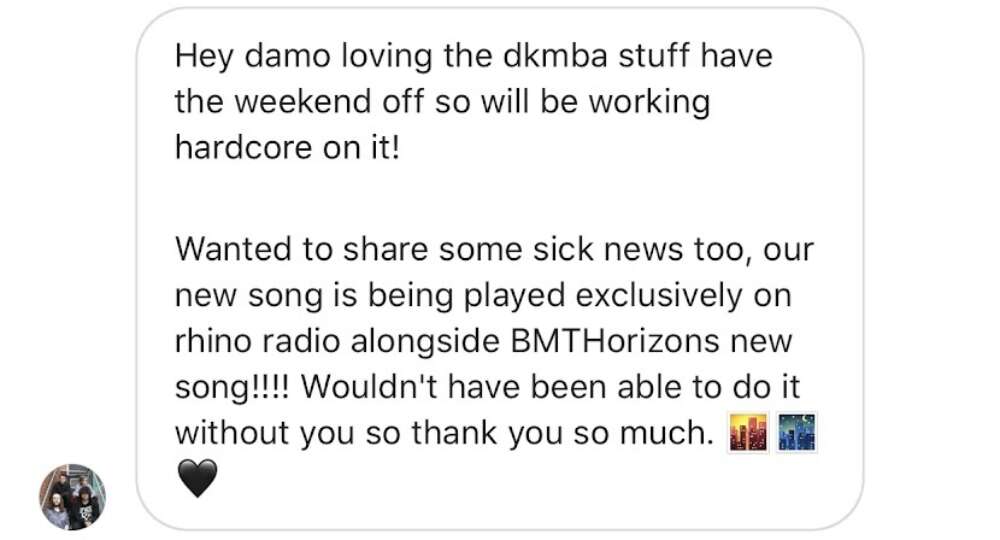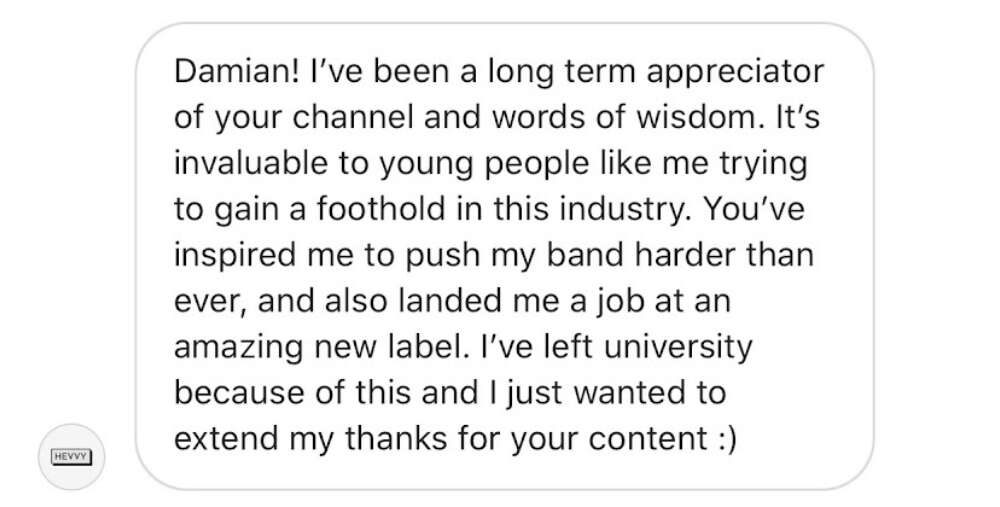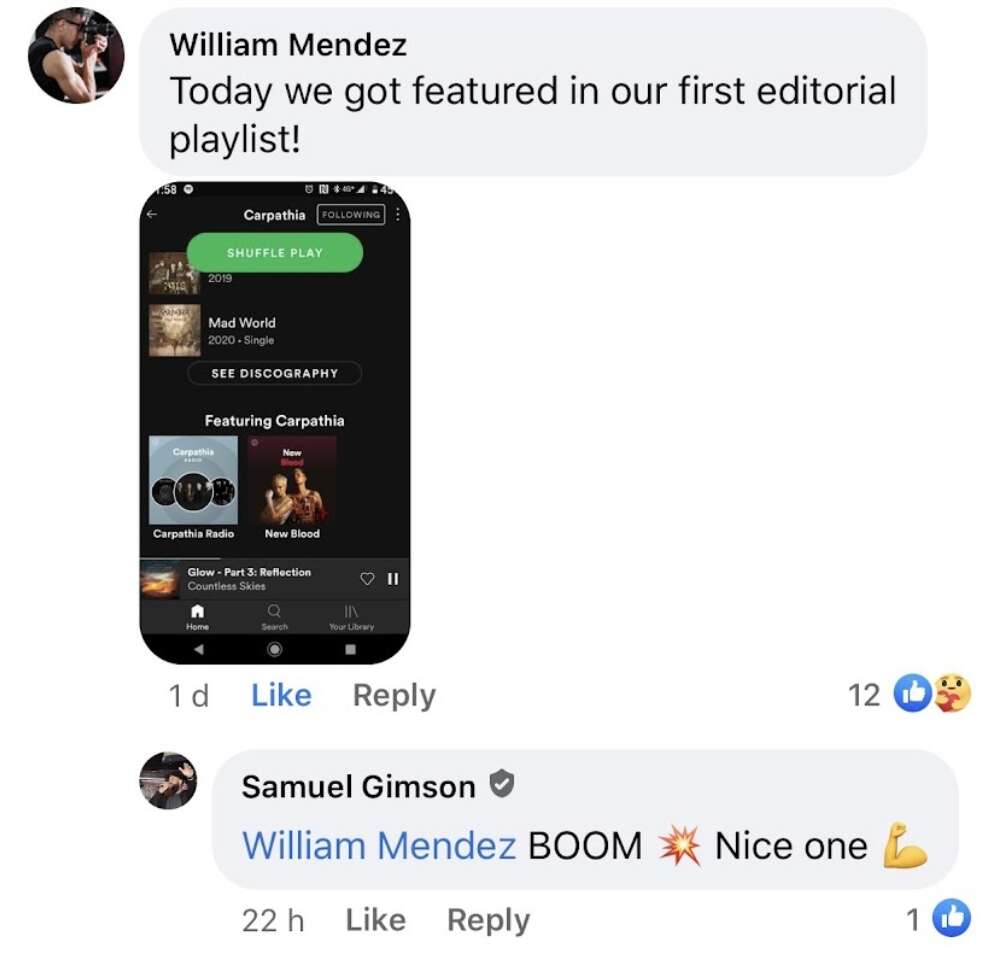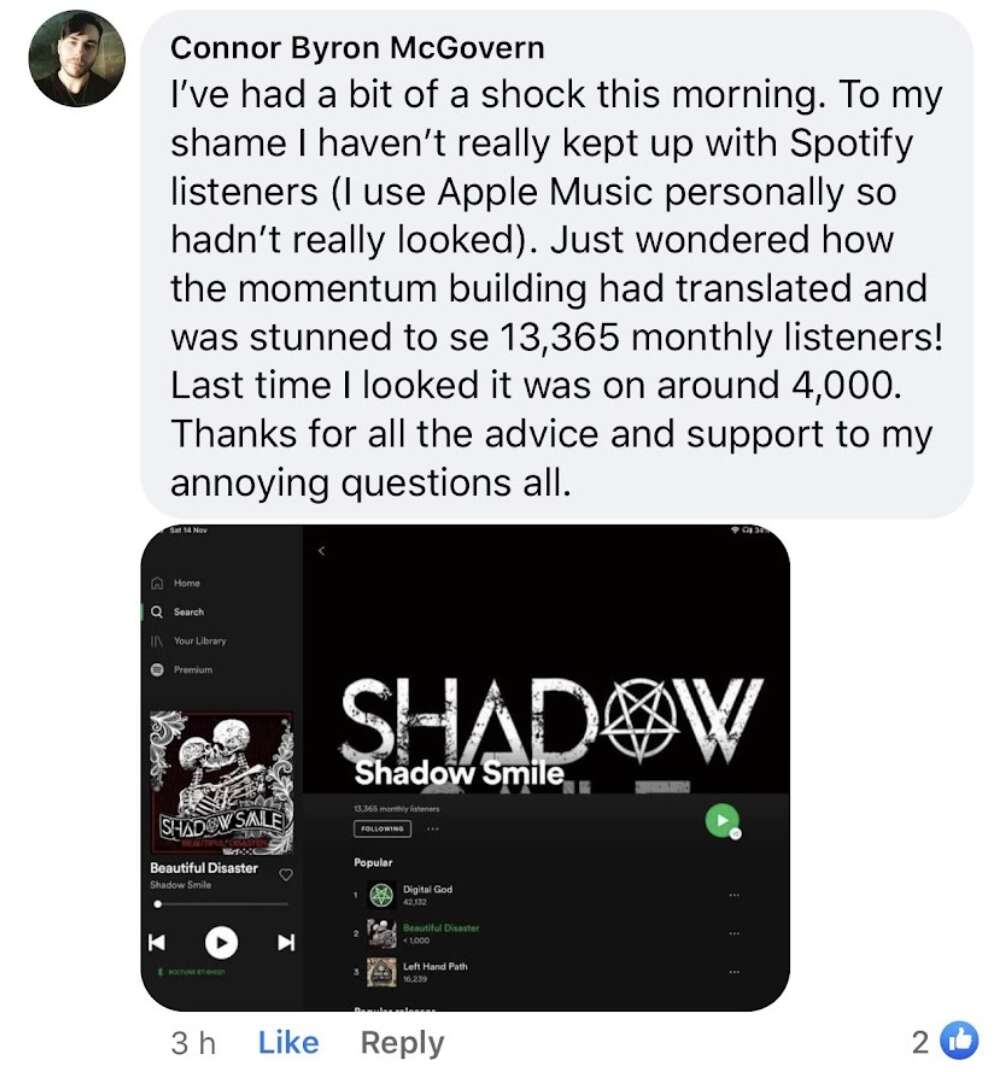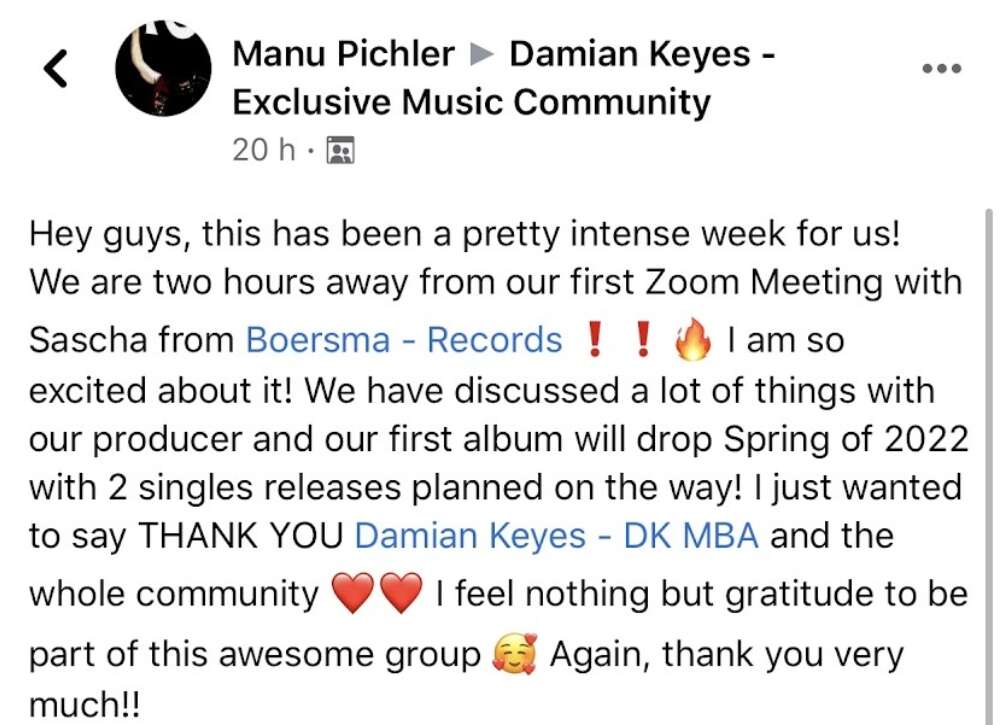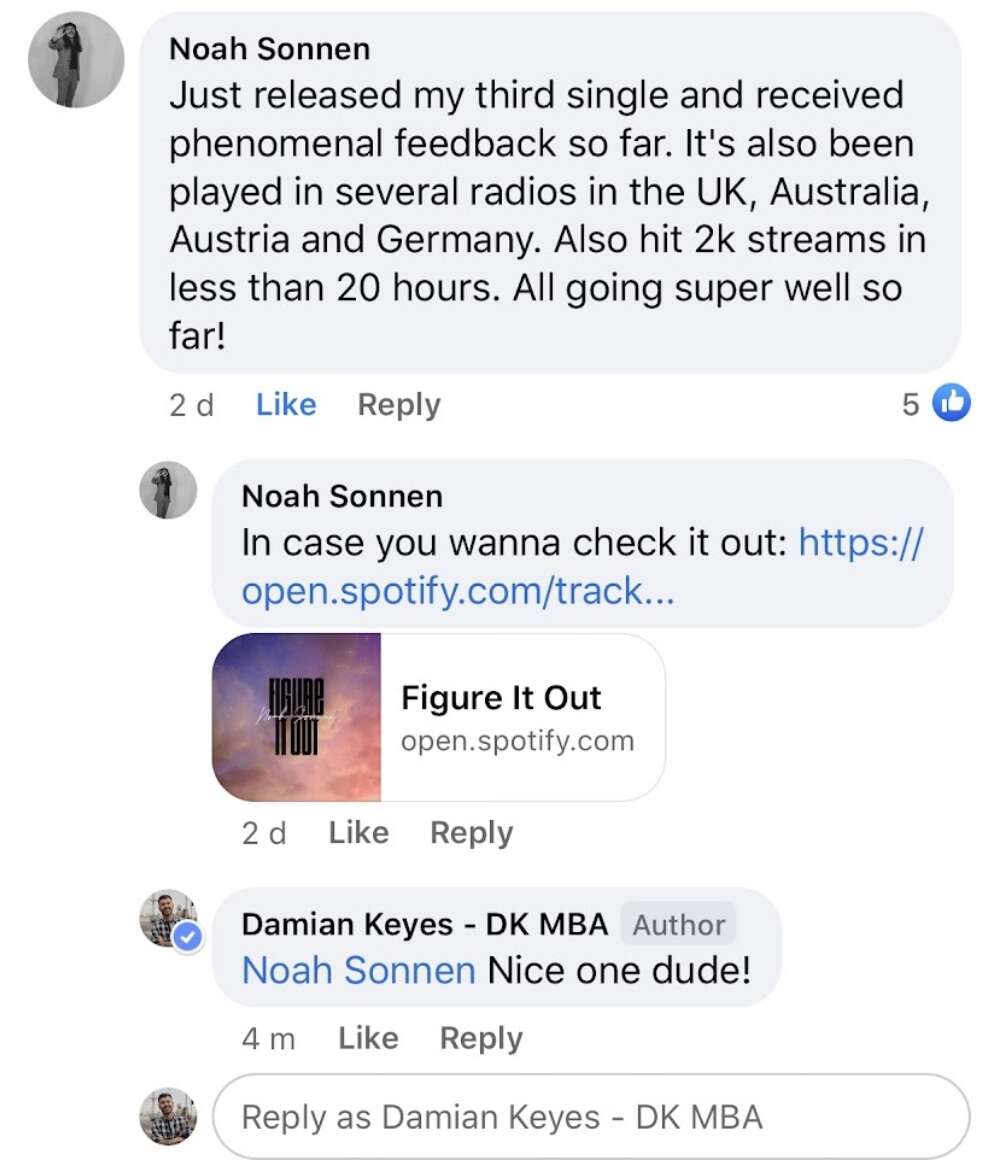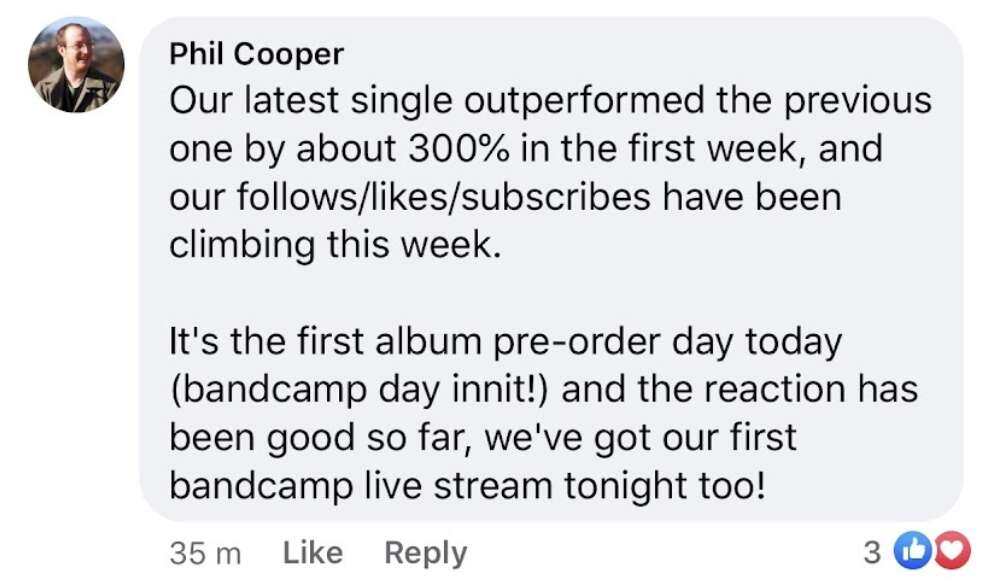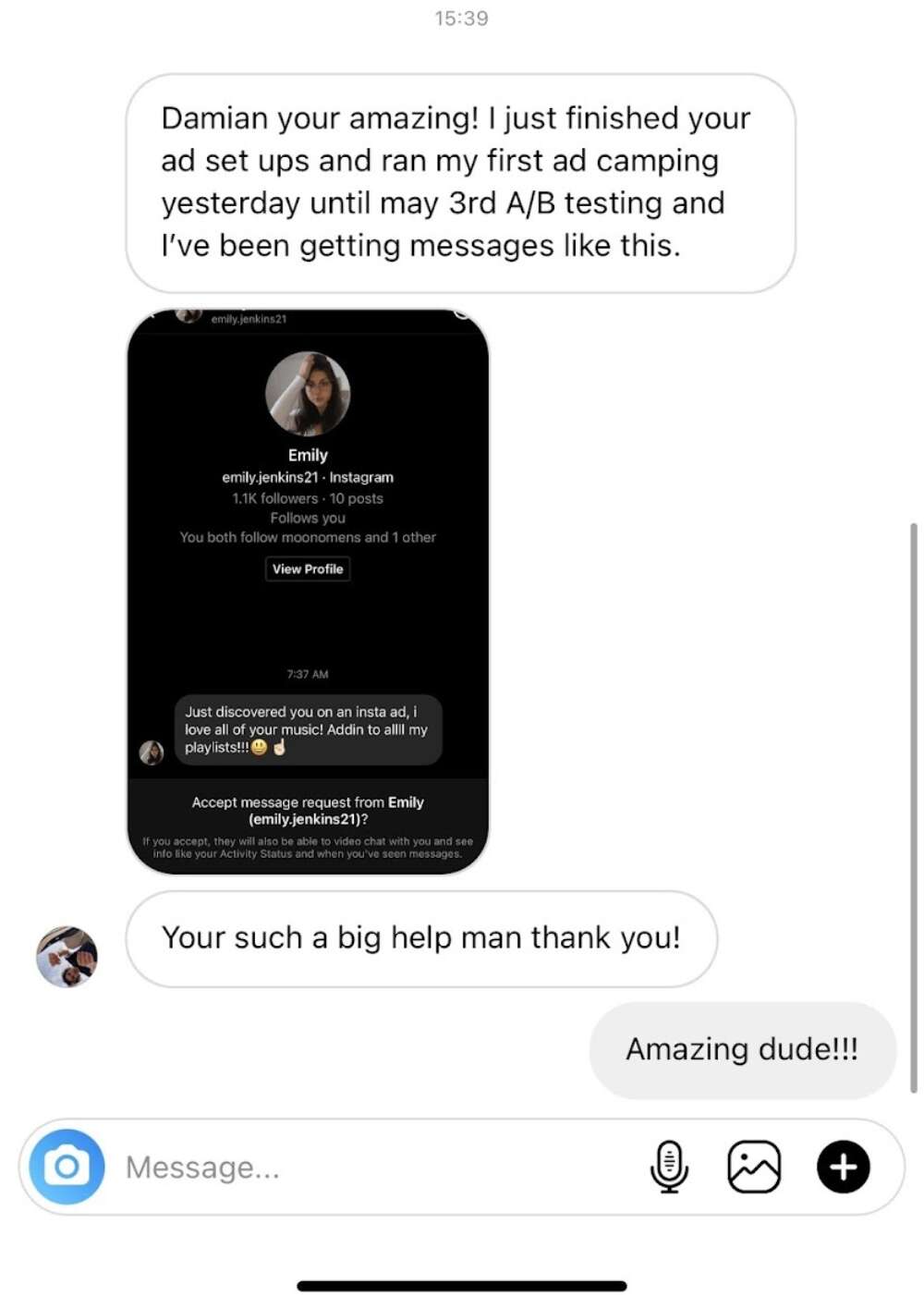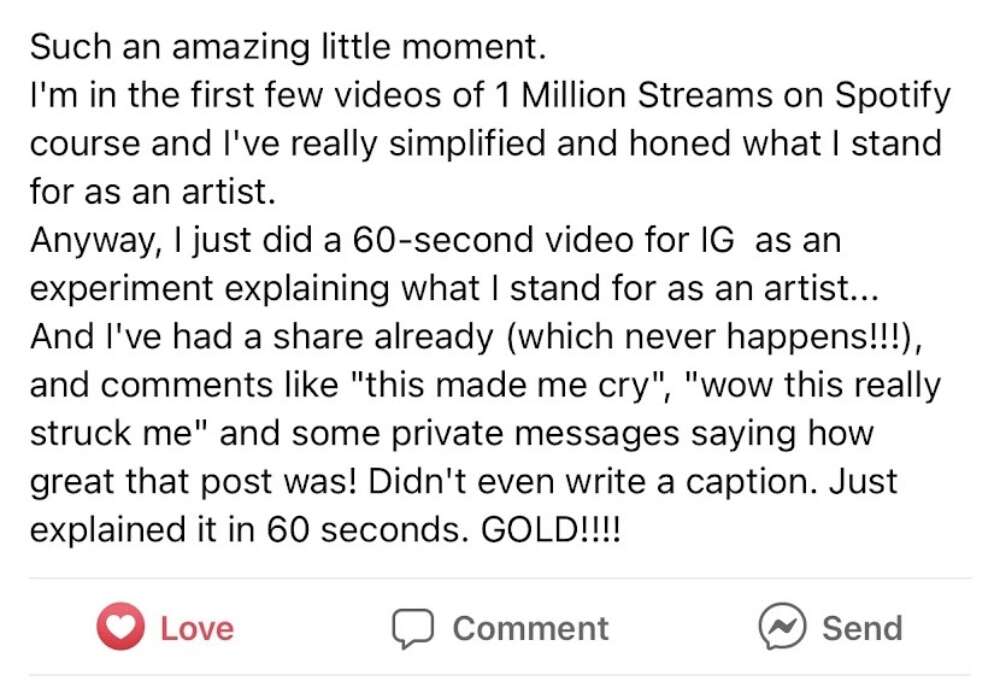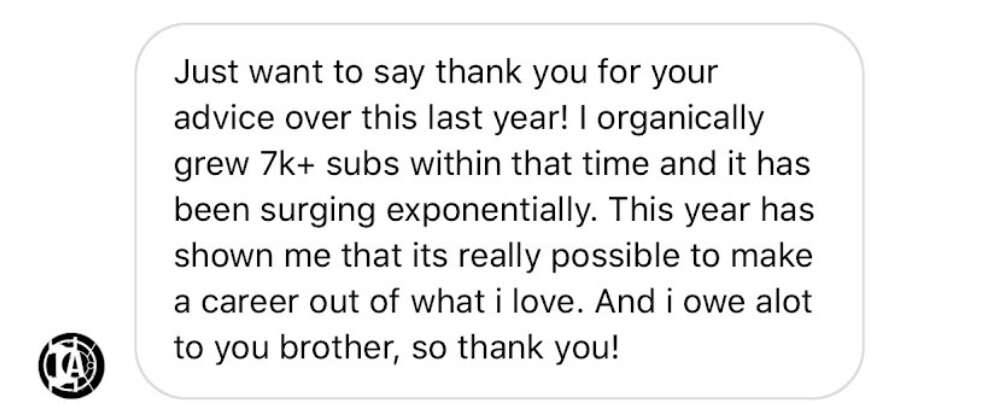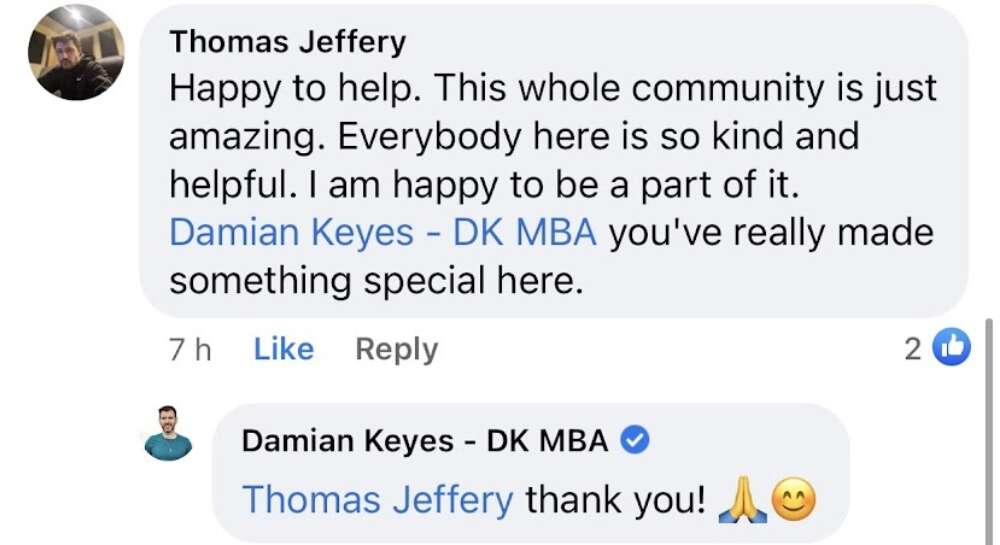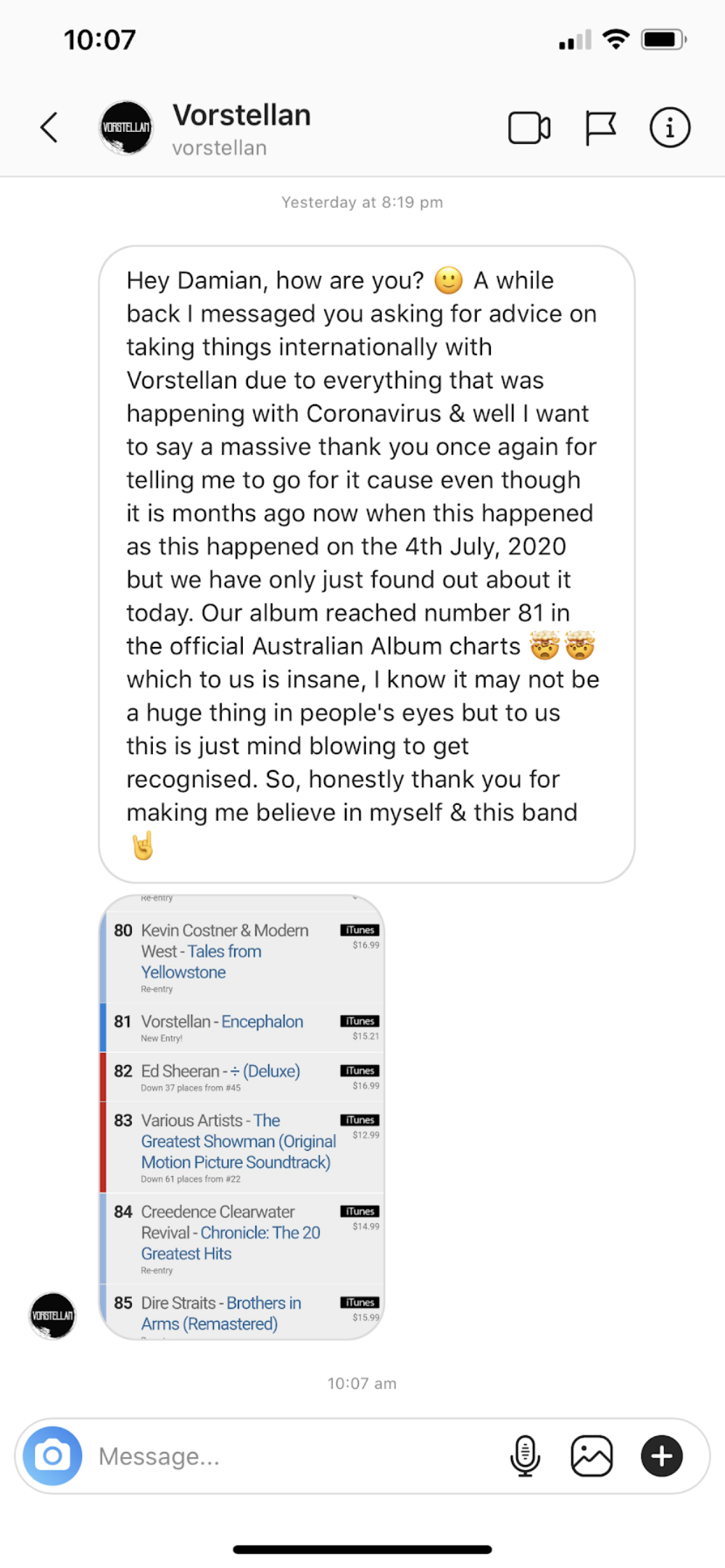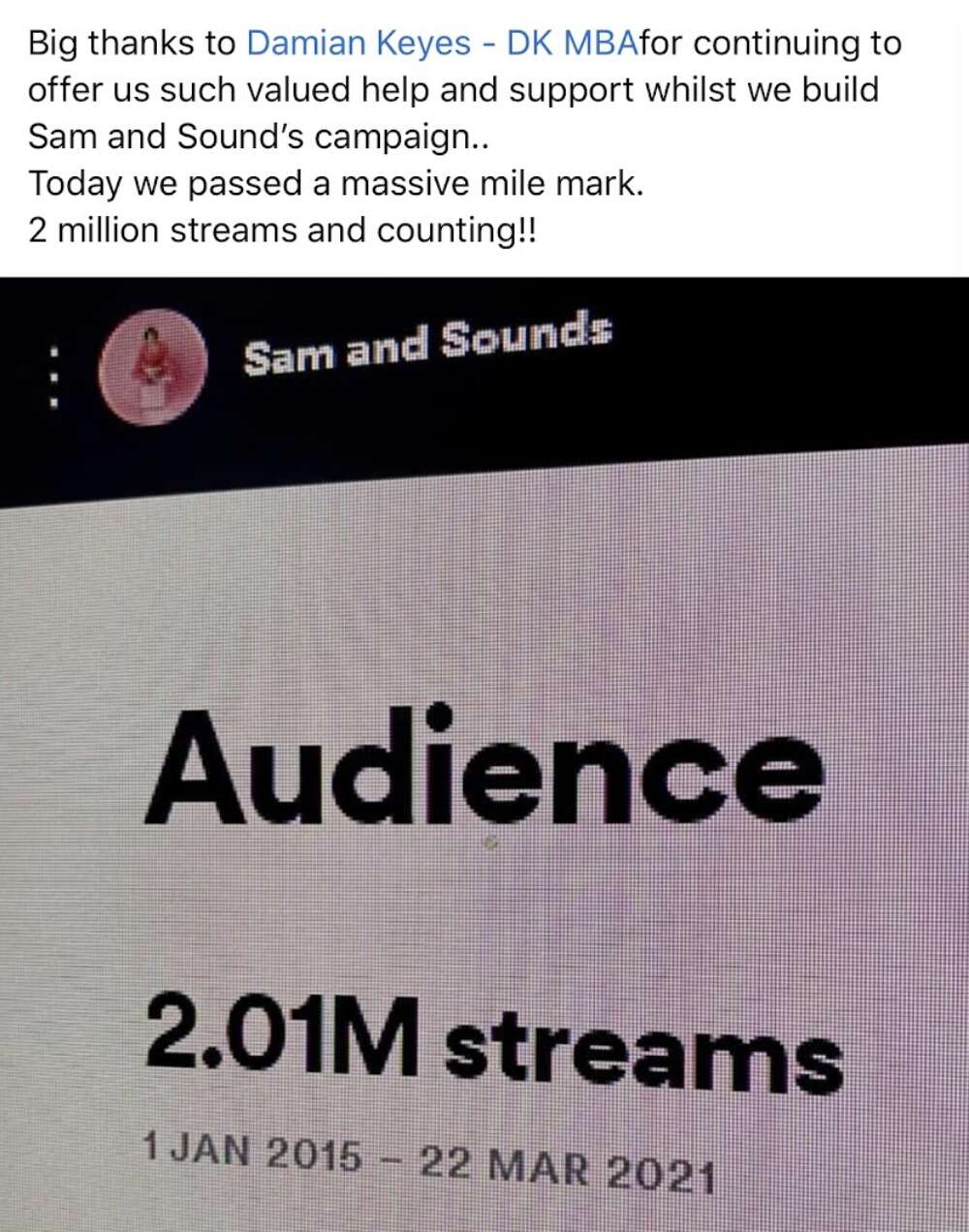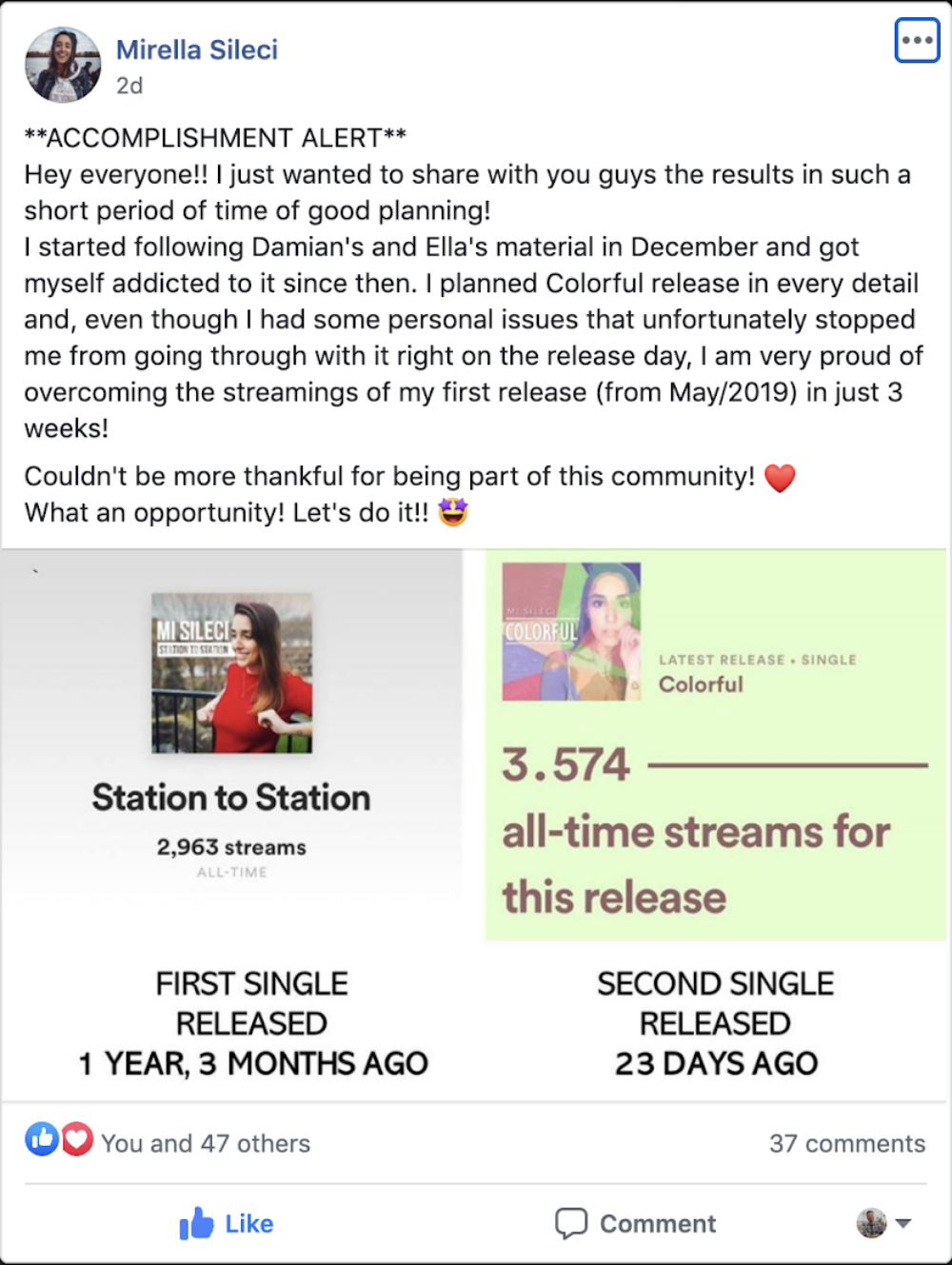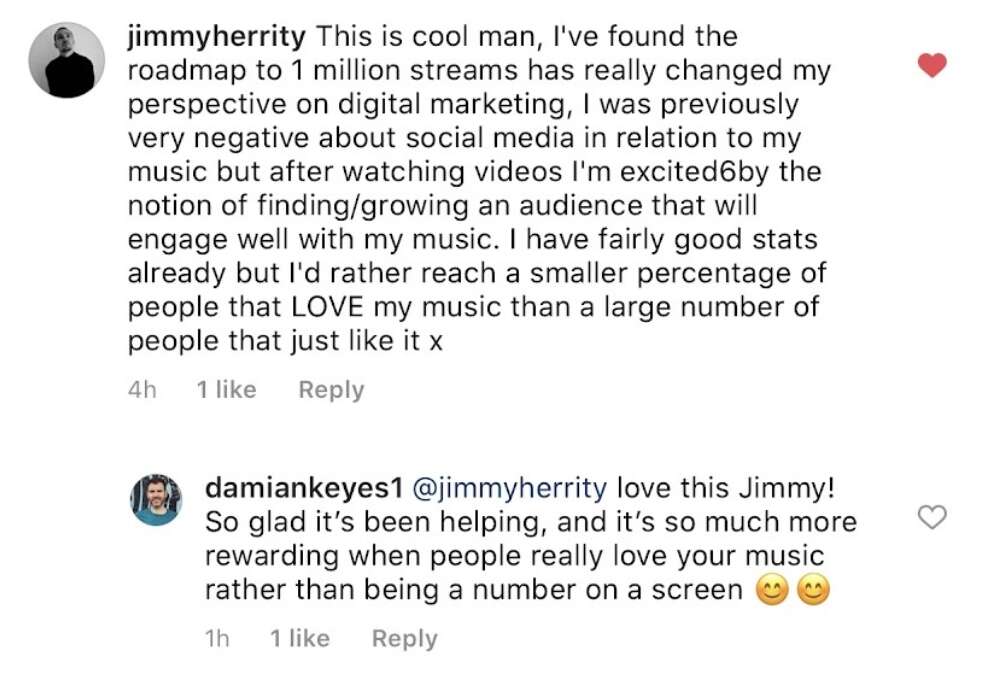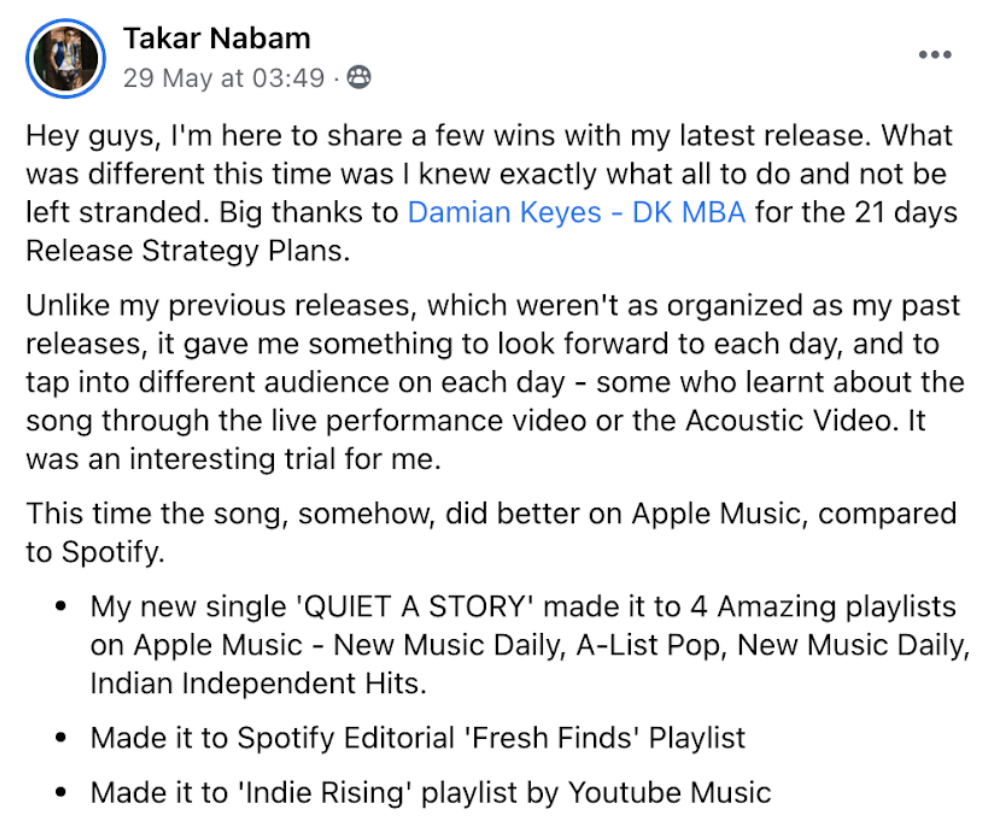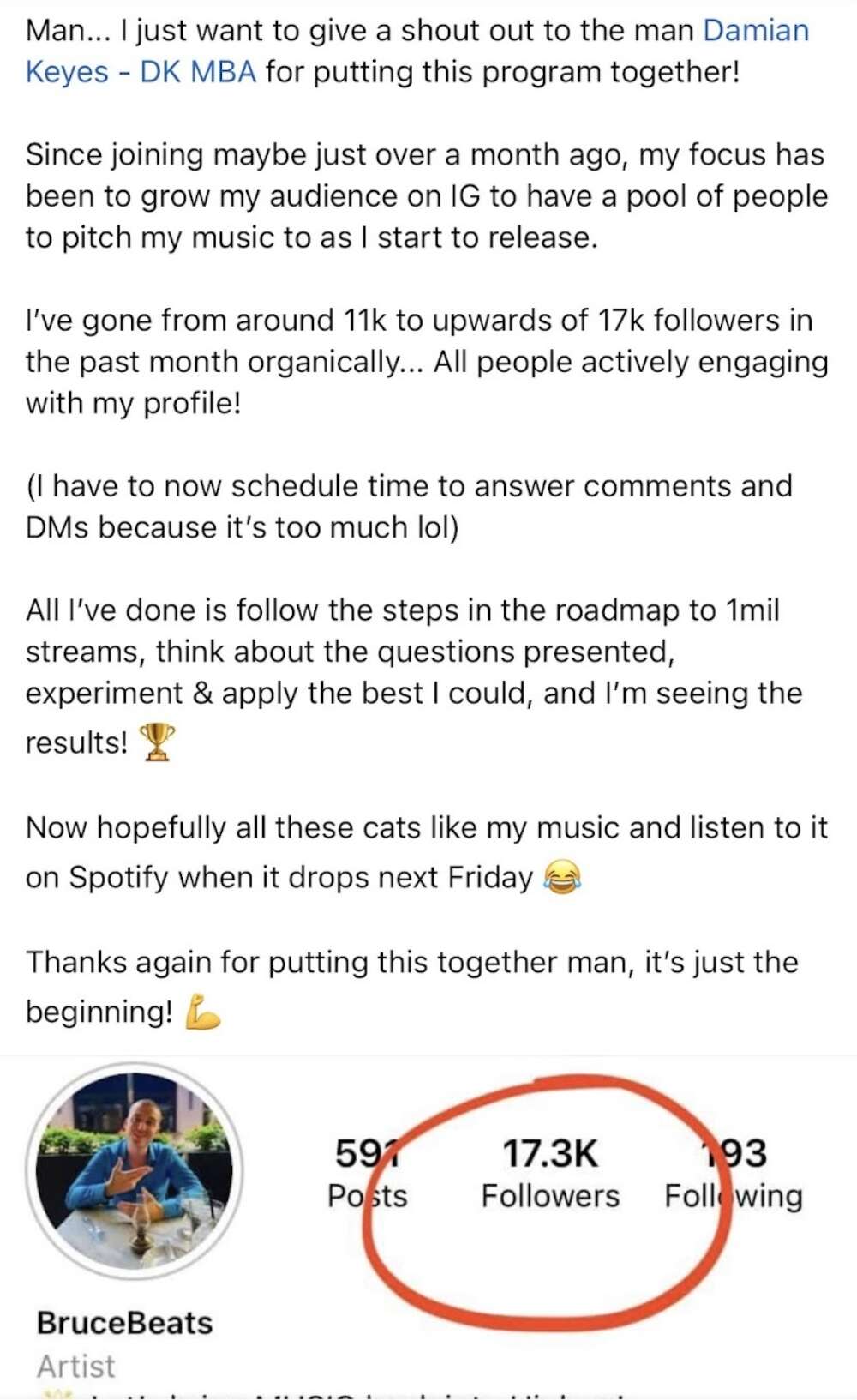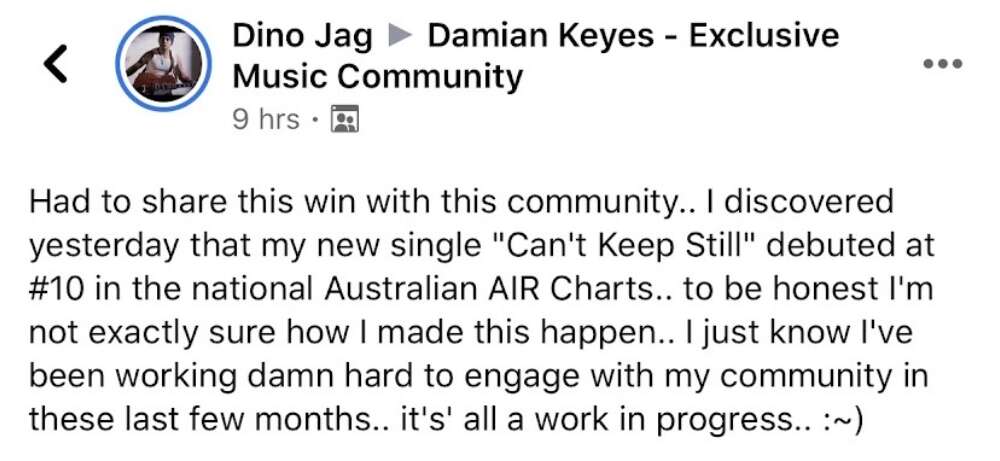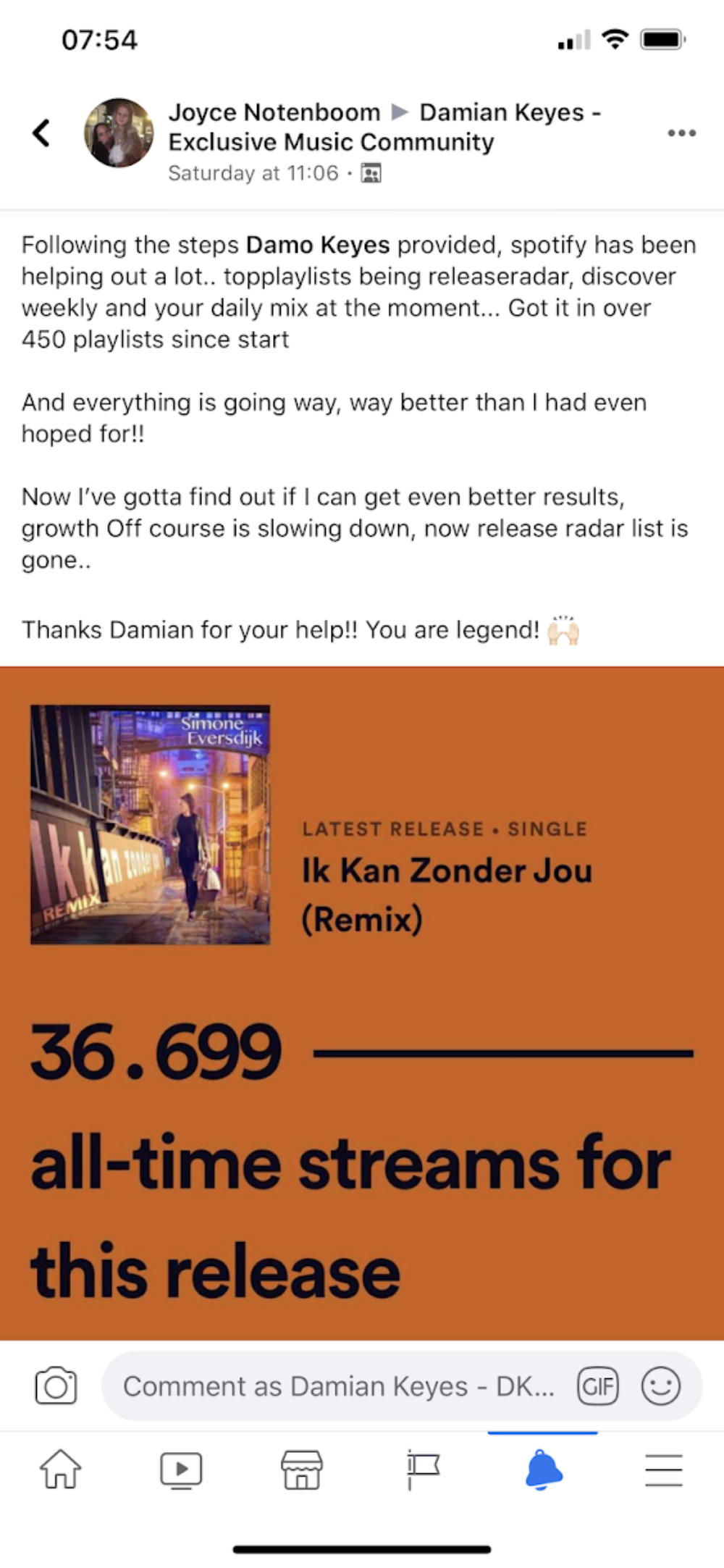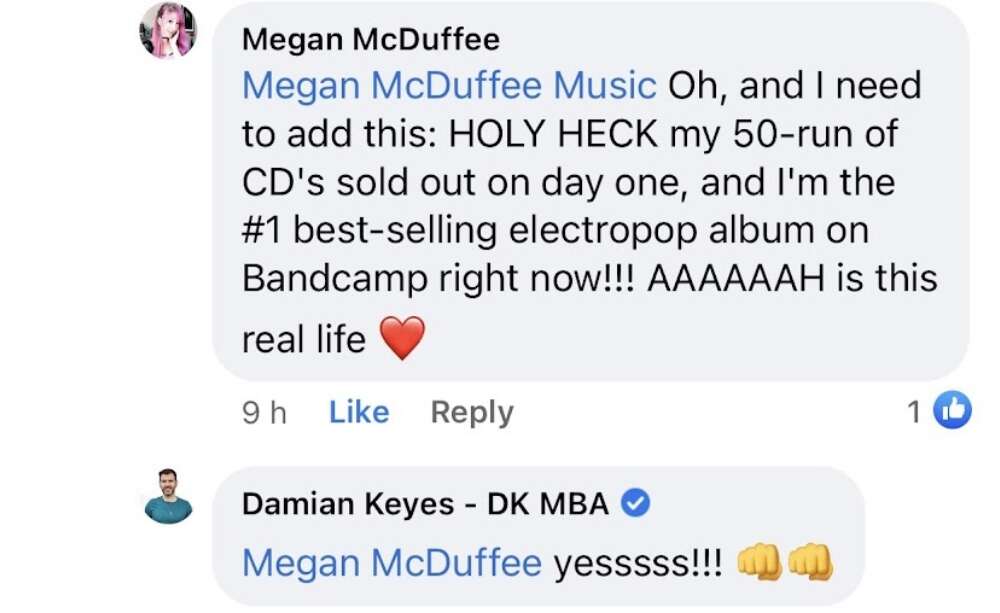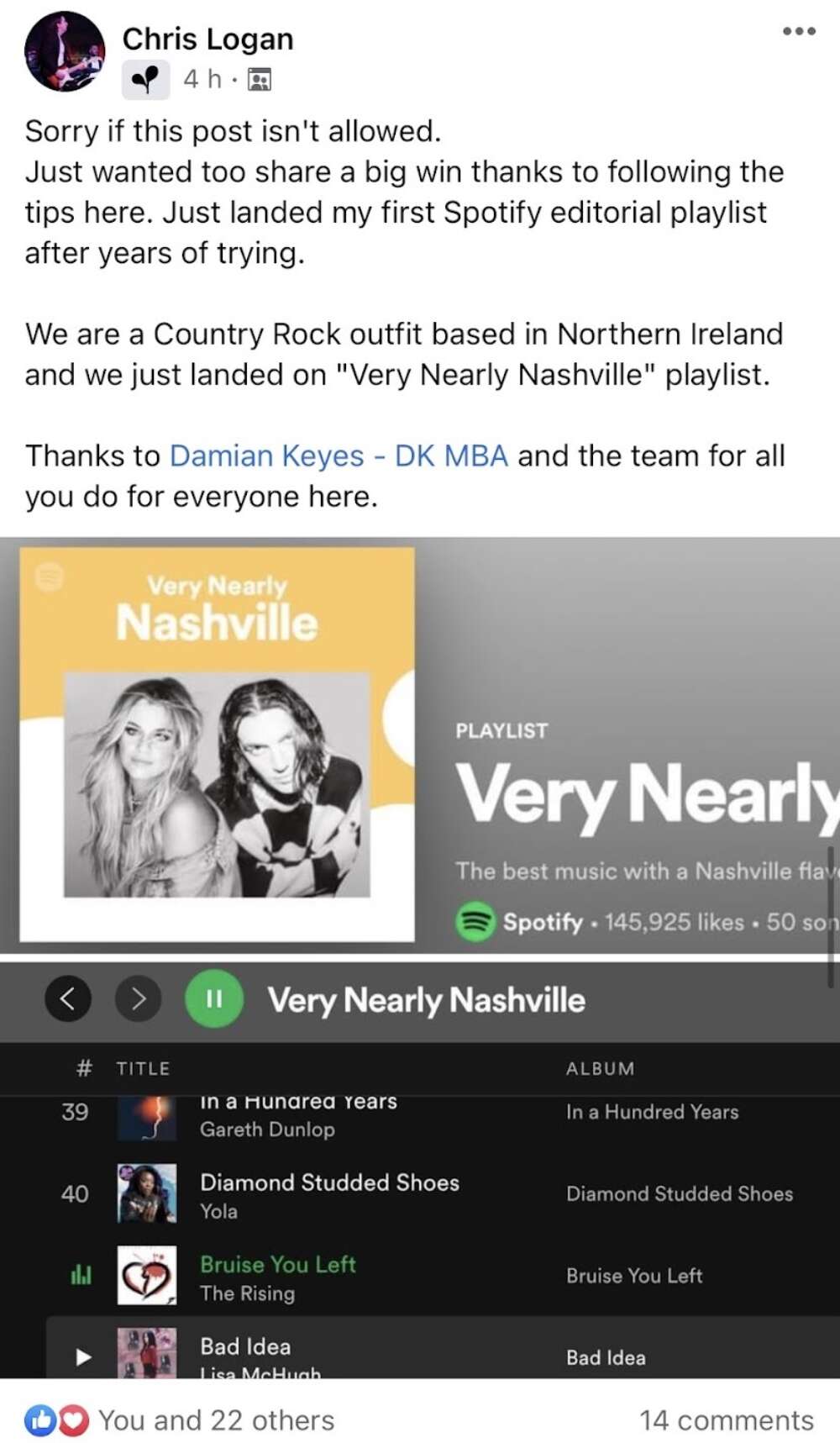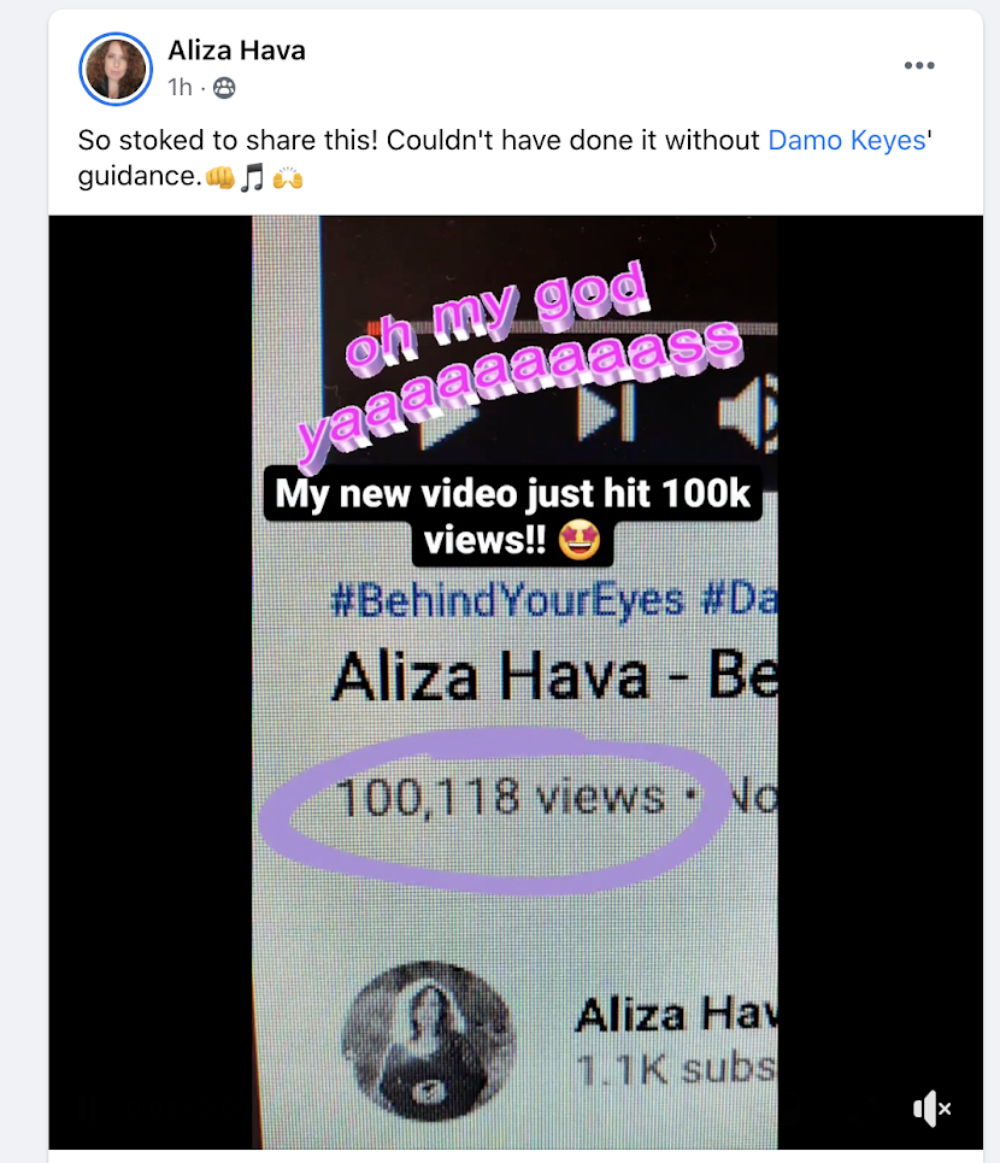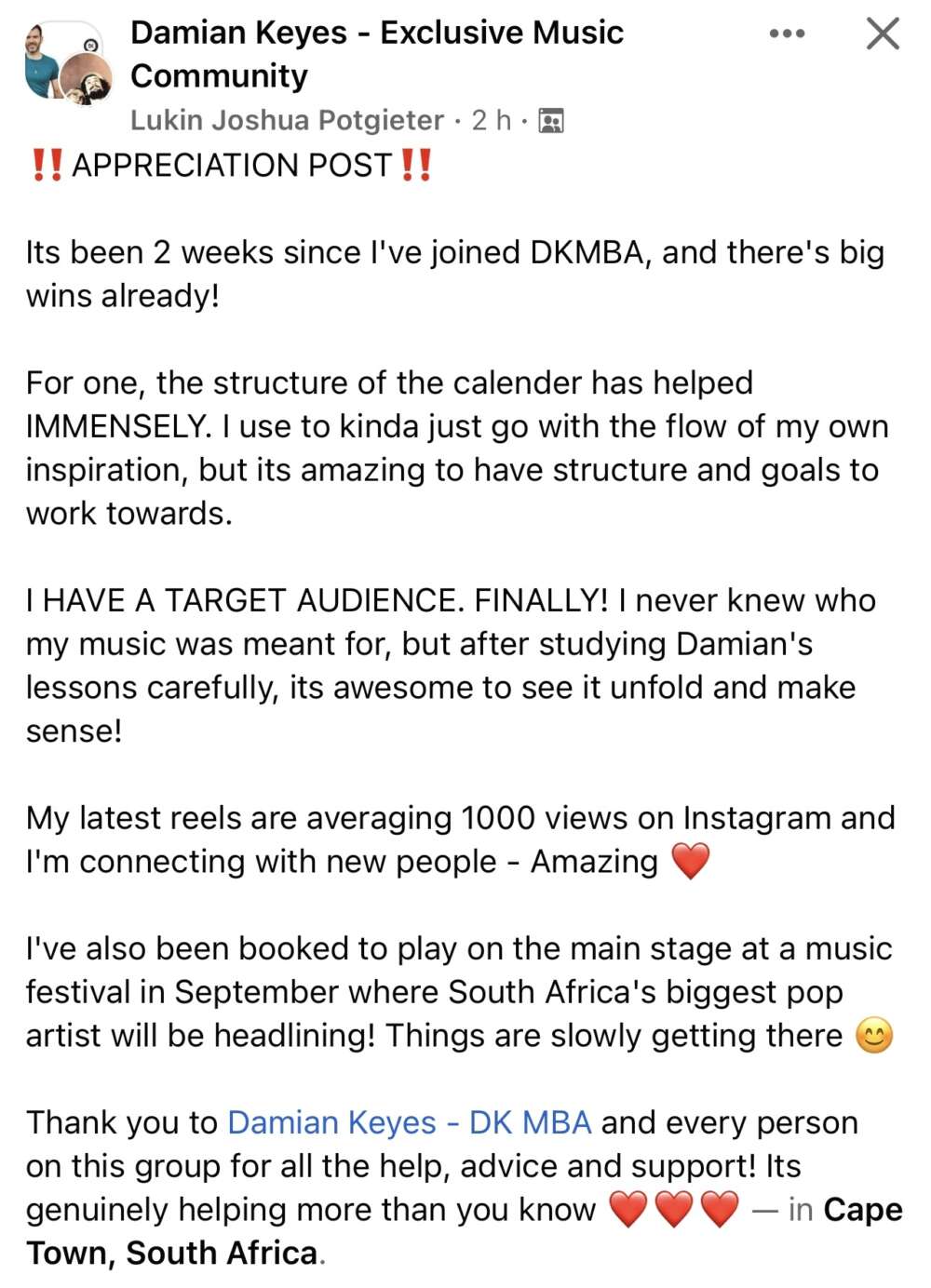 500M Streams and Counting 📈
"I gained nearly 1M views in just 1 week with Damian, COMPLETELY organically"
In 8 months, I went from zero to 1.3 million streams on Spotify and 50k+ followers on Instagram!
When I released my EP, after a little over 2 months we had a little over 250k streams on Spotify. We had also made it onto the fresh finds rock playlist on Spotify!
I recently hit over 3 million streams on Spotify and signed a record deal!

"We achieved 100k streams on our debut EP, won a songwriting competition hosted by Abbey Road Studios and were chosen by Apple Music to be featured on Artist Spotlight"
Since working with Damian, it's put my band in a straight and focused path to success. In DK MBA, it's focused on the action plan for your music, so it's a no brainer. I can't recommend it enough!
I hit over 100k streams on Spotify and started my own record label!
DKMBA is by far the best Music Industry programme I've ever seen and the courses have completely changed the way I view my career. If you're an artist looking to get the edge for your career, I couldn't recommend DKMBA more!
One of the key things that sets Damian apart, is that he genuinely cares about people on a human level and that's rare in the music industry.
When you're a one man band, it can be confusing and daunting to tackle the business element and marketing yourself. The course content really is amazing and the results are speaking for themselves.
OK, I have some questions...
Tackling the big question first! Music is subjective. I can't tell you whether your music will land with the audience you want it to - generally, the audience you think you have isn't actually the one you have! So I help you figure out YOUR audience. But what I can tell you is, if you don't see any new results at all within 24 hours, I will personally mentor you or give you your money back. Can't say fairer than that!

My Academy is laid out in step-by-step format broken down into easy wins for you. The goal is for you to maximise the most, whilst dedicating less of your time. It's hard enough being an artist, without making it harder. The bonuses listed here are created to SAVE time, not create more work.
Foundations of music business apply across genres and then is tailored to your specific niche. This is about human consumption and engagement, which is the same regardless of whether you're a pop artist or a metal artist.
This one is easy! It's to keep costs down for you. I don't want you spending all your money on my course. I want you to be able to get what you need at a price that you can pay. Right now, the Academy is $19.99 for Monthly and $199 for Pro (annual). Both are cancellable anytime. The main difference for Pro is that you get access to my WhatsApp number so we can message about your strategy on there.
Simple, you have access for as long as you're a member. When you don't want to be a member anymore, you just cancel.