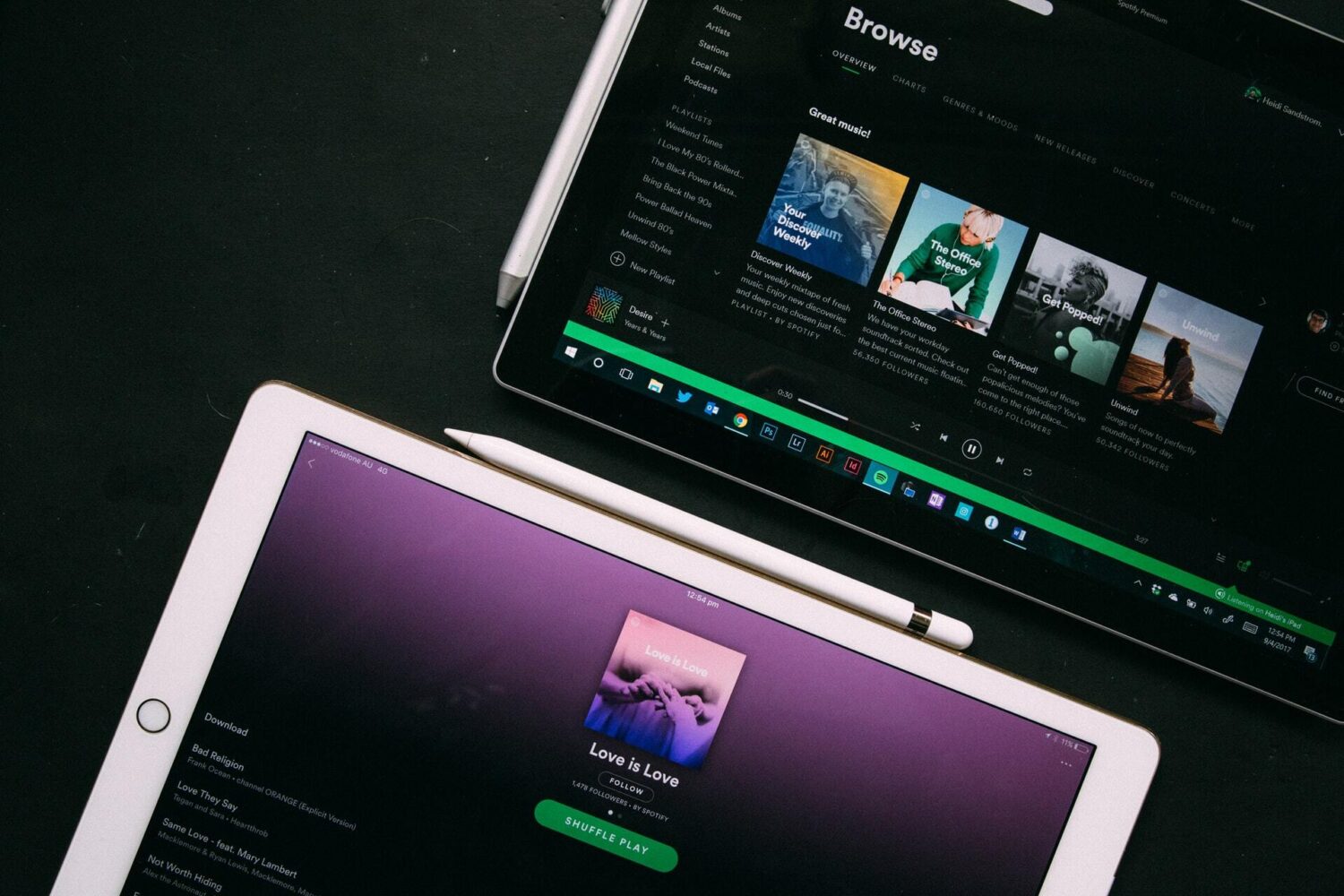 Download Your FREE 22-Day Single Release Plan

GET NOW
12 Spotify Hacks For Artists | How To Beat The Spotify Algorithm
Spotify is a complicated beast.
Getting your new music and releases heard, increasing your streaming numbers and getting placed on algorithmic playlists like Discover Weekly and Release Radar can seem like an uphill battle.
There is more than one way to get more people streaming your new music on Spotify.
To help you figure out how to 'hack' the Spotify algorithm, it's important to understand the value of a 'listen' from Spotify's point of view and Spotify's 30-second rule.
"What 30-second rule?", you ask.

The 30-Second Spotify Algorithm Rule
The first 30 seconds of a track matter to Spotify more than anything else. If a listener gets past the 30 second mark of your track - that's a positive bit of data. Plus, that's the point at which a stream is monetized.
If someone doesn't listen past 30 seconds of your track, Spotify doesn't count that as an official play in its database.
What makes it worse is, if you are pumping people to your Spotify and they're only listening to 5 - 10 seconds of your tracks and then leaving, that could potentially be doing damage to your Spotify reputation and algorithm.
If we want to dominate algorithms, we have to understand algorithms.

Let's look at how the Spotify algorithm works:

Spotify Algorithm Explained For Musicians
Spotify is stats-driven.
It searches everything to create data and serve its listeners. Listening history, playlist adds, songs listened to, time spent on the platform, song skips, frequently listened to artists and much more behaviour to help Spotify's algorithm work.
How Spotify's algorithm works can be explained in 3 parts:

Natural Language Processing:
This is where Spotify's algorithmic system will access the data of music and define the specific language of any given song.
This allows Spotify to put songs in the correct language in front of the right people.
This might sound obvious but when you think that Spotify is in 79 countries across the world, that's a lot of languages that artists are singing in. Because of this, it needs to have the correct language for each user so their listening experience is seamless.

Raw Audio Analysation:
Spotify will analyse the raw data of music including the tempo, the key, the 'mood' and more in order to help it fit the right playlists and genre recommendations.
Basically, Spotify's algorithm is trying to find out if this is a sad song, a happy song, a song perfect for workout playlists or even for driving. This helps Spotify figure out whether songs and new music should be placed in specific playlists or recommended.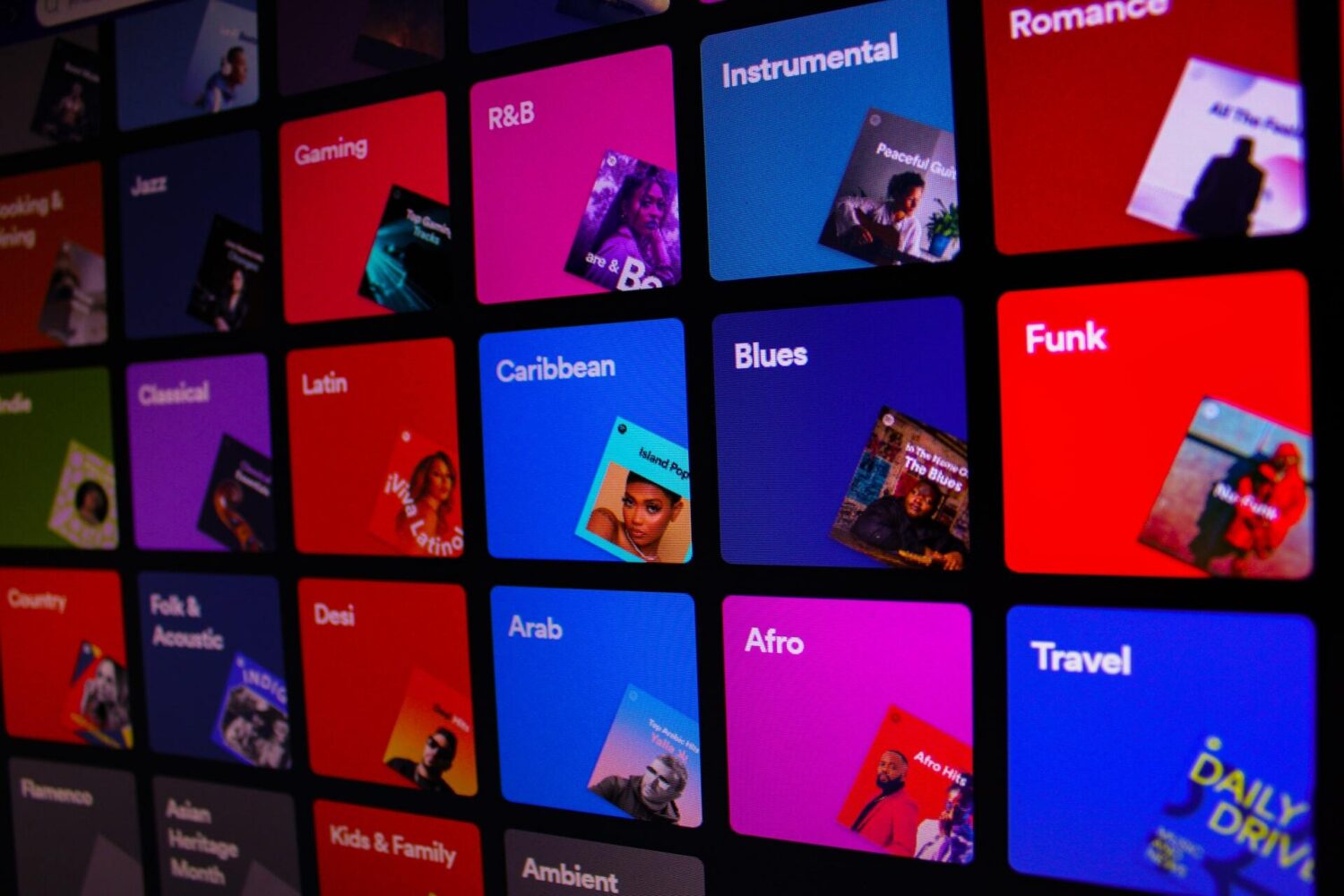 Collaborative Filtering:
This is where Spotify looks for the best songs to recommend according to your listening habits and behaviour, plus the listening habits and behaviour of similar listeners to you.
This can be algorithmic playlists such as Discover Weekly, Release Radar and other playlists unique to each user.
For every user, they will sort through millions and millions of songs to find those you are most likely to enjoy, that you don't already have in your current music library. These end up populating your Discover Weekly playlist every Monday. It can define these tracks by using a mix of your own behaviour, plus the behaviour signals of similar listeners. Very smart indeed.
So, how do you beat the Spotify algorithm and possibly end up in someone else's Discover Weekly or Release Radar playlist?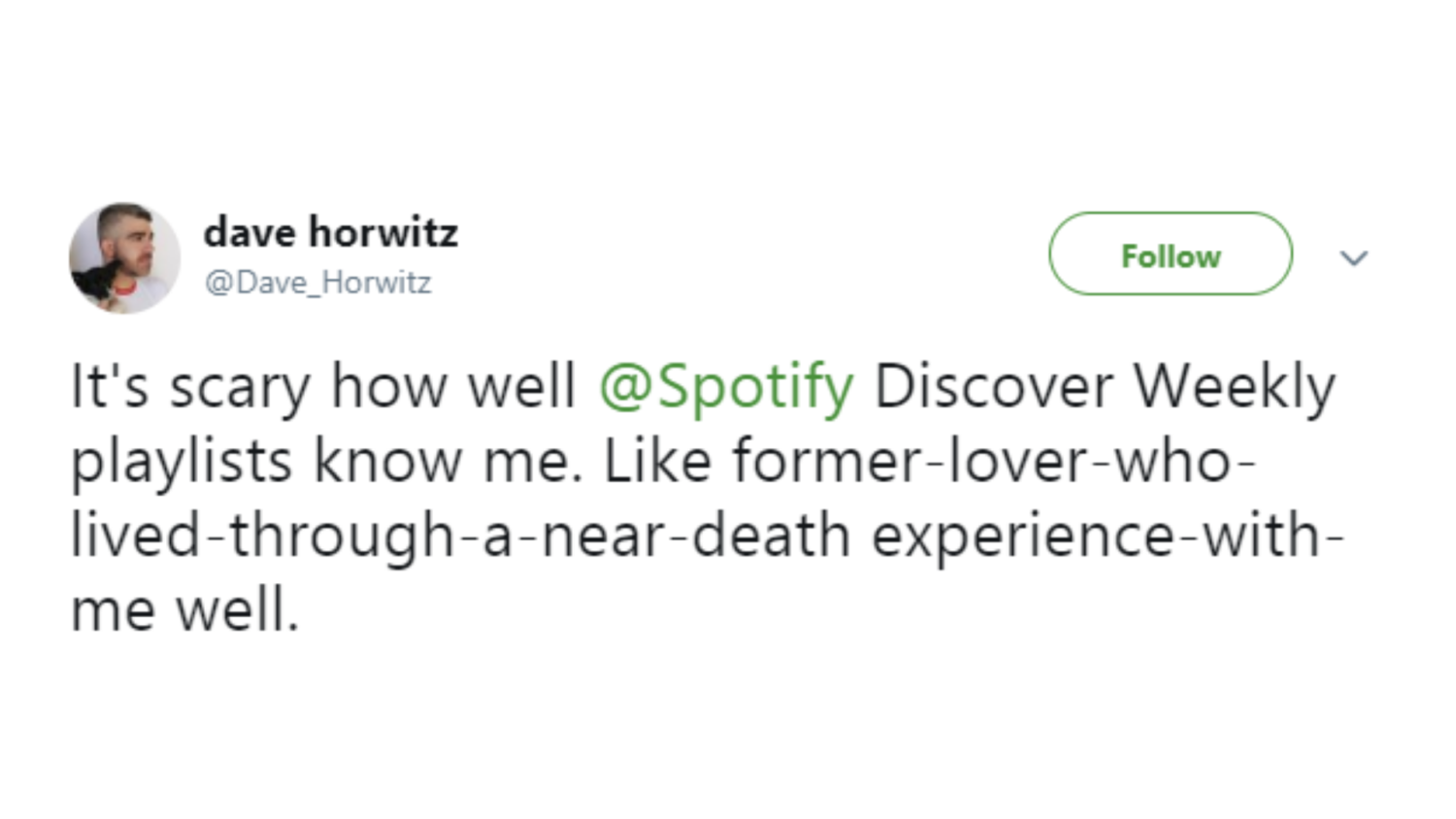 Today, we are going to be looking at some Spotify hacks and tips to help you grow your Spotify and how to beat the algorithm.
1. Treat Your Spotify Account Like A Social Media Account
Spotify is social media.
It might be audio social media but it is social media.
It has a whole host of features within your Spotify For Artists account where you can update information like tour dates, bio, header photo, merch and more.
So many artists fill in this info (or some of them don't even bother going that far) and leave it for months, even years.
Sticking some nice pictures up is fine, but we can do more. Why can't you change your profile on a weekly basis? The same way as you would change your Instagram regularly. Why can't you add new pictures weekly? Even removing old pictures so you've got something new to come back to?
Keeping your profile updated and constantly changing to feature the latest content and info is how you please both your growing fanbase and Spotify's algorithm.
Like any social media platform, we have to play that algorithm game. Making sure we are getting people coming back to your Spotify so that we can get them listening time and time again.

2. Upload Songs More Regularly
If we are going to get fans returning on a regular basis, we really need to look at your upload schedule.
If you are not uploading music to Spotify on a regular basis, why are people going to be coming back?
They might like that song or add you to a playlist, but never return. What Spotify wants is for listeners to be coming back time and time and time again. The short story is that Spotify wants listeners to spend as much time on their platform as possible.
Therefore, uploading more regularly can help.
What else can you add to Spotify to play that game? What about remixes, demos, acoustic versions, commentary… these are quick ways of adding more tracks to your Spotify without massively increasing your writing frequency.
Think about different ways to increase the consistency in your uploads to win the algorithm game.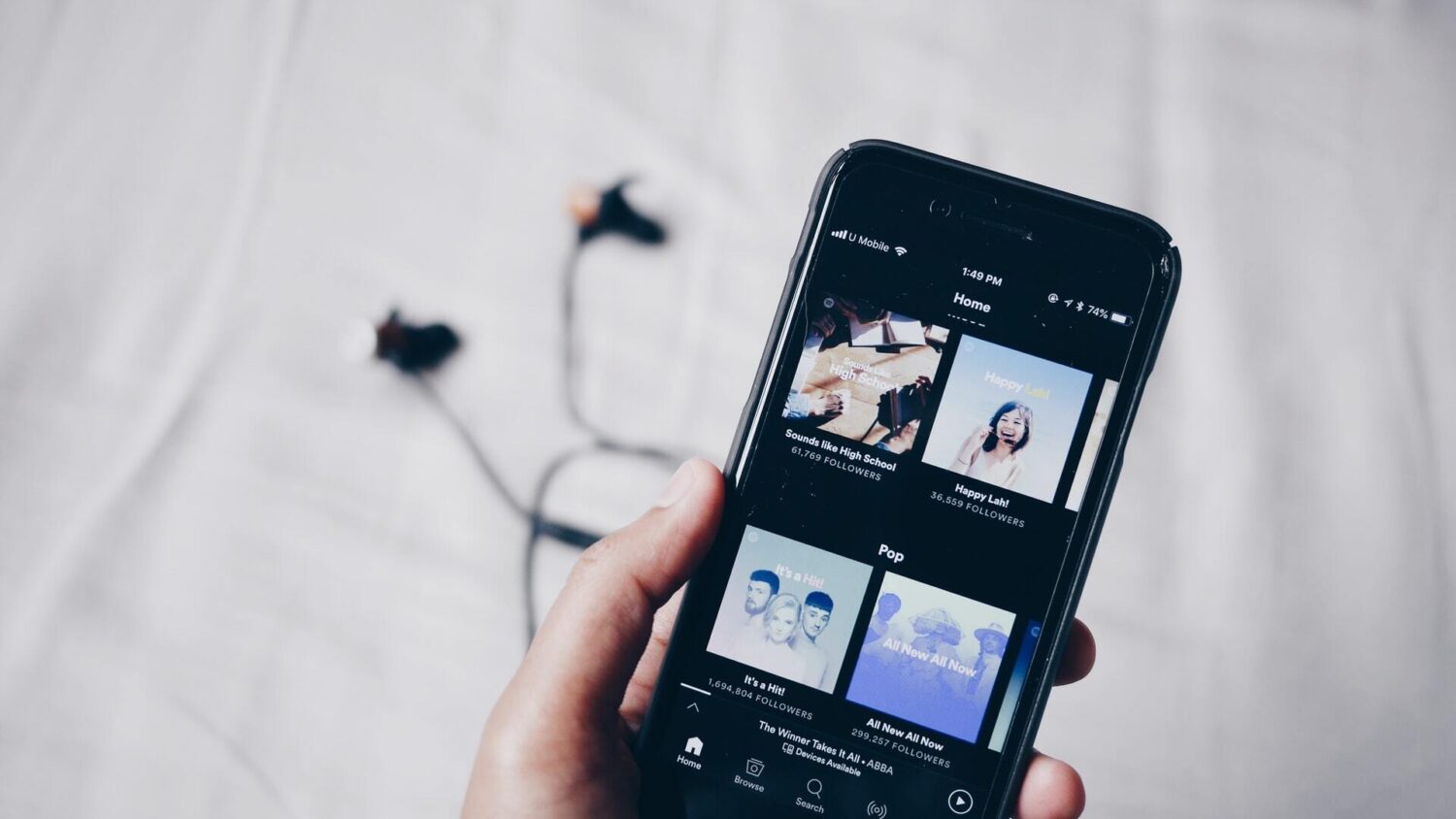 3. Point All Of Your Marketing At Spotify
If growing your Spotify is your main objective, show it with your music marketing strategy.
Point all of your links at Spotify and start actively funneling your audience there after your release.
Your Instagram bio link, links in stories, your email bio link, the link on your Facebook banner, your pinned post on Facebook, your YouTube description...
Make it the focus and point towards one specific place.
Feed the beast and feed the platform strong organic data and streams from your audience.
People need hand-holding through the journey. Be specific about what you want your fans to do. Simply mentioning that your new single is on Spotify isn't enough.
You need to give clear directions and links for people to find your content on Spotify.
Make it as easy as possible for fans to listen to and consume your songs on Spotify.

4. Make Your Own Spotify Playlists
Everyone talks about hacks of how to get on Spotify playlists, but do you have your own playlist?
Your own artist playlist is great leverage.
Not only are you using something to say, "this is the music we listen to", on tour, on the road, our inspiration growing up.
You are giving more information about you and the origins of your band.
It makes your audience feel that little bit closer to you.
You can slot a couple of your own songs in at the same time.
What's even better is that you have leverage with your own playlist. If you wanted to find some other bands and give them a leg up by featuring them within your own playlist, you can do so.

This is also one of the strategies musicians use for influencing the 'fans also like' algorithm.
5. Add An Artist Pick On Your Profile
It is insane how many artists and bands simply don't have an artist pick on their profile.
It's such an easy thing to do and a missed opportunity if you don't have one.
It's the perfect chance for you to really push a specific song and add a focal point to your Spotify profile.
It could be a single, your latest release, or even just a song you're really proud of.
Stick it at the top and direct your listeners to where you want them to go.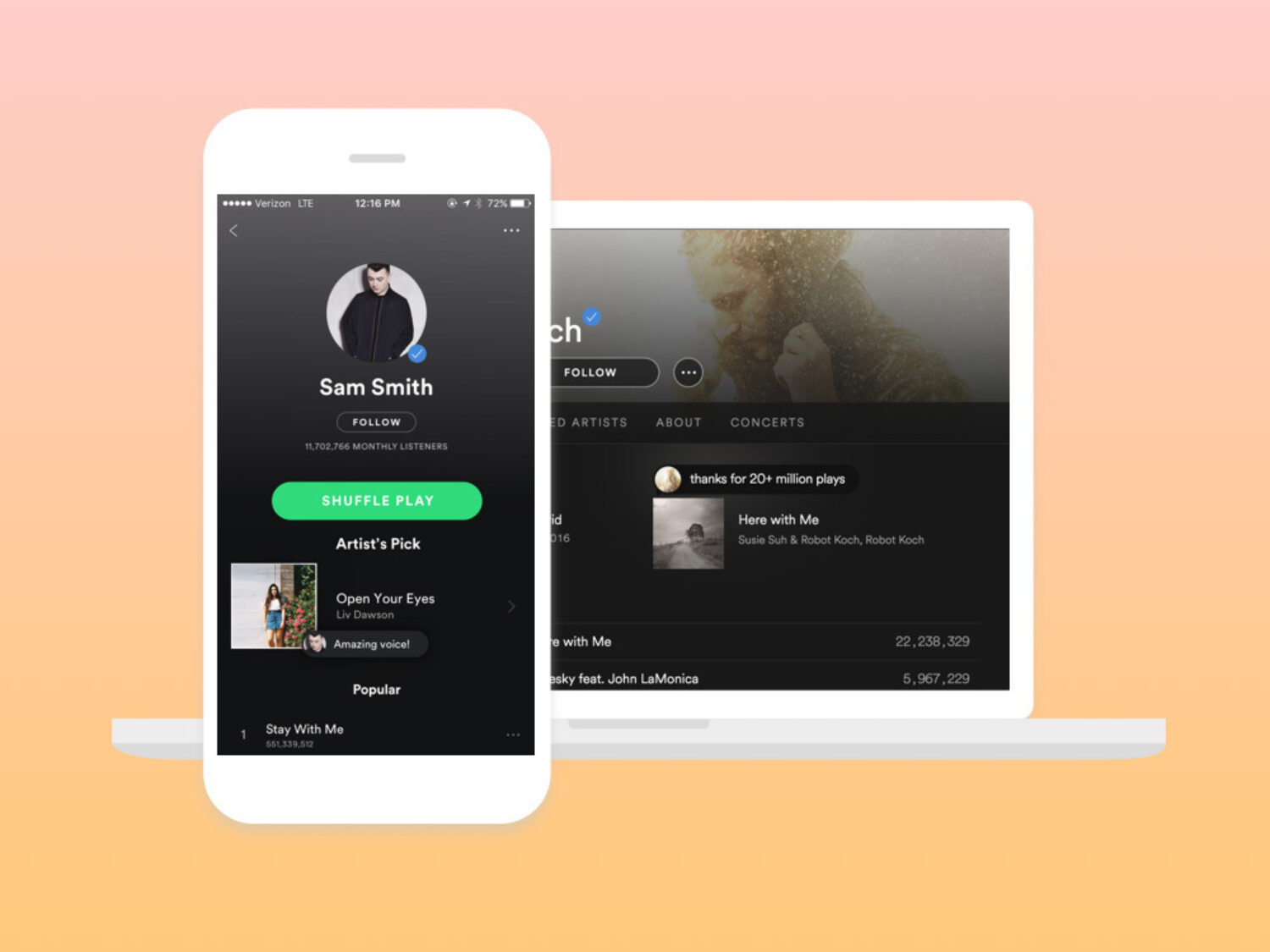 6. Create Artwork That Grabs Attention
When it comes to grabbing people's attention online, your artwork is another opportunity to do so.
The same way as content on social media, YouTube thumbnails, and more, your job is to make people stop, think, and inevitably dive into your content to find out more.
It's about creating a sense of inquisitiveness with all of your marketing.
Your album or single artwork has to tell a story and stand out against a plethora of other single and albums.
Walk around any book shop and look at how insanely good some of the cover art is. It's there for the same reason. To spark inquisitiveness and make you pick up the book to learn more.
Can you achieve the same effect with your album artwork?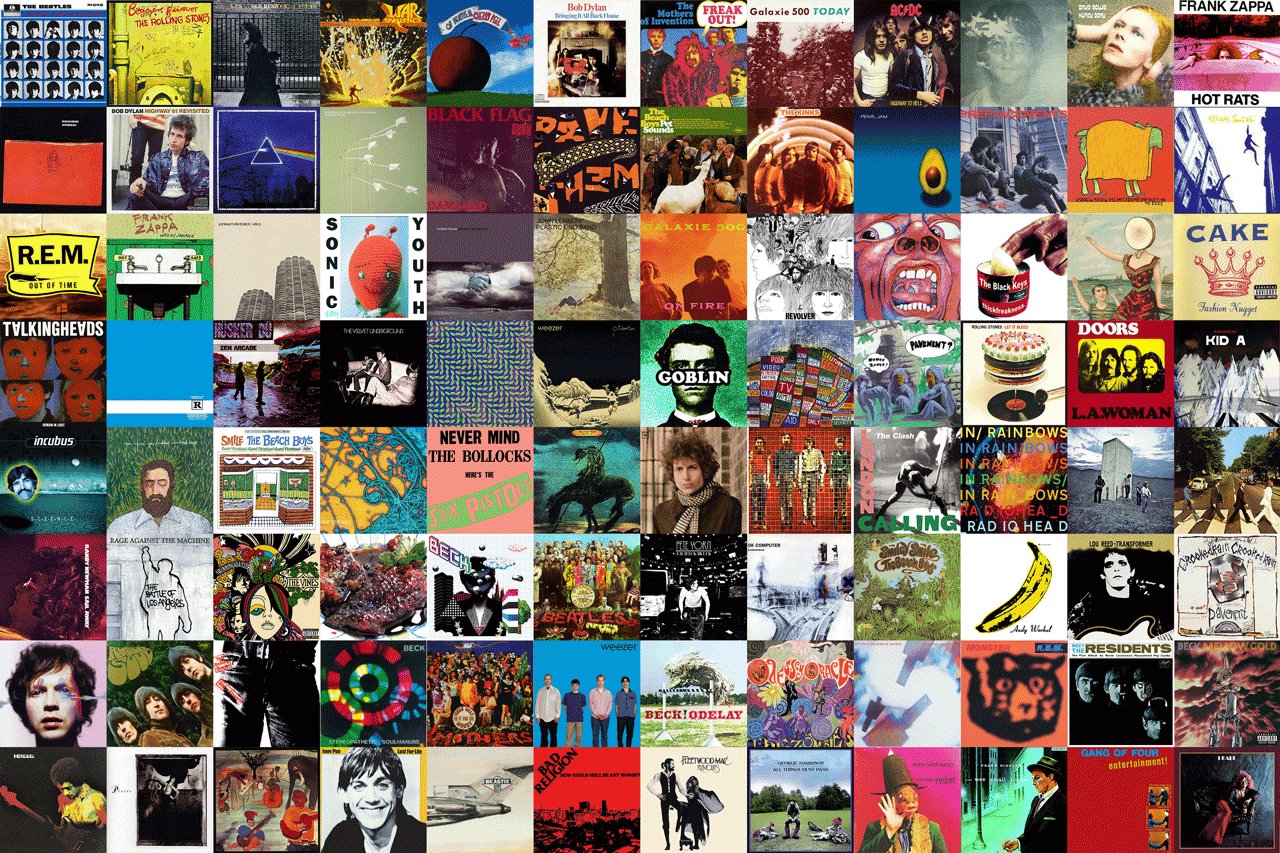 7. Hyper Targeting With Advertising
Hyper targeting is when you are going to do some ads or boosts. You need to make sure you're getting your music and video content in front of the right people.
It can be approached lazily when you are dealing with small budgets.
It's so crucial.
Yet, every single day I am greeted with adverts on my Instagram stories from artists who have not targeted me well.
When I'm scrolling through I'm thinking, "why am I seeing this?".
It's you who has made the mistake. You are now wasting money showing something to me that I shouldn't be seeing. I am not in the right demographic.
When you are doing any type of social media advertising for your music, you need to hyper-target.
Here's how to do it:
Make the advert grab the attention of viewers in the first 3 seconds
Adverts that grab the attention of your audience perform better.
Narrow the field in interest targeting
You have to tell social media platforms who exactly should be seeing your ad. You can't try and 10 million people with $10. It's not going to work. Be specific.
Digital advertising is a saturated market. I break it down further here with some key advertising strategies:
8. Become The Master Of The Mixtape Playlist
Remember back in the day when you would get a writable CD, stick it in your computer and make your own mixtape CD? This would become your go-to bible for the next few weeks or months until you got sick of it, and then made another one.
Spotify is no different.
People can make their own playlists at will, and you need to capitalize on that.
If it means you need to do competitions, giveaways or simply asking friends, family, and fanbases to do that, it will help.
Spotify is algorithm-based. It is binary code.
When someone puts your song into a playlist, Spotify recognizes this.
What's more important is that whilst you're playing the Spotify algorithm game, you are also playing the consumption game.
Whatever you need to do, getting your fans to make mixtape-based playlists featuring your tracks is huge.

9. Get A Pre-Save Link For Your Release
Using certain music distributors for your releases will allow you the option of having a pre-save link for your song.
This is great as you can create a queue of people waiting by the entrance for when your song releases, instantly getting streams when it's live.
As you can imagine, this is great for audience excitement, building up a buzz, but also for the algorithm on Spotify.
Again, just like social media, the visibility and momentum you generate after a piece of content goes live is paramount to its success.
Remember to be specific about what you want your fanbase to do. Actively push them to pre-save your new song with all of your marketing pointing in this direction.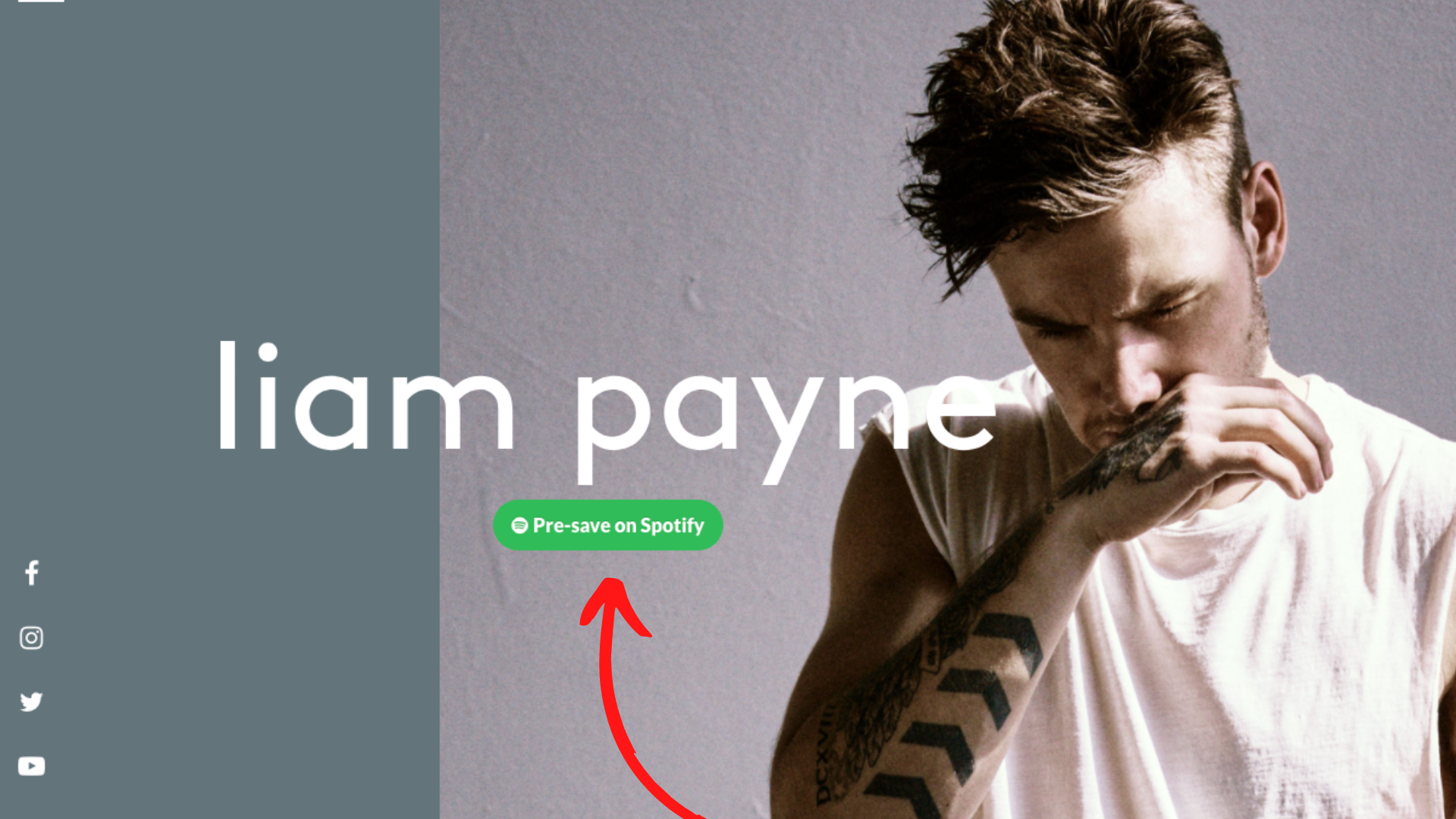 10. Utilize The Power Of Spotify For Artists
If you haven't crawled through the data on Spotify For Artists profile yet, you absolutely should.
Getting into that backend dashboard is key. The tools and information available to you as independent artists are incredible.
Find data about who is listening to you, where they are from and so much more.
Learning more about your audience base is so important. You can use it in all aspects of your marketing, evening to help you with further hyper-targeting ads in the future.
Why not even plan your future tours around the locations where most of your audience are listening to you from?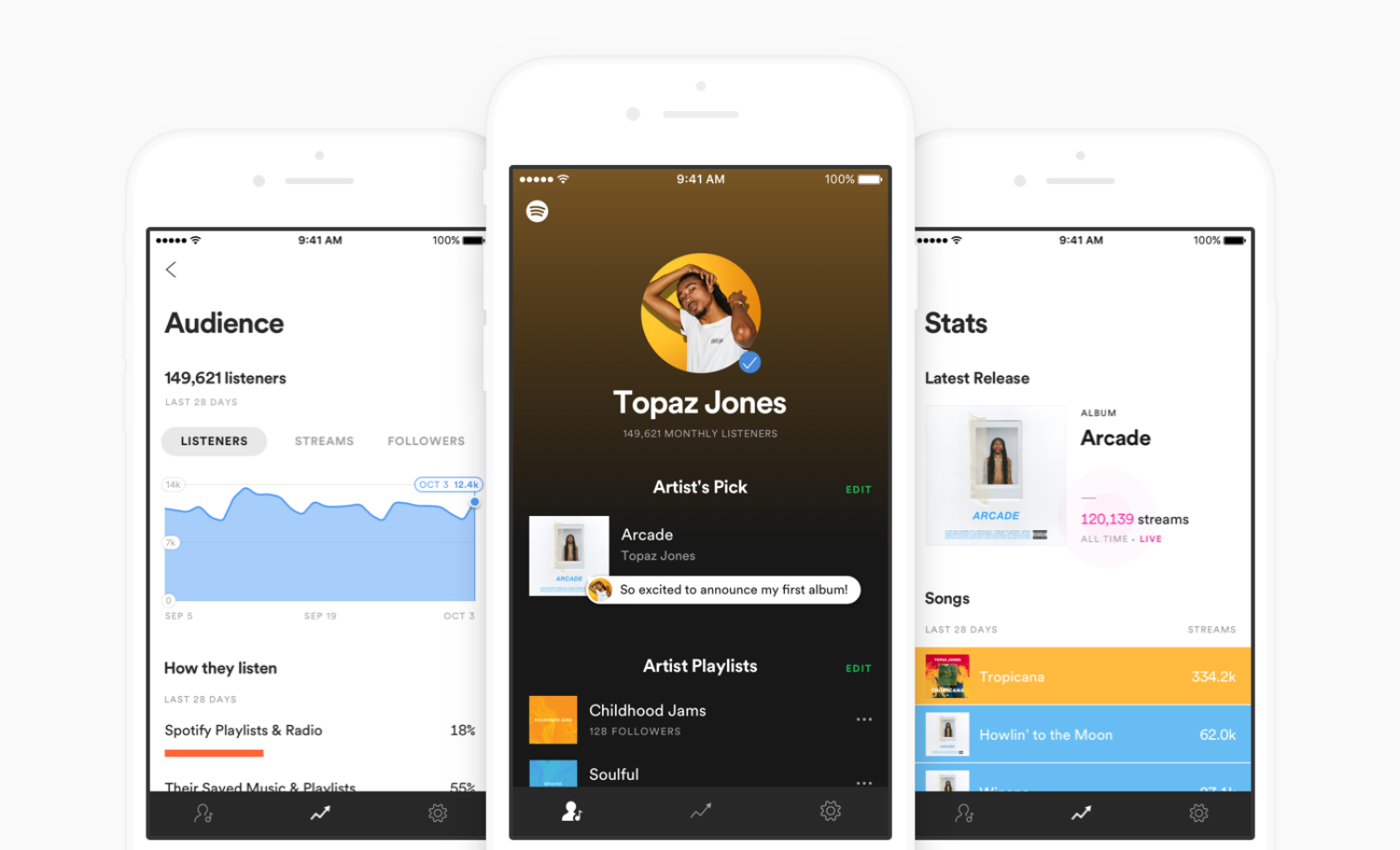 11. Get Users To Follow Your Artist Profile
Find a way to get fans and users to follow your Spotify page and account.
If you want a better chance of securing a placement for your new music on algorithmic playlists such as Release Radar or the Discover Weekly Playlist, activity such as new Spotify followers are a big signal to Spotify that you are to be taken seriously.
So how do you get people to follow your artist profile?
We could go through loads of hacks for this but it's pretty simple really.
Create something worth coming back to

Give fans a reason to follow your profile

Ask listeners to follow you
The last one is the most rewarding and usually the quickest. Musicians looking to get heard and increase their Spotify streams should be really clear with their audience about what actions they want them to take. If it's to follow your Spotify account, so be it. Spotify's algorithm will thank you for it.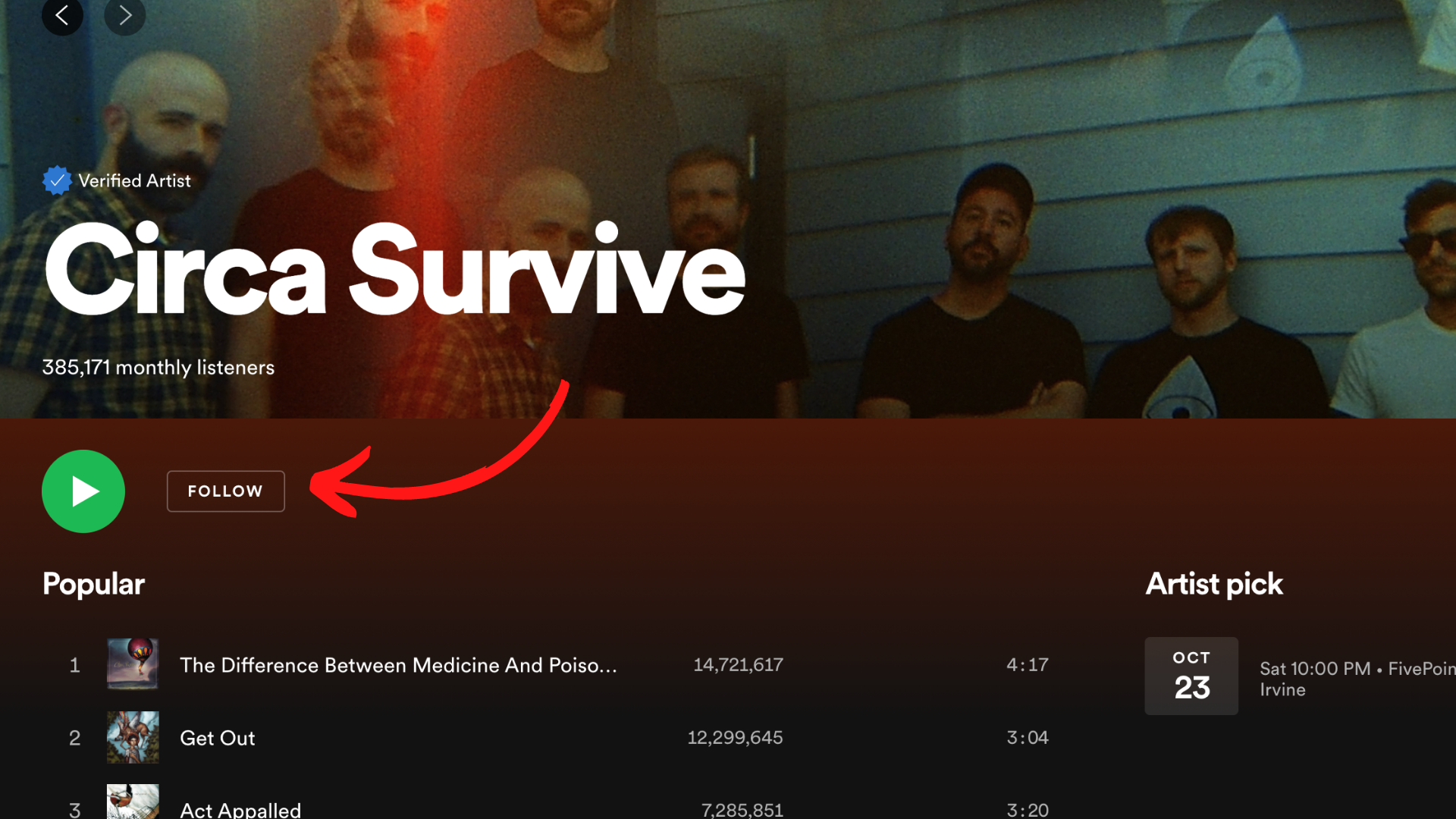 12. Submit Your New Songs To Playlists
Outside of the algorithm naturally finding your music and placing it on something like Discover Weekly, you should also be looking at submitting your latest releases and songs to playlist curators, website owners and editors that host playlists within your genres.
User-curated playlists can be hugely popular and have a very dedicated listener base.
I've put together a fully comprehensive guide on how to actually get on Spotify playlists which takes you through exactly how to find these playlists, and how to pitch your music to them.
You can also get instant access to a database of over 7000 curators for playlist submission in your genre inside DKMBA.
My new playlisting tool SONAR has launched in DKMBA where you have access to over 7000 Spotify playlists. It's an easy way to find the curator's details to contact them to get your music on the playlists.
You can try it now with a free trial.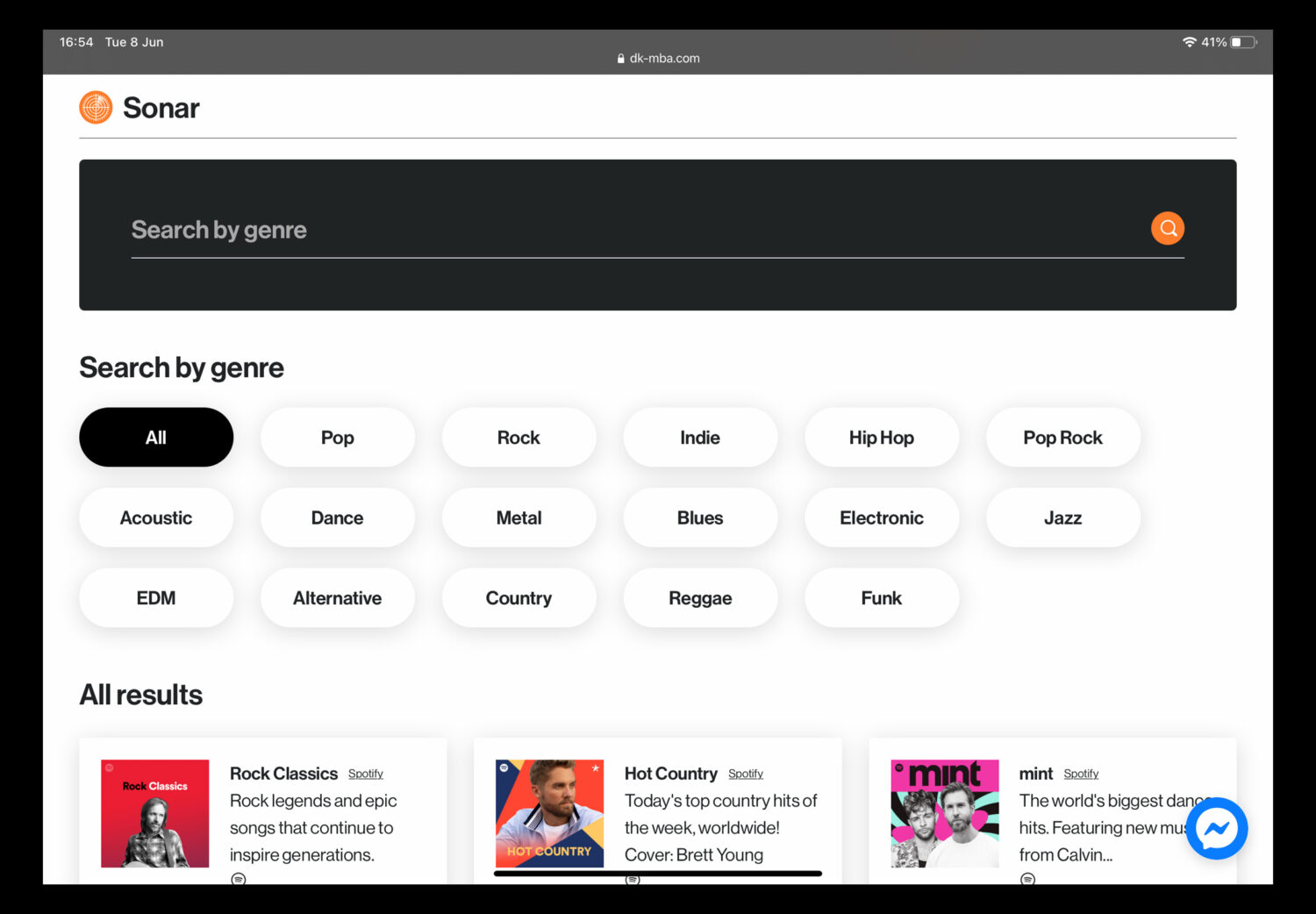 Try Sonar Now Inside DKMBA
Now Spotify hacks are all well and good, but if you really want to grow your profile, you have to take it seriously as a platform.
Put more time, effort, and energy into your Spotify and not just using it as a portfolio of your work.
Remember, Spotify is social media. It's your job to give people a reason to come back time and time again.