PSSSST 🔓: Use the code NEWARTIST10 for 10% off, running 30th - 5th ONLY
Choose Monthly or Pro

Checkout

Success
Feature

Choose Monthly or Pro

Monthly $19.99
Per month (cancel anytime)

Recommended Pro $16.60
$199 yearly (cancel anytime)

✅ The Roadmap To 1 Million Streams Course Library (over 50+ hours)

Included

Included

✅ Get Your Music Playlisted With Damian's Sonar Playlisting Tool

Included

Included

✅ Access my Exclusive Community and Get Support For Your Music

Included

Included

✅ Weekly Livesessions with Damian, including Live Q&As

Included

Included

✅ Press Release Templates & Social Media Cheatsheets

Included

Included

✅ Guaranteed Submission To My Spotify Playlists

Included

Included

➡️ LIMITED OFFER: Receive The Mega Offer To End All Mega Offers Directly Emailed

Included

Included

🚀 PRO BONUS: Damian's Amazon Best Selling Book The Rule Breaker's Guide To Social Media

Not included

Included

🚀 PRO BONUS: Damian's Amazon Best Selling Book Stop Selling Music

Not included

Included

🚀 PRO BONUS: Access To Damian and Team's Personal WhatsApp

Not included

Included

Select Monthly
Select Pro
PSSSST 🔓: Use the code NEWARTIST10 for 10% off, running 30th - 5th ONLY
Monthly
Get Started Quickly
$19.99
Per month (cancel anytime)
All Monthly features
✅ The Roadmap To 1 Million Streams Course Library (over 50+ hours)

Included

✅ Get Your Music Playlisted With Damian's Sonar Playlisting Tool

Included

✅ Access my Exclusive Community and Get Support For Your Music

Included

✅ Weekly Livesessions with Damian, including Live Q&As

Included

✅ Press Release Templates & Social Media Cheatsheets

Included

✅ Guaranteed Submission To My Spotify Playlists

Included

➡️ LIMITED OFFER: Receive The Mega Offer To End All Mega Offers Directly Emailed

Included

🚀 PRO BONUS: Damian's Amazon Best Selling Book The Rule Breaker's Guide To Social Media

Not included

🚀 PRO BONUS: Damian's Amazon Best Selling Book Stop Selling Music

Not included

🚀 PRO BONUS: Access To Damian and Team's Personal WhatsApp

Not included
Recommended
Pro
Work closer with Damian
$16.60
$199 yearly (cancel anytime)
All Pro features
✅ The Roadmap To 1 Million Streams Course Library (over 50+ hours)

Included

✅ Get Your Music Playlisted With Damian's Sonar Playlisting Tool

Included

✅ Access my Exclusive Community and Get Support For Your Music

Included

✅ Weekly Livesessions with Damian, including Live Q&As

Included

✅ Press Release Templates & Social Media Cheatsheets

Included

✅ Guaranteed Submission To My Spotify Playlists

Included

➡️ LIMITED OFFER: Receive The Mega Offer To End All Mega Offers Directly Emailed

Included

🚀 PRO BONUS: Damian's Amazon Best Selling Book The Rule Breaker's Guide To Social Media

Included

🚀 PRO BONUS: Damian's Amazon Best Selling Book Stop Selling Music

Included

🚀 PRO BONUS: Access To Damian and Team's Personal WhatsApp

Included
Your membership includes:
The Roadmap To 1 Million Streams

The flagship 8+ hour course taking you to over 1 million streams.

Industry Defining Course Library

40+ hours of courses from music industry leaders.

Get Playlisted With Sonar

Get immediate access to our premium playlist finder and curator tool.

Weekly Livesessions with Damian

Get your questions answered directly from Damian in weekly livesessions.

The Exclusive Community

DKMBA has the best music community online, fact. Our community is via a private Facebook group and built in forums.

Damian's Personal WhatsApp

Message Damian anytime on WhatsApp to work together on your music (Pro only).

Get on the DKMBA Discover Playlists

Damian put together his own Spotify playlists for the industry and you can get featured instantly.

Direct Feedback Quickly

Damian and his team aim to reply within 24 hours, meaning that you'll always be able to get fast feedback on your music and strategy.

Access your Music Career Toolkit

Grab over 50 essential tools, documents and resources for your career quickly and easily.
TESTIMONIALS
Don't JUST Hear It From Me...
Last updated 18th May 2023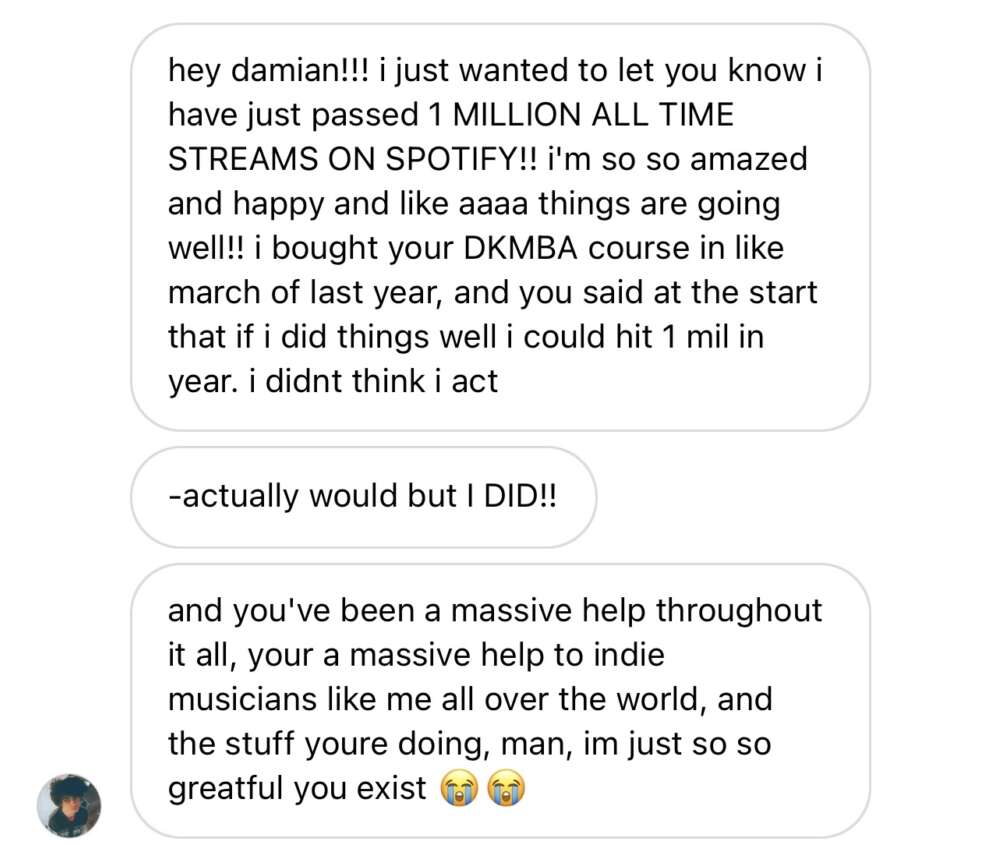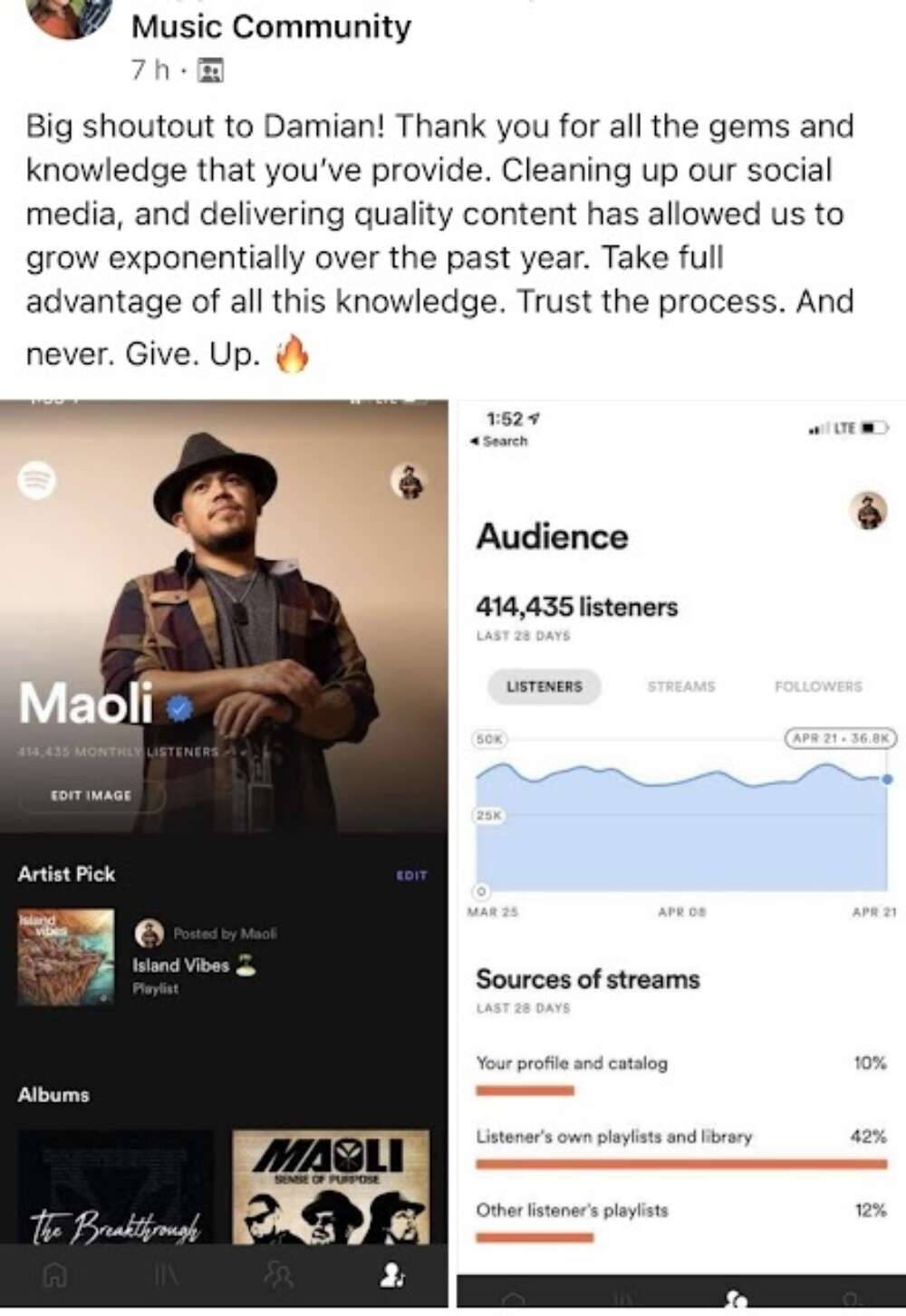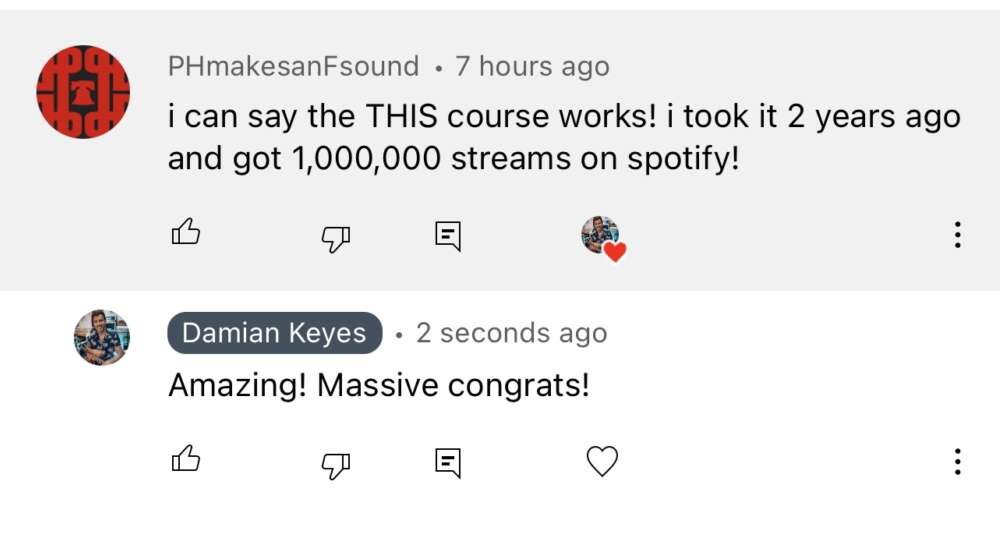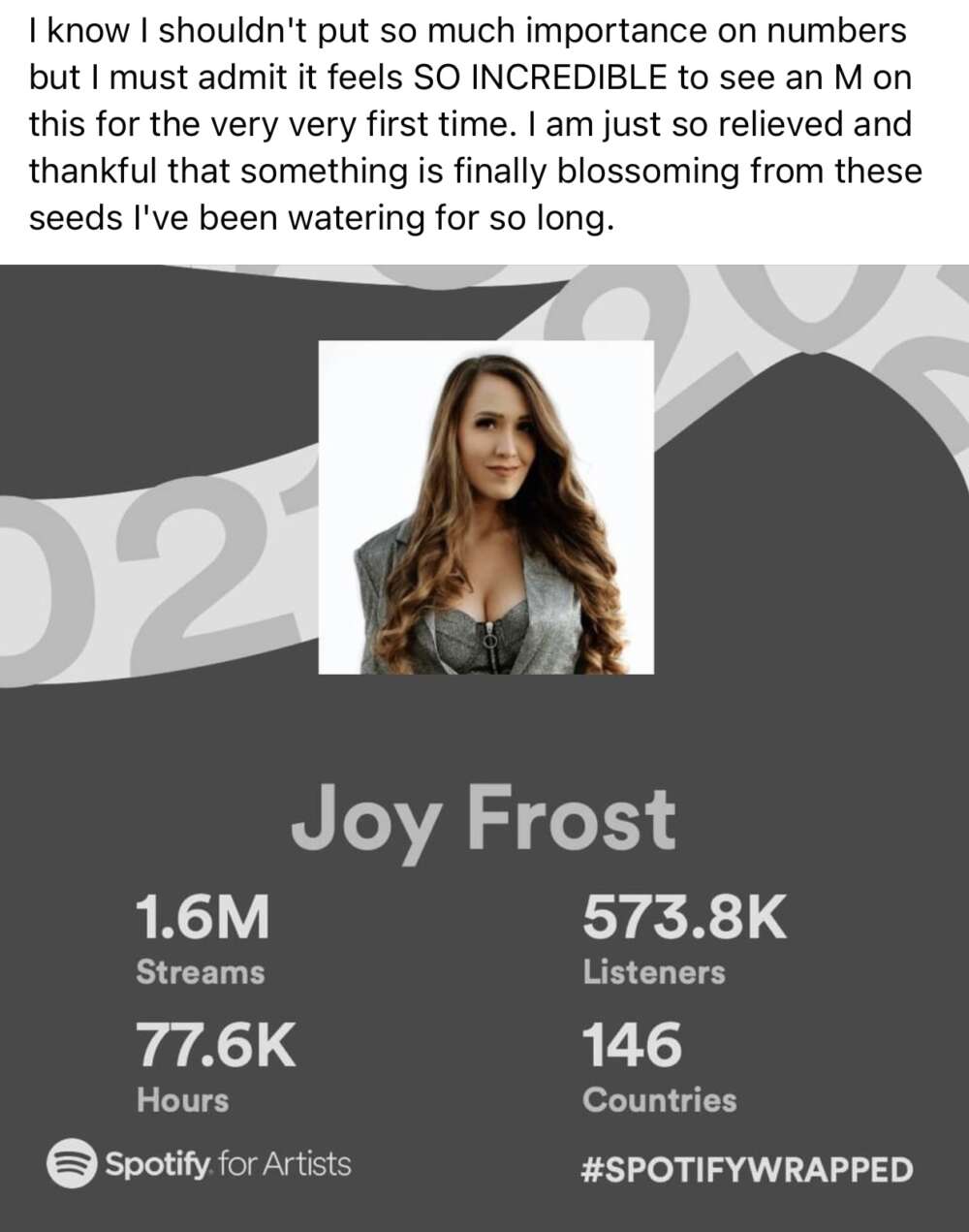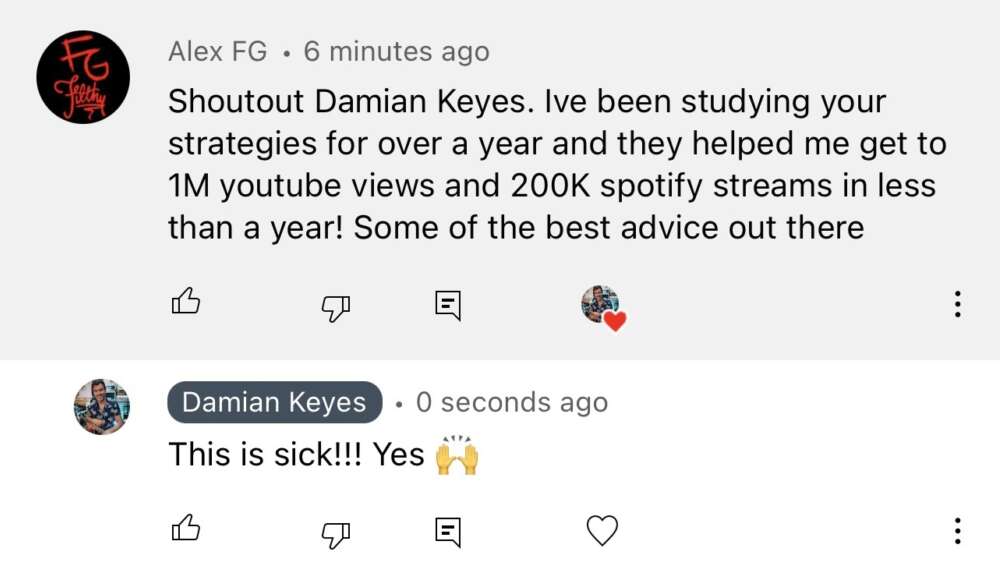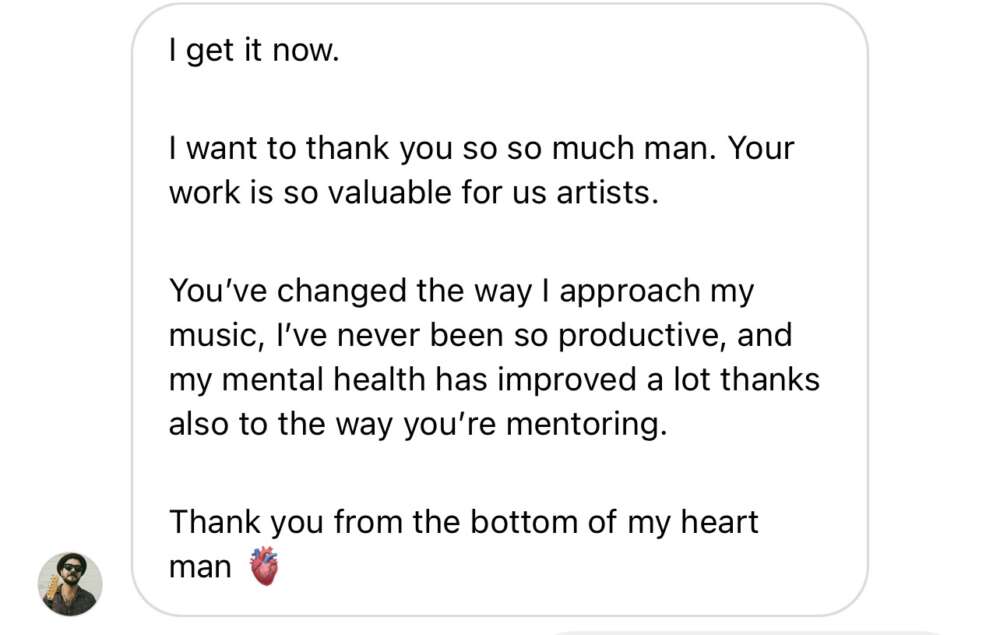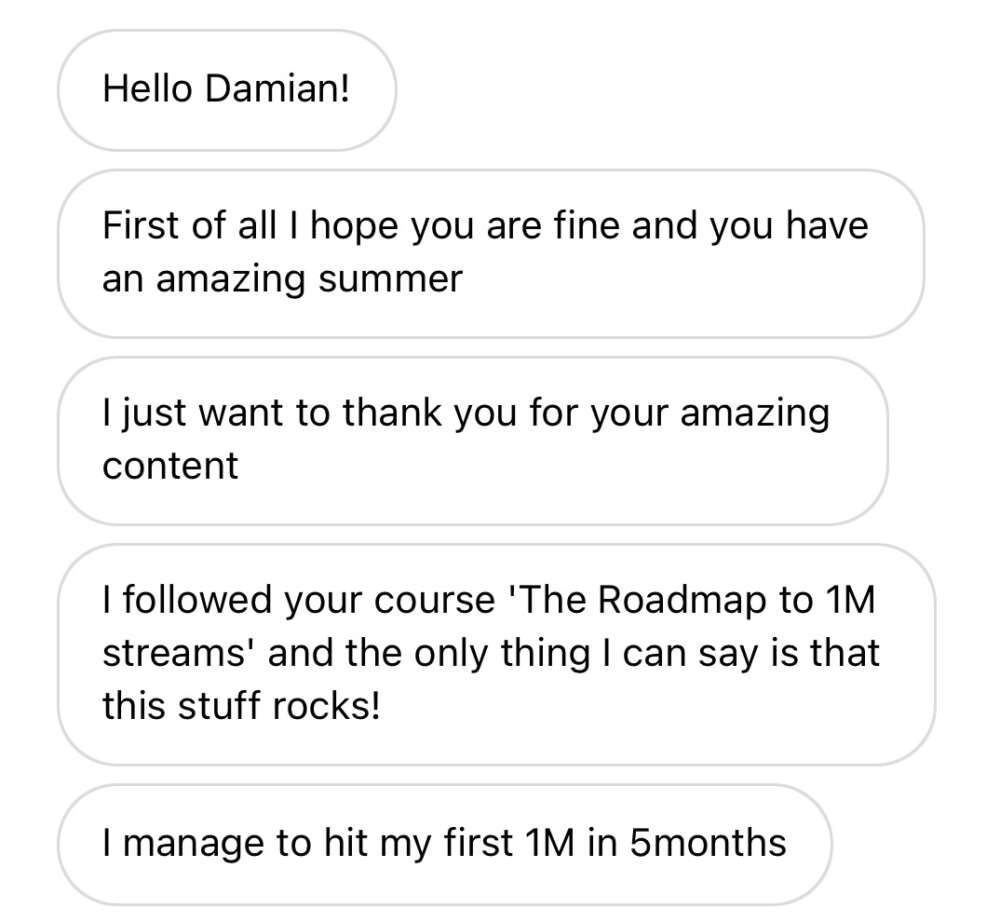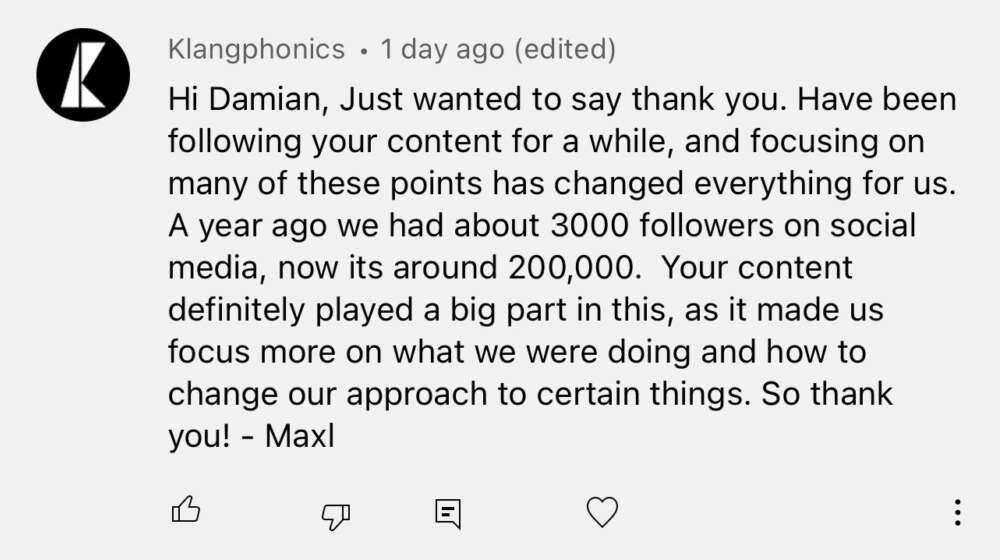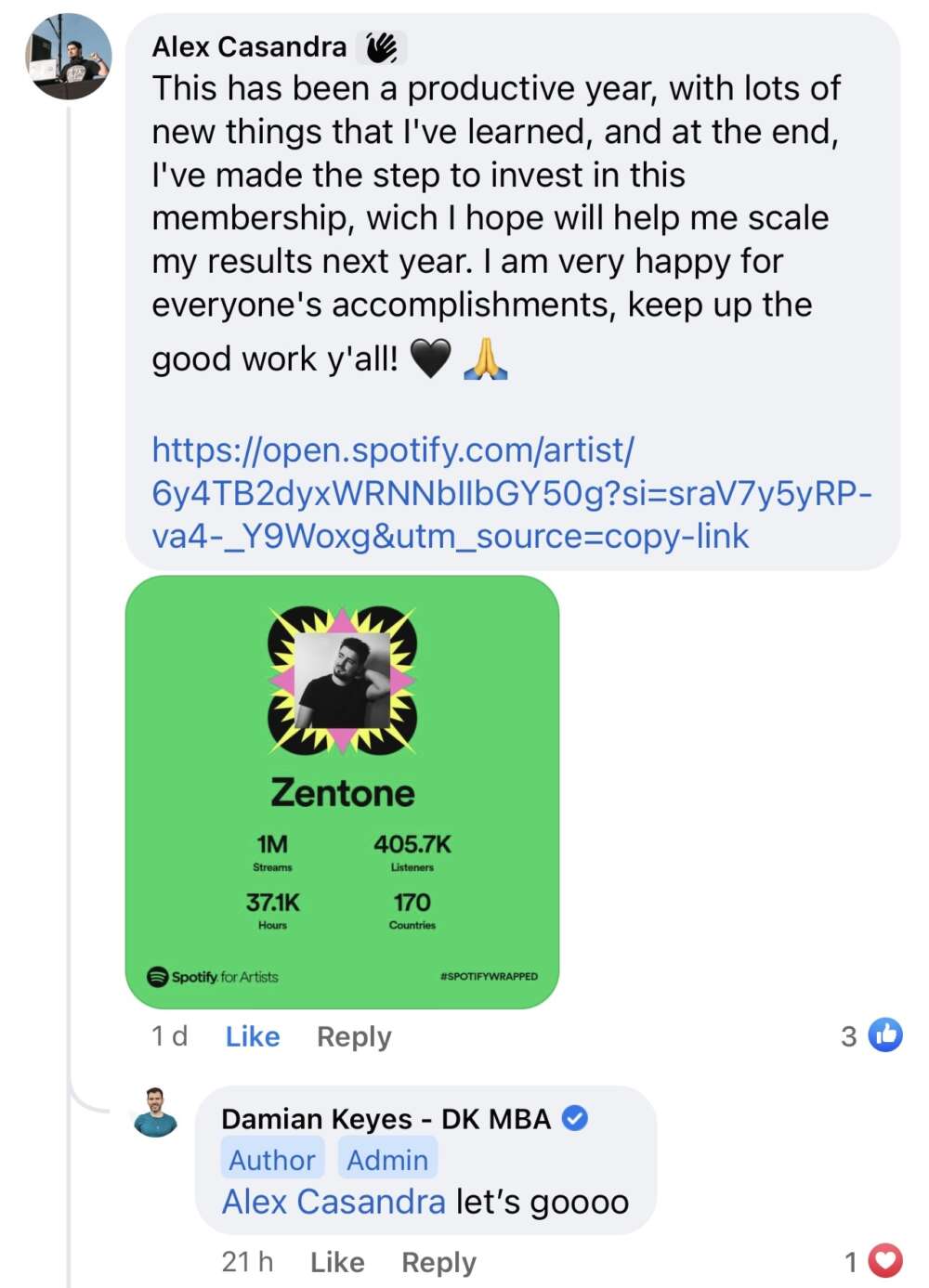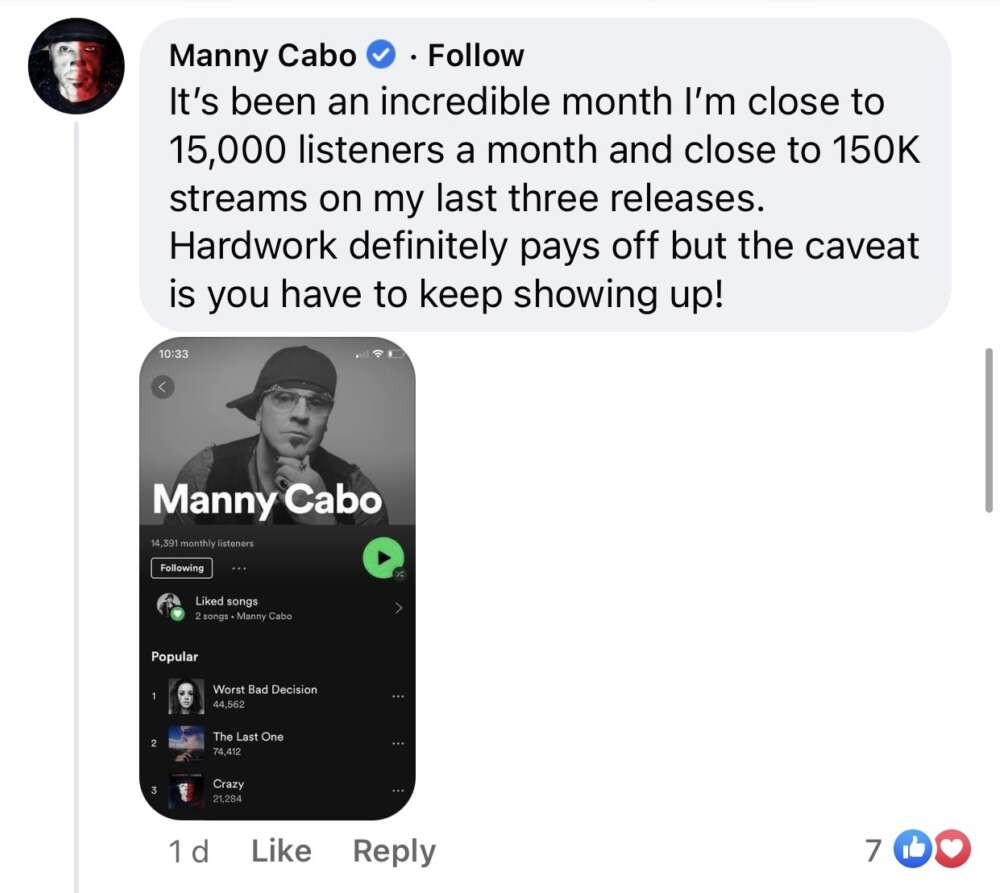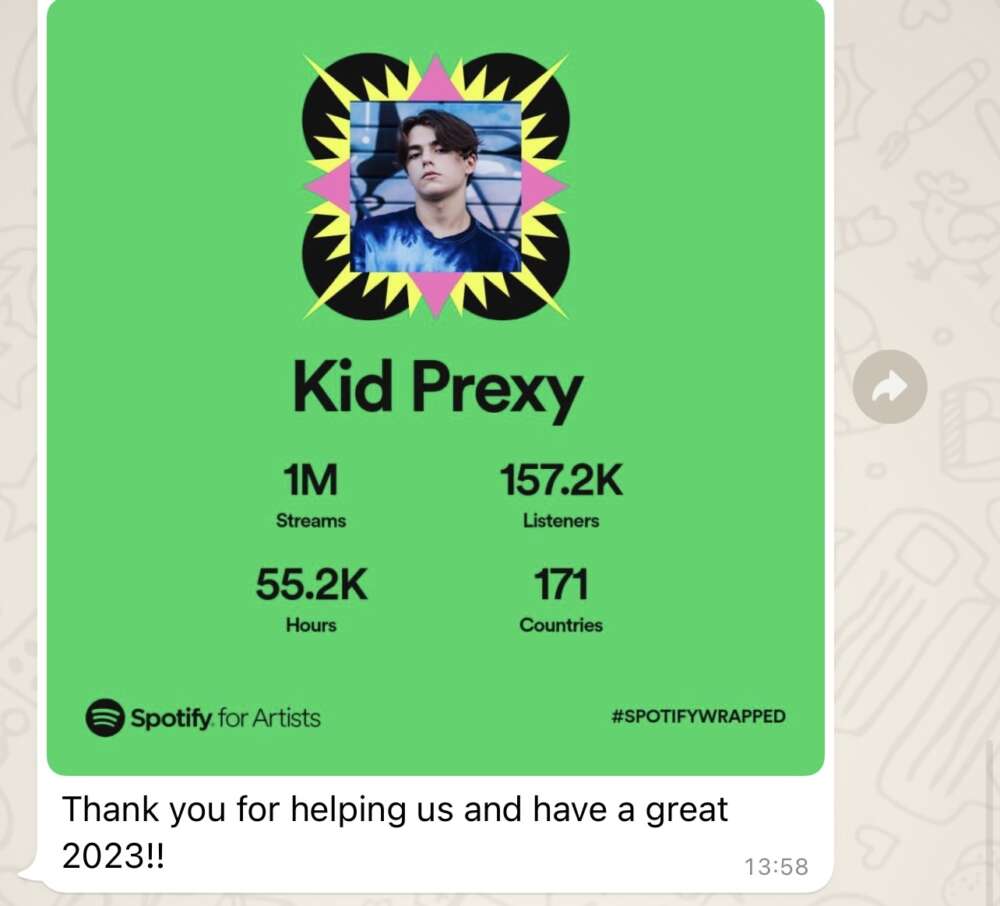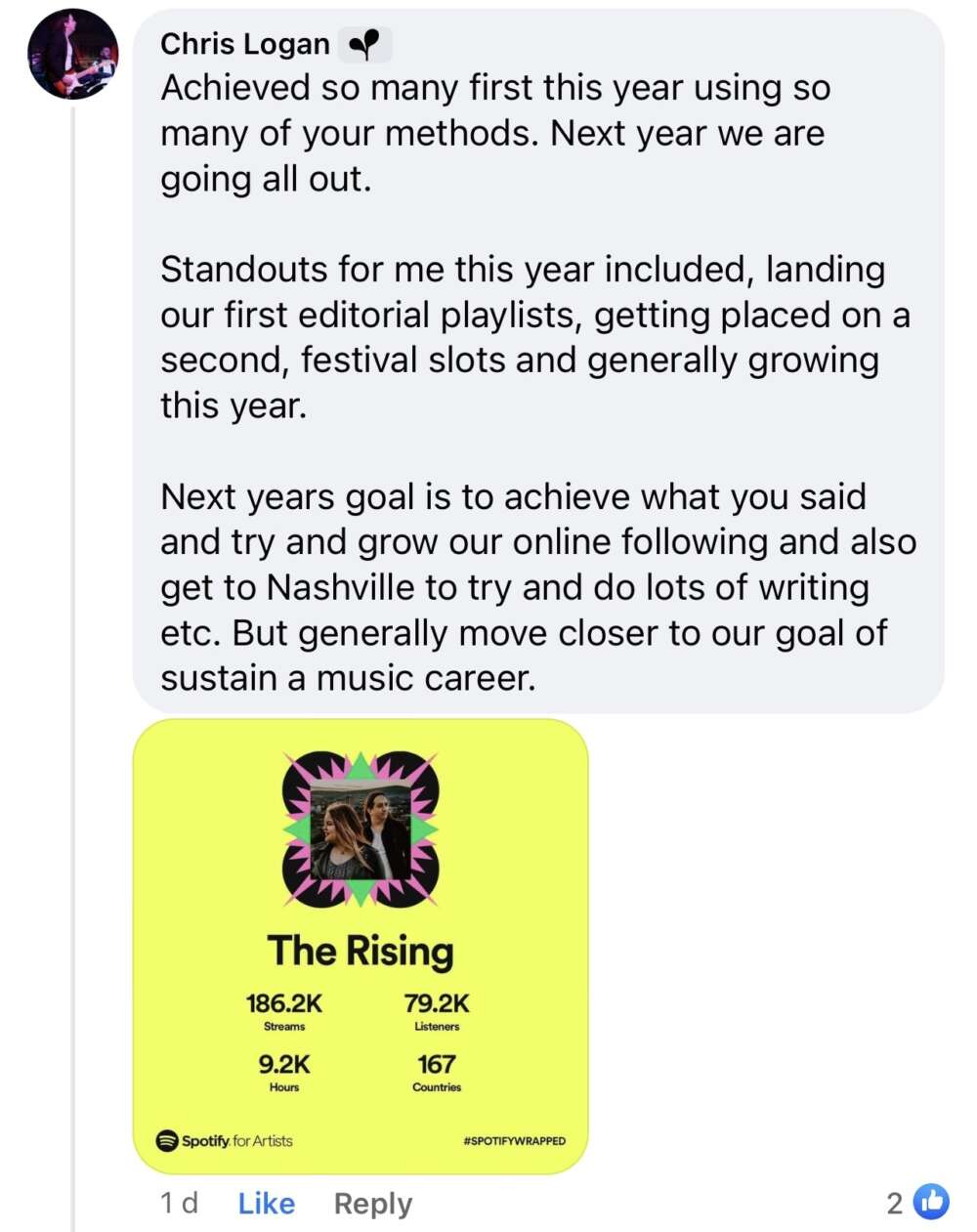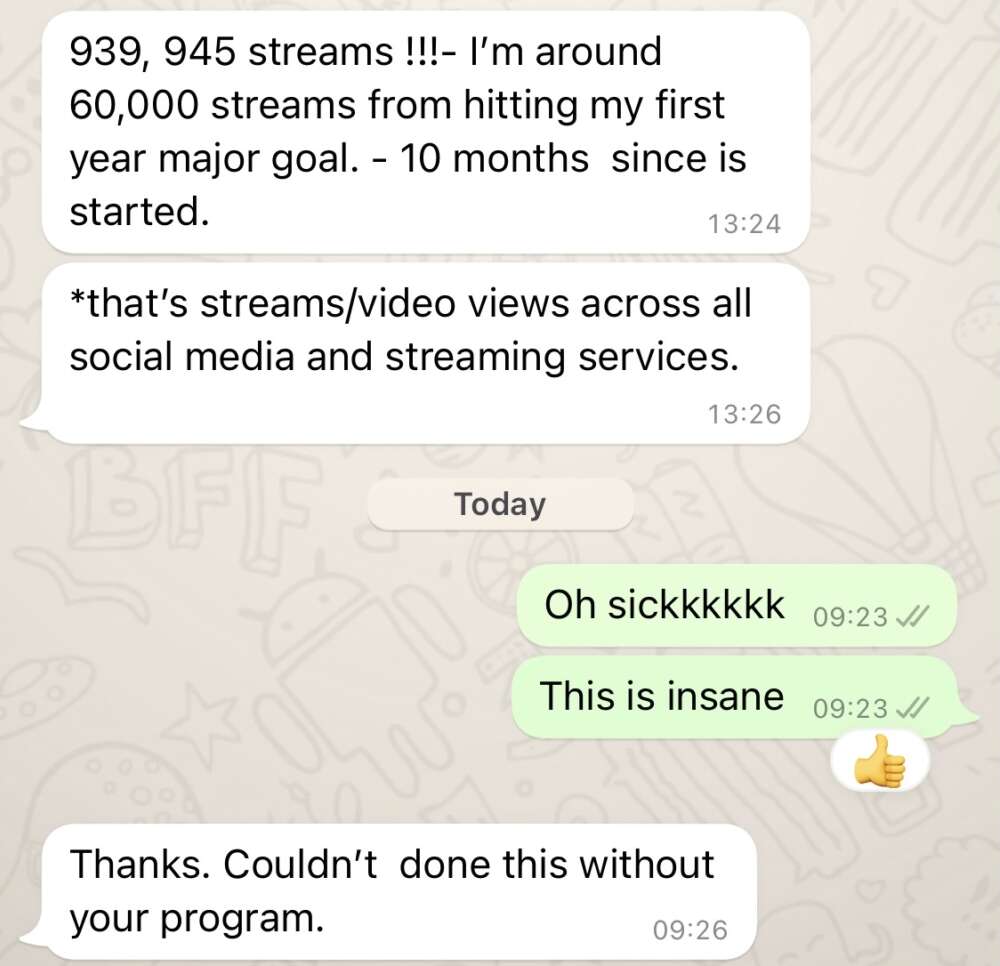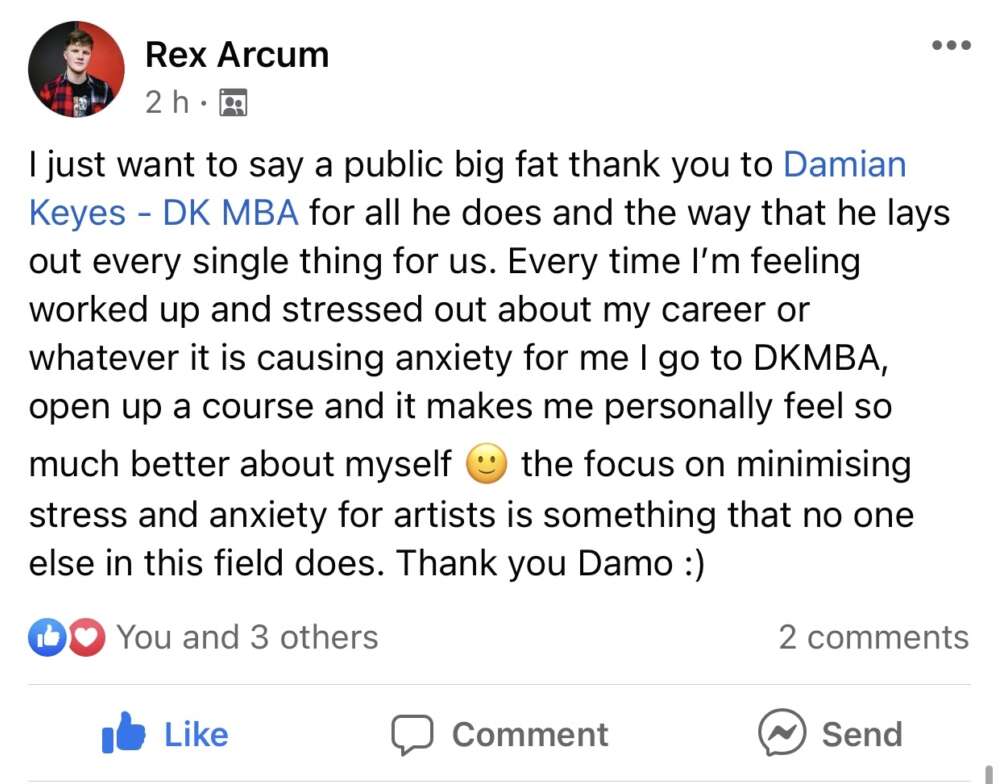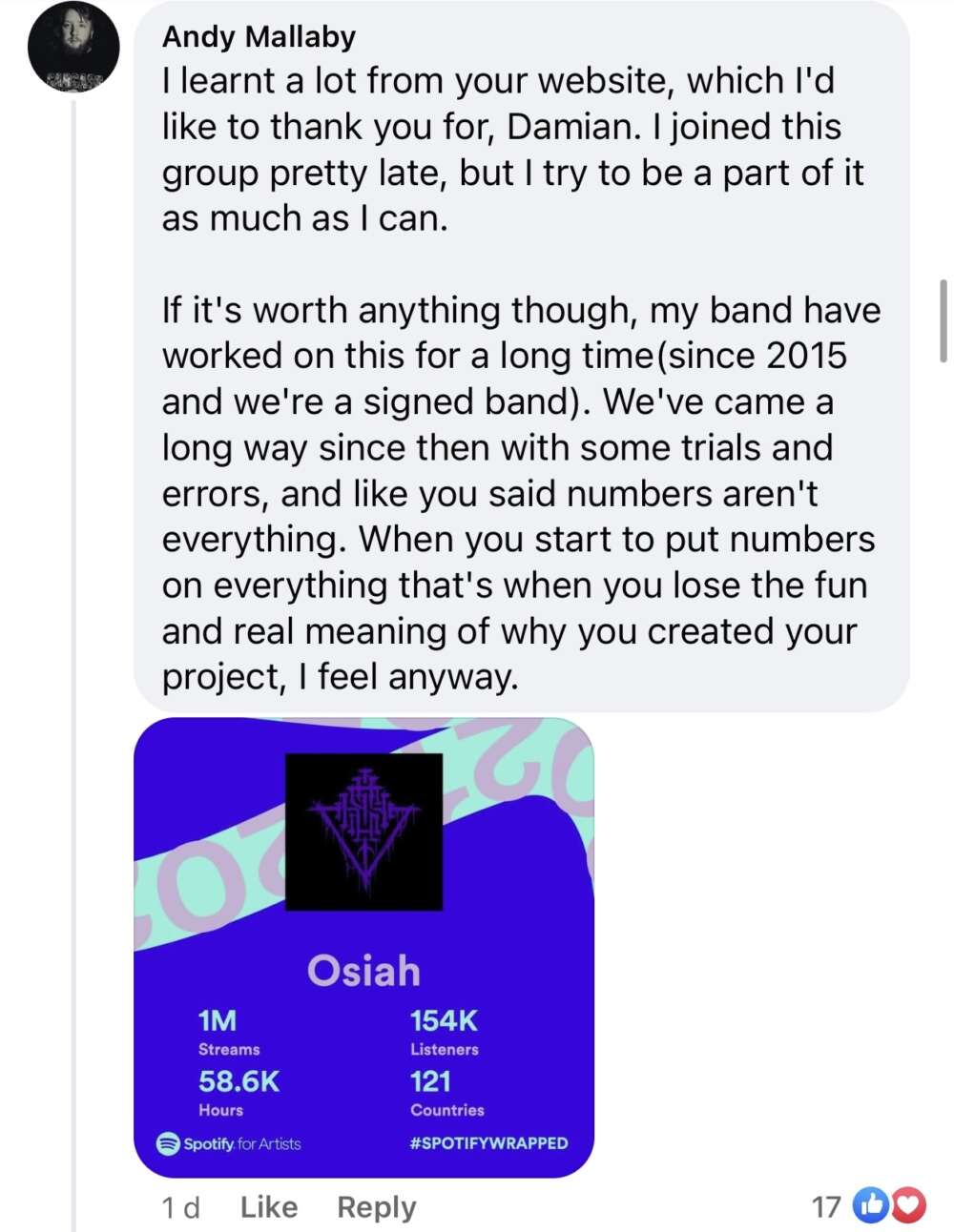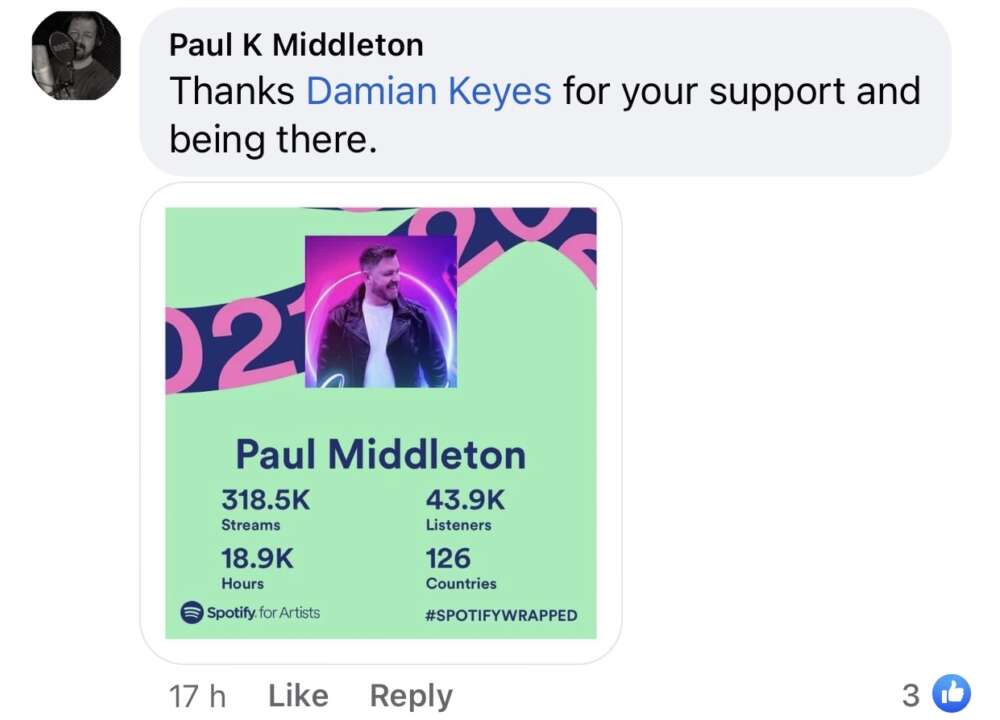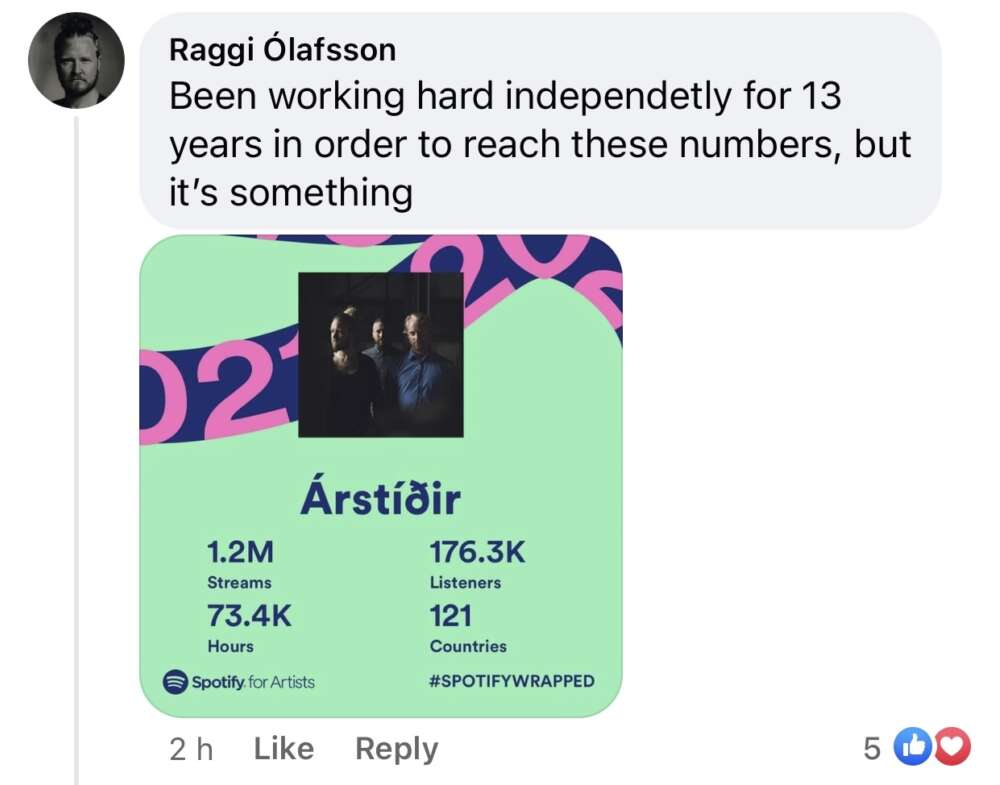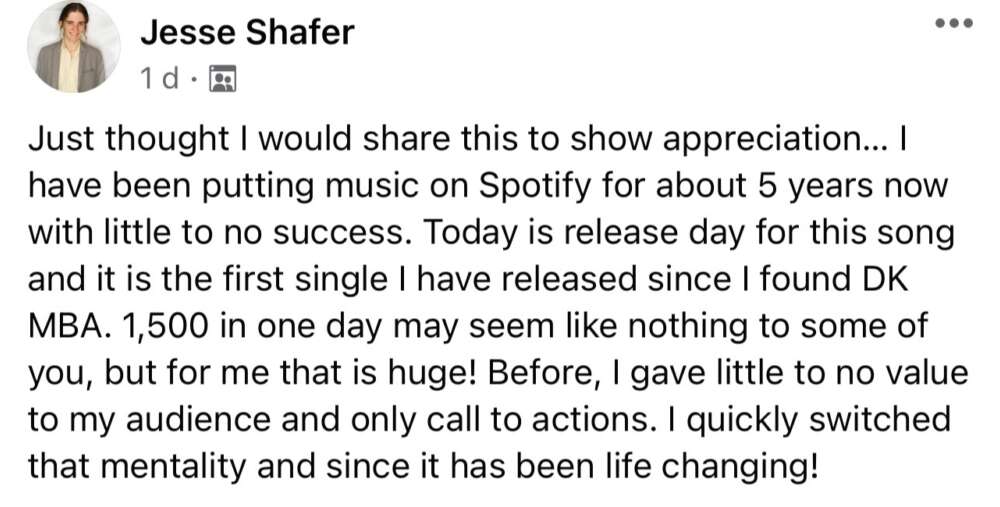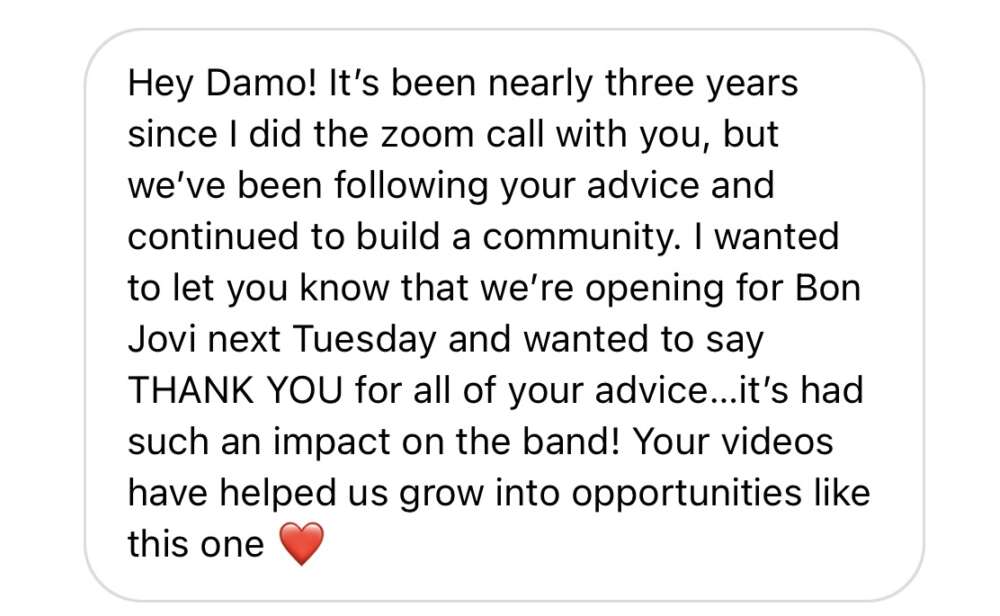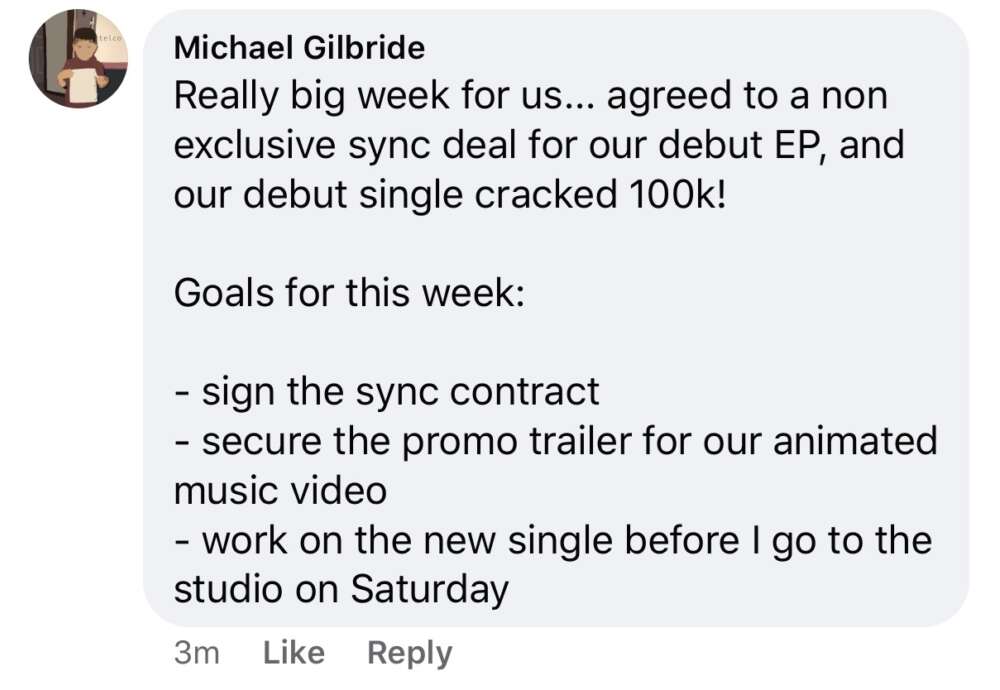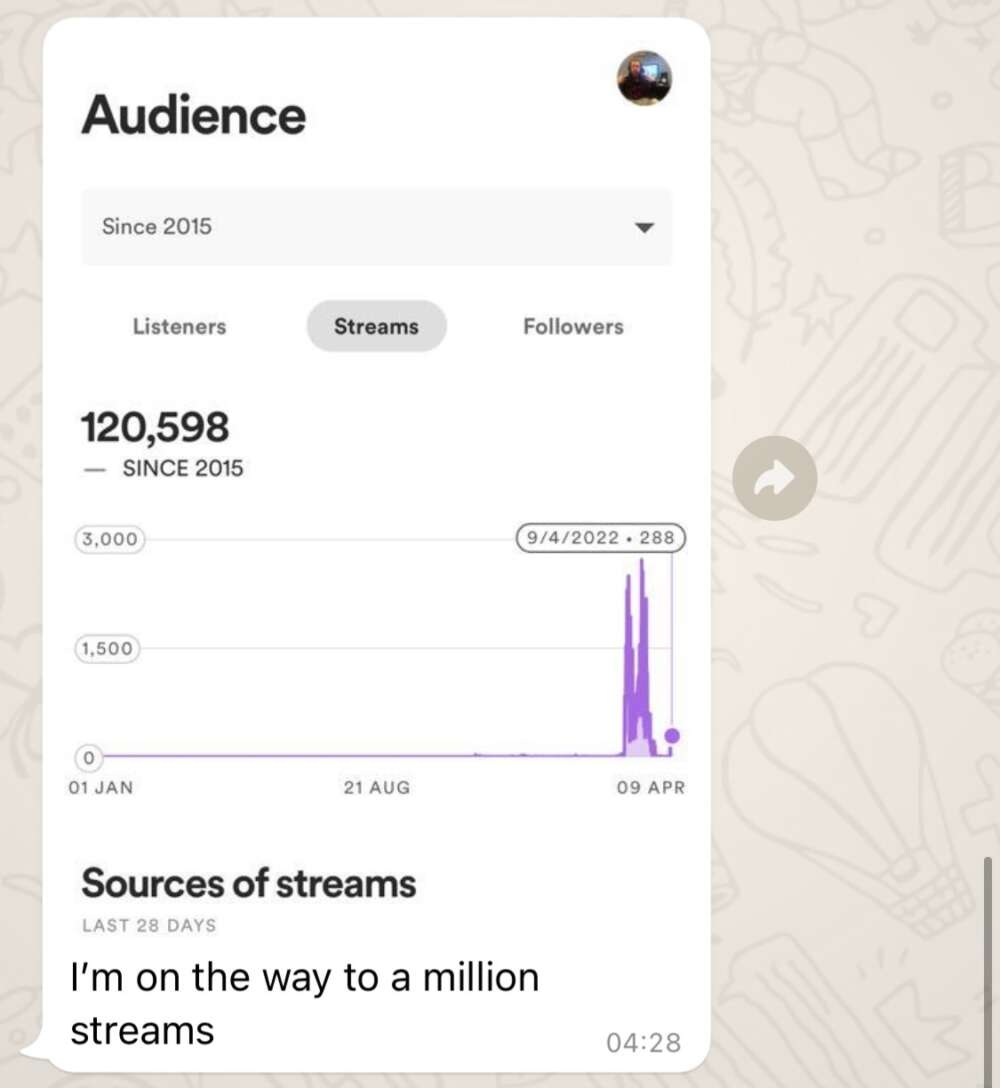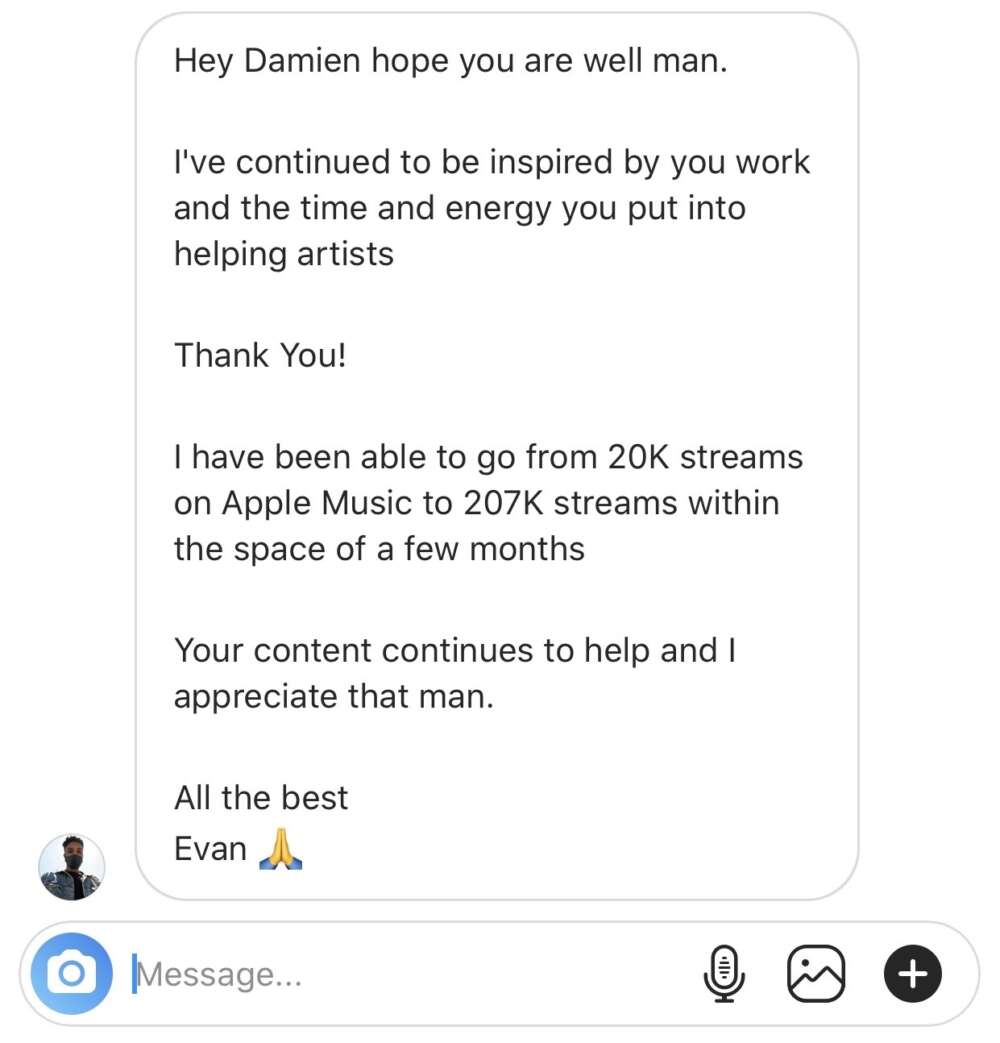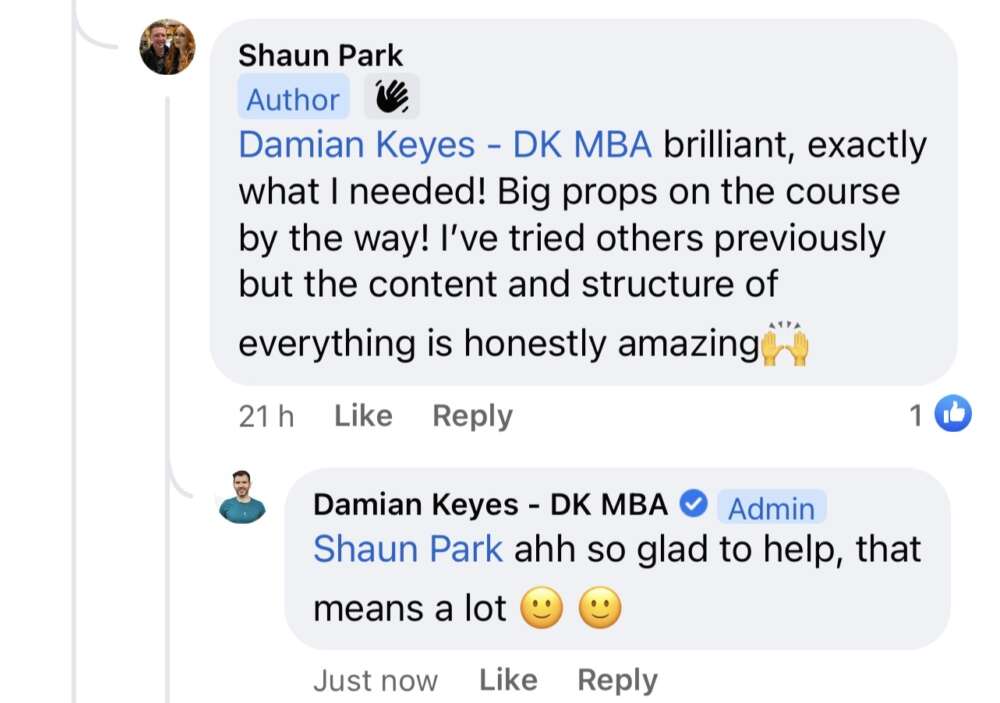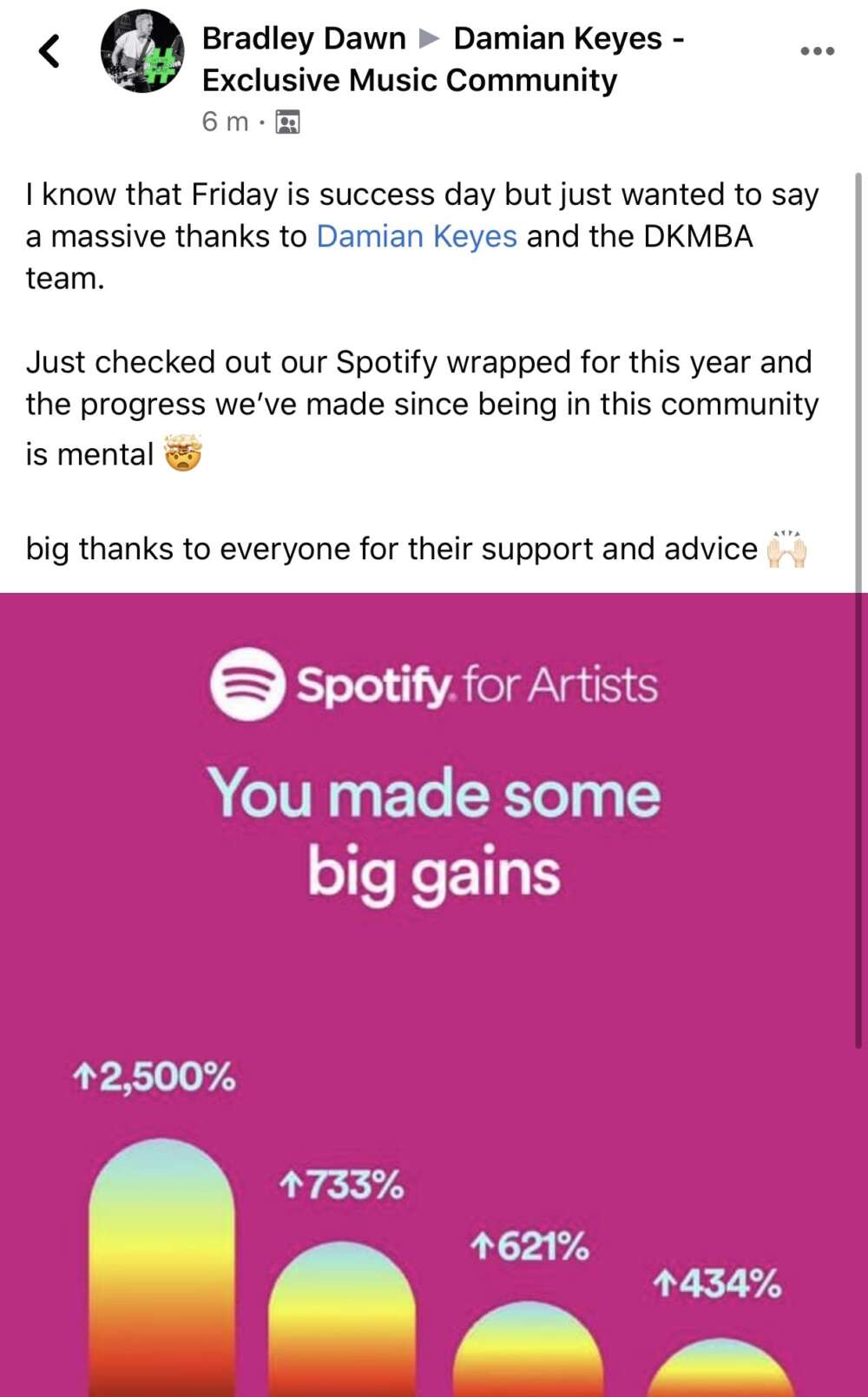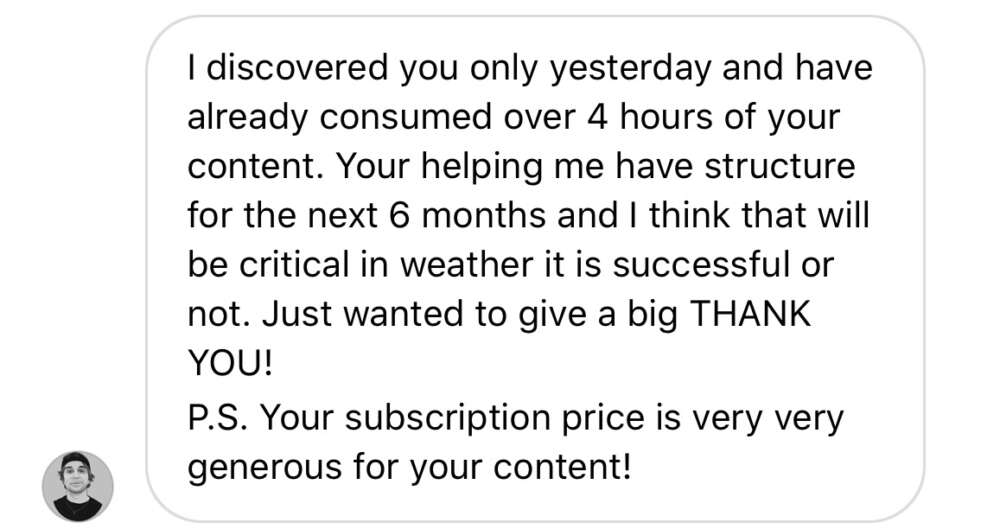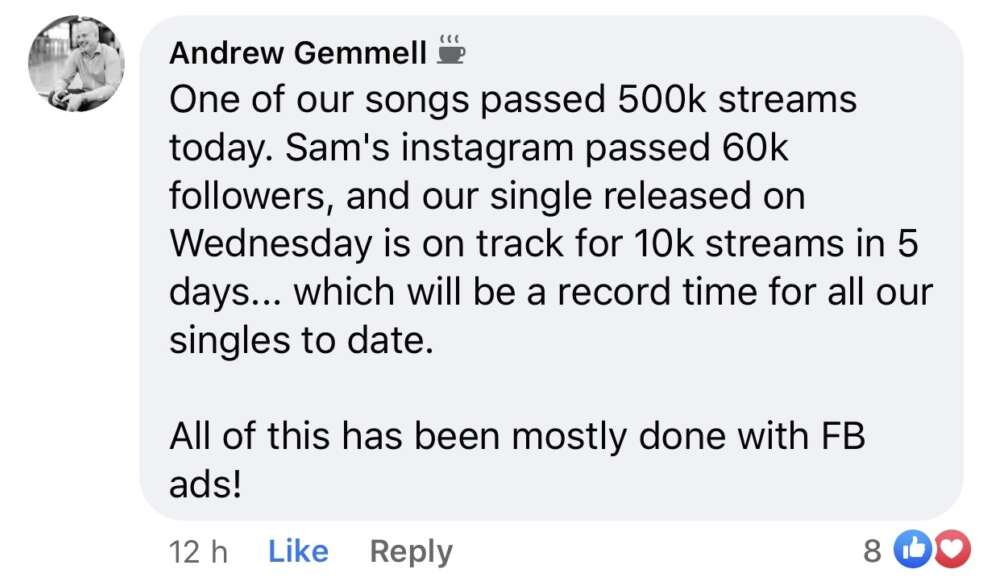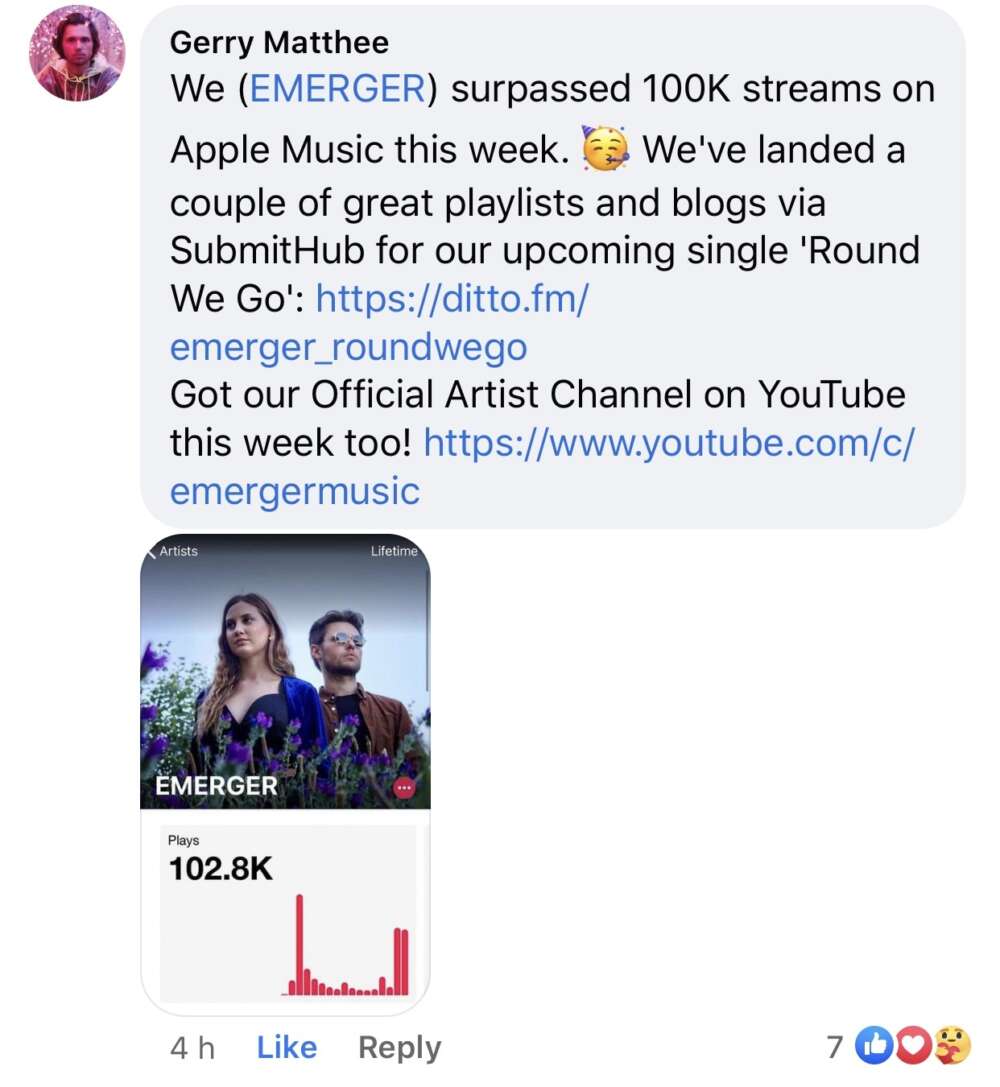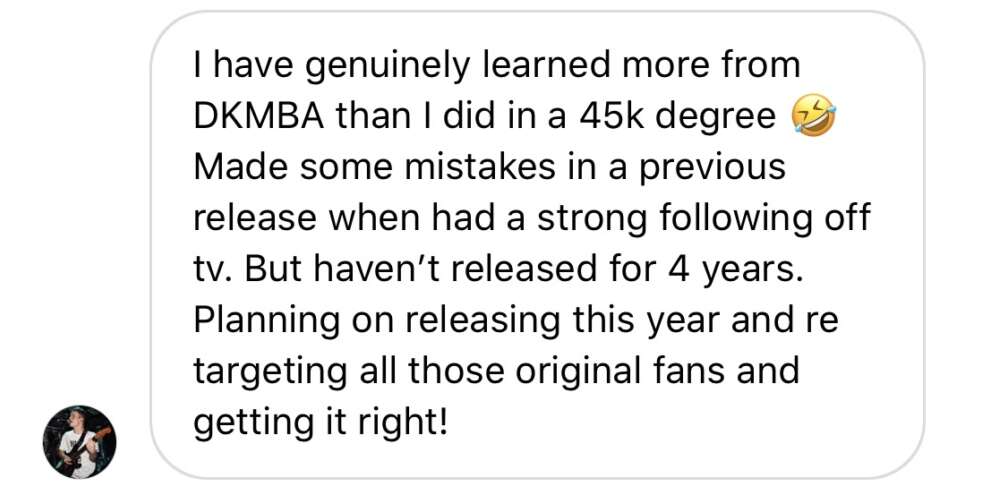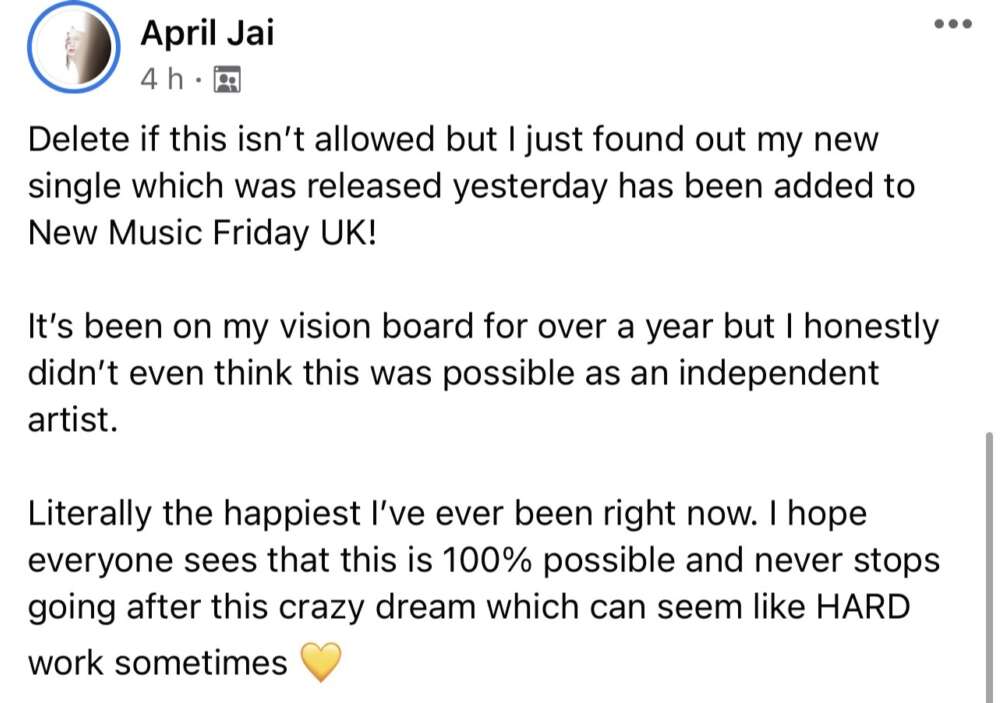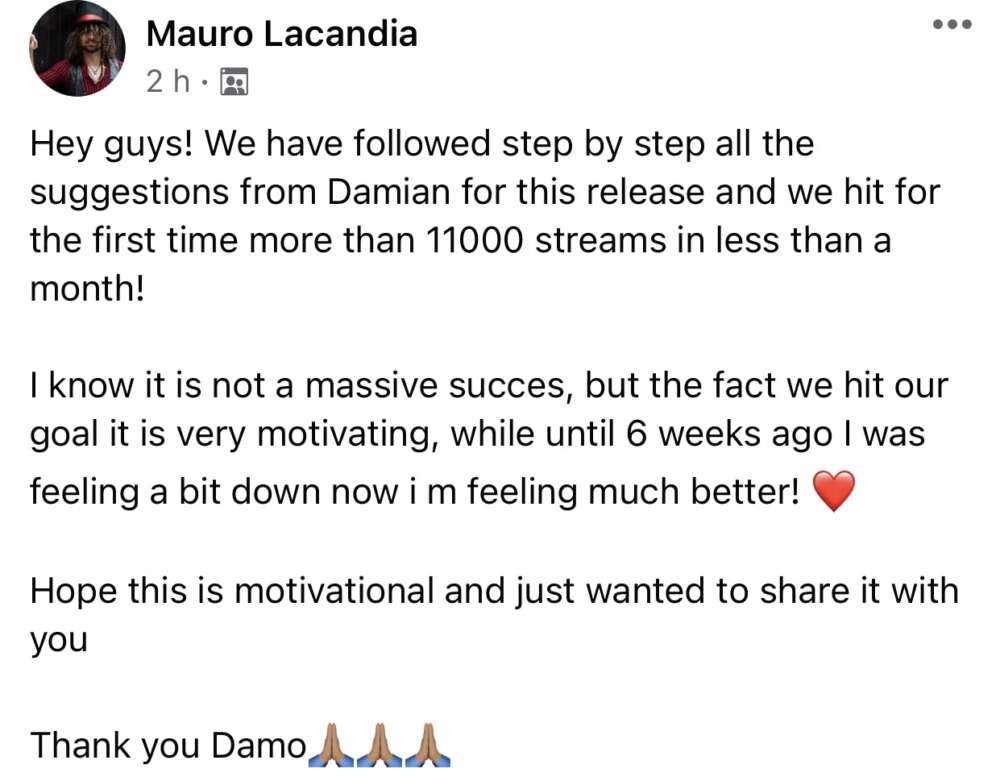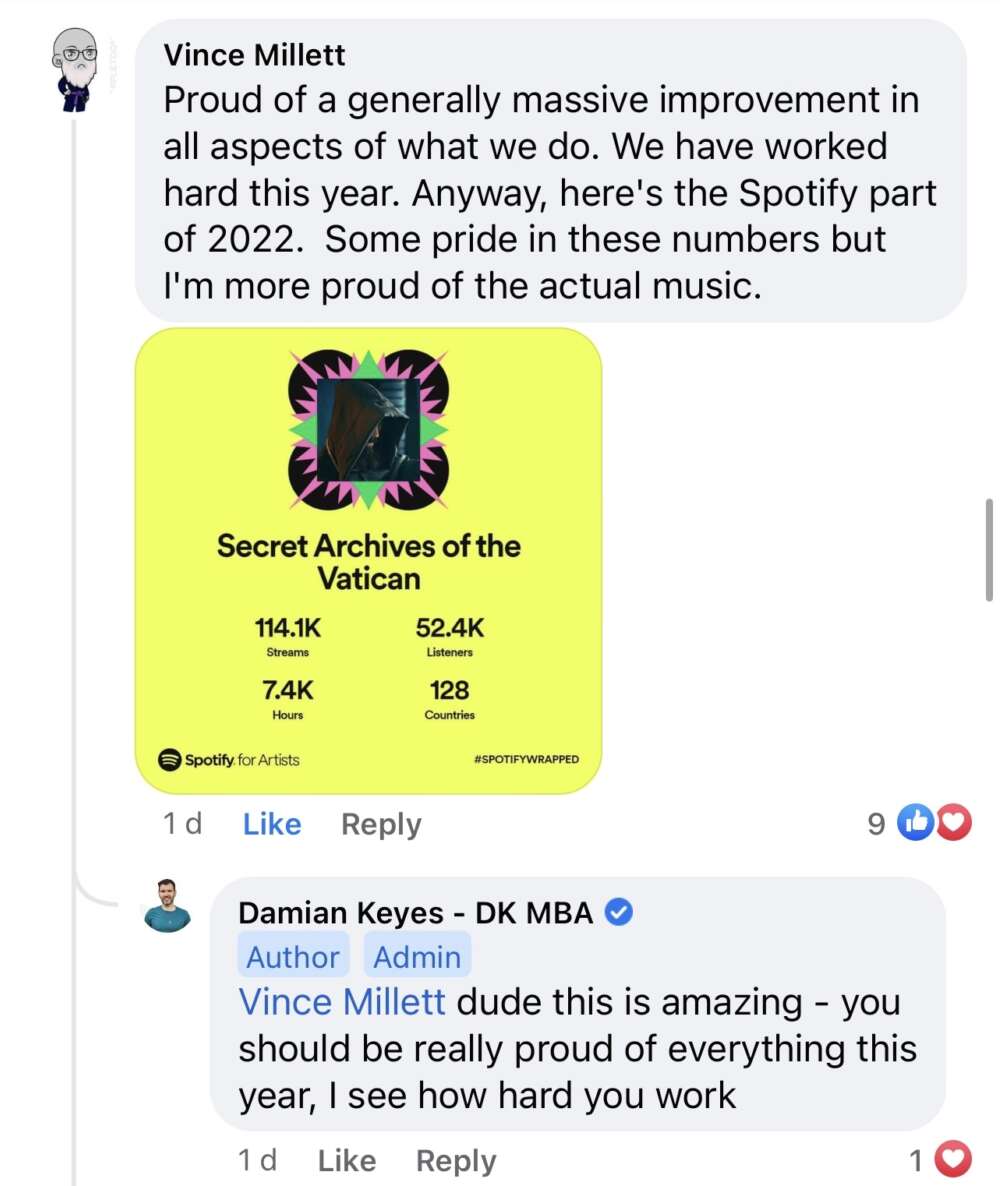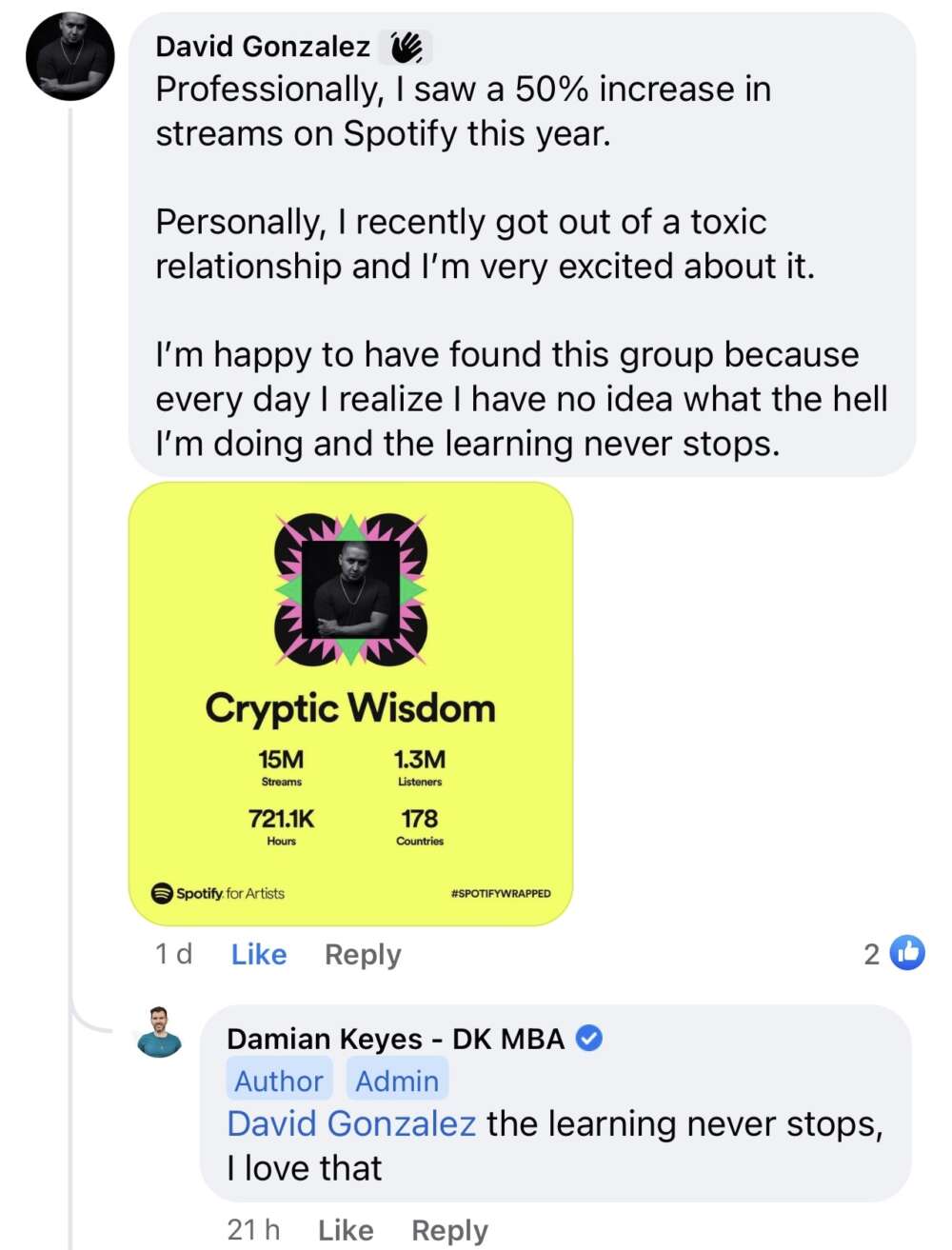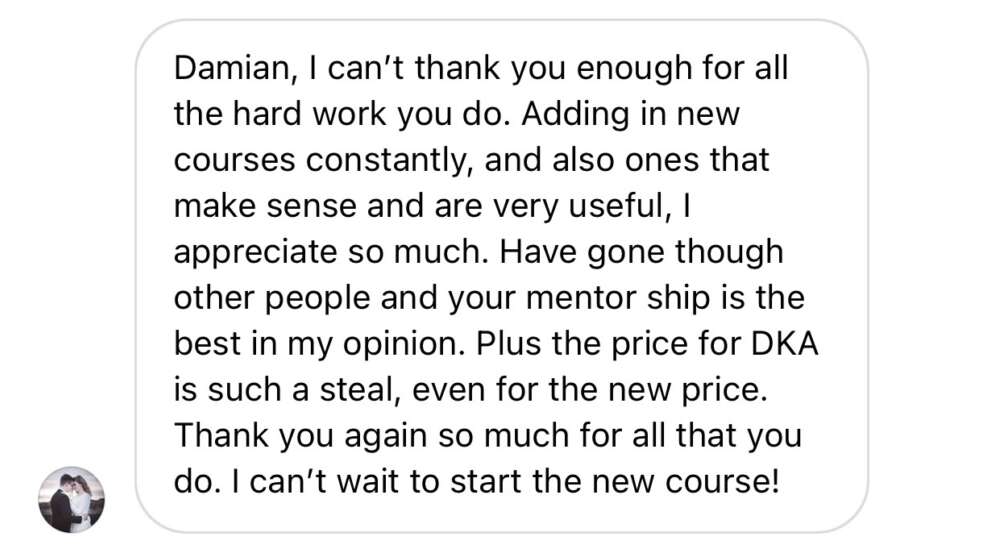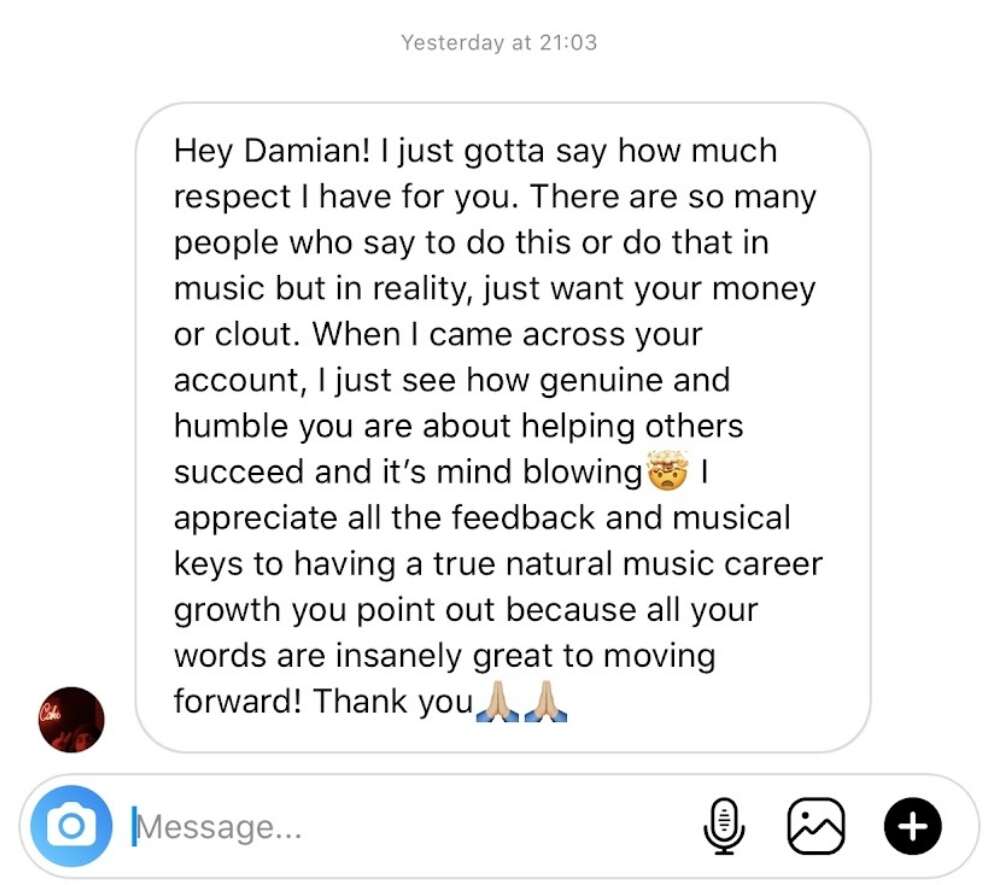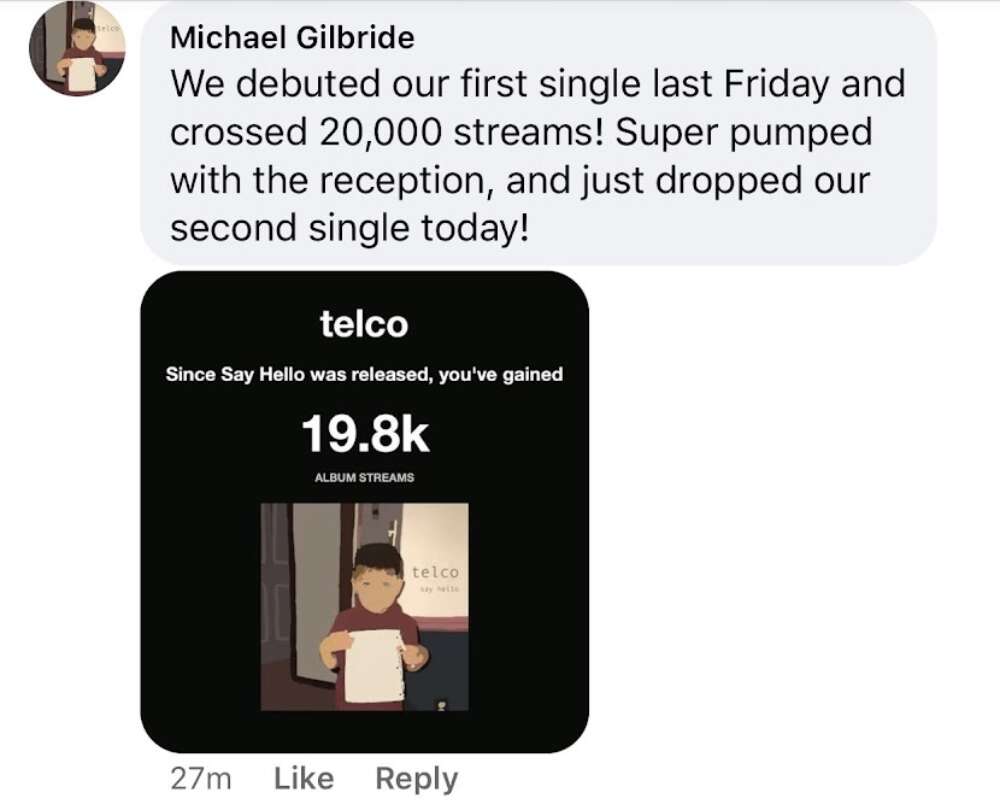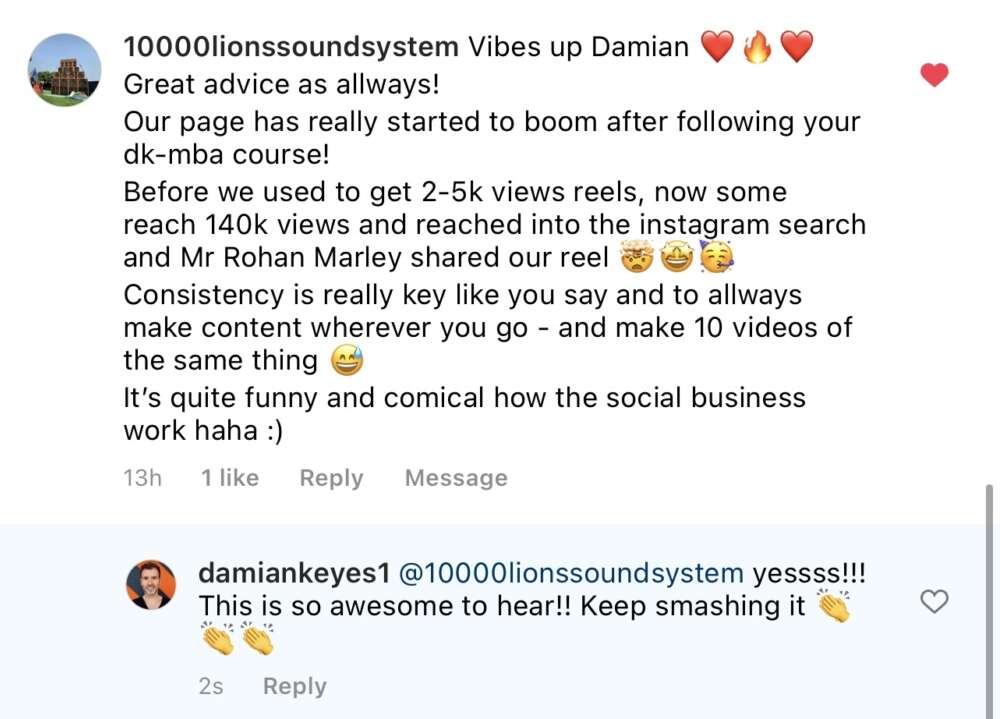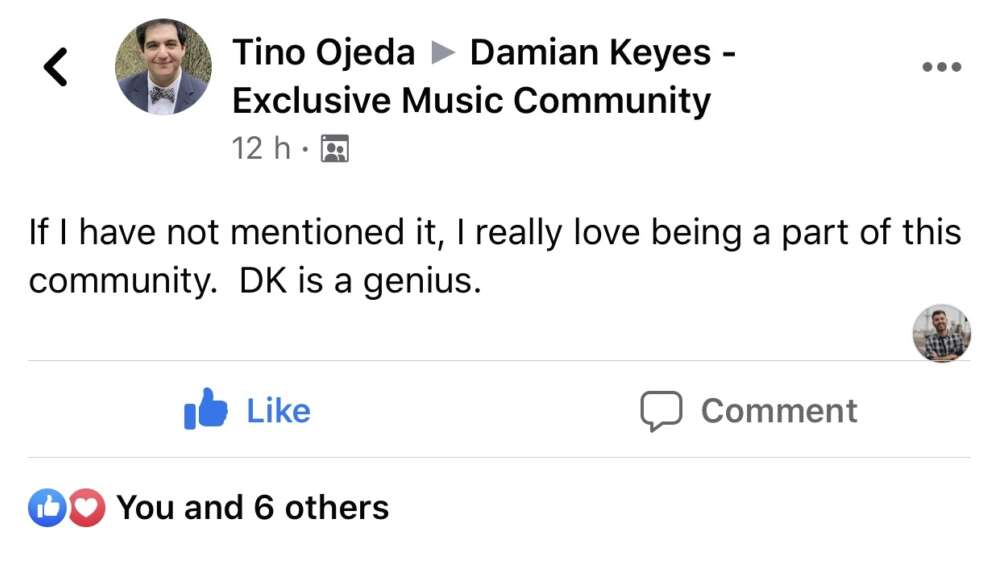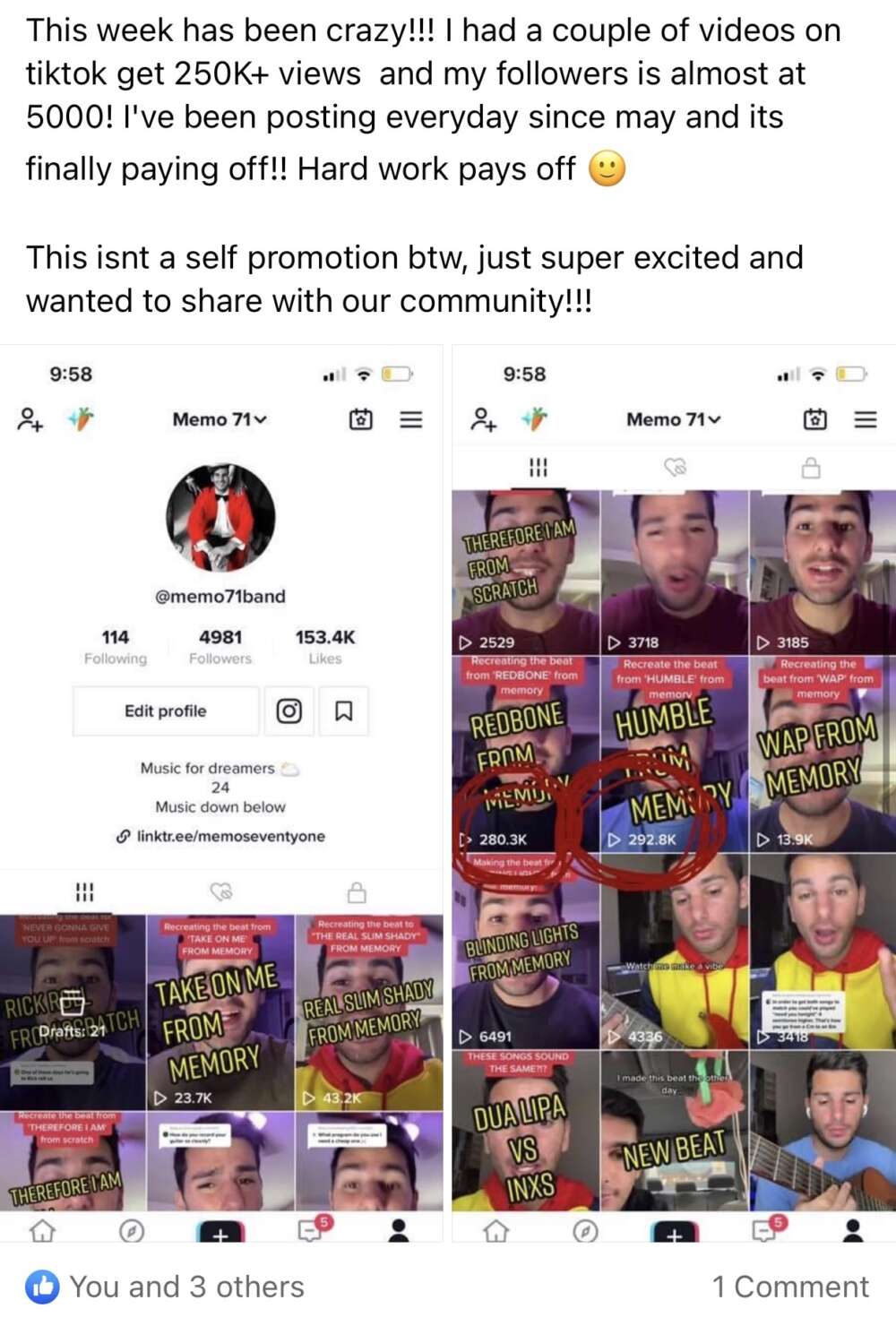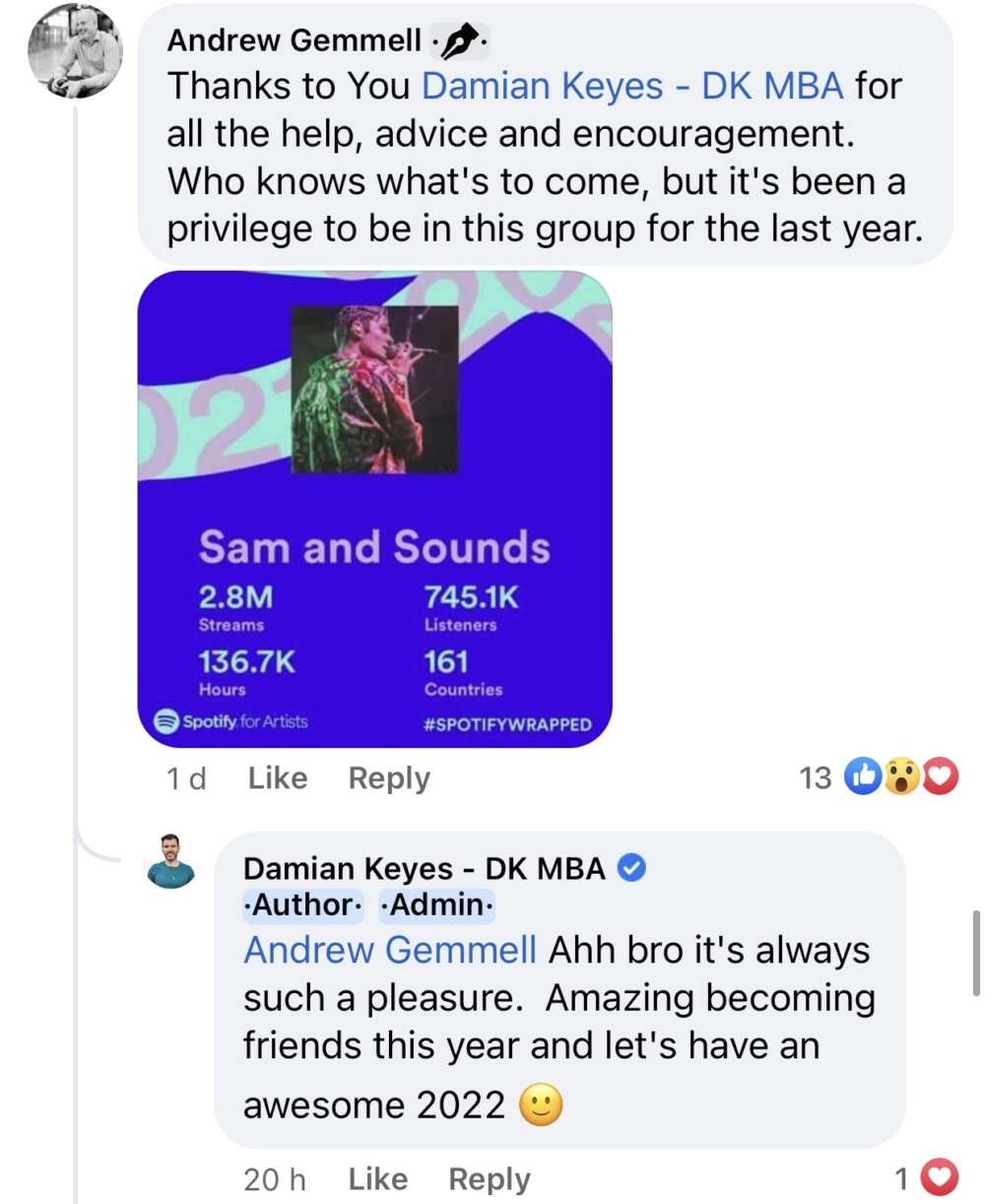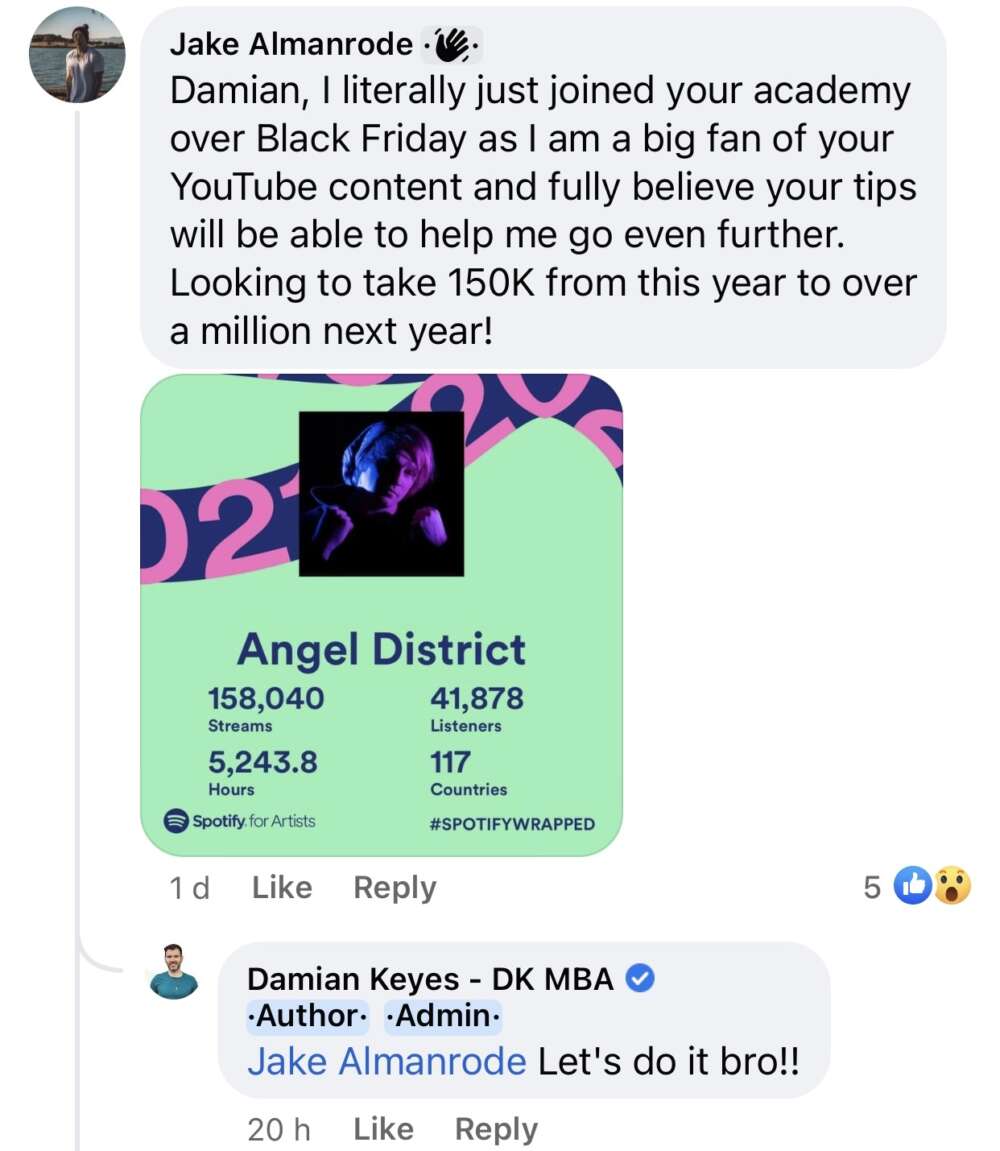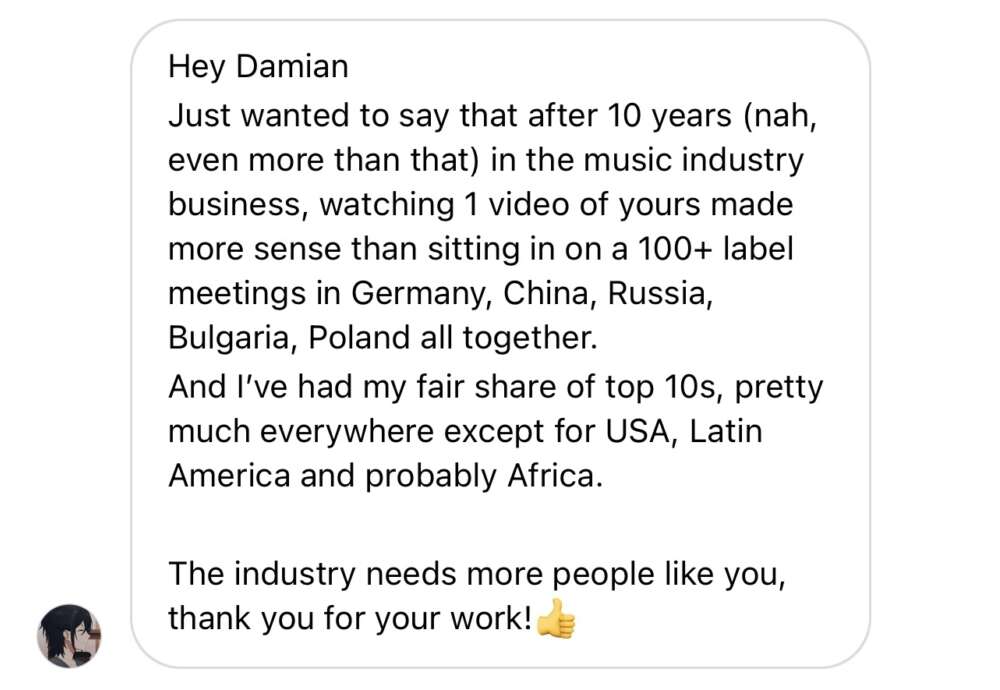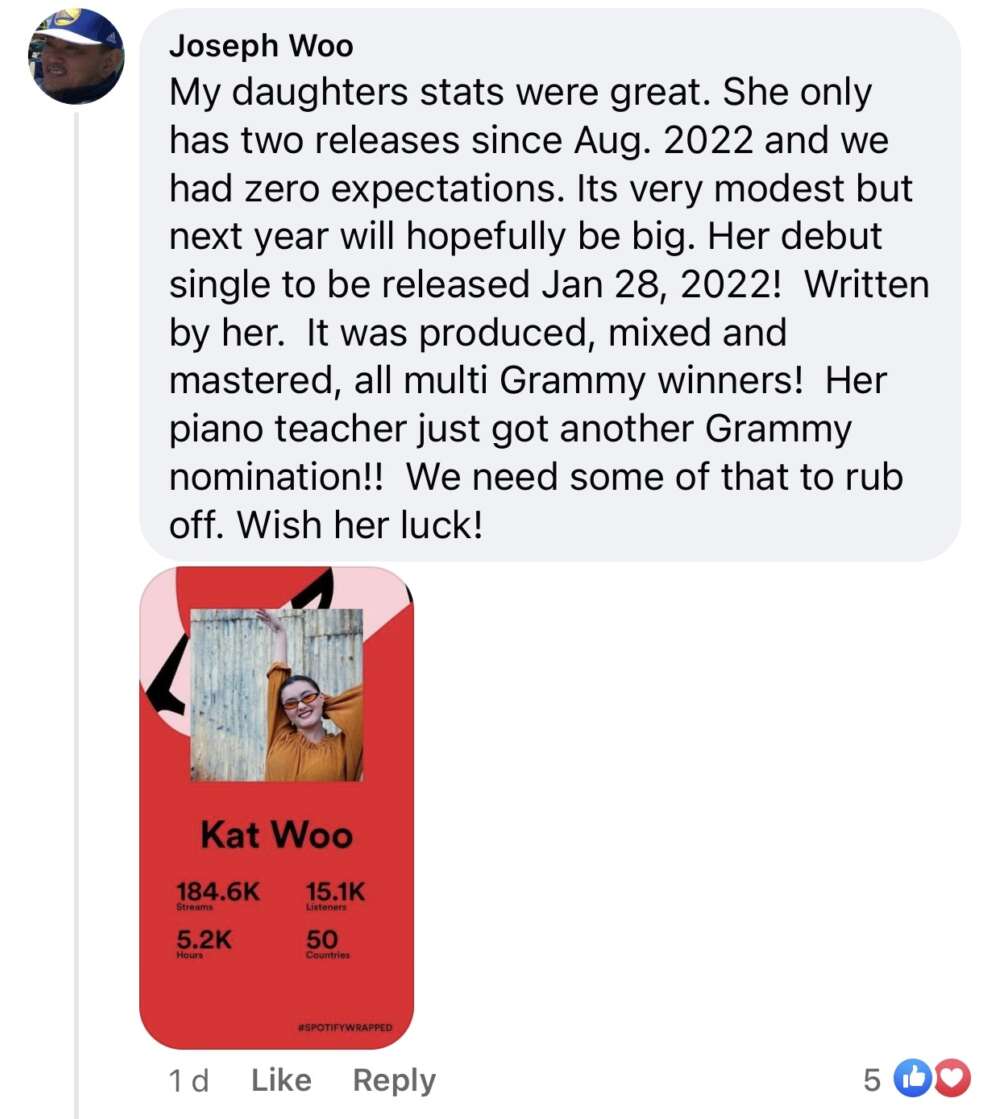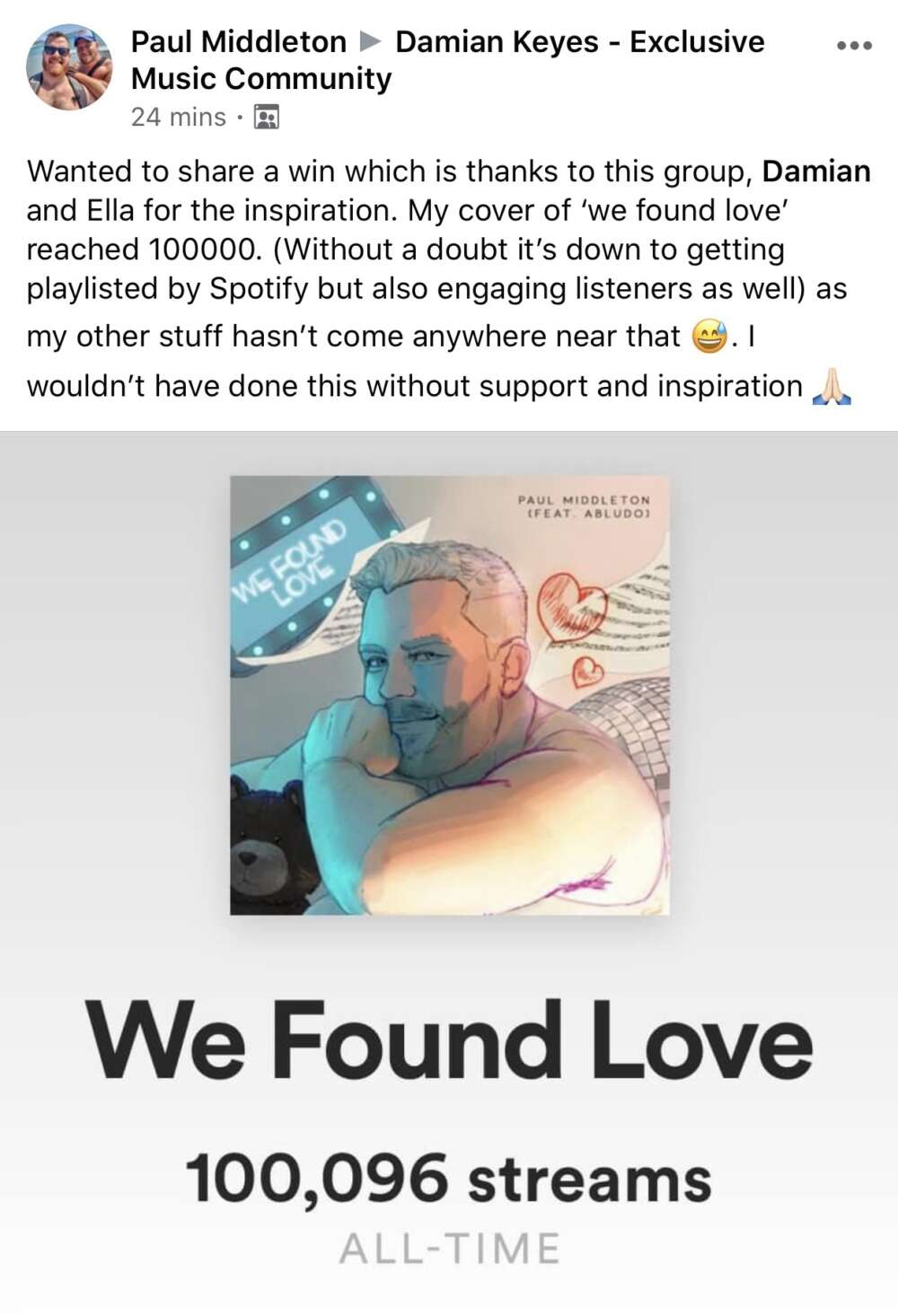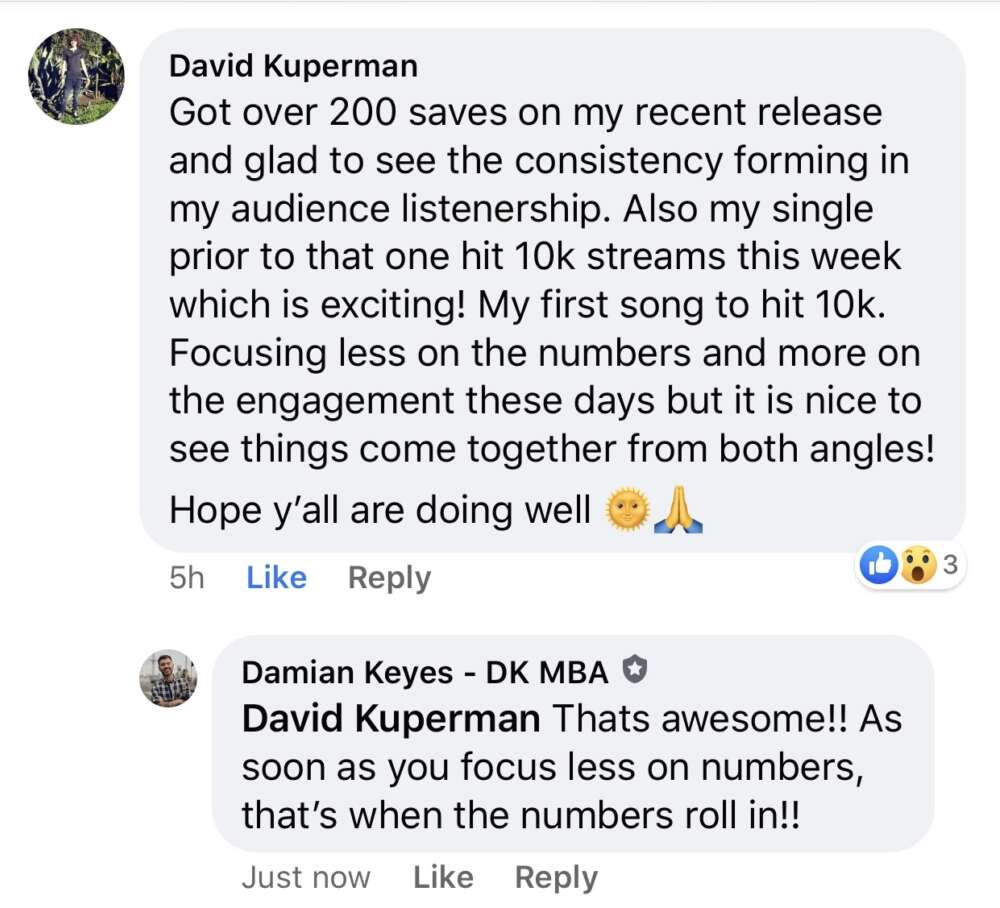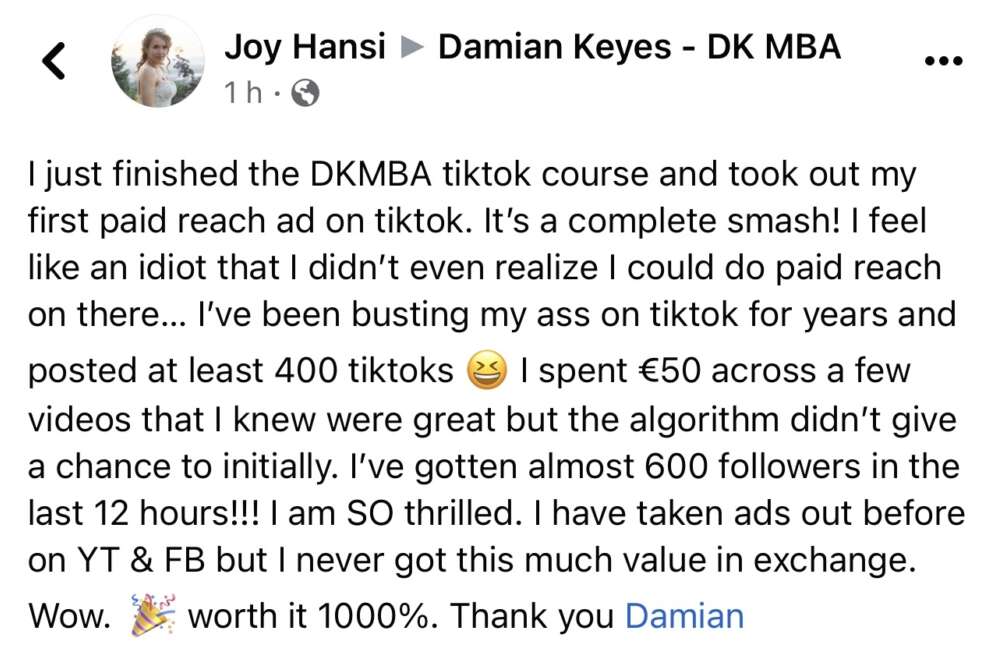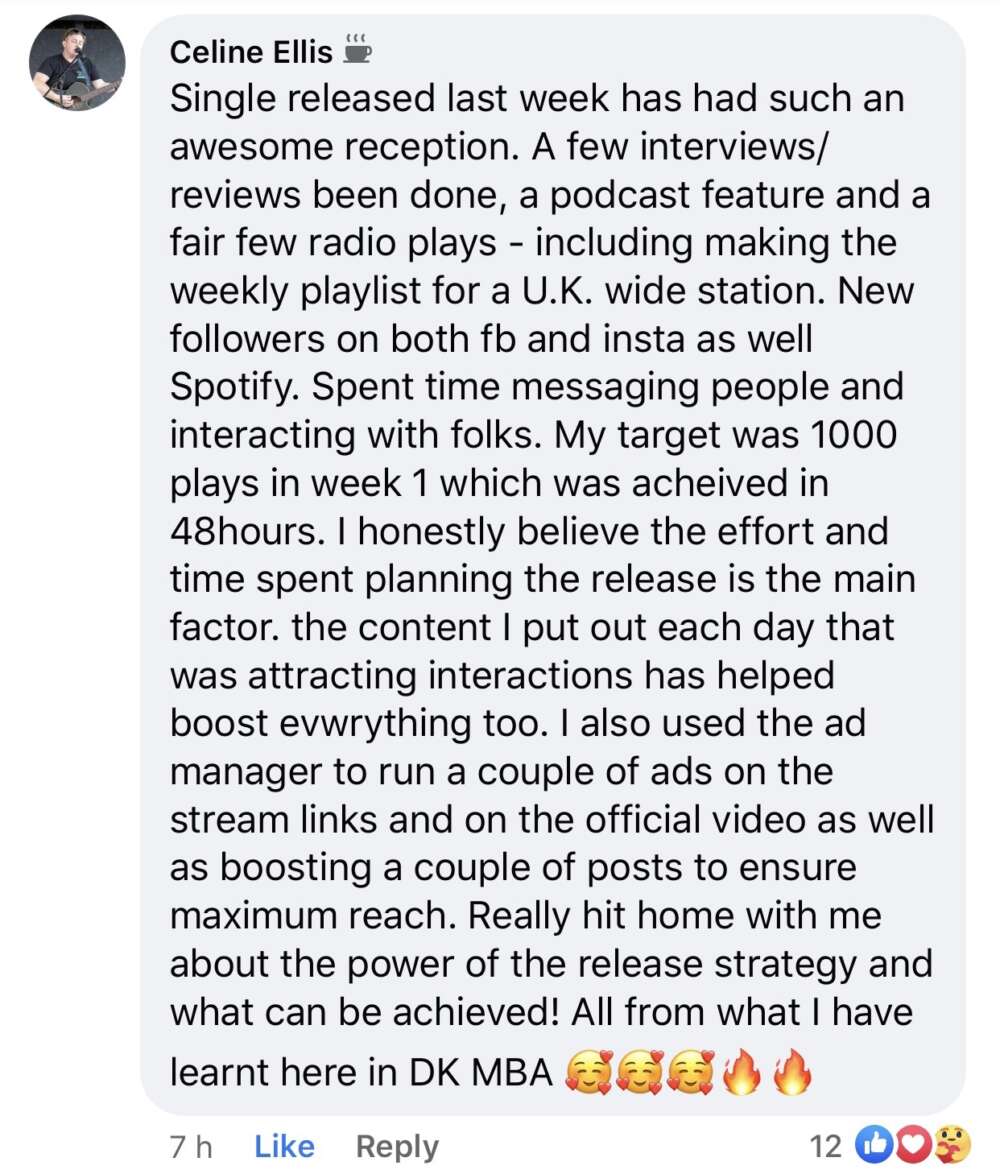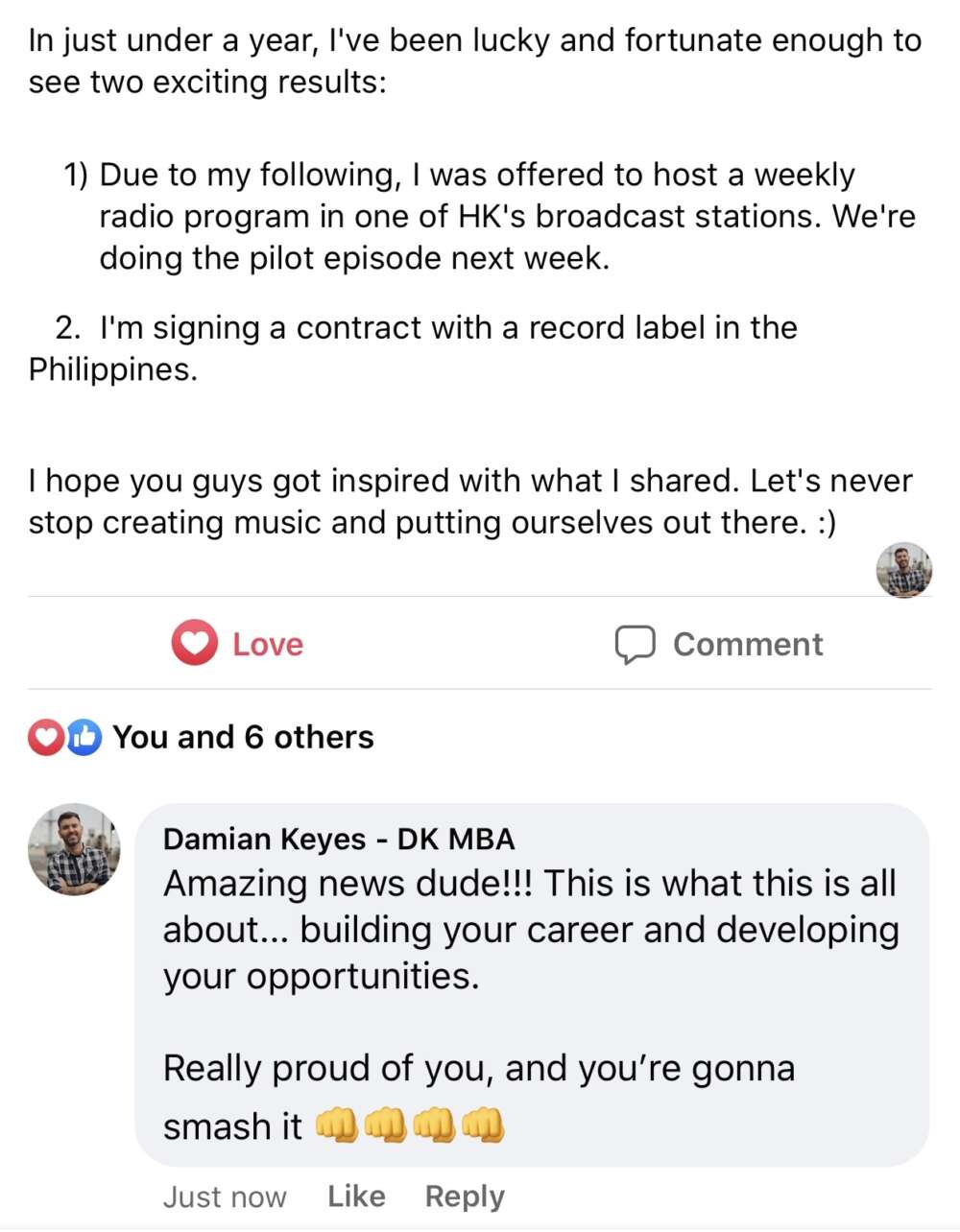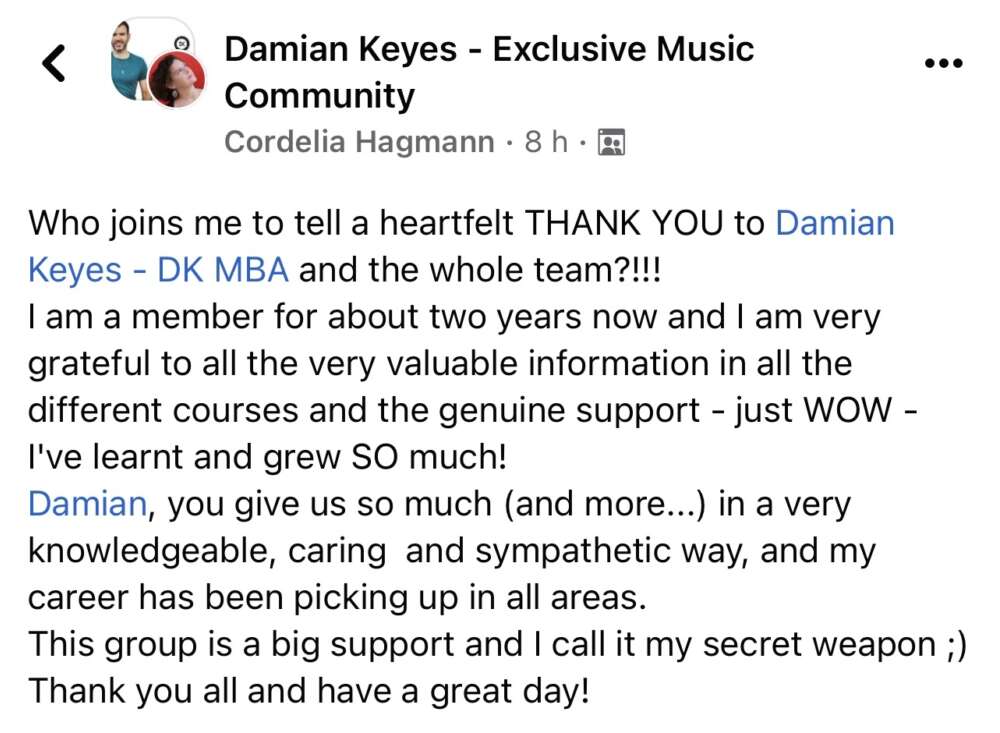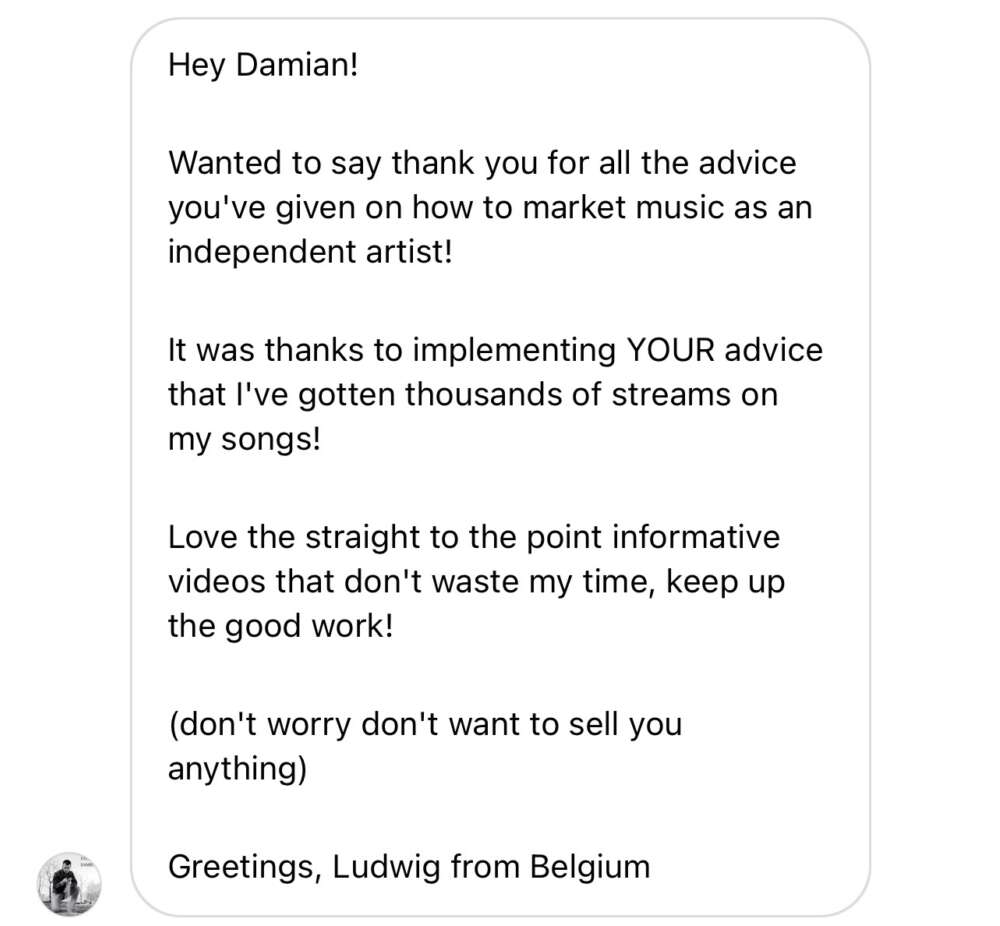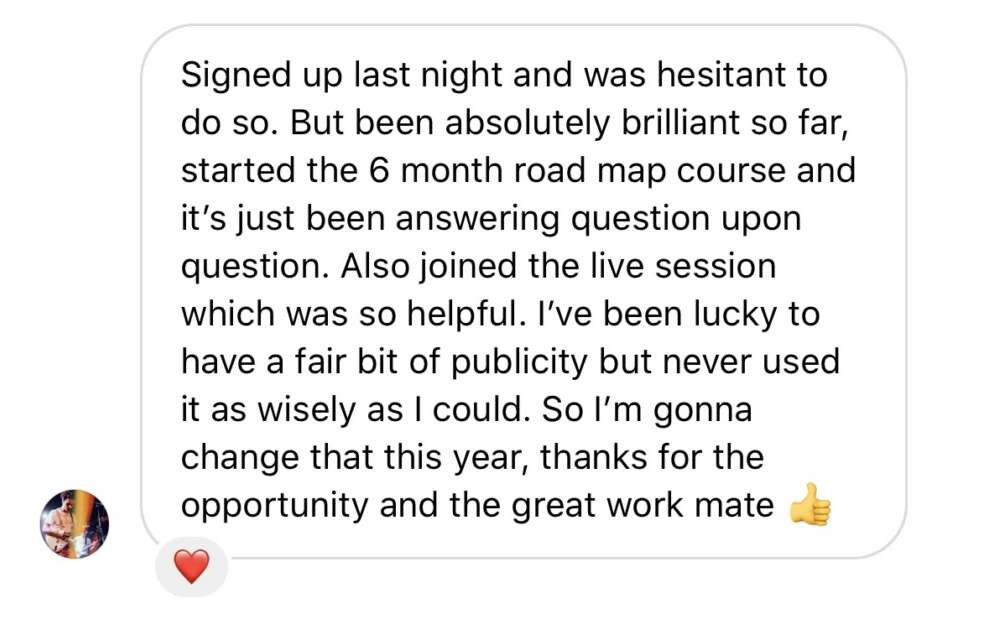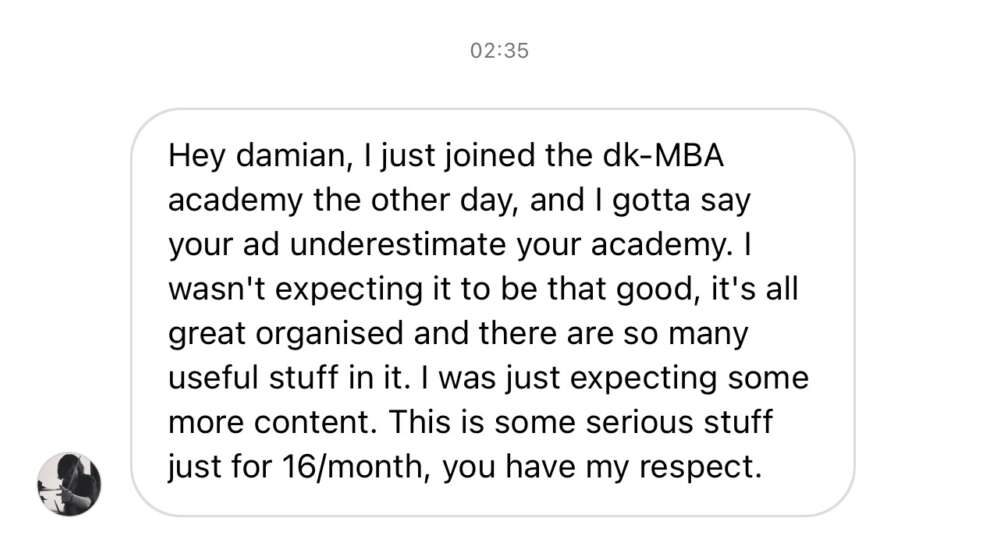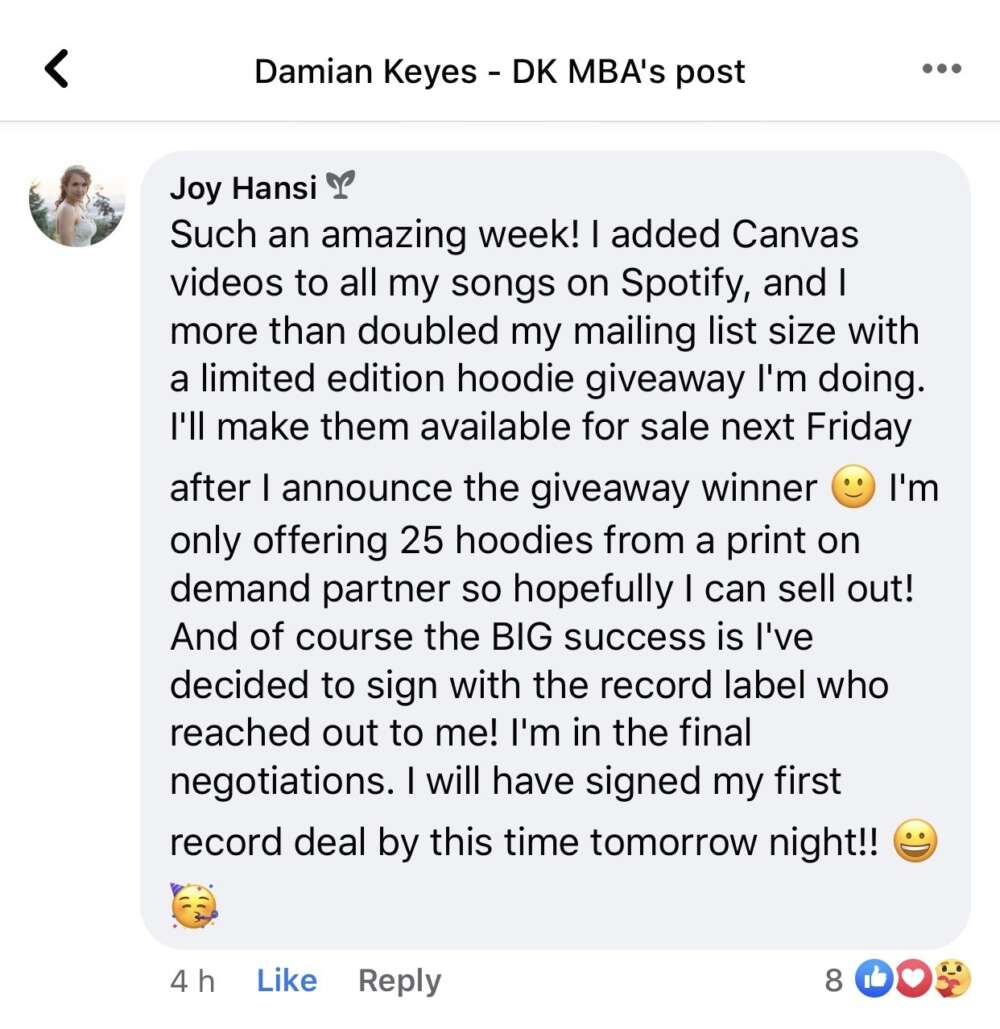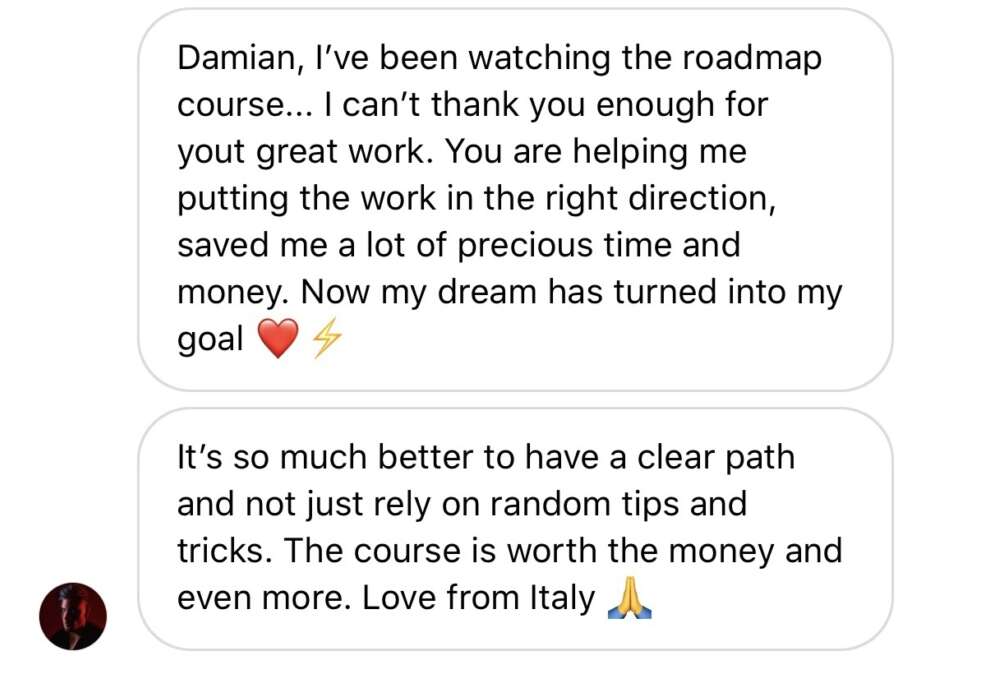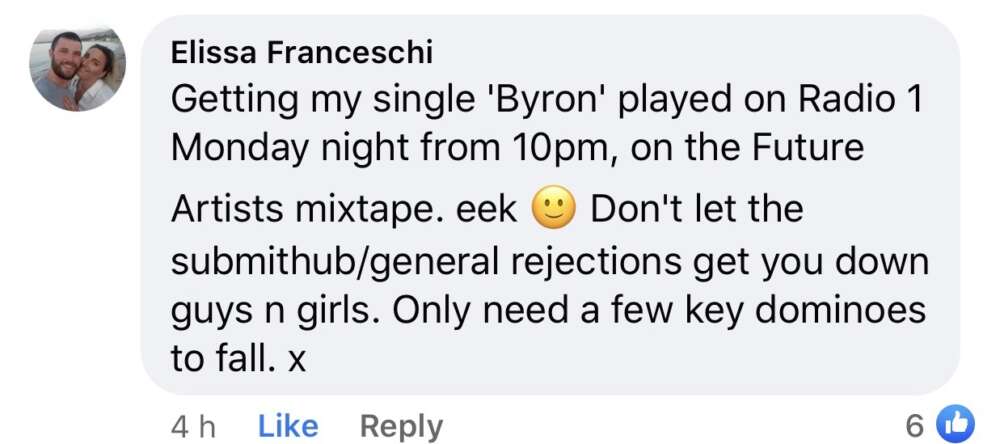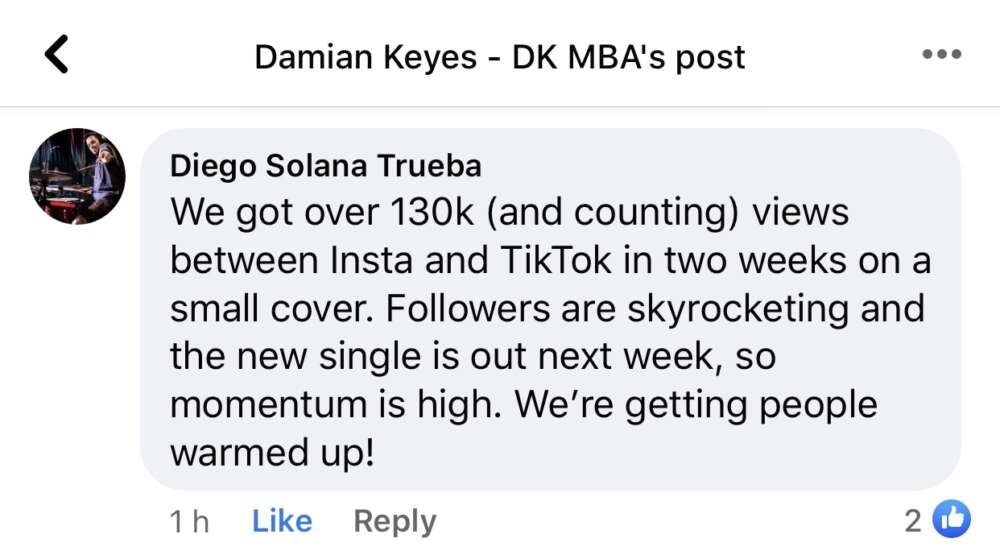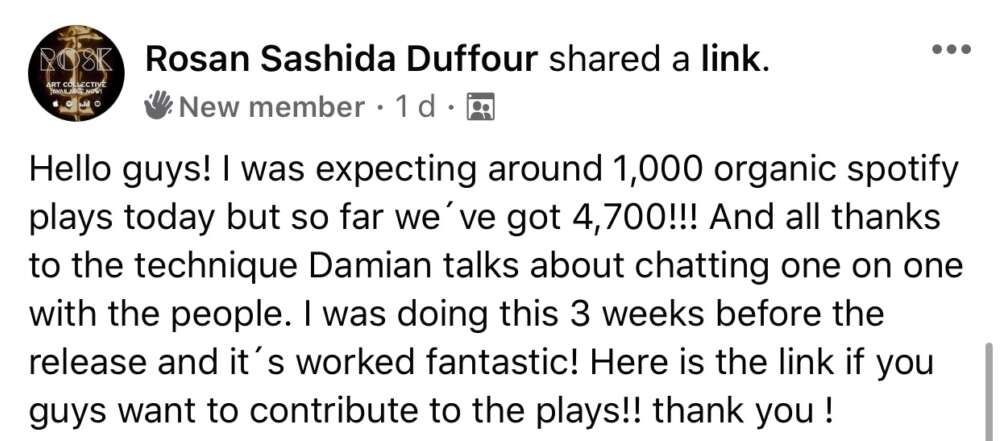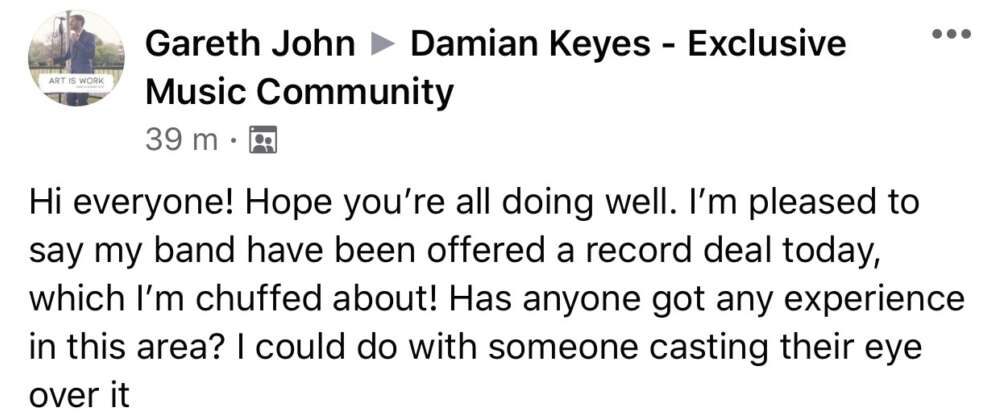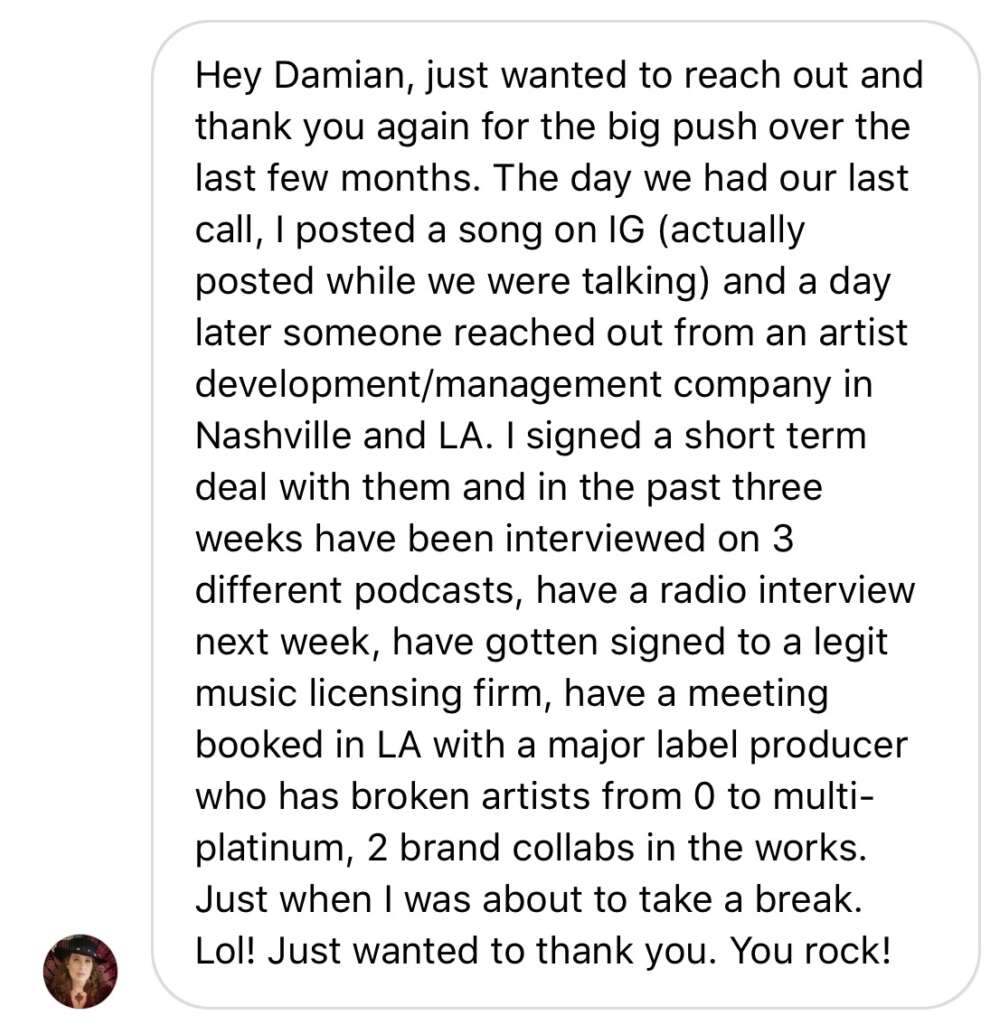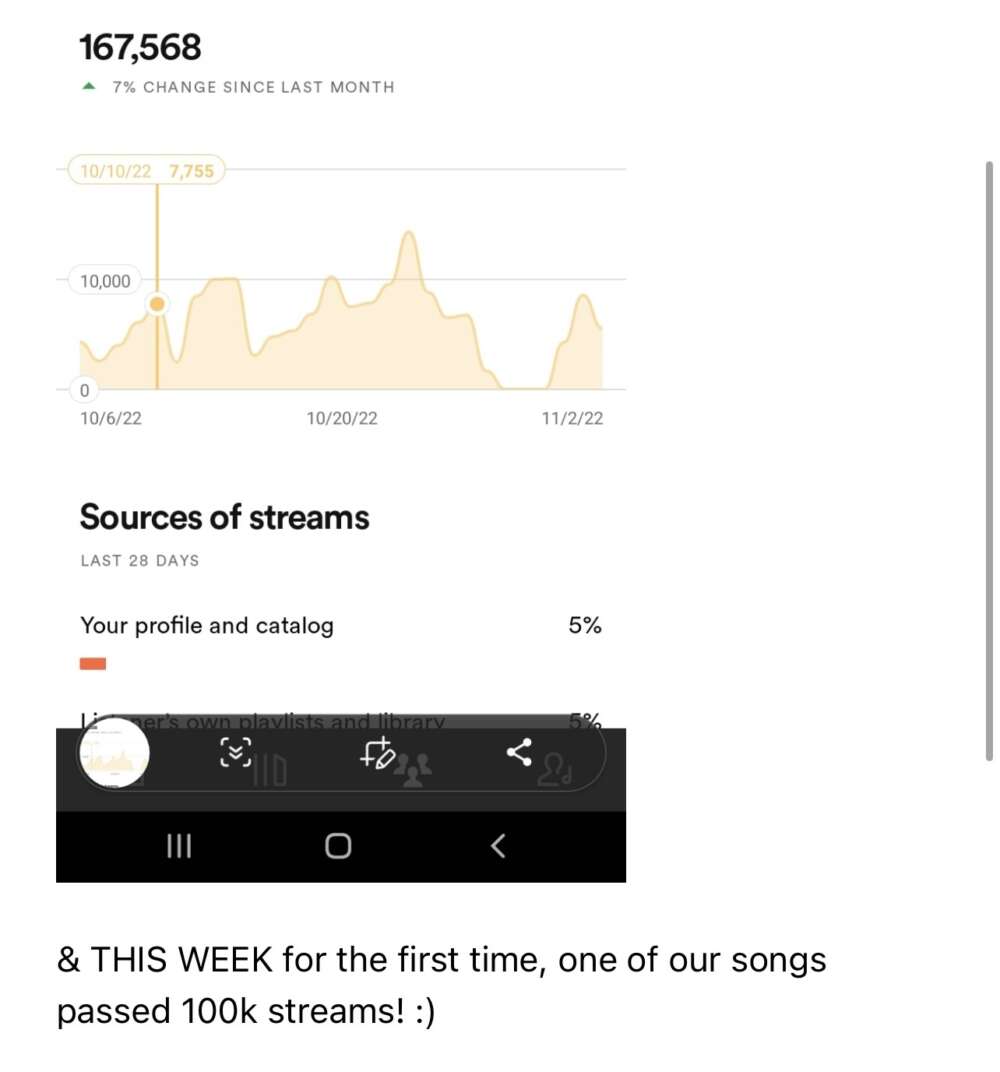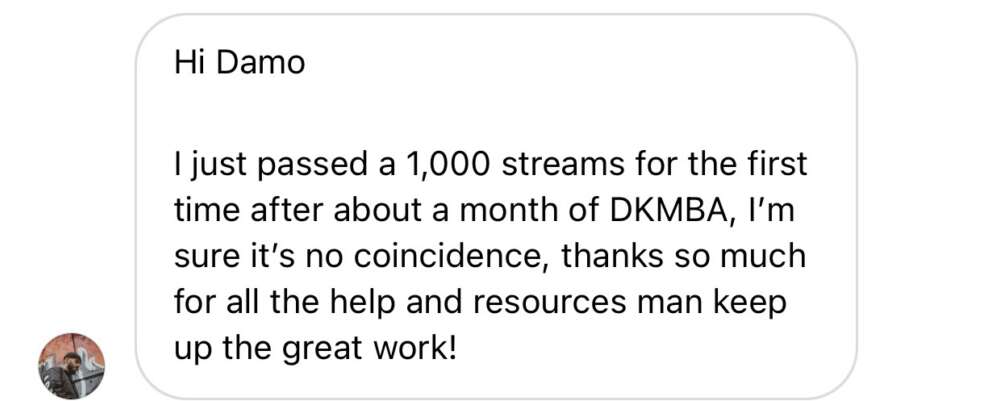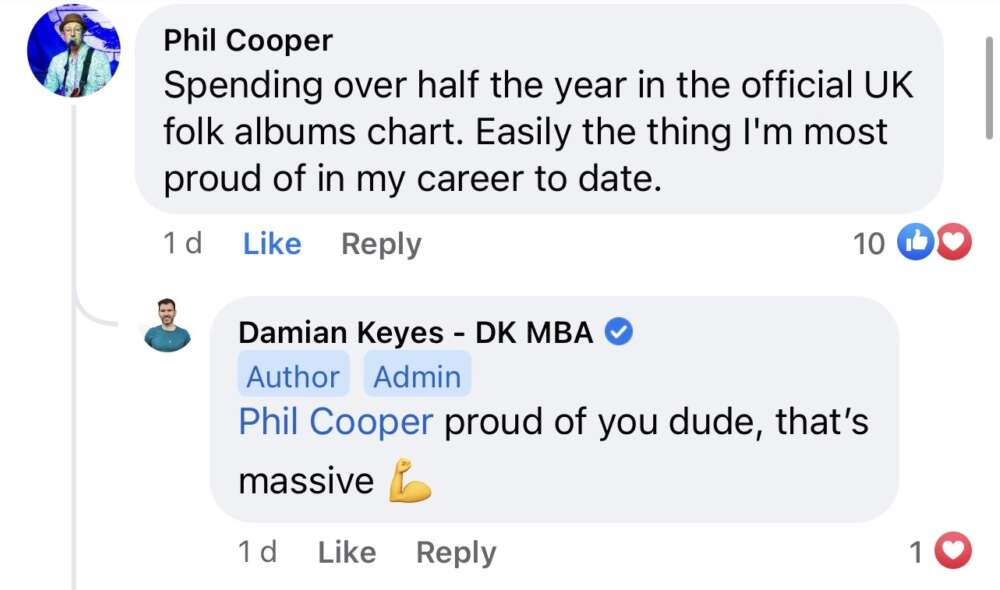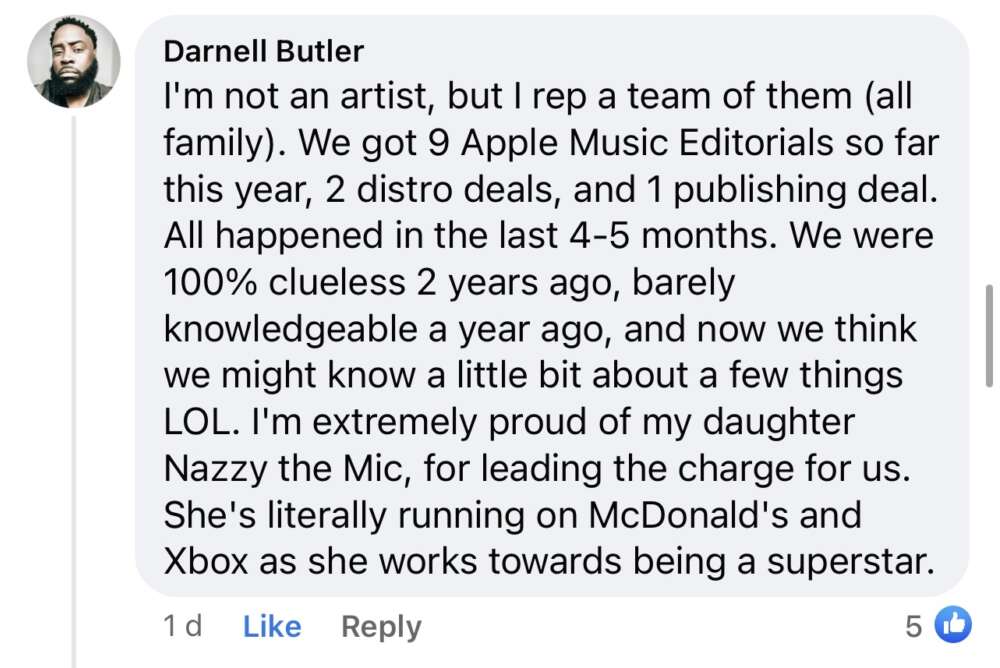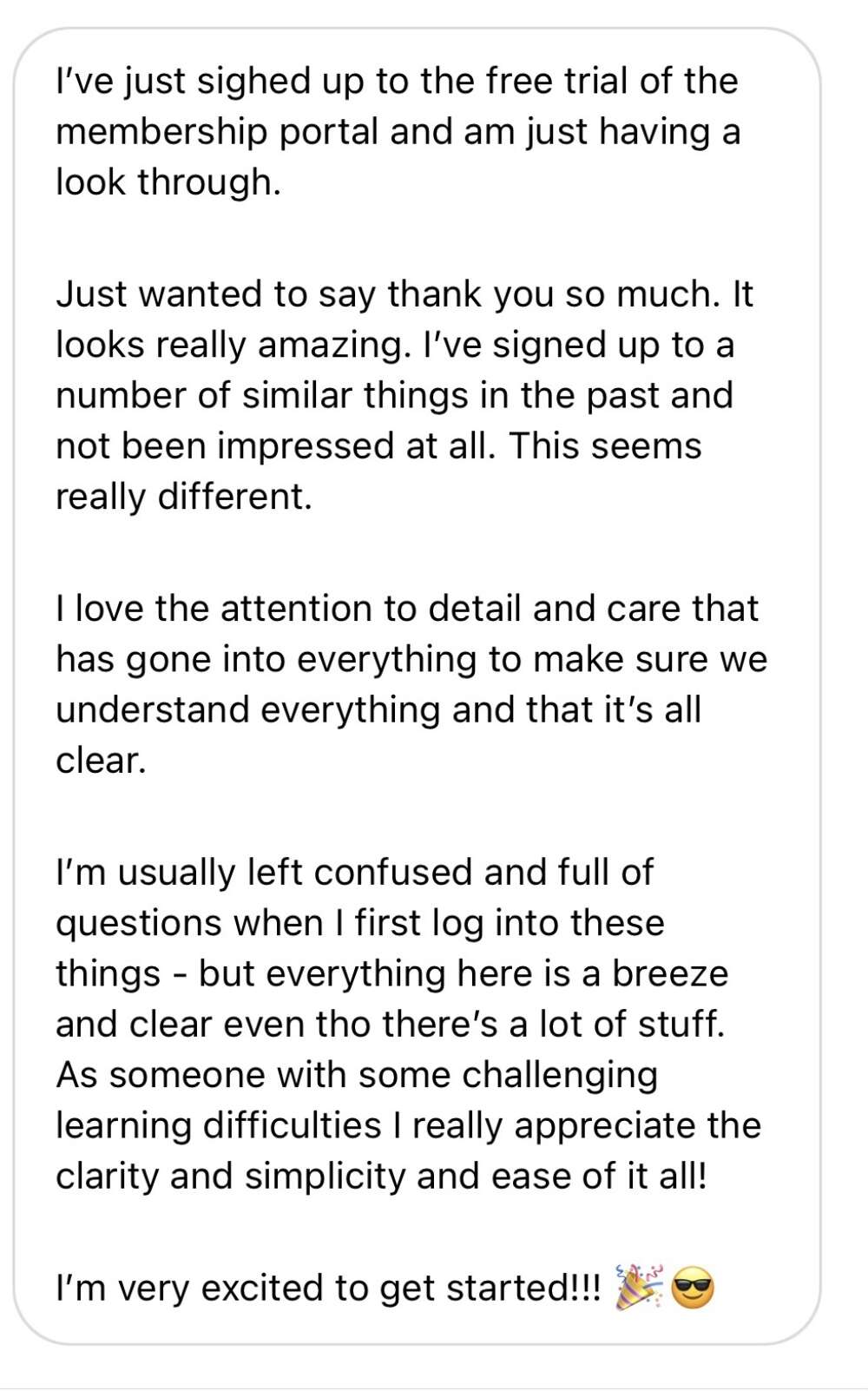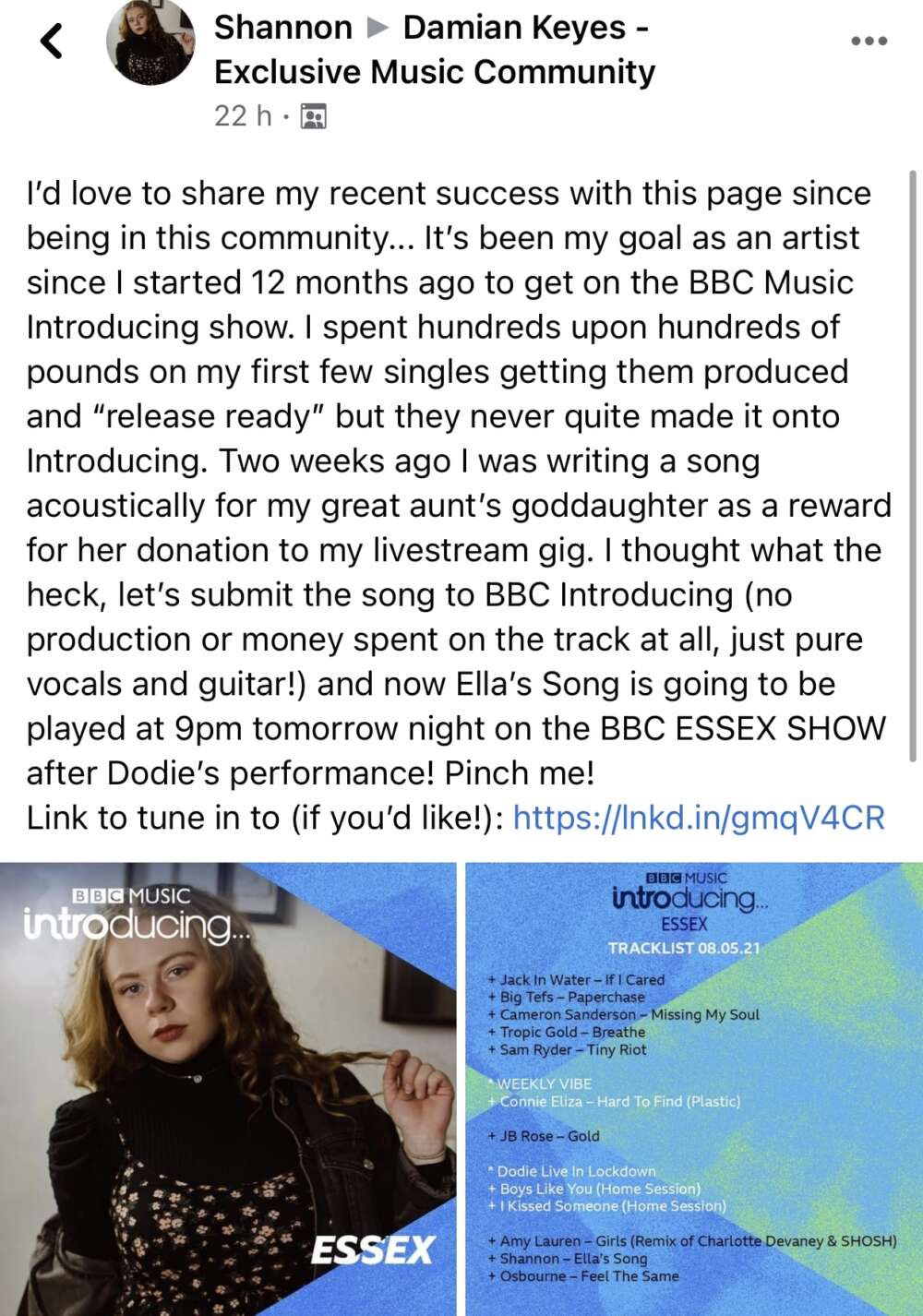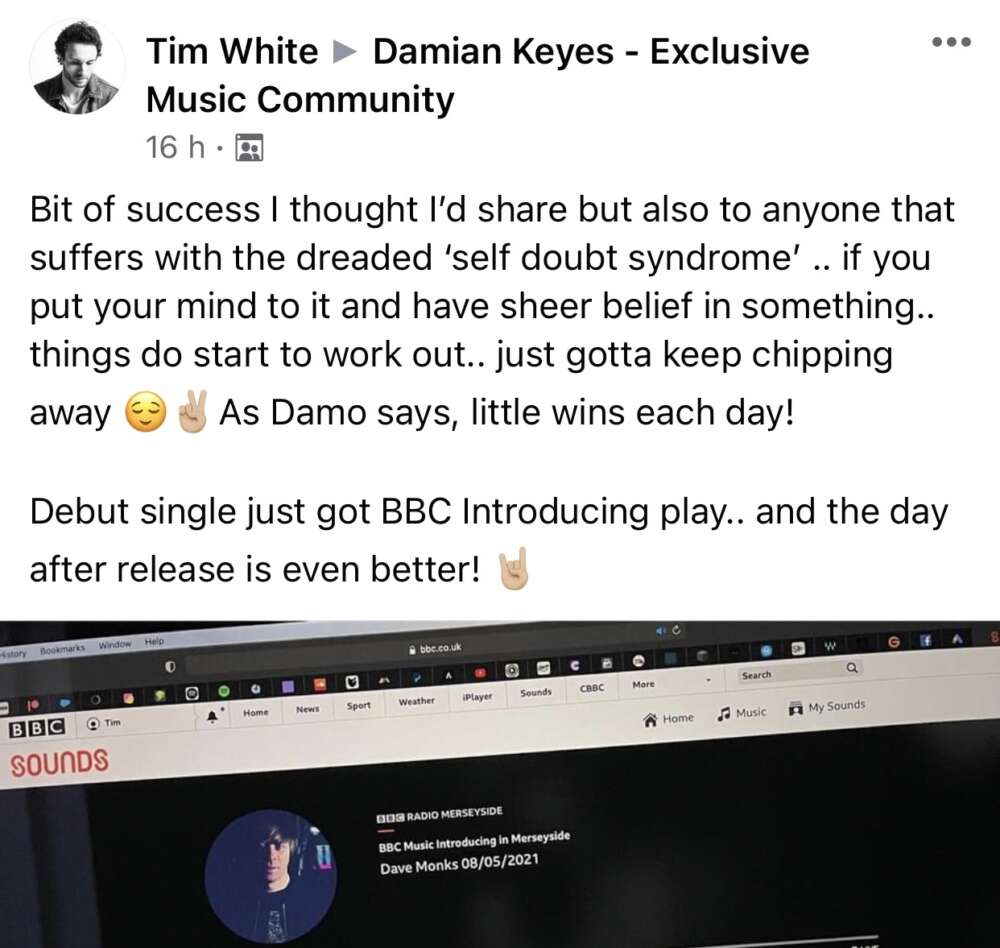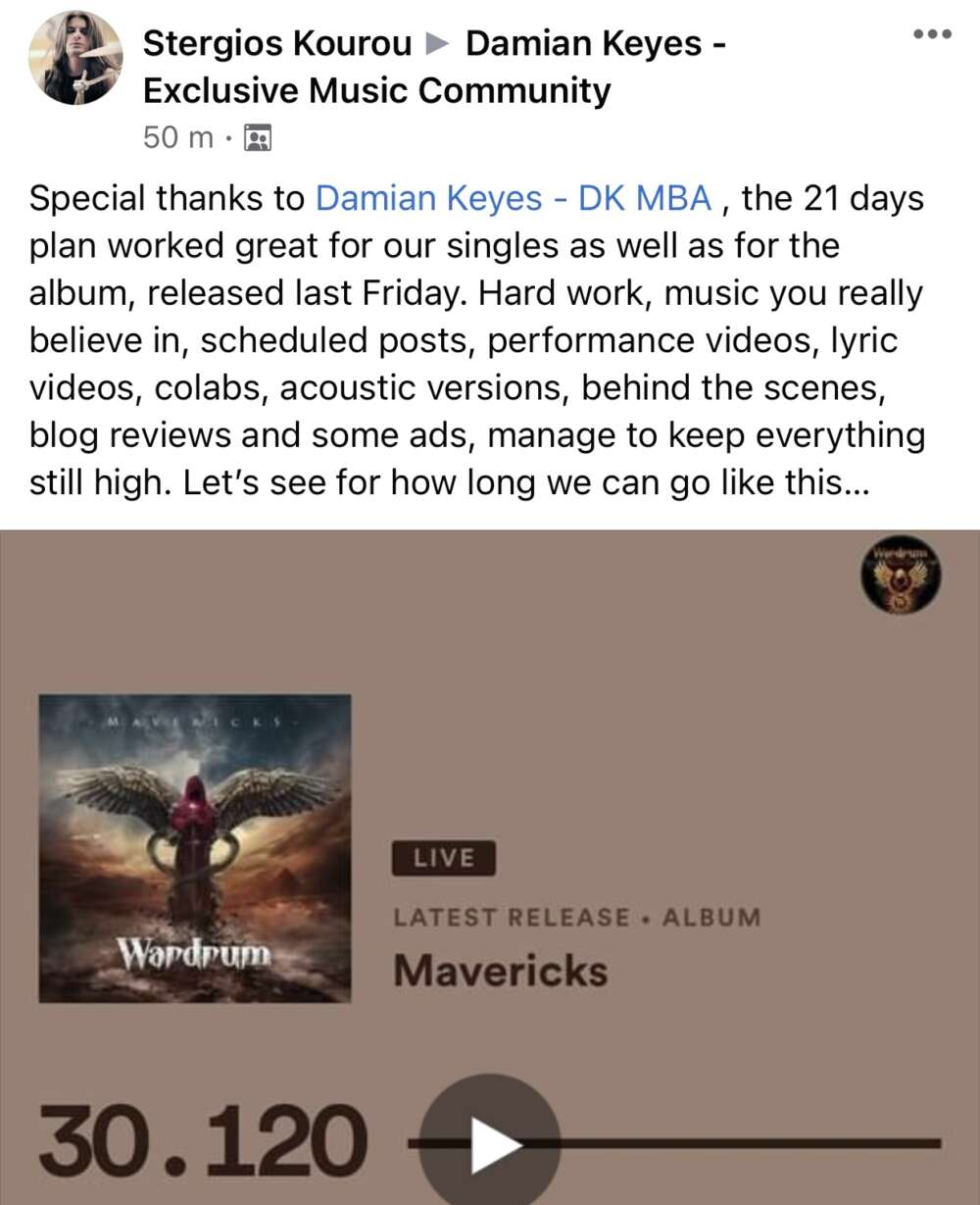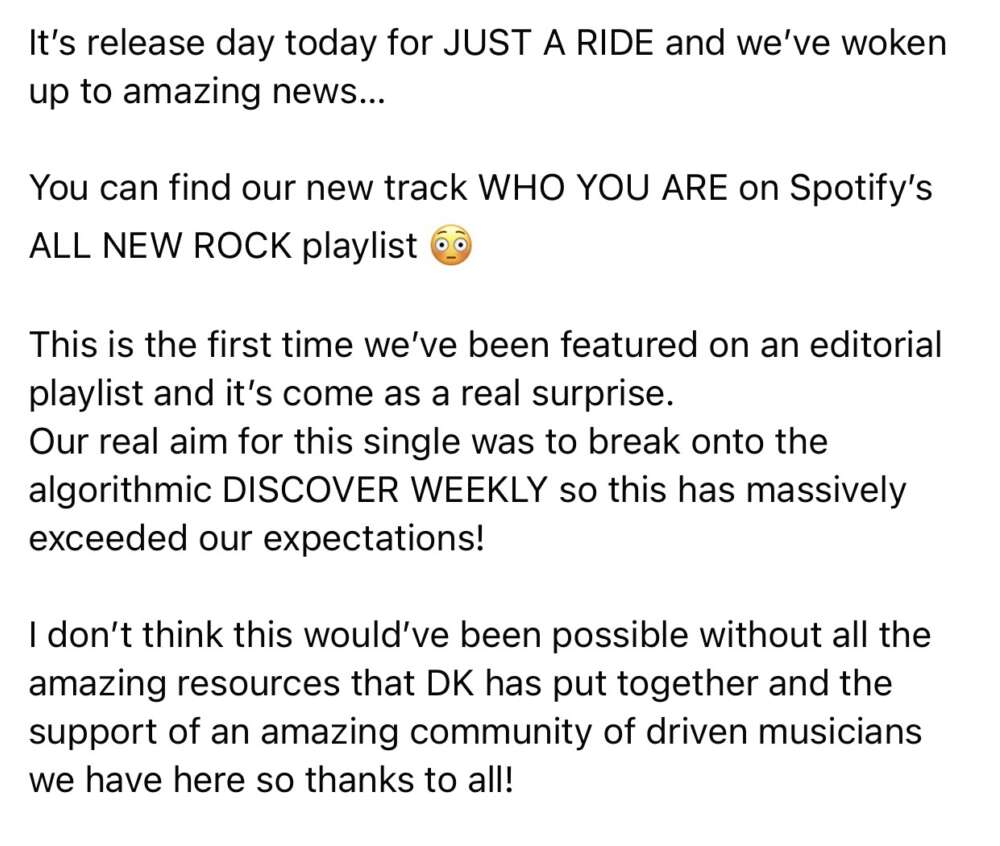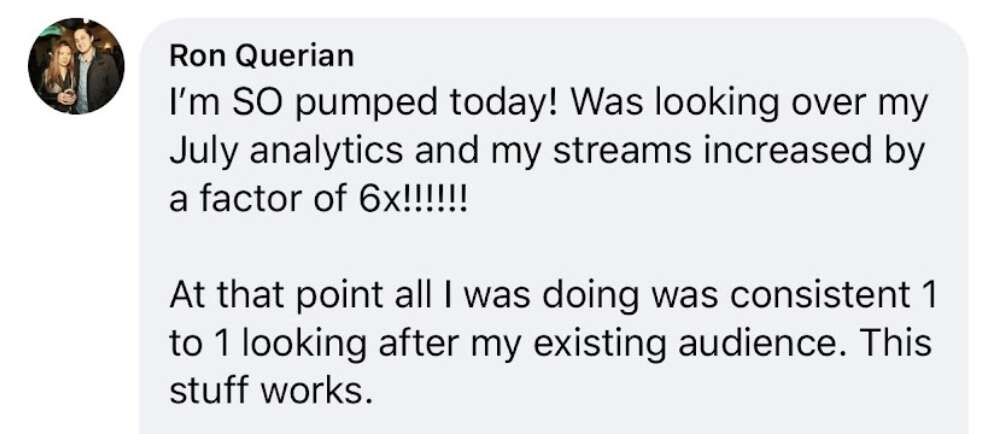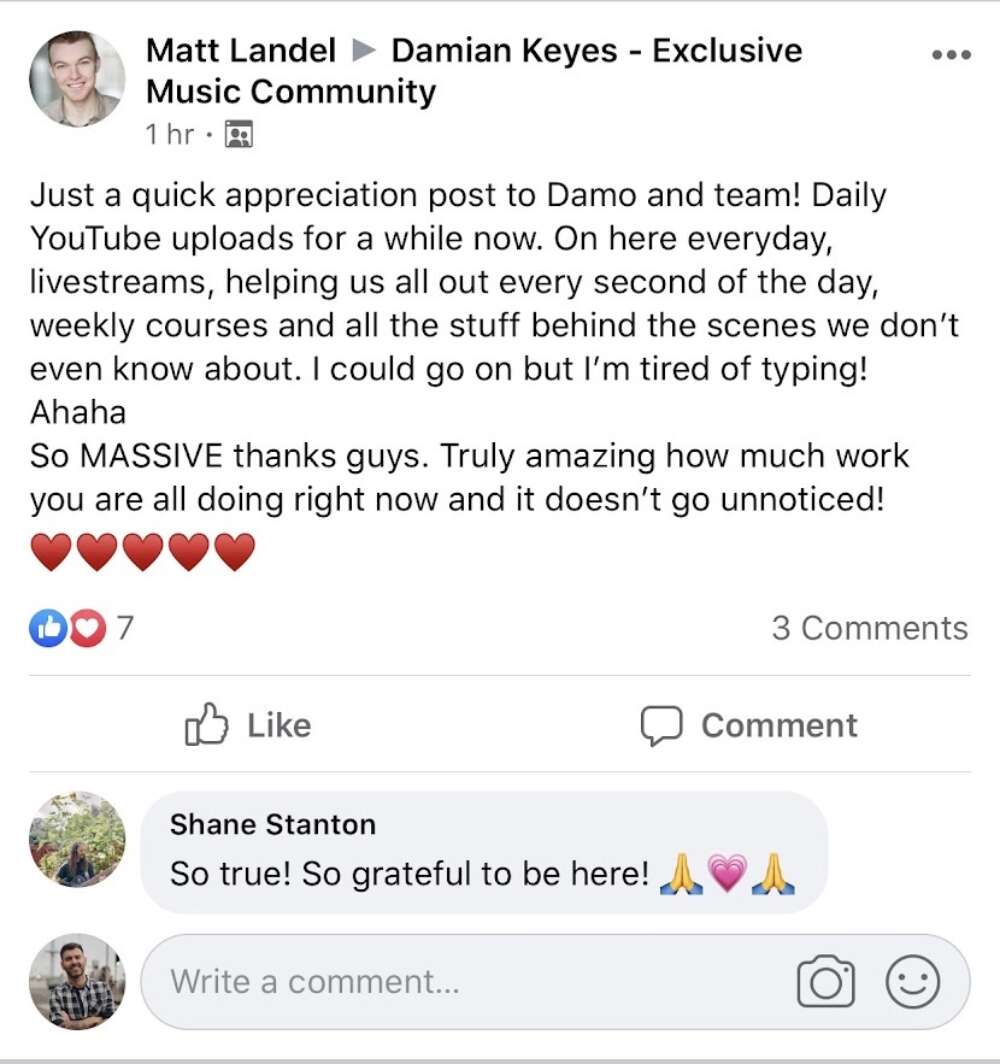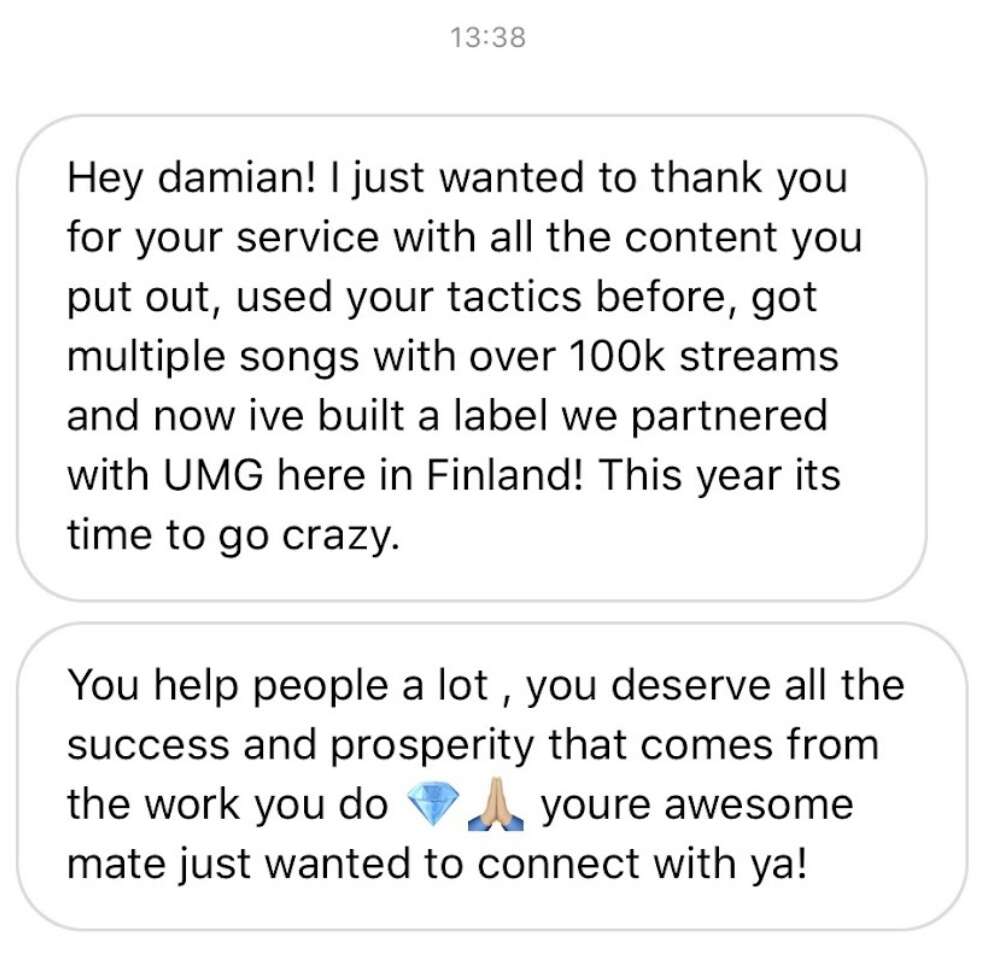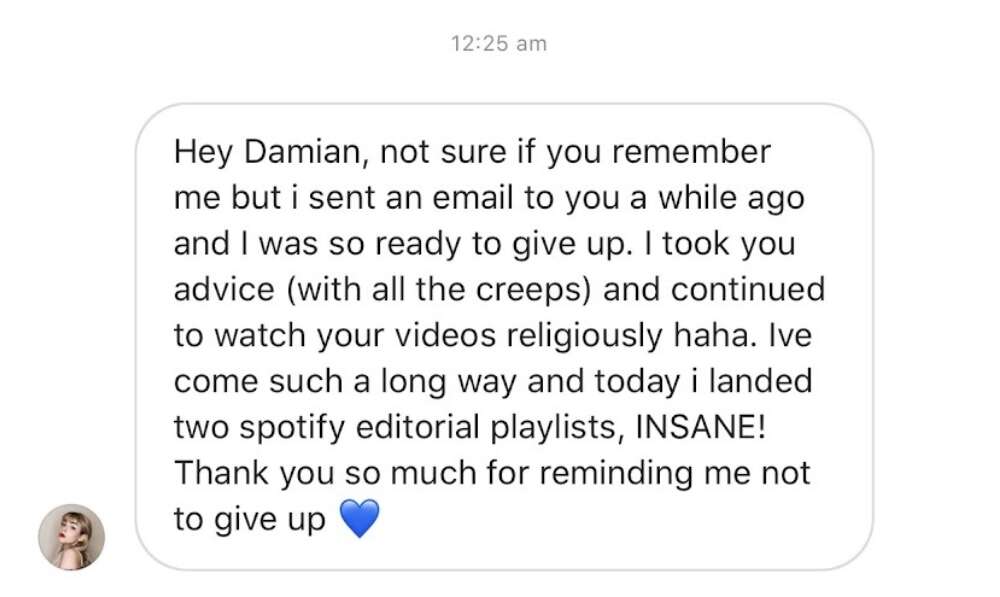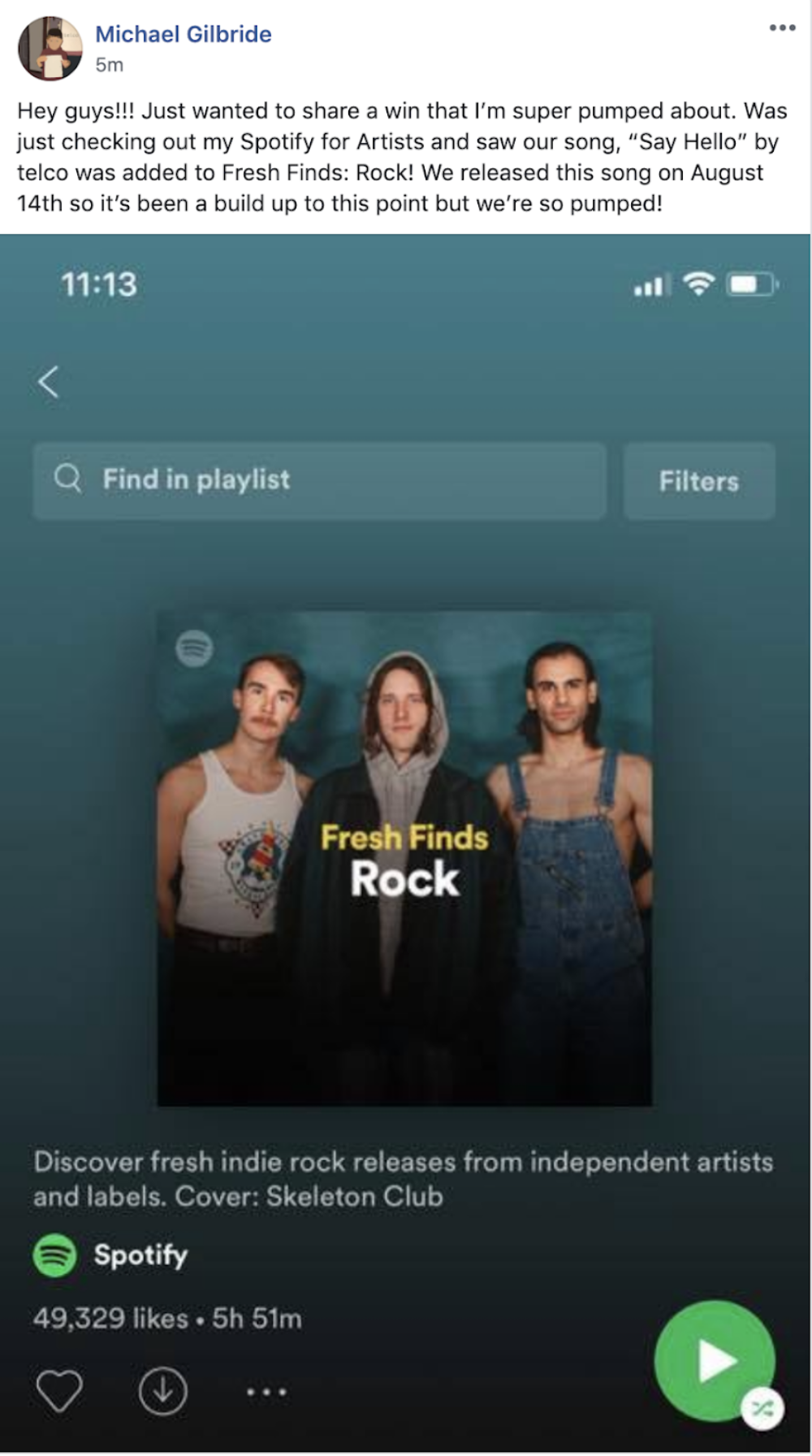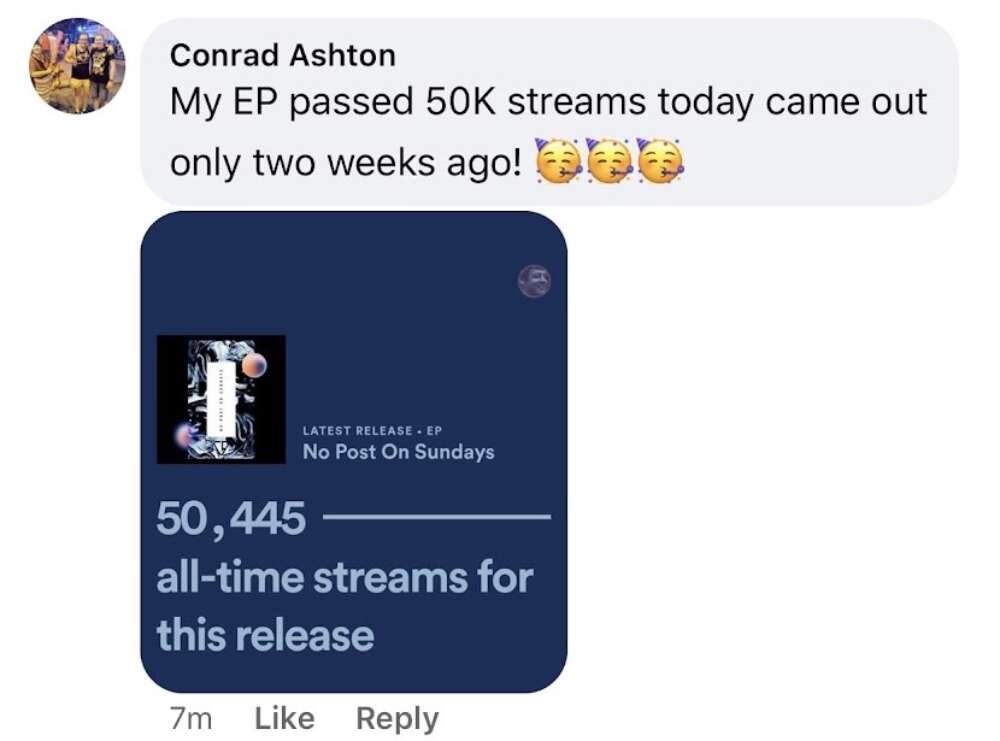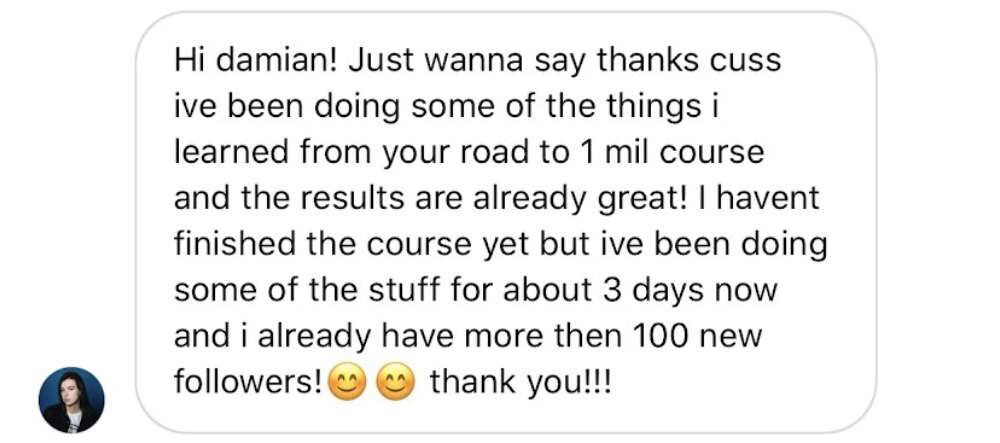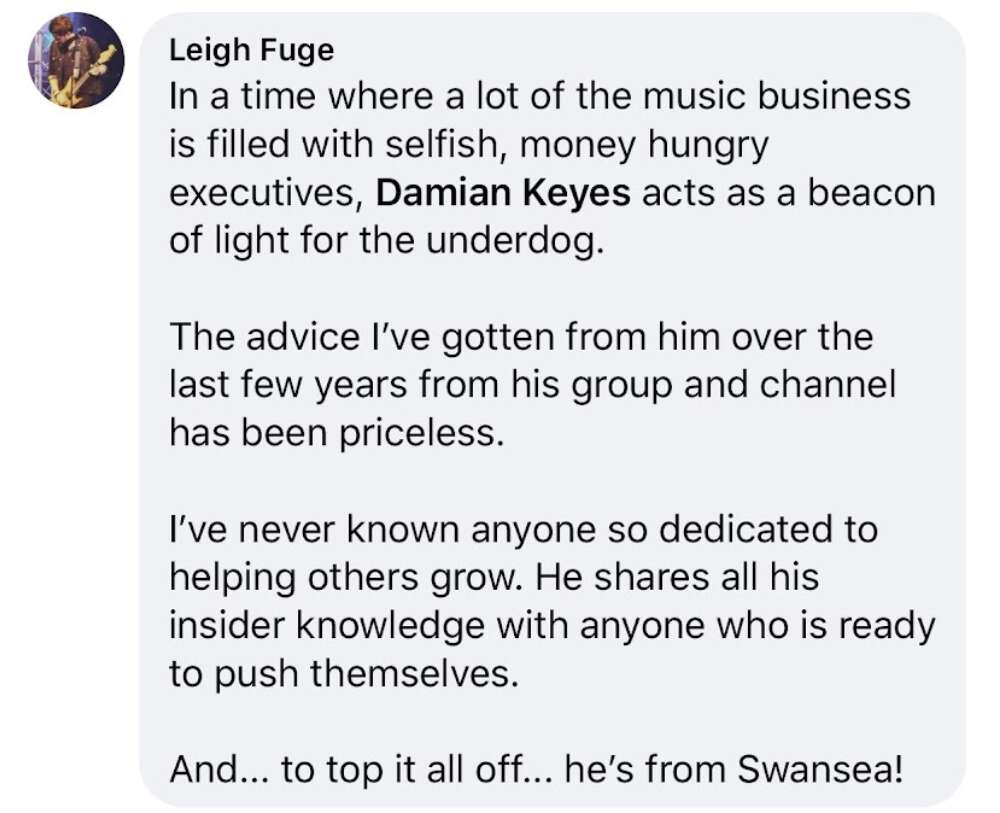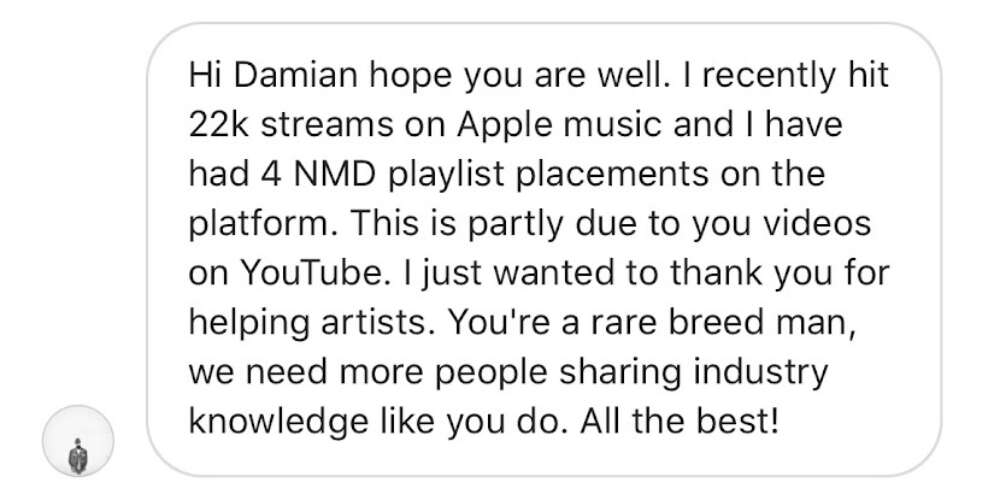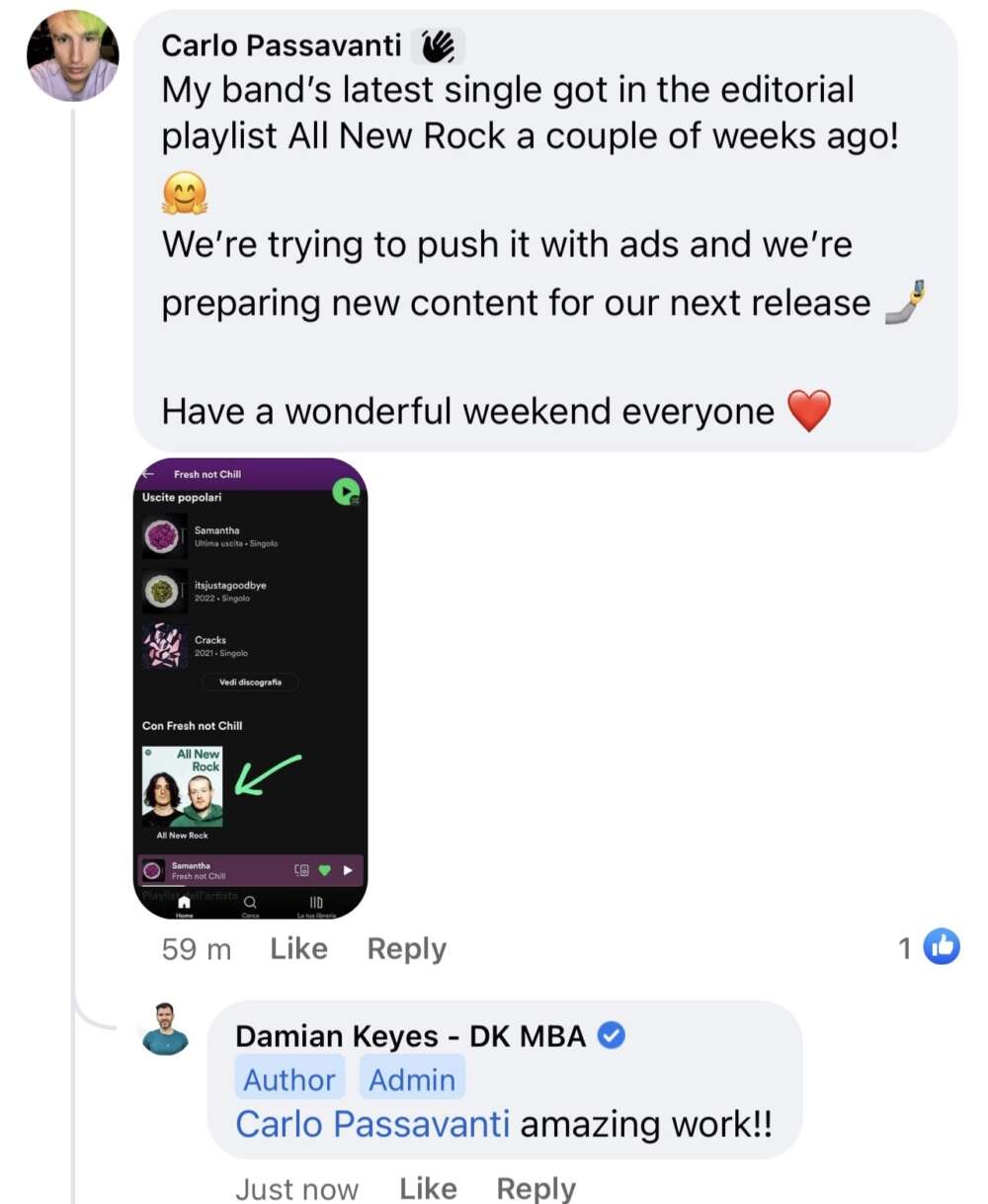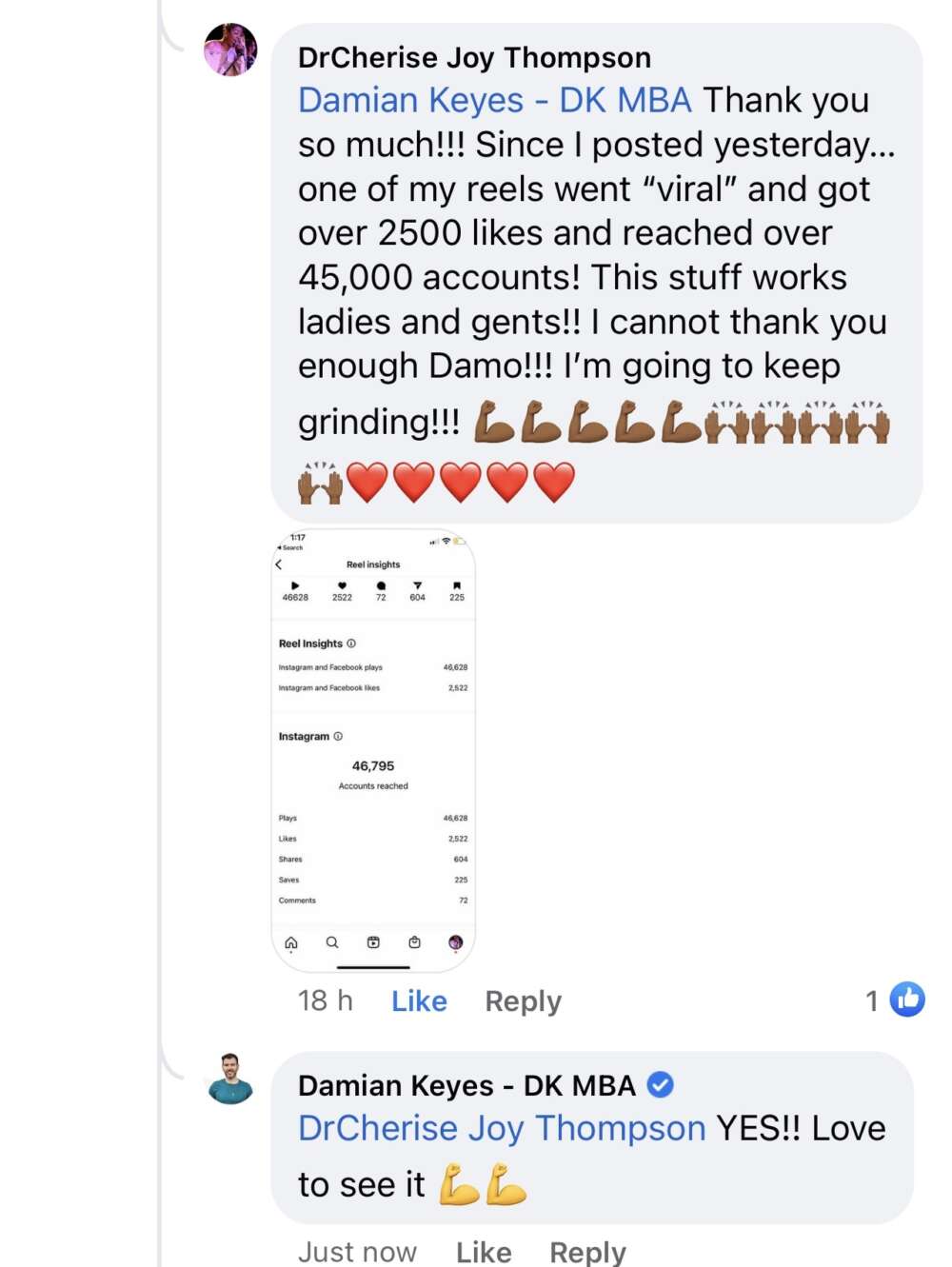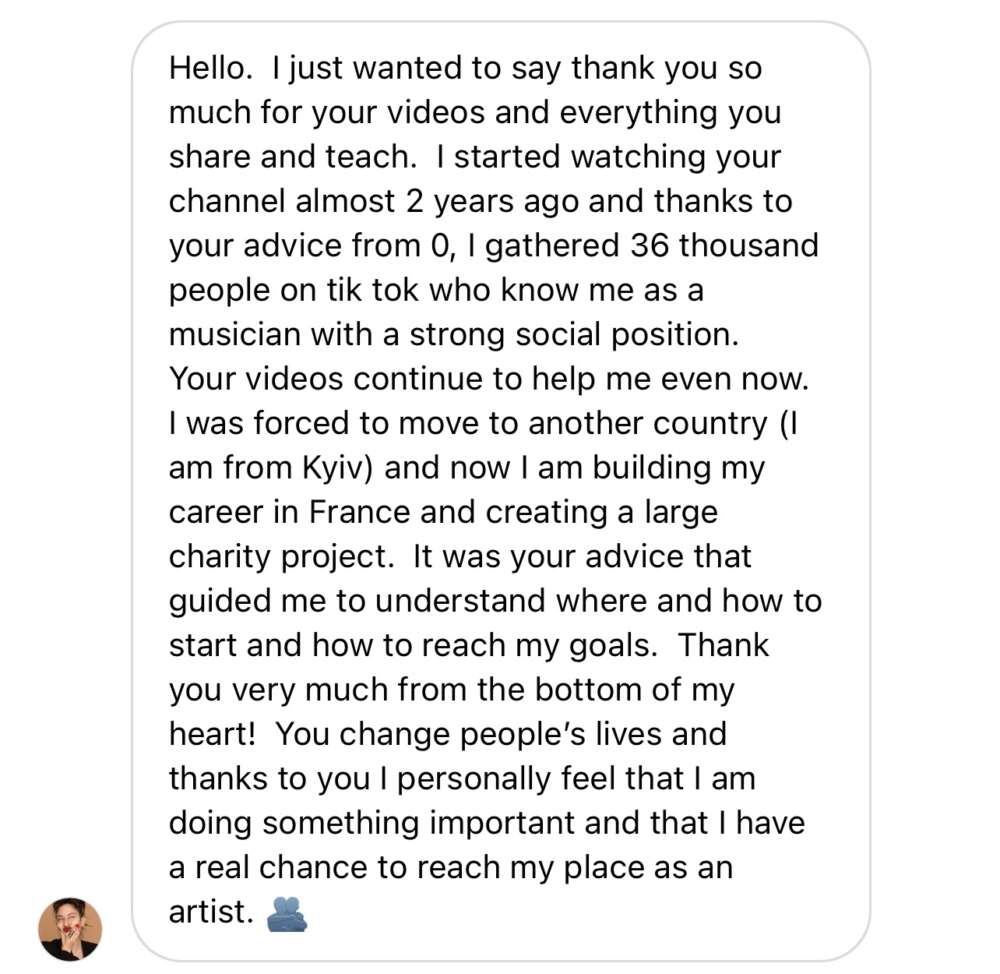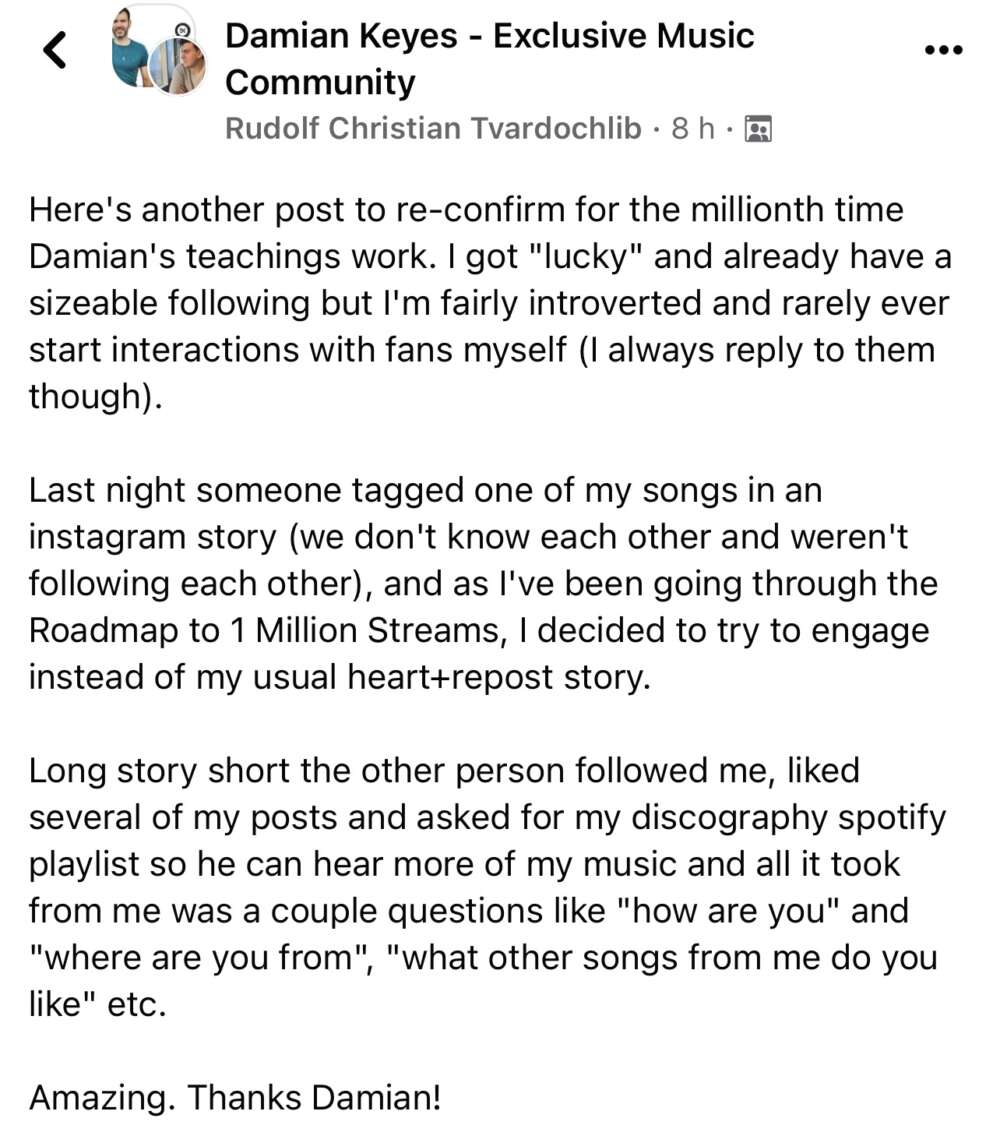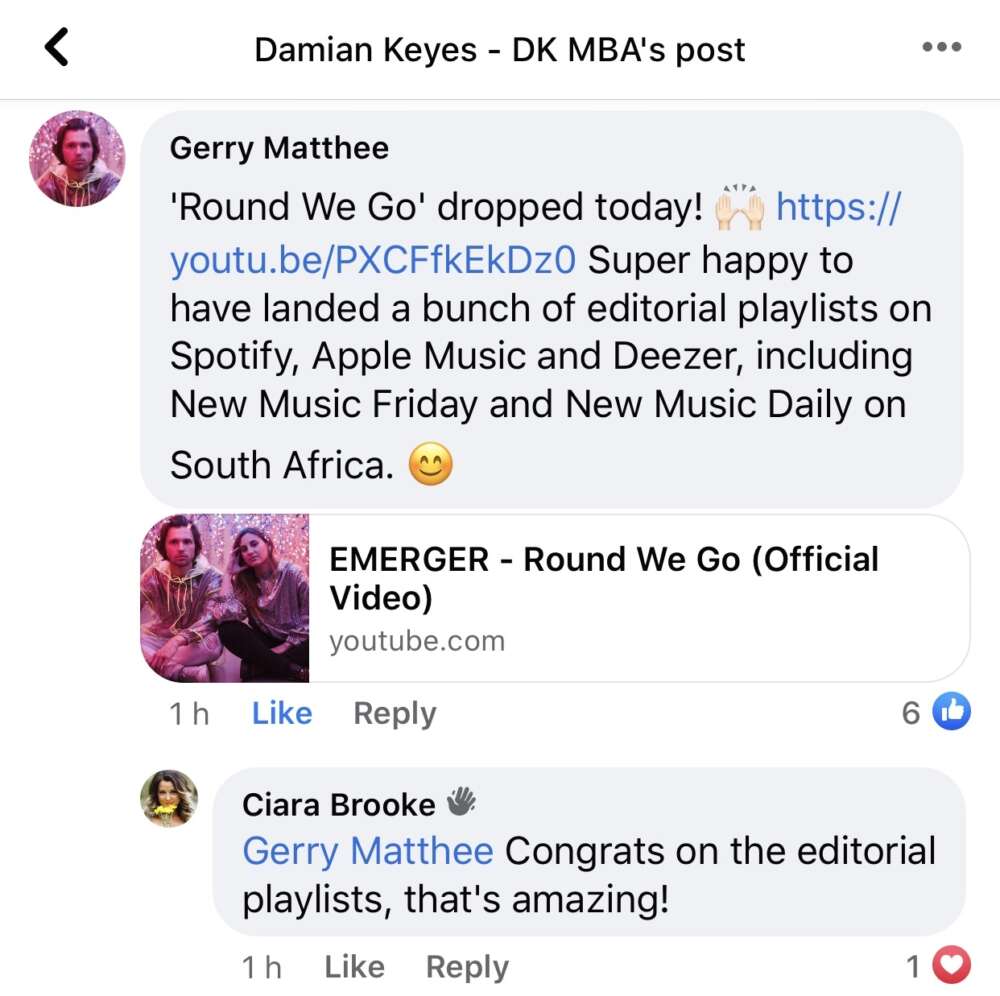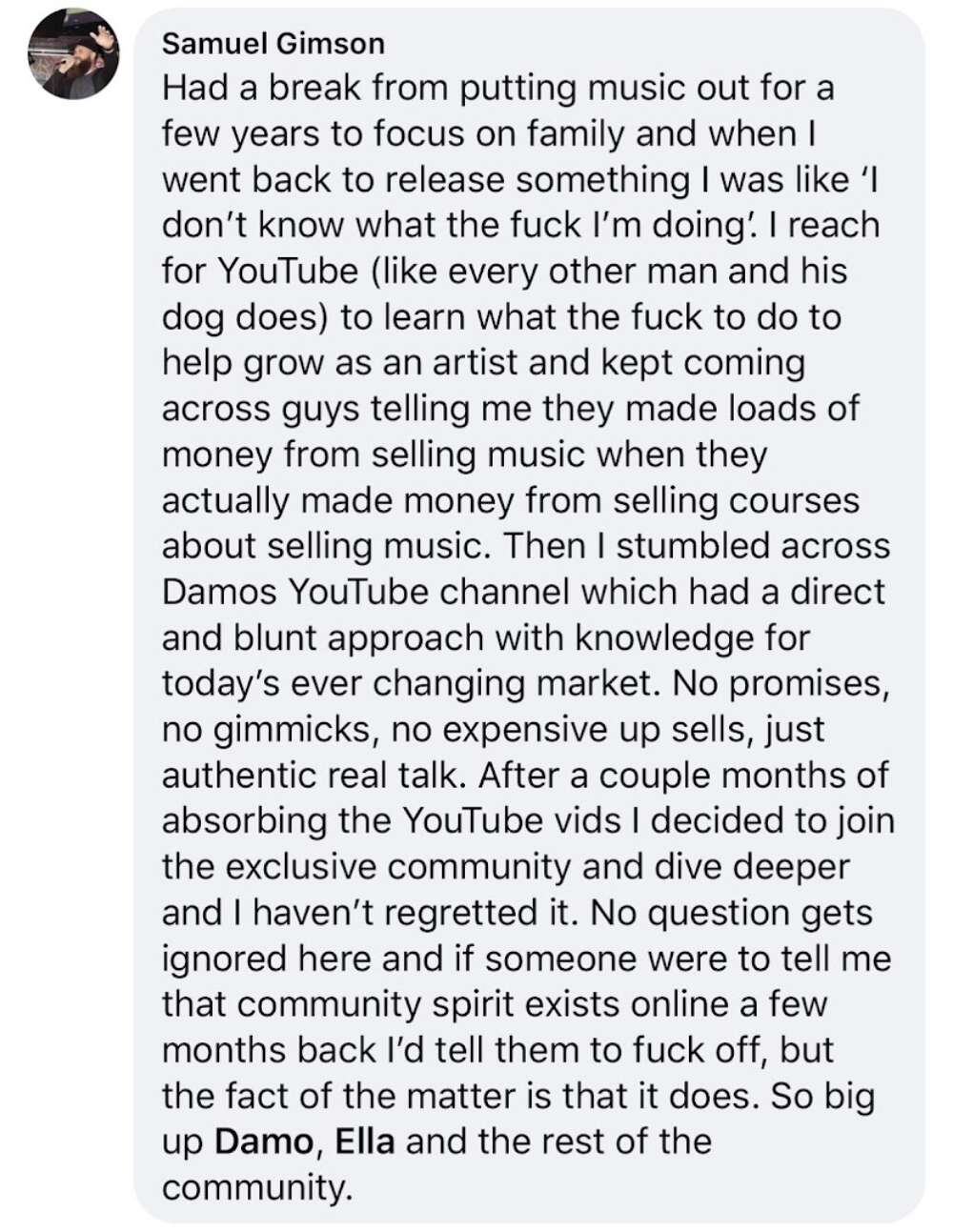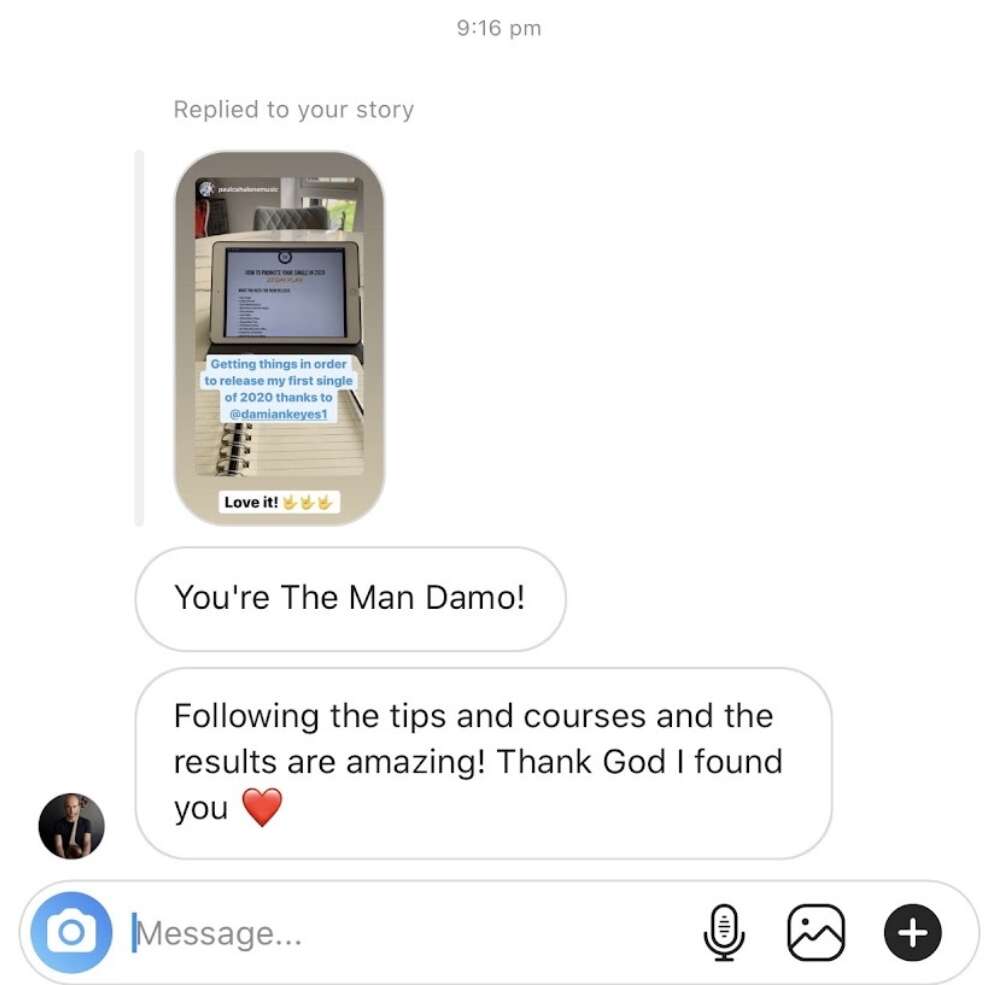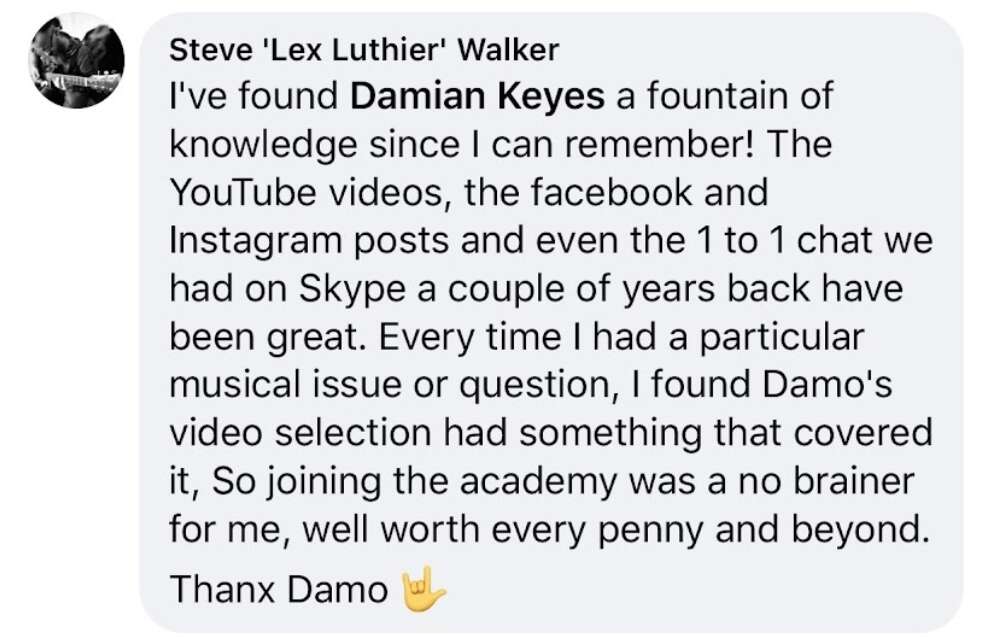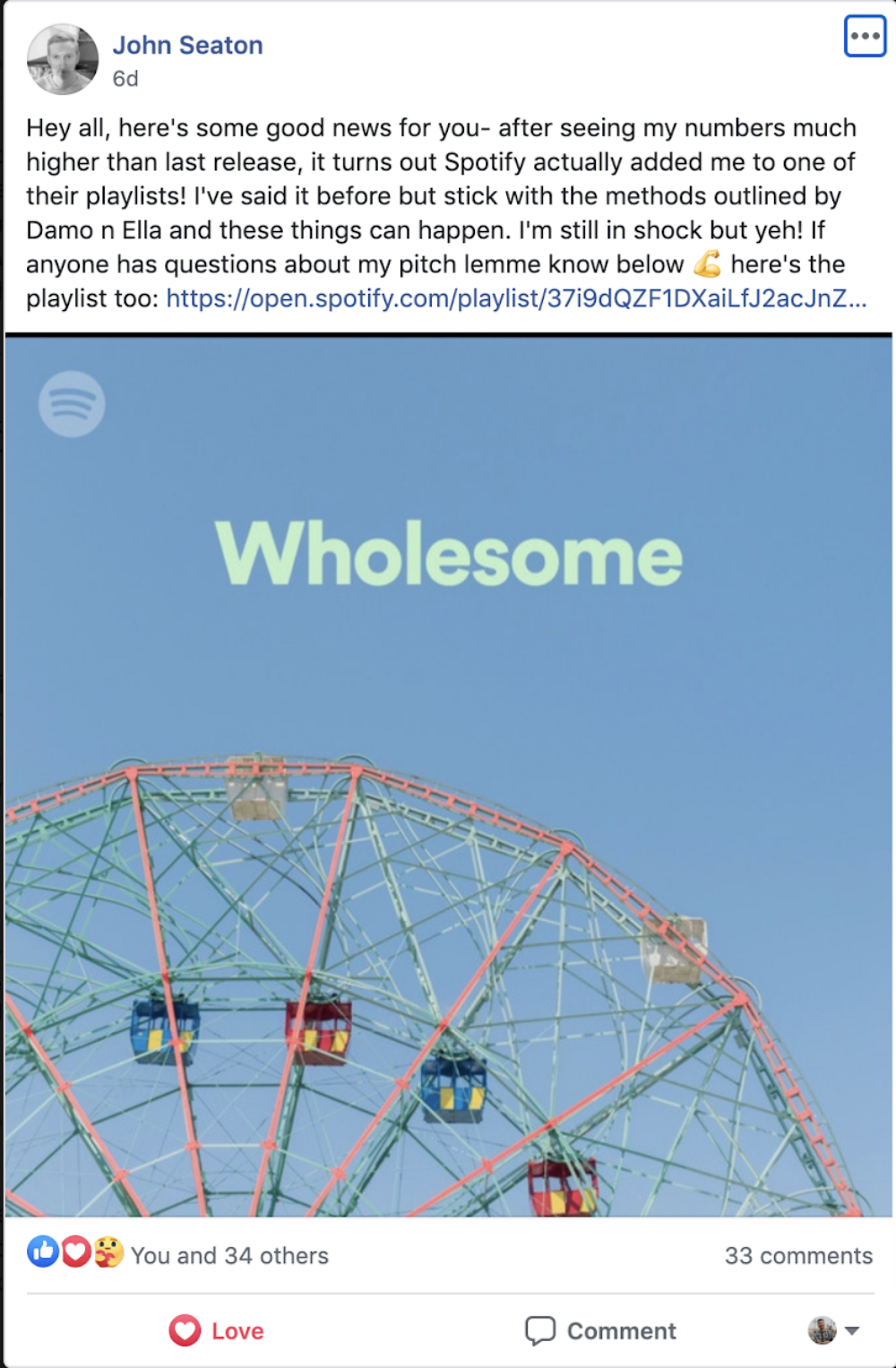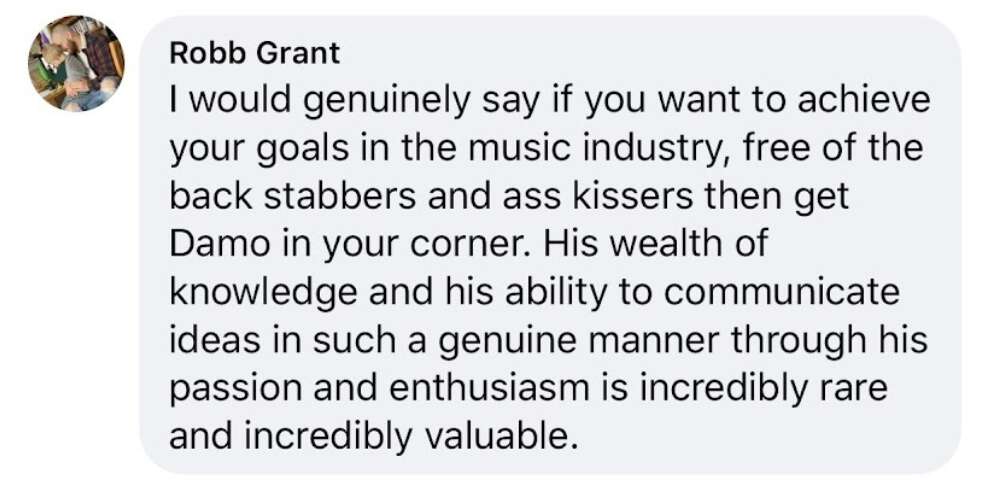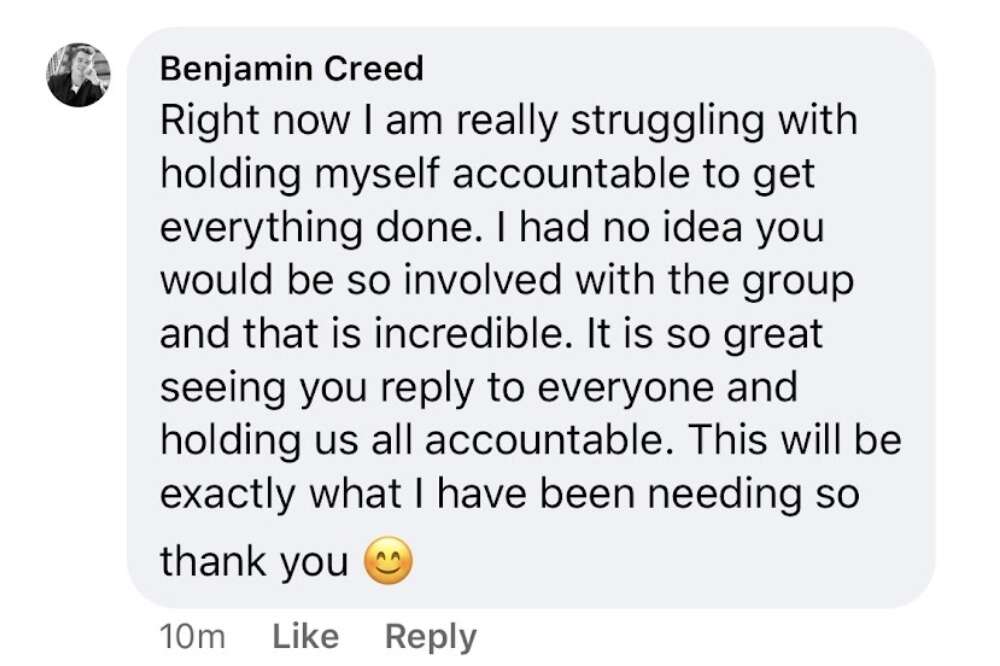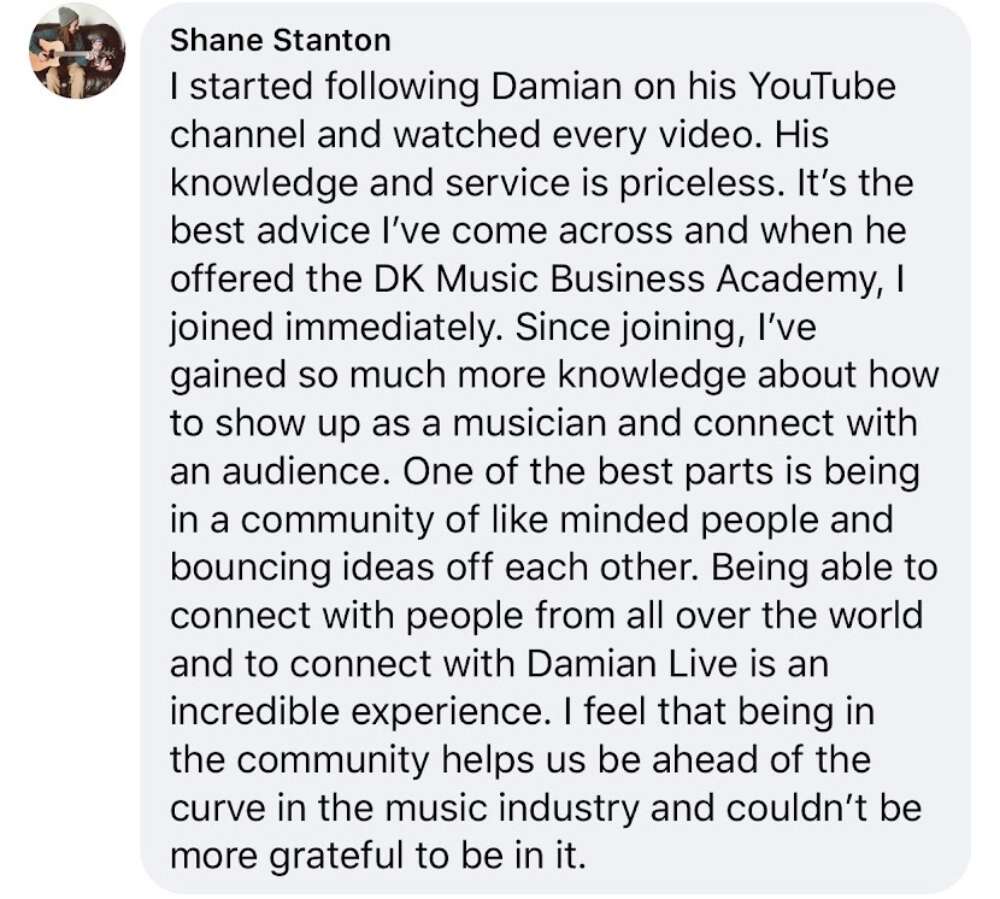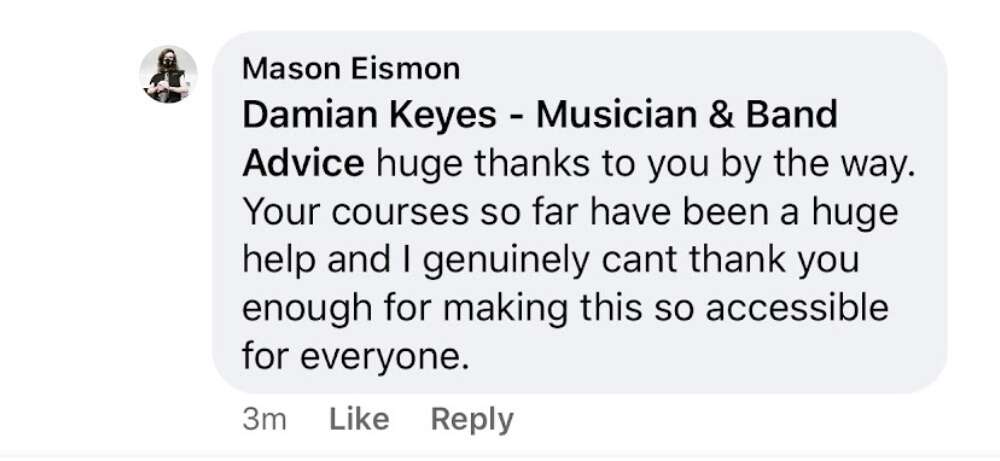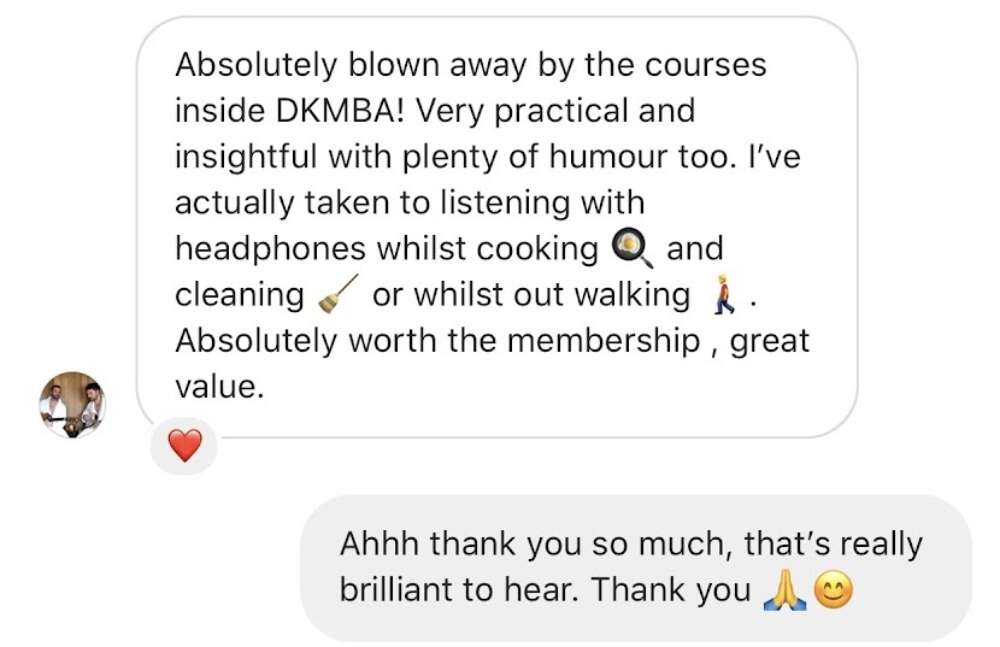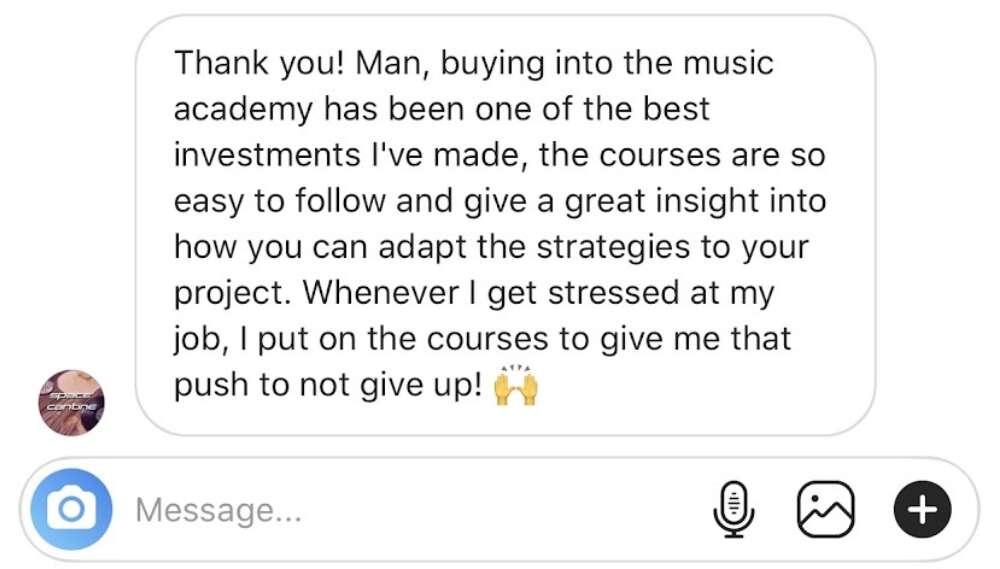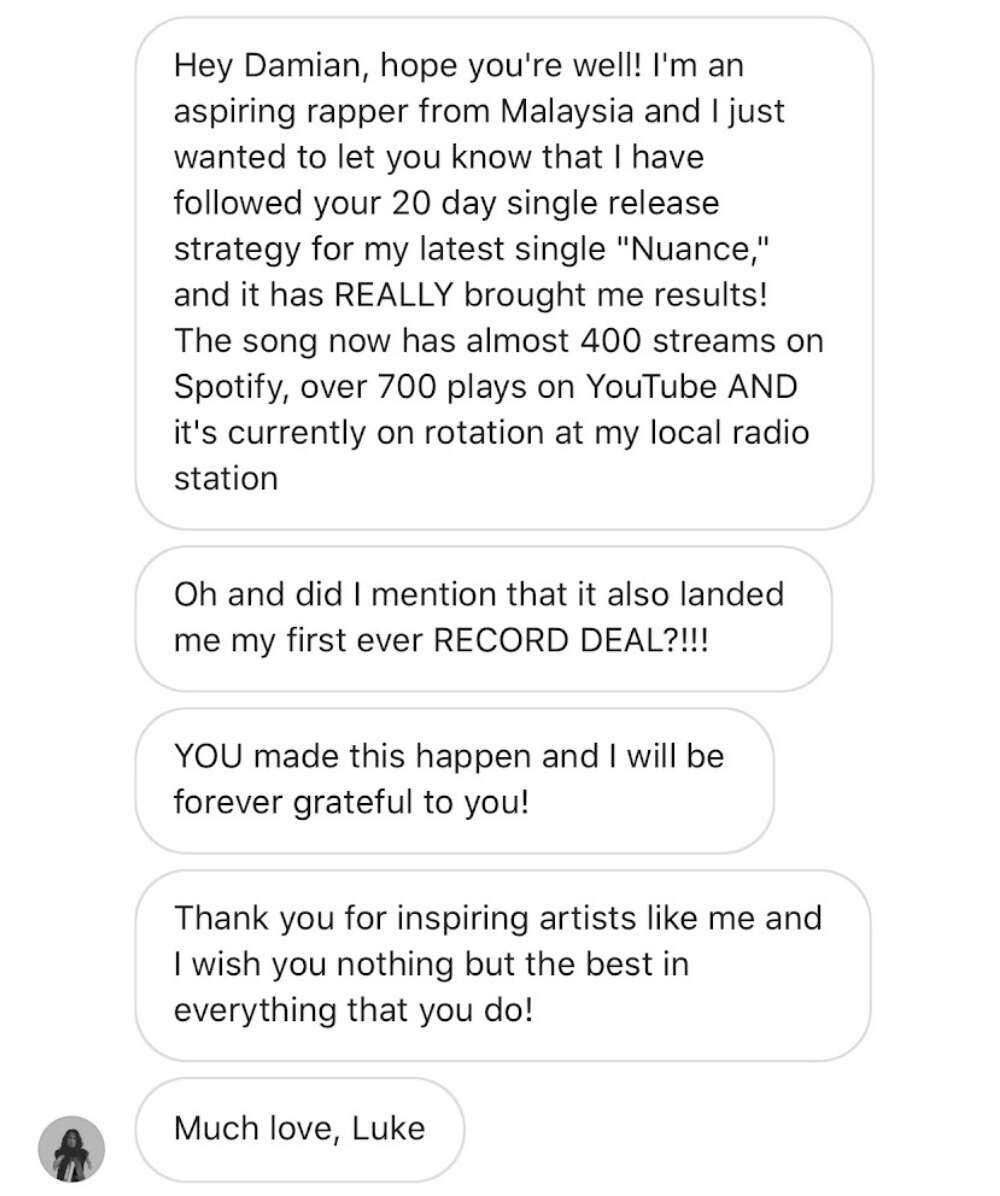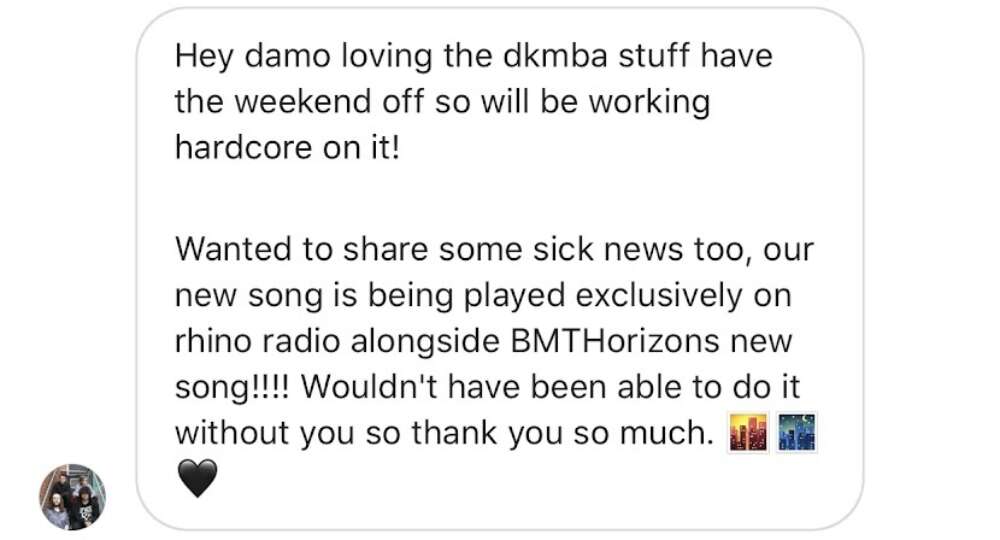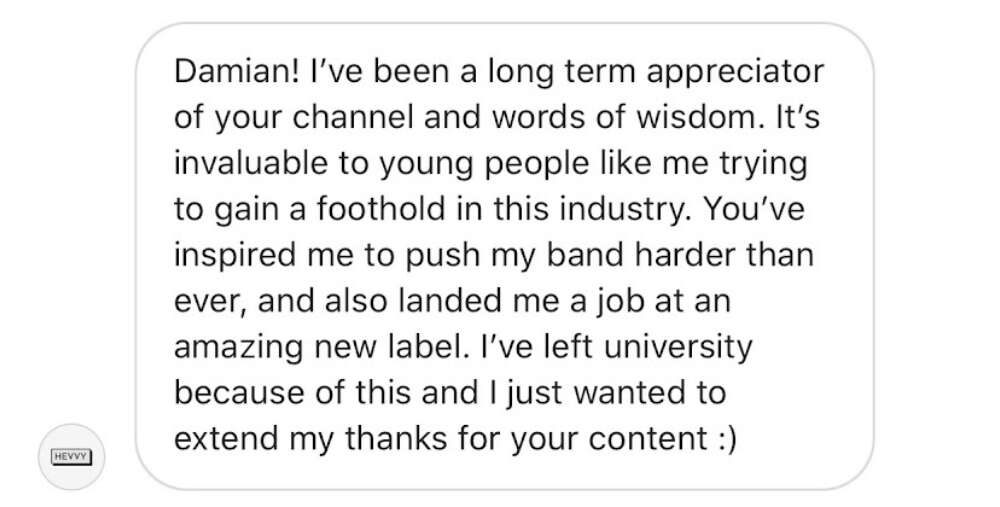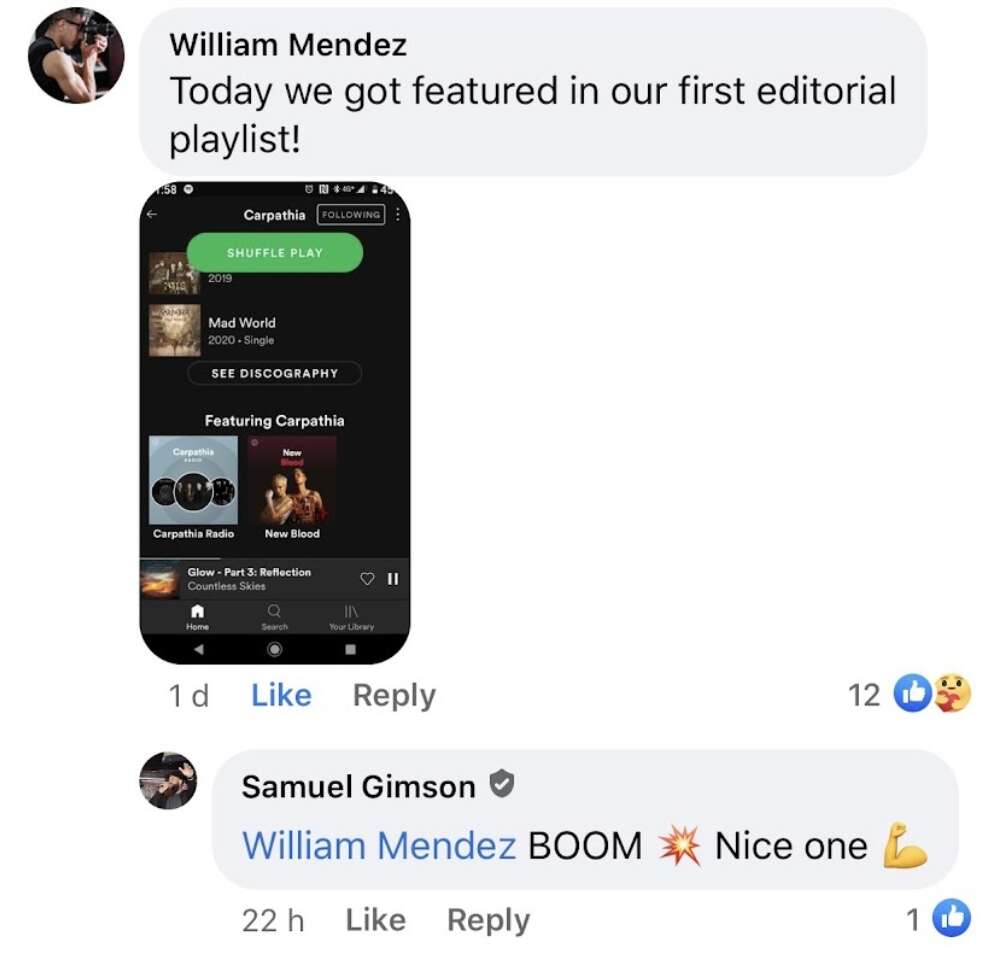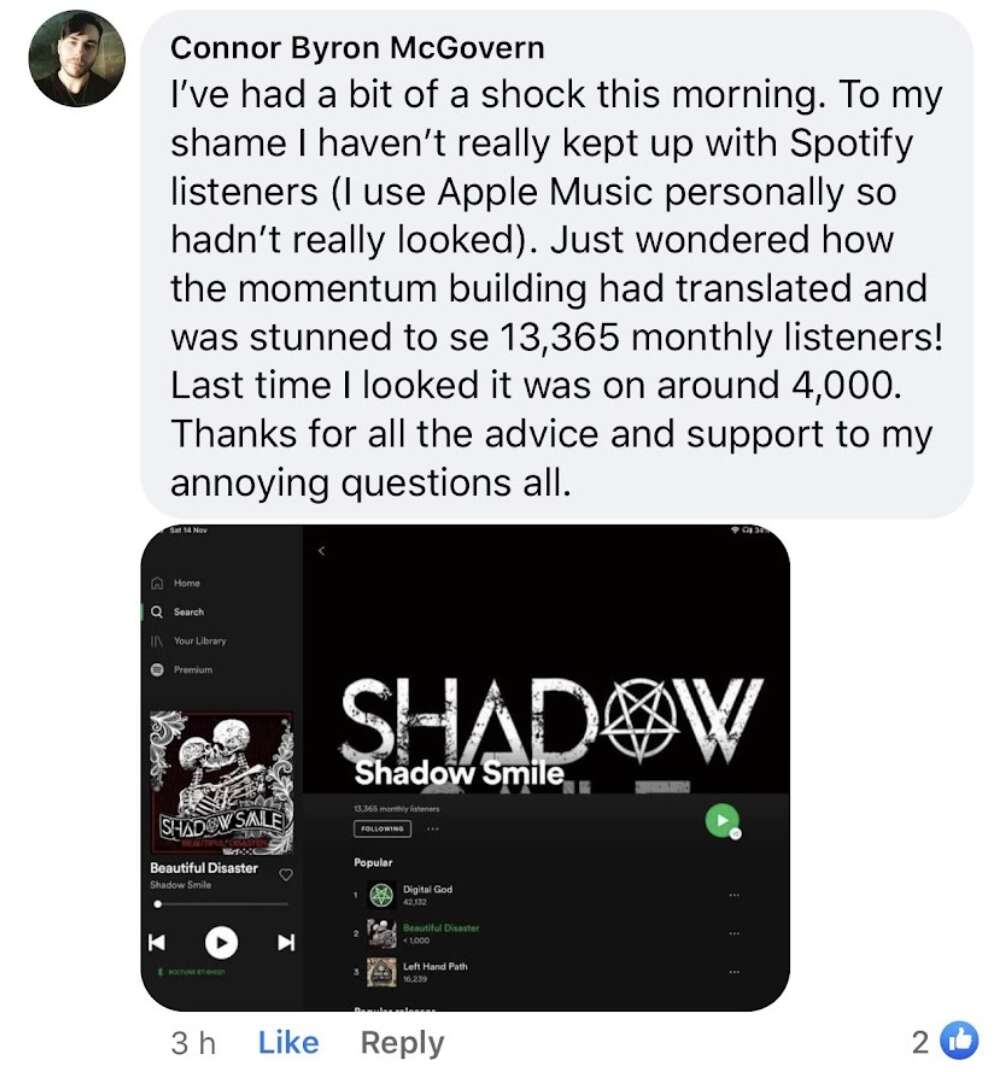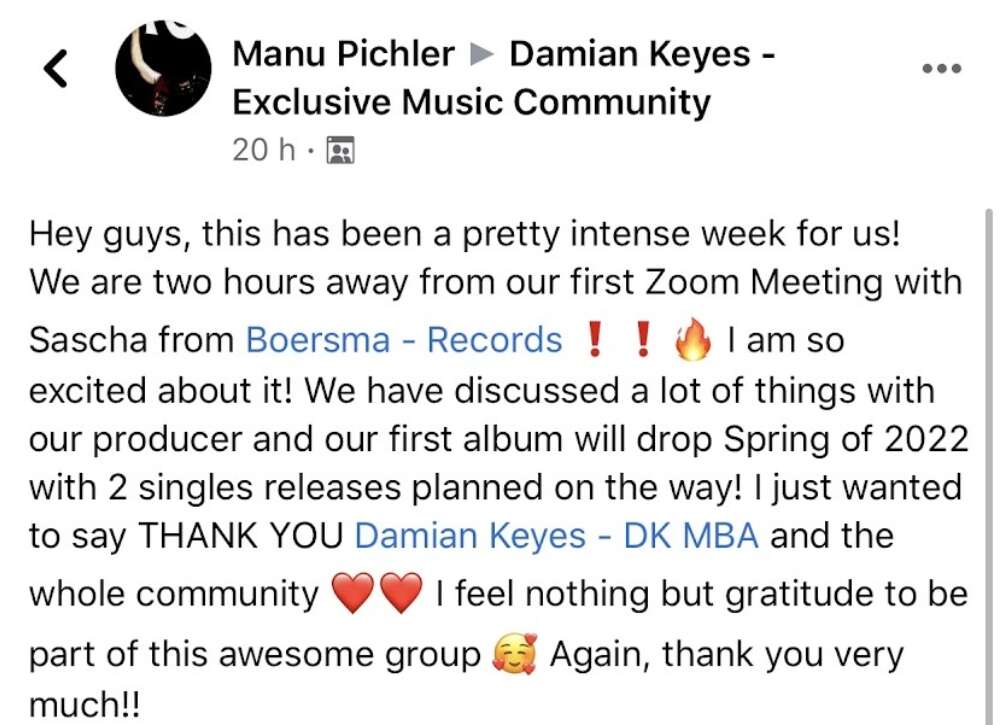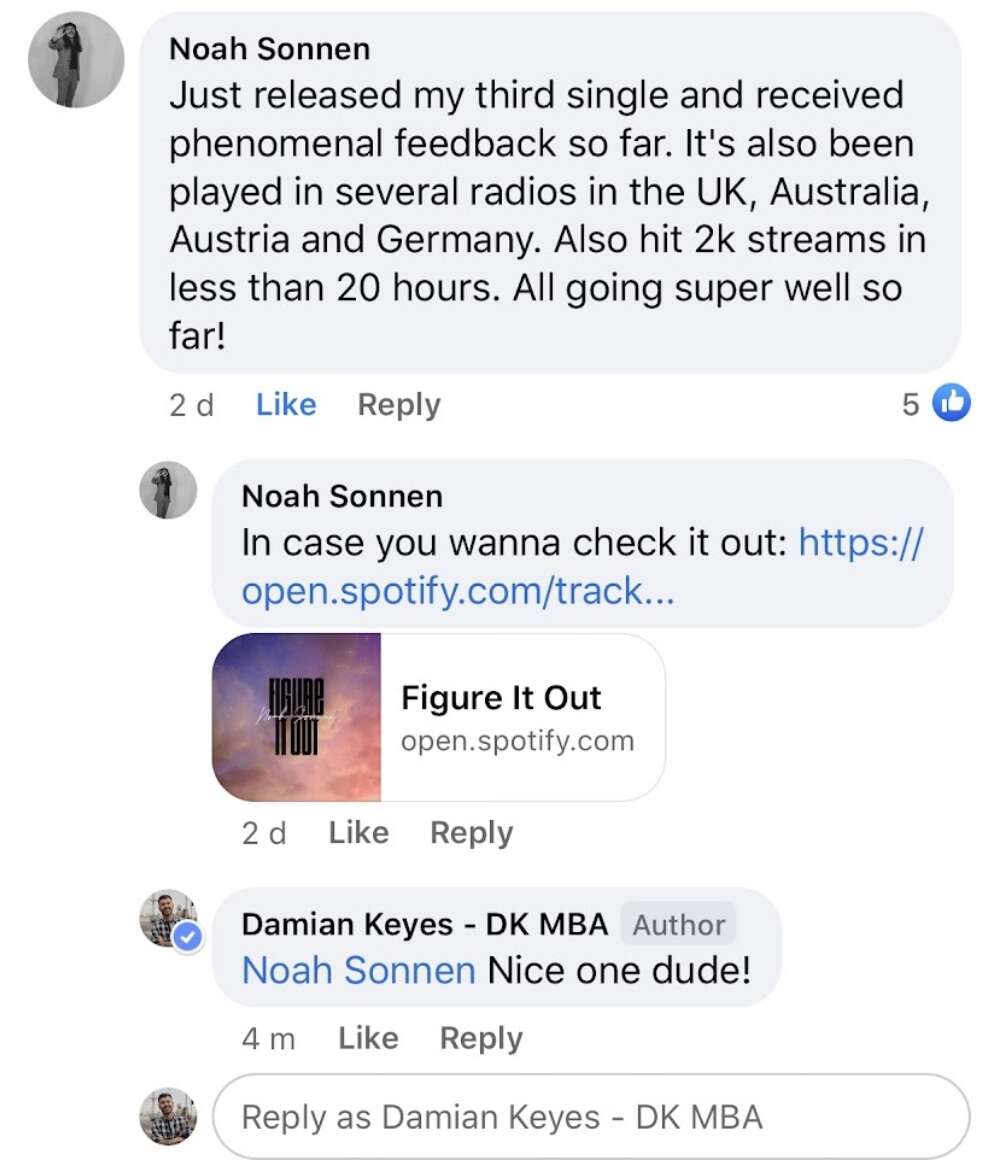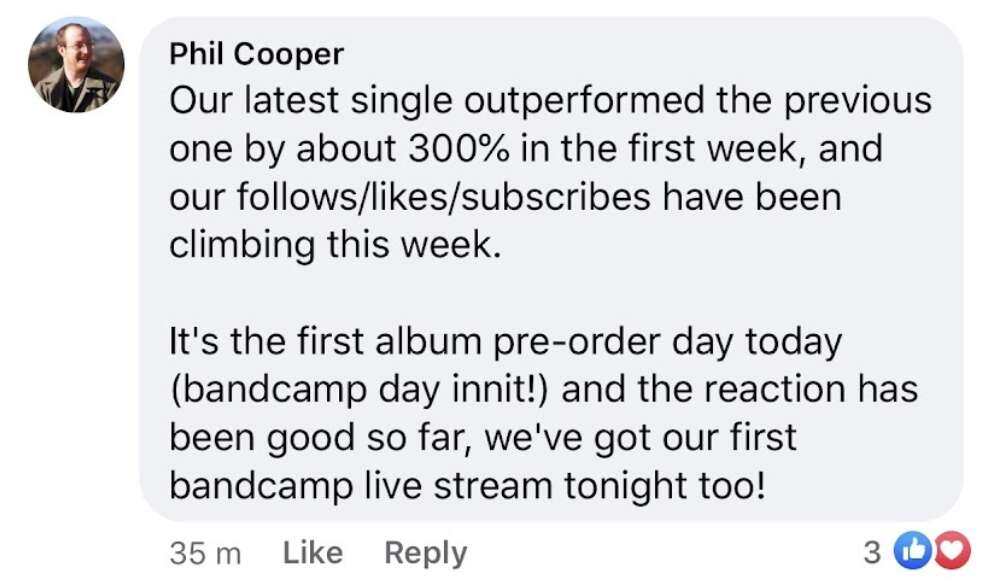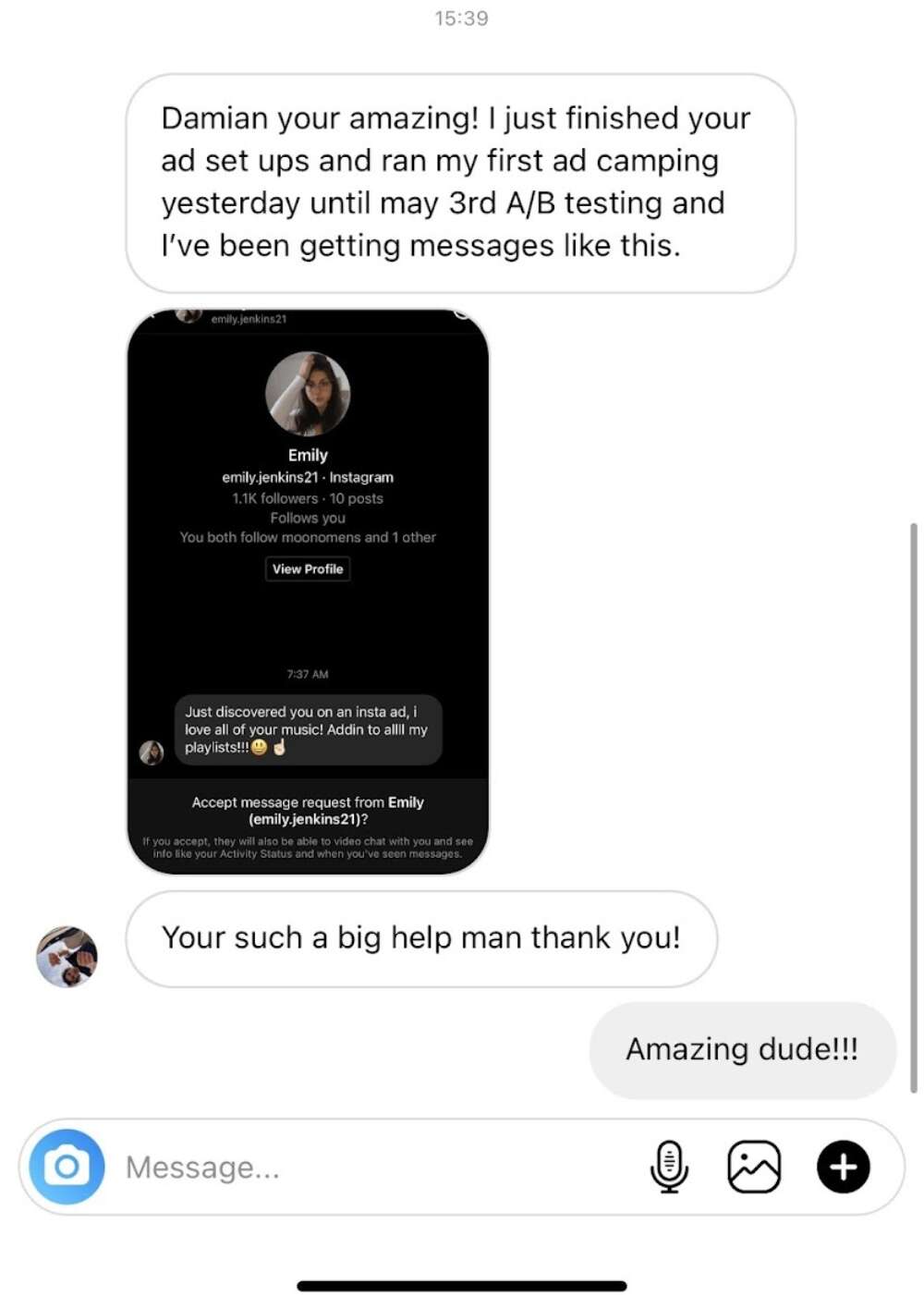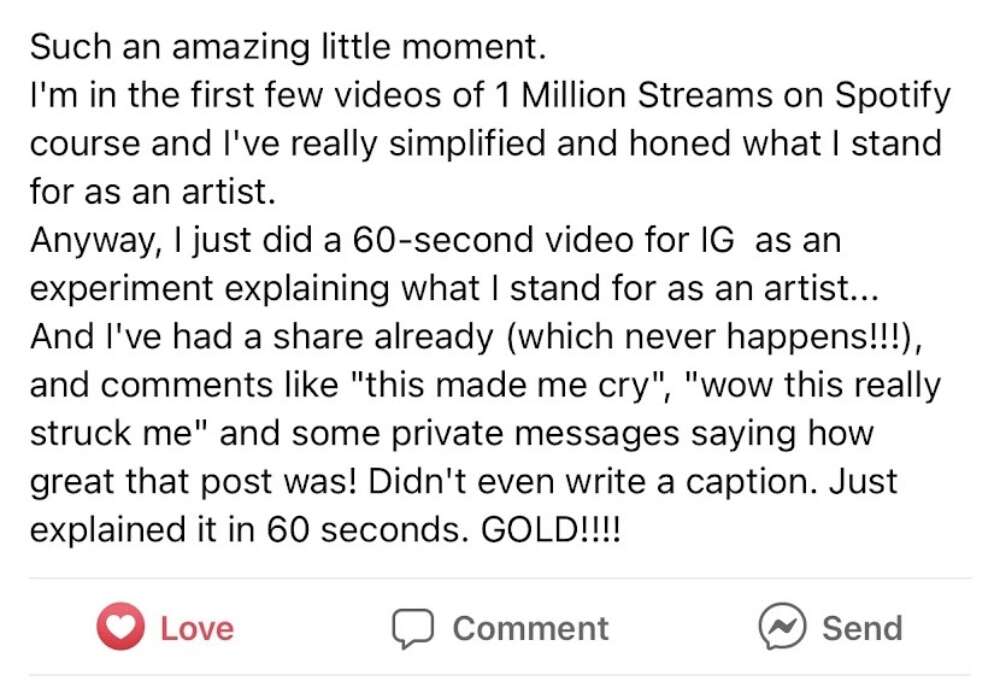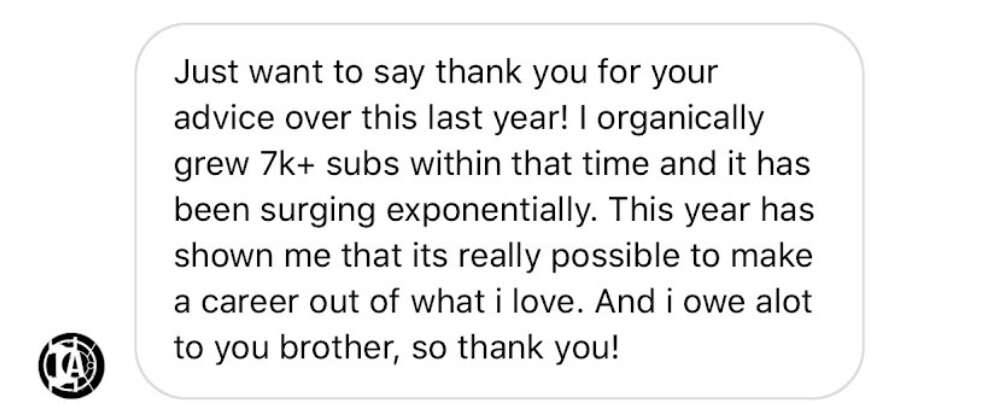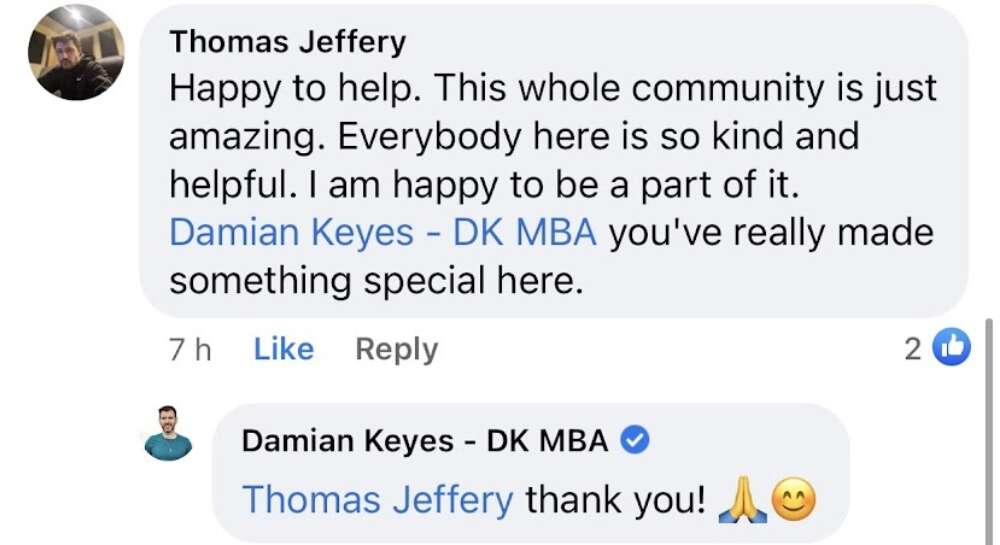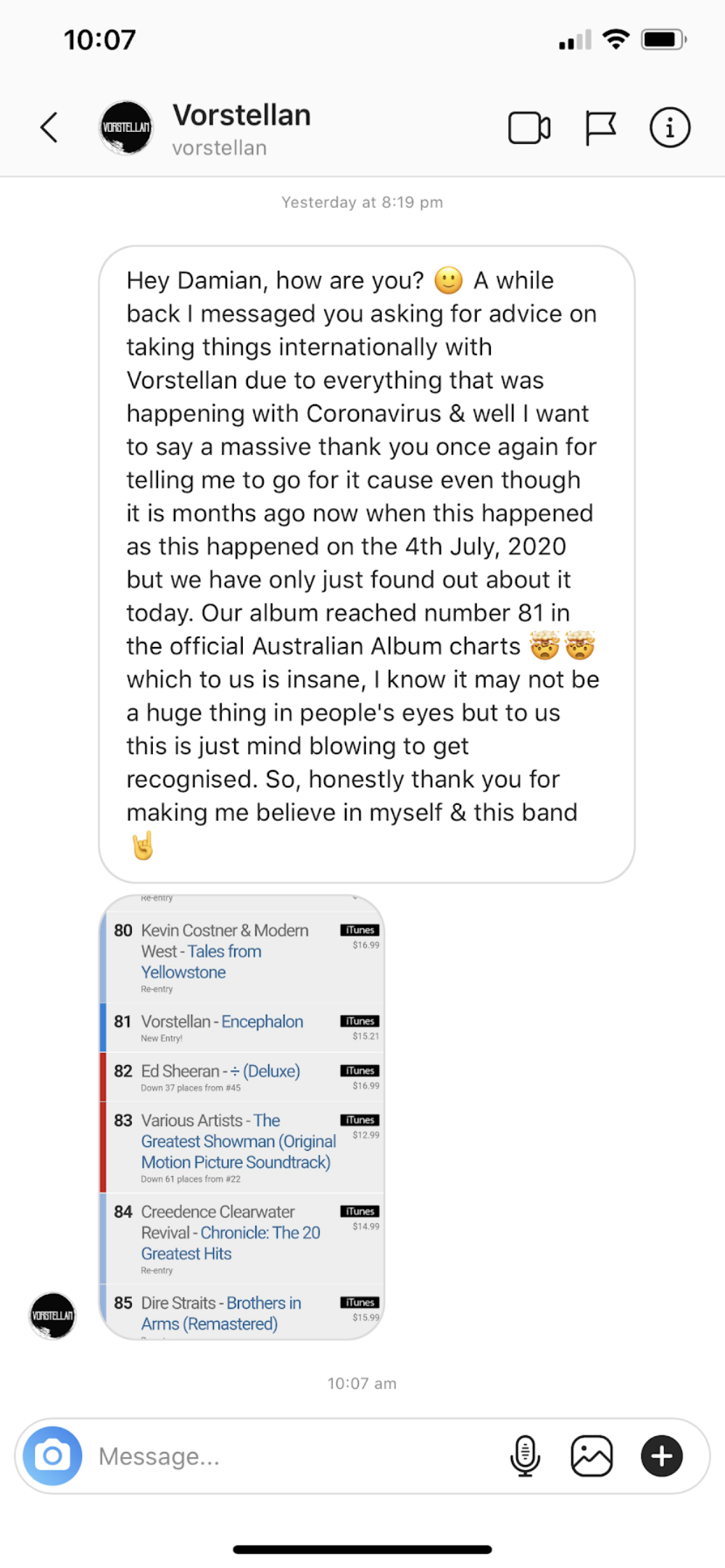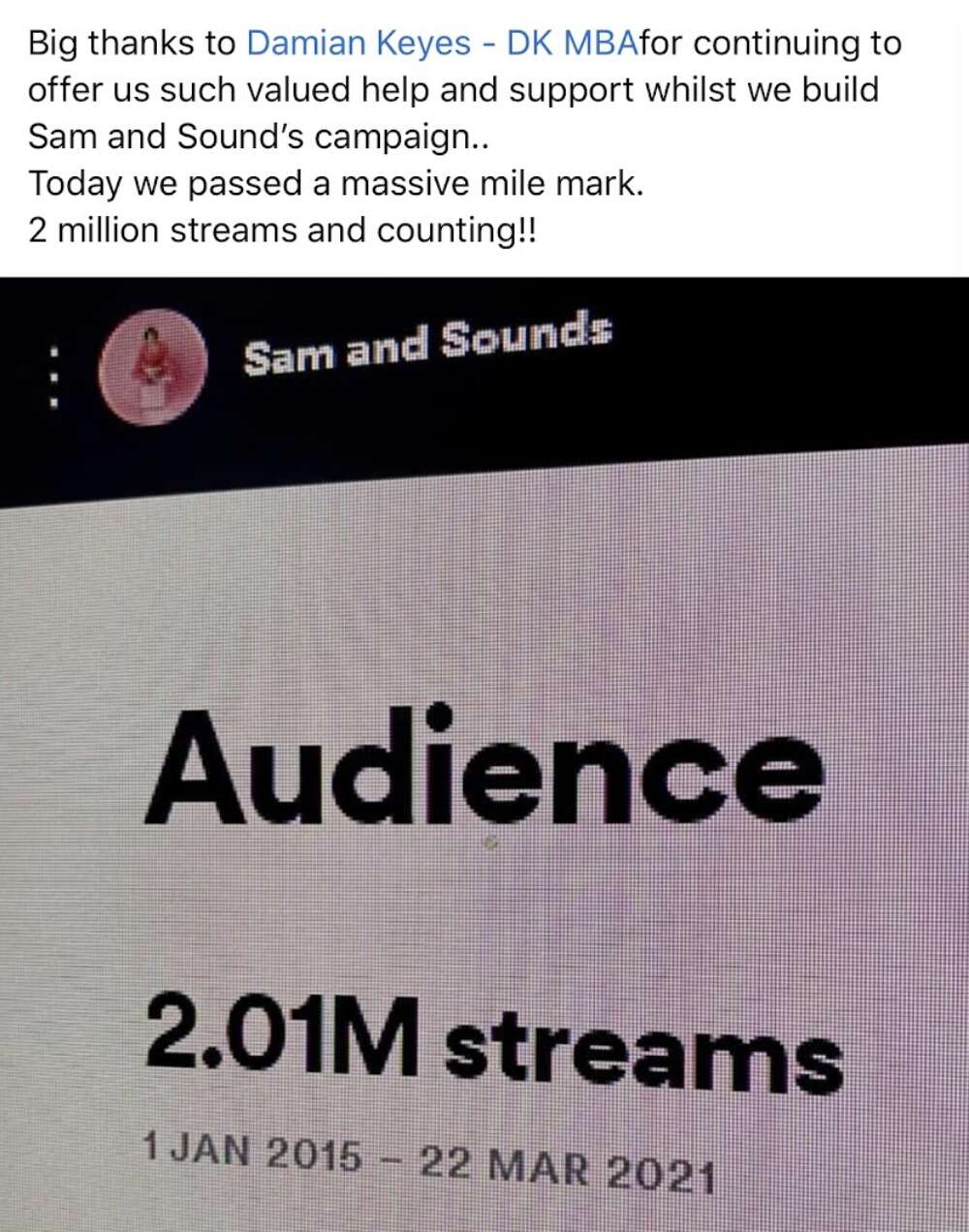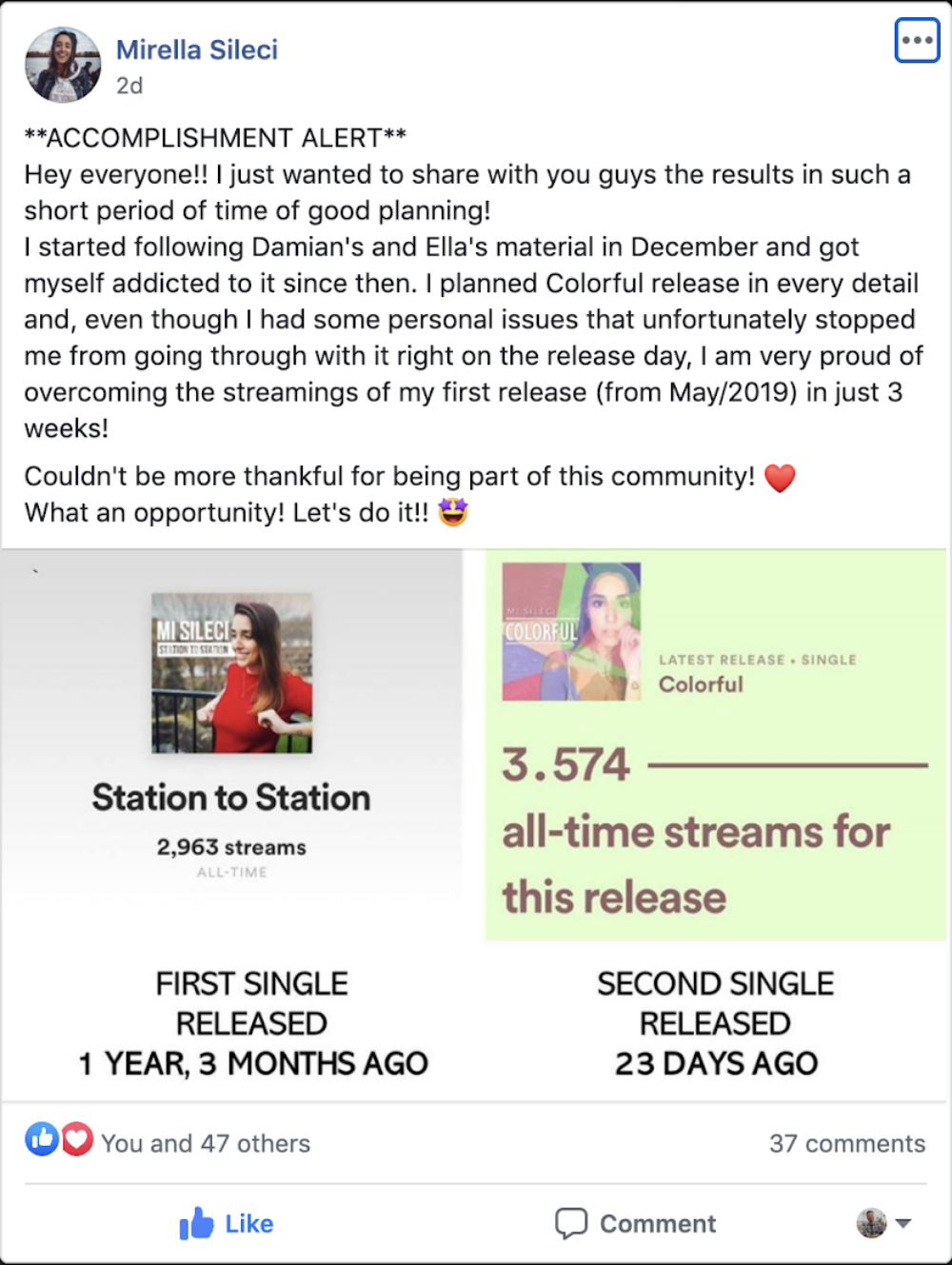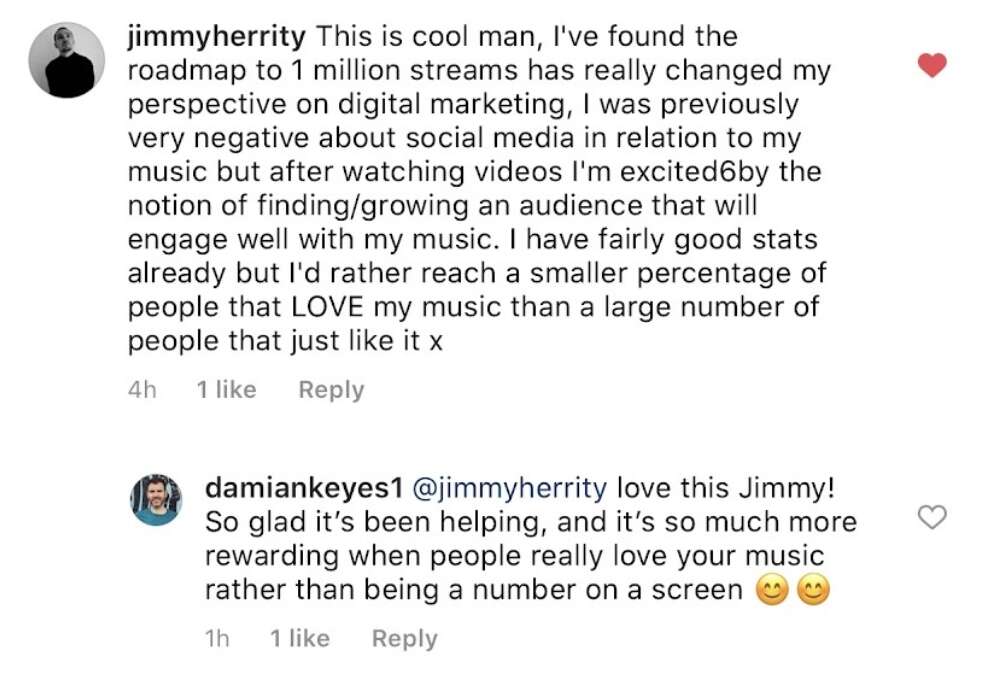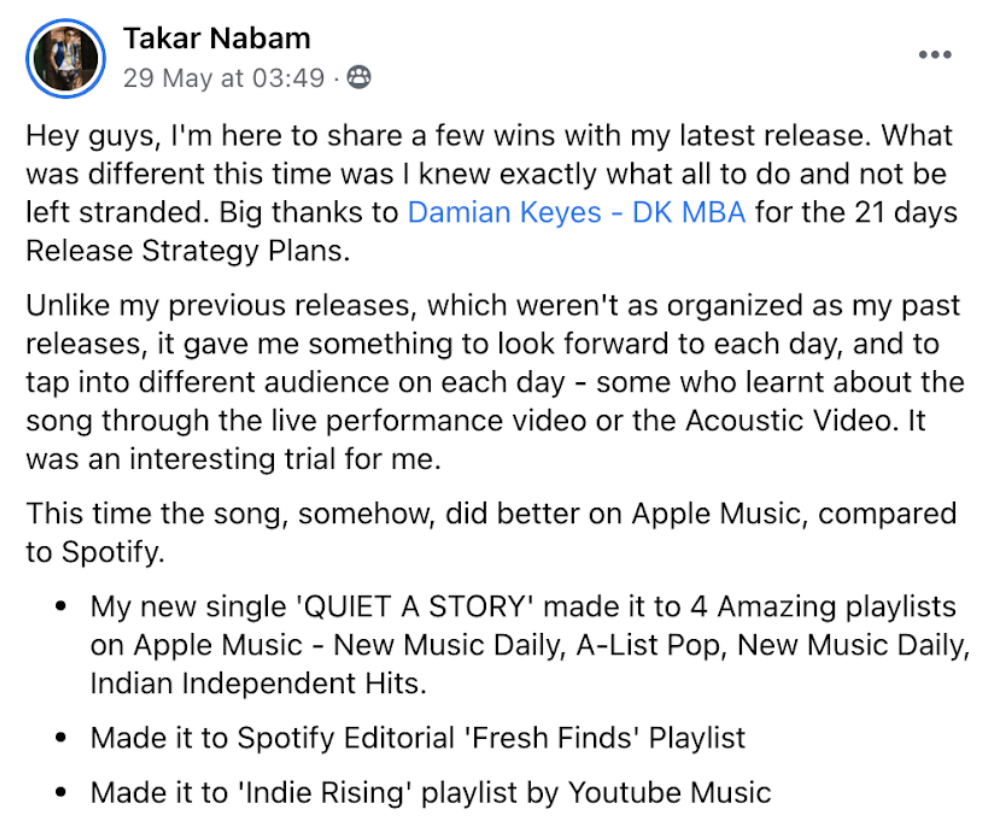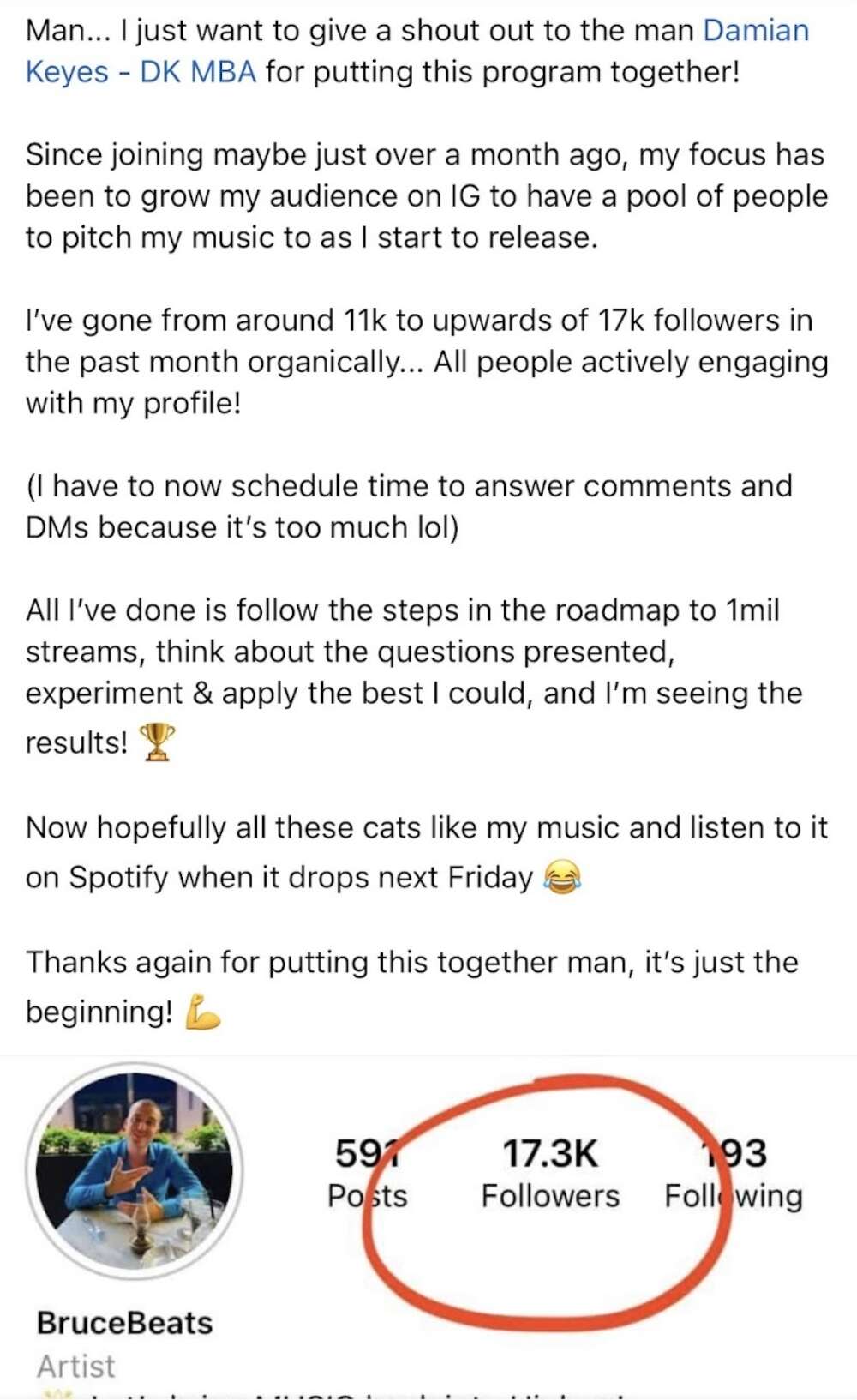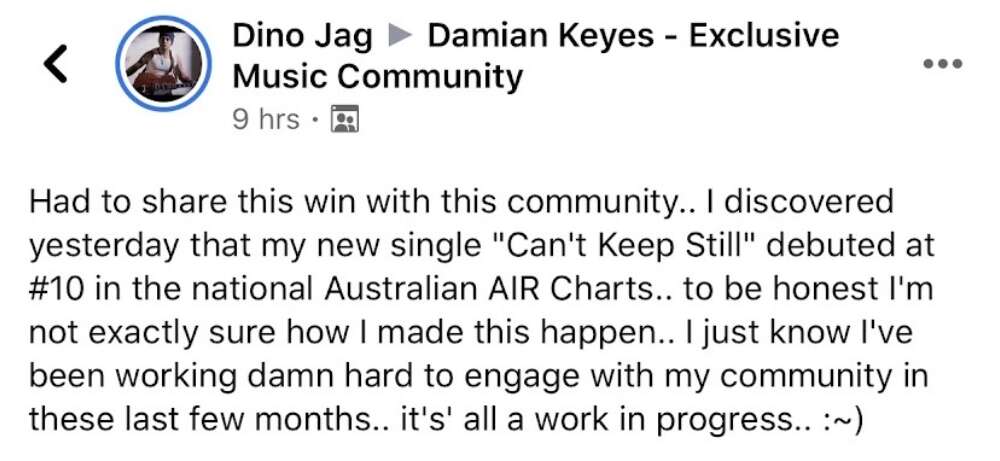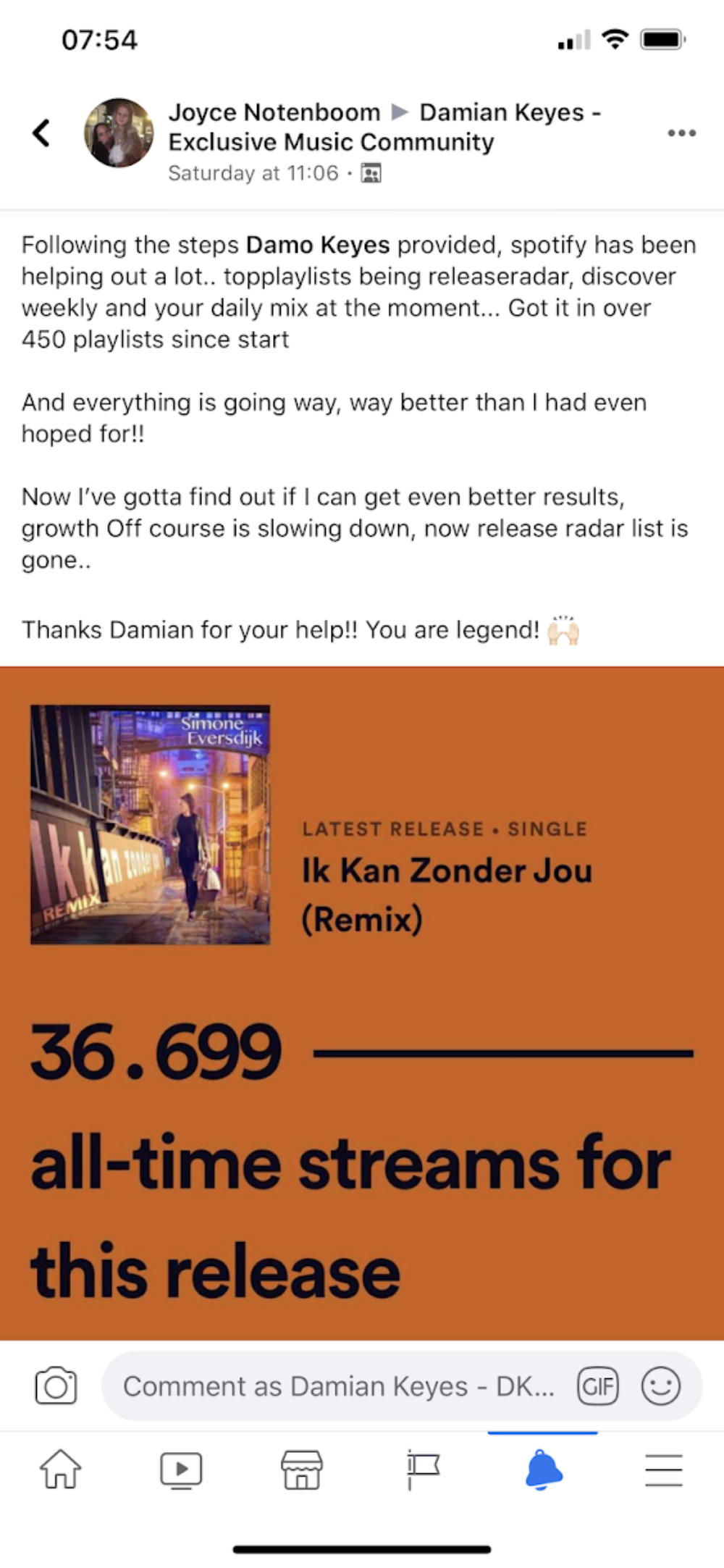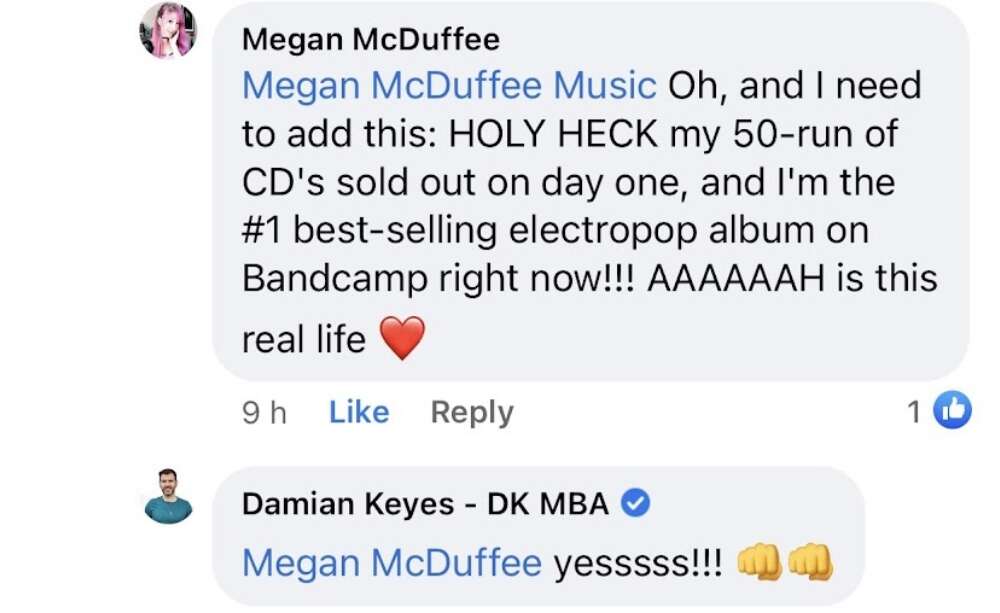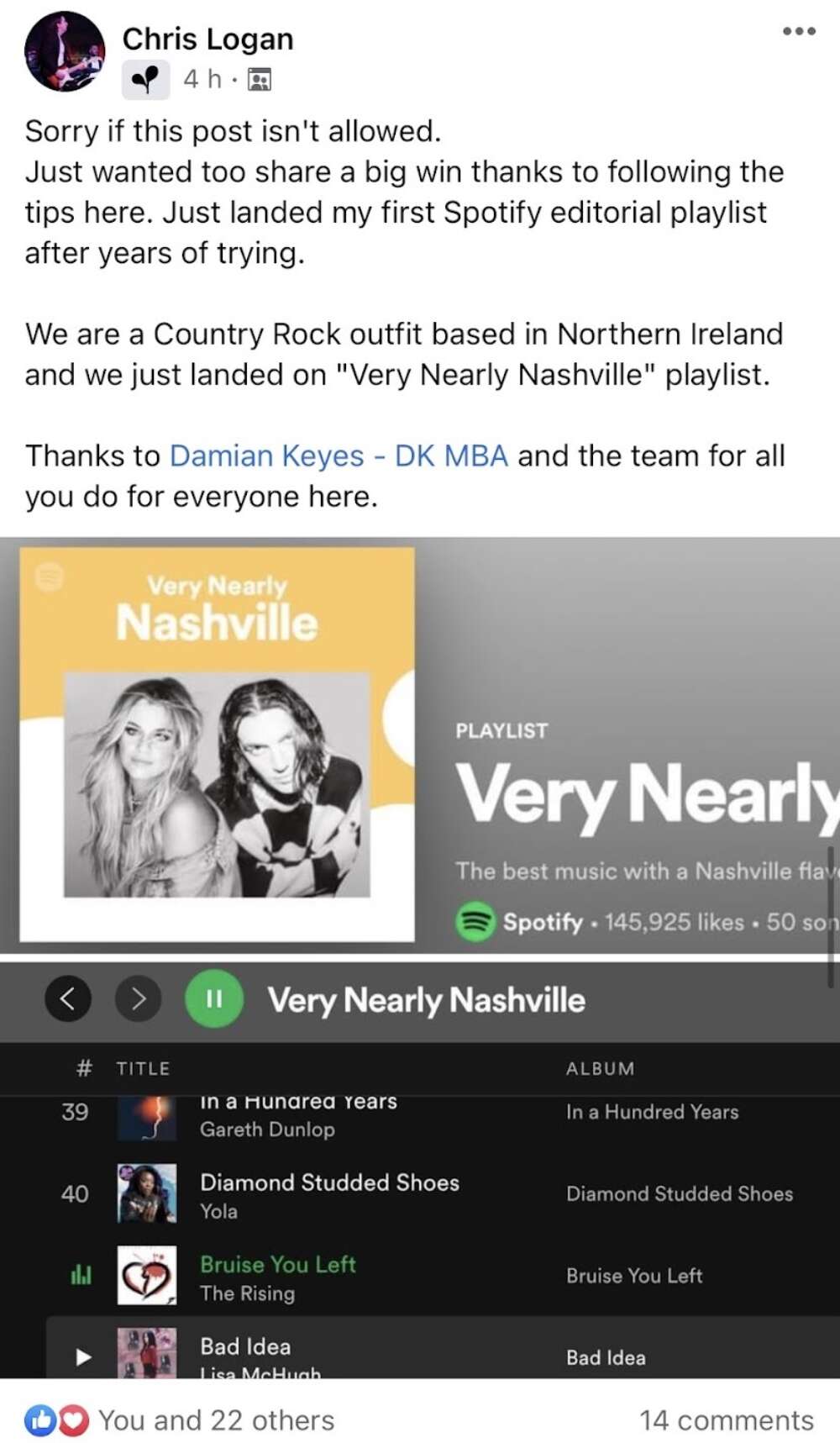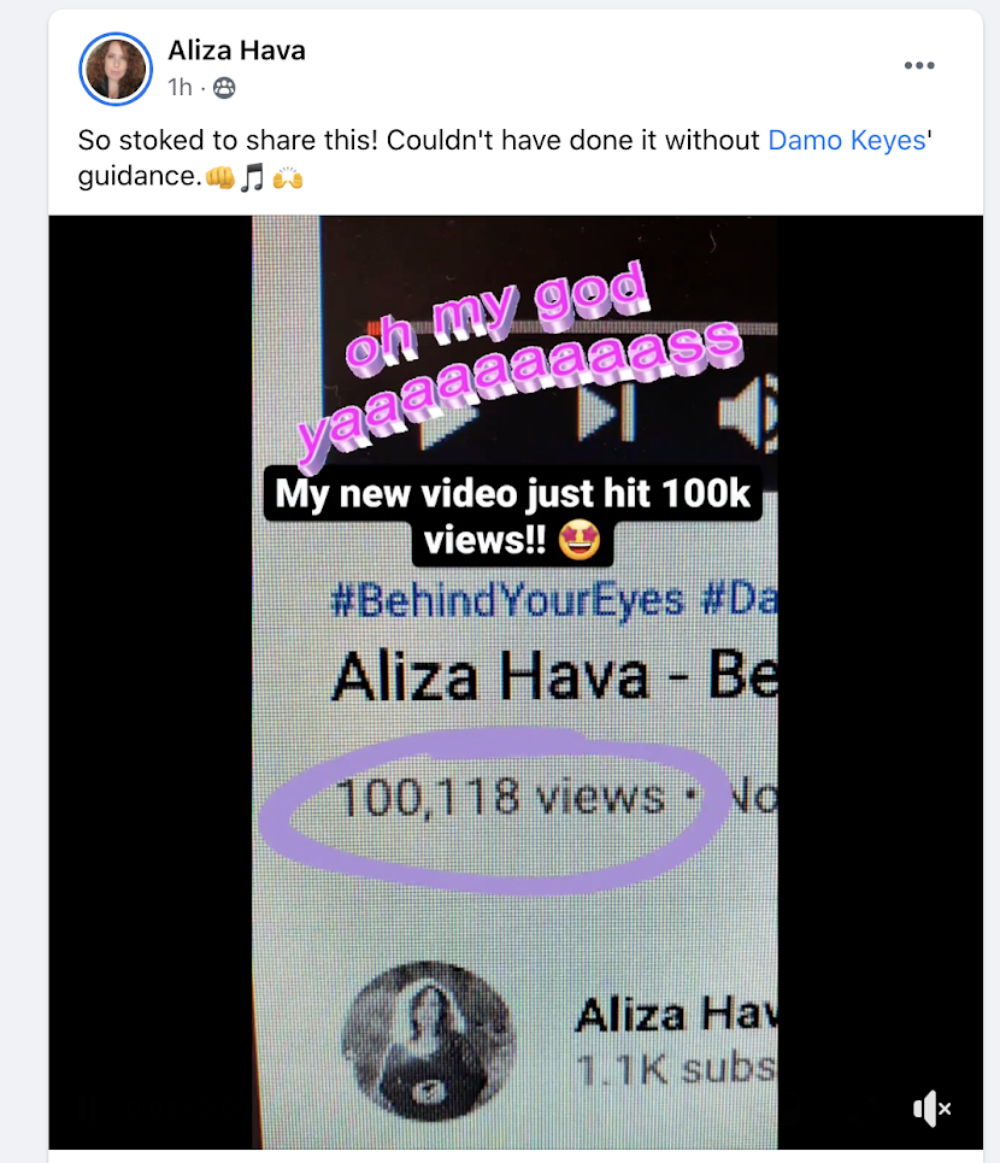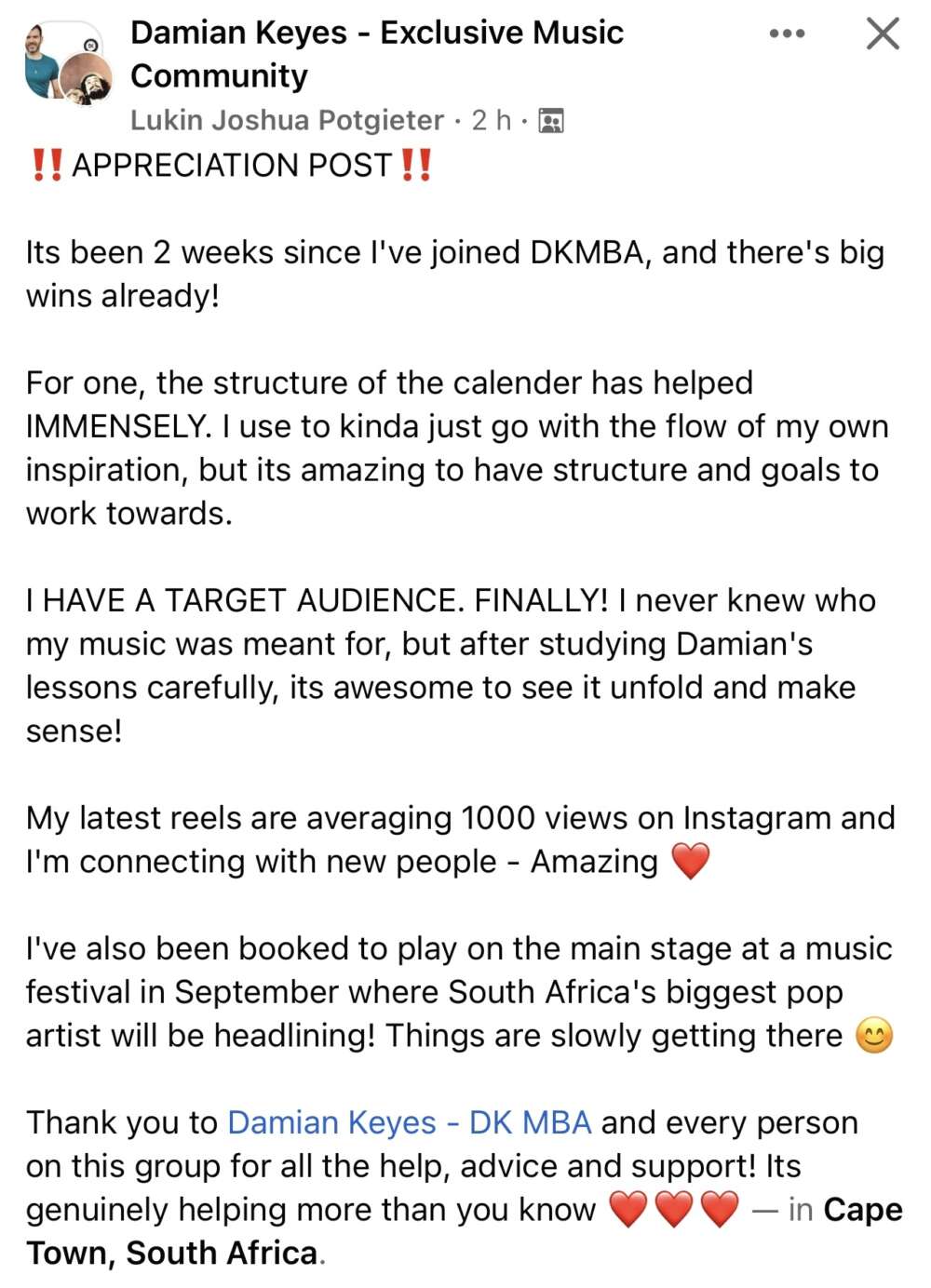 FAQs
Tackling the big question first! Music is subjective. I can't tell you whether your music will land with the audience you want it to - generally, the audience you think you have isn't actually the one you have! So I help you figure out YOUR audience. But what I can tell you is, if you don't see any new results at all within 24 hours, I will personally mentor you or give you your money back. Can't say fairer than that!

My Academy is laid out in step-by-step format broken down into easy wins for you. The goal is for you to maximise the most, whilst dedicating less of your time. It's hard enough being an artist, without making it harder. The bonuses listed here are created to SAVE time, not create more work.
Foundations of music business apply across genres and then is tailored to your specific niche. This is about human consumption and engagement, which is the same regardless of whether you're a pop artist or a metal artist.
This one is easy! It's to keep costs down for you. I don't want you spending all your money on my course. I want you to be able to get what you need at a price that you can pay. Right now, the Academy is $19.99 for Monthly and $199 for Pro (annual). Both are cancellable anytime. The main difference for Pro is that you get access to my WhatsApp number so we can message about your strategy on there.
Simple, you have access for as long as you're a member. When you don't want to be a member anymore, you just cancel.